Before I begin, let us firstly understand what are the tyre treads, patterns and basic difference between both. Tread is a rubber on the main surface of tyre which has direct contact with the terrain. On the other hand, pattern is a design which is cut into the rubber and it helps to create traction between tyre and road. Therefore, now we understand that tread is referred to the rubber and not the design, contrary to the common belief of many people.
Depending upon various factors, such as usage frequency and type of terrain on which a vehicle is driven, the tread can eventually give up which later typically causes less effective braking and traction force. It is highly recommended to replace the tyres as soon as you sense the signs of their balding, also, legally the depth of tread should be at least 1.6 MM. One may, however, never be penalized for violation of this rule but it's made for the safety of your own and other innocent road users out there. You will find a huge variety of tyres available of different sizes and tread designs in the market. Here, choosing the correct tread pattern can certainly make a big difference when it comes to tyre speed rating and stability. So, it's important to become familiar with some of the primary types of tread patterns as described below.
Symmetric Tyre Tread Pattern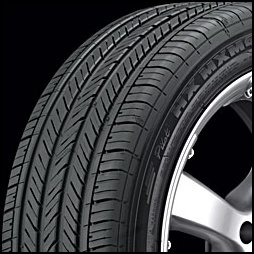 Symmetric tread design can be commonly seen on the tyres of many cars. As their name itself indicates, symmetrical pattern refers to those treads which feature similar continuous design across the tread on either sides of tyre. Tyres with this type of pattern are normally non-directional, meaning that they can be fitted without worrying about a specific rotational direction.
Asymmetric Tyre Tread Pattern
Exactly opposite to the symmetric tread pattern – asymmetric tyre treads feature dissimilar designs on both the sides. This discrepancy in their design allows better grip on flat out roads and also while making turns. Generally, the outer area of such tyres has broad design where as the inner carries smaller independent tread blocks, as seen on symmetric design.
Unidirectional Tyre Tread Pattern
The unidirectional (also known as directional) tread patterns are made to perform well when fitted on a specified direction, this direction is generally marked with help of an arrow on the sidewalls. This type of tyres have 'V' shaped tread design which helps increasing aquaplaning resistance when the vehicle is running on high speeds, by efficiently cutting it through this unique pattern.
So which one does your car has?

Drive Safe,
350Z