Hey all,
Exactly a week ago our NGTAI was released and I'm sure that like me, you are also feeling happy and enjoying this new home for petrol heads. It's so great to know that only one week has passed but our statistic graphs are touching new heights. Take a look what they have to say:
- Total Posts: 676 (And counting)
- Total Threads: 76 (And counting)
- Total Members: 43 (And counting)
May our forum keep touching newer heights in approaching time. Please feel free to share your experiences in the first week of TAI in this thread.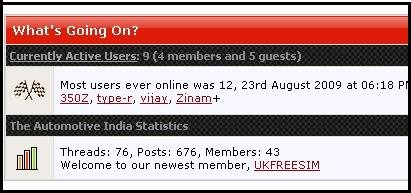 Drive Safe,
350Z