Joined

Apr 21, 2012
Messages

7,901
Likes

3,743
Location
UPDATES
Presenting the First ownership review of the new Ford Figo on TAI !!

and i am not
all-hyundai-cars
anymore

( didn't think this through when i joined )
today took the delivery of the car after months of searching , postponing and eventually changing the entire plan.
our santro ( CNG )has already covered 1,40,000 kms without a break down but we felt the need to replace the car to a diesel since the expenses on this car would go on increasing as the time and kilometer passes and the reliability will go down.
we weren't planning a diesel but a petrol for my dad so i took a lot of petrol test drives. so sharing all those experiences more on this later.
1.
Hyundai Grand i10.
this was at the top of my list from day 1. I liked this car very much. this car had better steering response and better suspension setup than our 2012 fluidic verna.
i took a TD of diesel Grand i10 back in March 2014.
pros and cons mentioned here :
Need Suggestions For a New Car !!
Petrol Variant
took a TD of petrol some months back.
pros
: nice engine , interiors and hyundai service experience.
cons
: the biggest con of this car , weak structural stability.
i just hated this car and decided won't buy it and i was getting this car at 70k discounts.
*the brake bite was a little bit odd.
* AC used to trip under hard acceleration.
2.
Honda Amaze Diesel
details mentioned here :
Need Suggestions For a New Car !!
3.
Polo Petrol
pros :
nice interiors , handling & suspension and the superb build quality.
cons :
very less space and the main thing which seemed problematic was the long clutch travel. in my TD OF 20 Minutes my leg was paining while using the clutch in the traffic.
4.
Toyota Liva Petrol
pros :
awesome drivability. loved the engine response , had a smile while taking the TD.
*effective brakes
* chilled AC
* 2 airbags
neutral :
* not so good interiors plus odd placement of speedo meter. dad didn't have a problem with this.
*pathetic panel quality although it did score 4 stars in the crash test.
if it were a petrol i'd have bought this because it'd have been perfect for my dad.
Diesel Variant :
the G model costed around 7.3 lakh rupees so didn't took a TD of the car.
5.
Honda Jazz Petrol
details here :
All New Honda Jazz i-DTec MT Driven
6.
Elite i20 Petrol
- already a blockbuster but it was expensive and the 1.2 petrol engine is under powered.
7.
New Ford Figo Petrol
will list the only con - didn't like the engine response. car felt strained even at low speeds. i am habitual of up shifting around 2k rpm and i tried to extract more power from the engine by taking it to 3k rpm but it felt the same.
cars not considered - nissan micra , renault pulse , tata bolt , maruti suzuki swift.
now coming back to the FIGO !
we were planning for a petrol car but dad felt the need to buy a diesel first and with a budget of 5-7 lakh rupees OTR delhi.
i took the TD of the Figo diesel 2 times and after reading good reviews about the figo i didn't think twice and suggested my dad to go with the same.
The Pricing
Ex-Showroom - 597600
Road tax - 34619 ( this include 4000 rs MCD parking charges )
Logistic Charges ( 6250 rs ) - waived off after complaining on twitter - 0
3rd year extended warranty - 6950
Zero Dep Insurance - 19700
Essential Kit ( 3200 rs ) - Free
----------------------------------
TOTAL - 659000 Rupees.
Now Some Pics That i clicked today.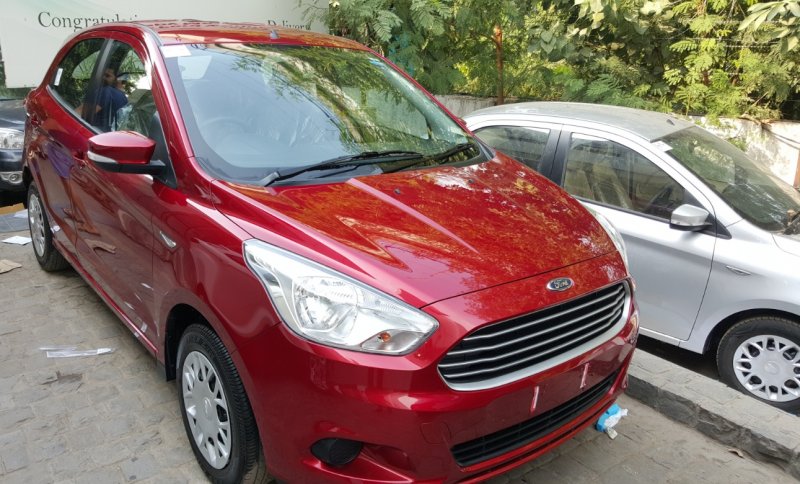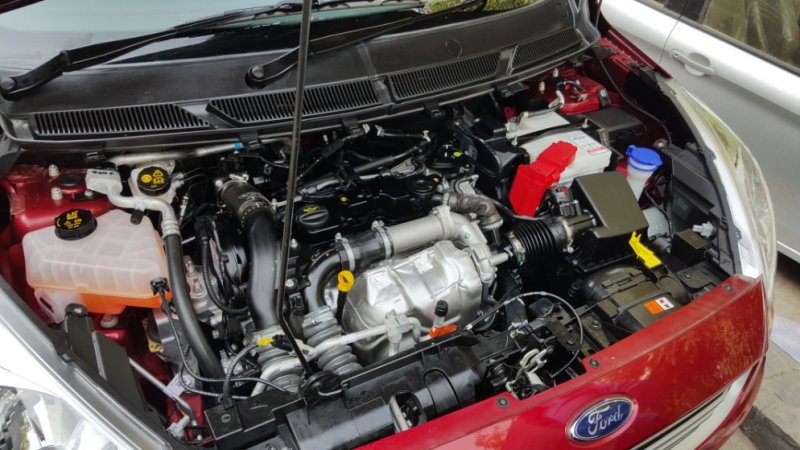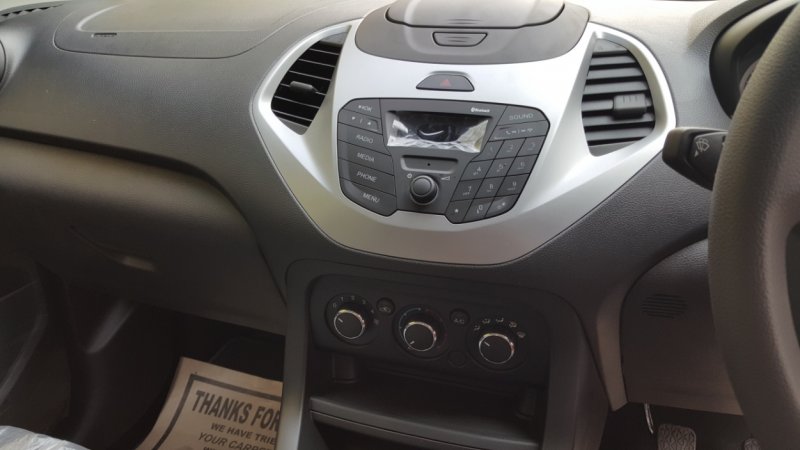 will click more pics tomorrow.
Initial Impressions and Observations
* the ruby red color look stunning in real , the pictures don't do justice to the color. the next color i liked was the smoke grey. looked smoking hot.
* the interior plastic quality could have been better but hey this car has a 1.5 liter diesel engine

the plastic quality is acceptable.
* the engine was eager to show its power. in 3rd gear whenever i leave the brakes , the car seemed to jump forward even without pressing the race pedal.
*nice rear legroom. i am 5ft 11" and my knee wasn't touching the front seats after adjusting to my driving position.
*really liked the position and integration of the headlamp switch.
* the car will honk if you press the lock button on your key twice. ease in locating the car in a mall parking.
* just 1 remote key , the 2nd one is normal.
* auto door lock after 20 kmph.
* Hard gear shifts , i don't know if its ford or because its a diesel.
* the front seats aren't uncomfortable but not too supportive. will have to add aftermarket seat covers with decent cushioning.
*
the front grille is silver painted but in the brochure it's mentioned that the grille will be surrounded by chrome. contacted ford on twitter , waiting for their response
thanks for reading.
Last edited: