October 28th, 2011
now has been marked in the history of global motorsports. Today was the day for which hundred thousands of automobile fans were eagerly awaiting. Probably we did not even imagine that India will be hosting its own international F1 Grand Prix event someday. But as someone rightly said, success comes to those who dare and act. We have an apt example of it in front of us today. Situated near the national capital of India in Greater Noida, Gautam Buddh International Circuit kick started off its first ever official race in India. It was an honour and a big pleasure to attend this significant automotive event. This was also the first live Formula 1 GP race event which I have ever witnessed in the lifetime. Here on, in the coming three days, I am going to share every possible minute detail and experiences from beginning to the end from the race event but entirely from a viewpoint of a general spectator. So please read on.
I chose the Classic Stand simply for the reason that it was the cheapest ticket available with proper seating option (although still not-so-cheap for 6500 bucks). But alas, never realized that it is going to be so exciting that I won't be sitting anyway. The venue is much far and in the core region than what I expected. It took some time for us to figure out the correct location and luckily, traffic was not really much. But in all the rush, I end up missing the initial practice session. Now it was getting a little more annoying because of the isolated location of venue, then no appropriate guidance for the shuttle service to reach the correct gate number, and on top of that, the scorching direct sunlight. Phew, finally somehow rolled into the place after a struggle of more than half an hour in the Buddh International Circuit. As soon as I climbed up on to the stair case – it was totally a different experience altogether - and forgotten all the frustration which I had past few minutes. The perfect seating location just became as a cherry on the cake. I can easily observe most of the area of circuit from here (Namely: The entire South Zone along with the exciting Turn 4 of Star Stand East is just visible from my back side). Although I had selected this seat after careful analysis but I was a little confused after booking it, considering there was really no such demand / focus for this particular stand. However, it is no more of a concern since I'm comfortable and find it perfect for myself.
Now I just took a quick glance only to note that almost all the seats around were vacant. It was the scenario with Premium South Stand and so the Classic Stand West. The most crowded stand was the cheapest ones, Natural Stand followed by Picnic Stand. And that is quite certain considering that its tickets were sold out within the first week itself when the bookings were commenced. The time was slowly passing on but I was rather eager to watch some real action on the track. Approximately, within half an hour, the Delhi Championship with MRF was flagged off and we could hear soothing noise of 1600cc Engine MRF Formula Cars and then started appearing the cars itself but heck, who cares? Bring on the real stuff which ironically, was still some hours away. Finally, after a long wait, the much awaited announcement was made. Menacing F1 cars were roaring at the start lane like a lion...three, two, one, and rest is just unforgettable! Hearing the noise of so many Formula 1 cars racing together is a different story altogether. But wait, this was just about the practice session. Best is yet to come on this Sunday's Grand Prix which all of us are enthusiastically looking forward to. I'd just like to honestly comment that I have neither never kept interest nor been an avid follower of Formula One, but I believe, this event has changed my thoughts to an extent. This really is an experience of a lifetime. All right. Now its late night and I have to catch the event again tomorrow, so I cannot write much at the moment. Please enjoy these exclusive pictures and videos in meanwhile (Probably first most comprehensive on the web!).
Table of Contents:
- Page 1:
Inaugural Indian F1 GP Report and Pictures
- Page 2:
Indian F1 GP Exhaustive Pictures
- Page 3:
Indian F1 GP Exhaustive Pictures (Continued)
- Page 4:
Indian F1 GP Final Day Report and Exclusive Pictures
- Page 4:
Indian F1 GP Theme Song "Hum Mein Raftaar"
- Page 5:
Indian F1 GP Final Day Exclusive Pictures
- Page 5:
Indian F1 GP Exclusive Coverage Videos
- Page 6:
Indian F1 GP Exclusive Coverage Videos (Continued)
Welcome to India's First International Racing Circuit. The Buddh International Circuit.
Important warning: You will find this at every motorsport-related event.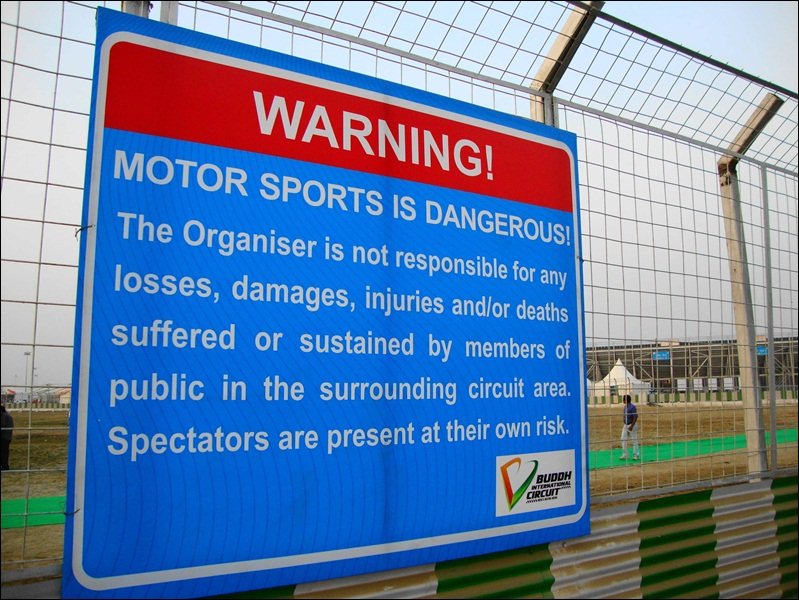 Struggling to find the correct Gate.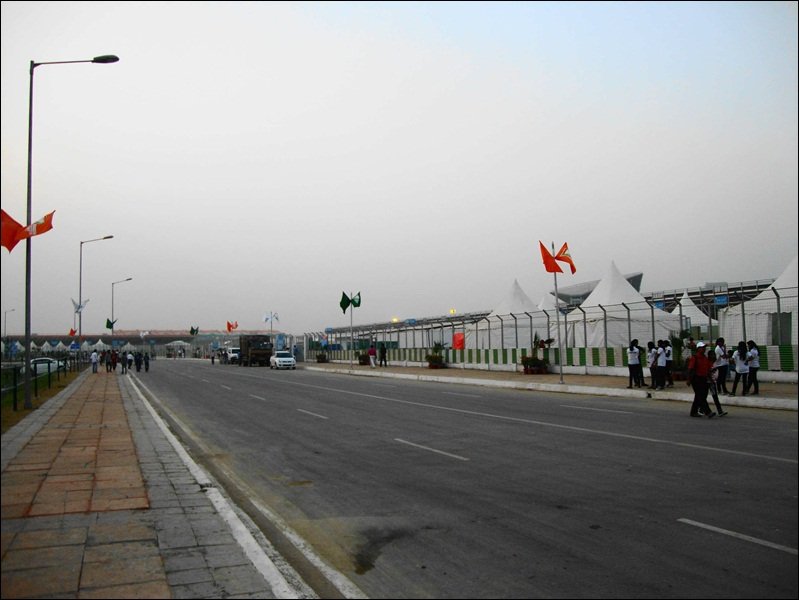 Still Searching...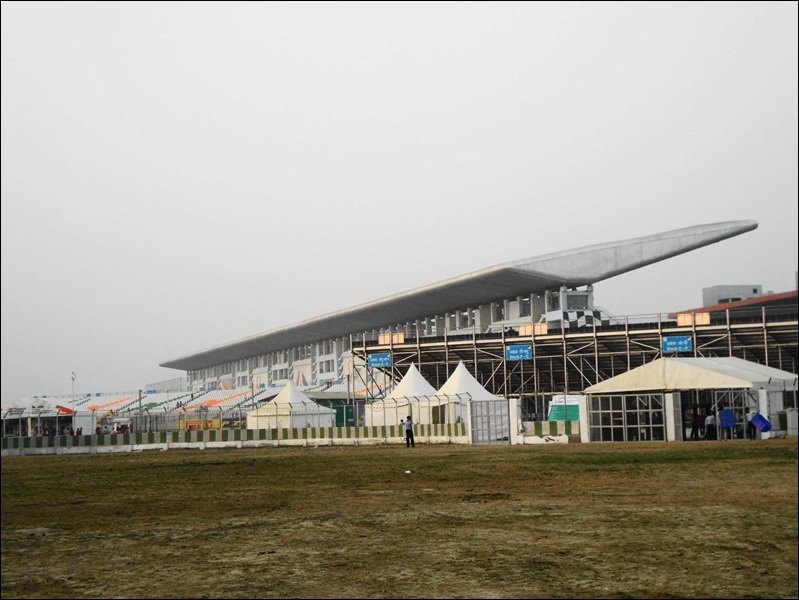 Still Searching...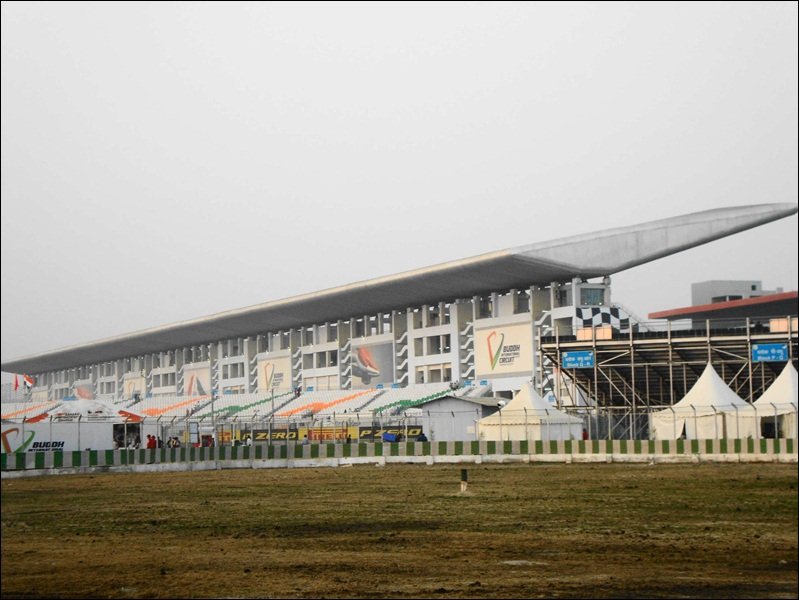 Aah. Here it is.