Car Tested: Volvo S80
Variant: 2.4 Liter D5
Transmission: 6 Speed Automatic
Fuel Type: Diesel
Indian Price: Rs.38,00,427 (After Recent Price Cut)
Official Website: Click Here!
The Automotive India's Volvo Special
T
he Automotive India has bring a
"Volvo Special"
series for its members as well as visitors where we will Test the current two Models available from Volvo India's Stable - The S80 Sedan and XC90 SUV to give you a completely Detailed and Un-Biased First Drive Reports.
Surprised Reading this much only? Real Action is Below, Just check it Out!
About Volvo

Owned by Ford Motor Company, Volvo is a Swedish automobile manufacturer founded in year 1927. Volvo is much reputed due to the world class safety features it offers in their vehicles which includes from small cars to massive trucks. Volvo Recently made their silent entry in India with 2 popular products, The S80 and the XC90. Both the Models have not yet proved to be a much success but not a failure either. The Automotive India Team picked these models to test out where they actually stand in the class, Where they score above in the segment and are they worth spending your hard earned money?
The Volvo S80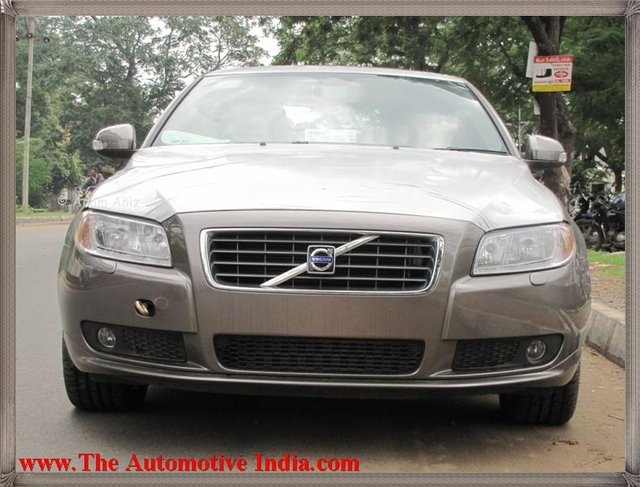 Volvo S80 is an Executive Class Saloon targeted to compete with likes of Mercedes Benz E-Class and BMW 5-Series in India, The car was originally introduced to the world in 1998 and soon after few years Volvo released the 2nd Generation Model in 2006. The car was of course safety rich and similar to other Volvo siblings. With-in couple of years Volvo Introduced this model for Indians to taste. However, This car itself didn't tasted the success in India, So Volvo has recently offered a hefty price cut of around Rs.8 Lakhs resulting S80 to become much more affordable than ever.
How It Looks?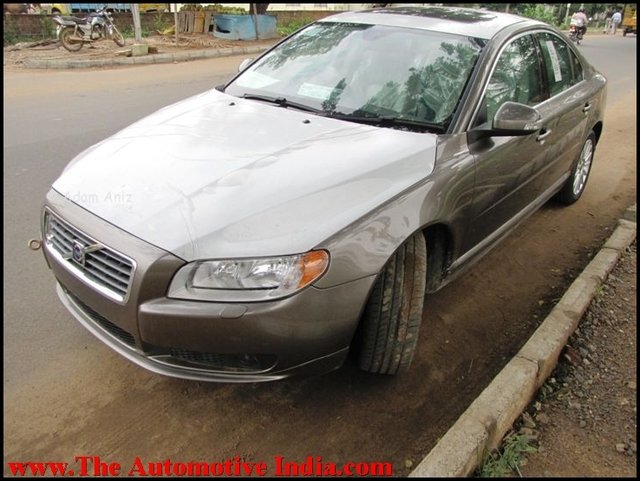 The Volvo S80 can not be said to be a head turner nor a drop dead gorgeous, Though First looks of the car are enough to define its build quality and robustness, The Exteriors of S80 are very well built and have a simple yet elegant touch.
Front looks of this Volvo are quite boxy, The chrome bordered grille accommodates a diagonal strip on which Volvo Logo proudly sits.
We can still notice the cues of old Generation S80's headlamps on this New model, Horizontal Headlamps are classy looking without much frills but what lights them at night is a powerful Bi-Xenons which are enough to turn dark into daylight.
Fog lamps of S80 are designed small and they have been tried to place at extreme ends of bumper to easily brighten the corner of roads on those foggy days. Also, Volvo has provided integrated skirts to give this executive sedan a sportier touch over all.
The Side profile of S80, Although it looks simple but defines the luxury in every bit. The outline of the car starts from alligator's mouth looking front and very slowly emerges at rear through C-Pillar resulting in a nice aerodynamic design, Even though the C-pillar is large, It never obstructed in our vision while reversing the vehicle.
Chrome inserting can be noticed all around the car and the doors are no exception, Broad shoulder of S80 connects the front and rear well where as waist lines gives a classy feel. This long 3 box saloon has wide Outside Rear View Mirrors
(ORVMs)
with integrated side turn indicators.
Rear Profile of S80 is fleshy and the uniquely designed.
"Maharaja's Darbar"
like tail lamps are one of their kind. Viewing the rear of car will let any one easily recognize that this one belongs to Volvo Family. Volvo S80's Rear parking systems has 4 Sensors hidden extremely low in the curves of rear bumper, Even the rear exhaust is invisible and finds its place under body, Beneath the Bumper. However, We would have preferred a visible dual chrome tip exhaust pipes.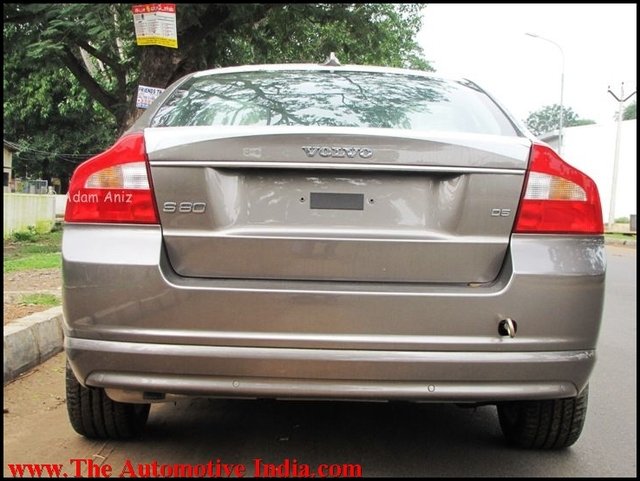 (Above: Tail lamps are on of their kind, Over all rear looks are bland.)
(Above: 470 Liter Boot space is Sufficient Enough to Accommodate your regular shopping bags or Suitcases.)