I remember some where in the forum
AMG
had asked me to post the auto scene in Denmark and
*Arkin_Young*
asked today whether I own a car here in Denmark. Well, instead of saying 'No, I don't have one', I would like to say why most of the people don't own a car in Denmark. Please note that the case of Denmark is slightly different from other European countries. Some of the things below will help you guys if you are planning a trip to Europe, as the systems are more or less similar across the geography.
Denmark
, which hosted the UN climate change conference couple of months ago, is one of the most environmentally friendly countries in the world. However there are some controversies as well. Please
read it here
, it is beyond the scope of my topic.
Copenhagen
is the capital of Denmark as most of you are aware. Due to its environment friendliness, there are two preferred way of transportation:
Bikes (Cycles)
Public Transportation
Surprised with the first option? Denmark is the most Bike friendly country in the world and especially Copenhagen is the best bike friendly city. I myself was using a bike till last December here. Following the picture of my ride:
This was a french made bike with 18 gears. Bought it for 1400 DKK (11279 INR) and sold it for 900 DKK (7250 INR) after using it for 1.5 years. My bike belong the the very basic model category. So it was very cheap to buy. A normal good brand/quality bikes starts from 5000 DKK (40280 INR) all the way up to more than 1 Lkh DKK.
Since Bike is the first and most preferred way of transportation There are separate bike tracks along side the roads with traffic signals. There are certain set of road rules as well. There lot of active groups supporting and promoting the bike usage.
Copenhagen Cycle Chic
is one of them. Well, this is good fun! For those who are interested to know further, check out the
Cycling and Walking e-book 2010
To make sure that no one is buying an self solution for transportation that easily which results the pollution and traffic congestion, Govt. has done a very simple but elegant rule. The
road tax for a normal car is 200% of its ex-showroom price.
On the other hand Govt. has made to it sure that the public transportation is at the top level. I think the only country which can compete with Denmark in this matter is Switzerland.
Coming back to road tax:
Since the road tax are mostly double the price of the car, only a small percentage of public owns a car. Due to the high tax, ex-showroom price of the car is relatively very low compare to other countries in Europe. eg.: Base model Nissan Pixo (MSIL A-Star) will cost 89990 DKK (724969 INR) ex-showroom which will cost 269970 DKK (2174907 INR) on road, excluding insurance, parking fees, entry fees to city if not registered in City region. I don't have to tell you guys that registering the car in City region will attract a higher tax! Insurance rate in winter is higher than summer. Also you need to separate set of 5 tyres - one for summer and one for winter!
On an average, if you want to maintain an Wagon R or something similar to that, you need to have 5000 DKK (40662 INR) per month including fuel, parking fees, entry fees and insurance. On the other hand a monthly pass for all type of public transportation for City inner region - 2 Zones - will come for 320 DKK (2602 INR) per month! Now, that best explains why I don't own a car here

Due to high tax and insurance, normally people tend use very old cars too. Because disposing the old and getting a new one is not that cost effective. Insurance rate fluctuates according to the age group of the owner and his previous road accident history. My colleague told that he really wanted to buy a Porche Boxter but no insurance company will give him an insurance for it because of he is young. All these doesn't means that there are no cars going around. Still there are lot of traffic issues and couple of my friends come from US said that they have not seen these many varieties of cars even in US.
How Do I commute in Denmark
:
As mentioned earlier I was using bike to my office a total of 22 KM (up & down) every day. This is really nice experience especially in summer. Most of the time I am using S-Tog, Movia Buses and Metros to commute.
Tog means Train in Danish. S-Tog is the city train service which is spanned across districts and connects the outskirts Copenhagen. Here is a picture of S-Tog at Copenhagen Central station:
Here is the interior view. Also note the display indicating the each stops. If the train is going to stop at a major station, it will display the connecting train and bus details as well. This informative display is there in each compartment.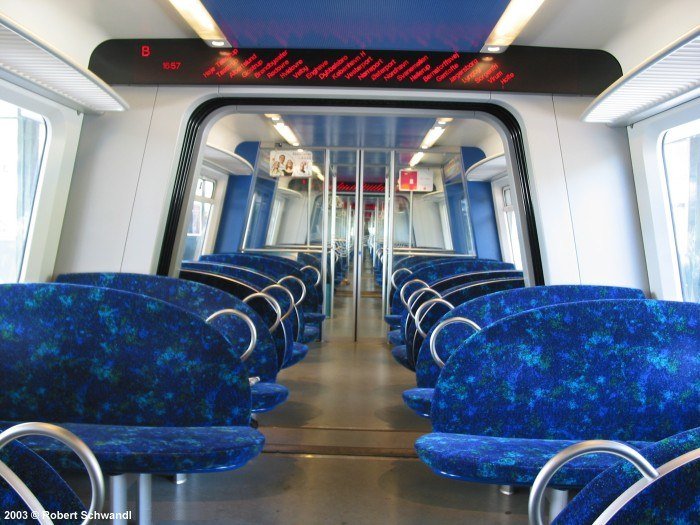 I always prefer using S-Tog becuase of the comfort. All buses in Copenhagen are painted in yellow. There are normal buses, A buses (which has a red strip on half of the portion in front and rear) and S buses (which has a blue strip on half of the portion in front and rear) running. following picture shows an A bus: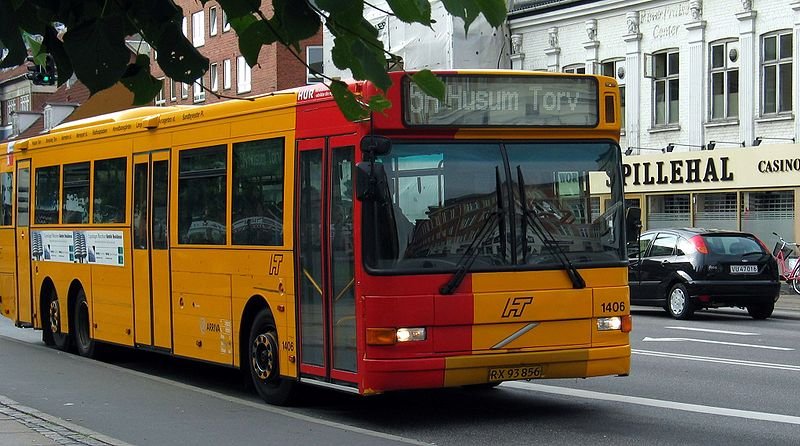 Noe the low flooring. These are much like the VOLO buses running in Bangalore, except that Bangalore buses has better leg room, interior and quality. Recently (couple of months before the climate meeting in Copenhagen) electric buses started operating in the city regions. These are small electric buses running between fixed stops in circular roots connecting major points of interests:
Note the green color on the bus indicating that it is green.
Metro trains are another excellent option. 80% of the metro runs through the tunnel. They are white in color.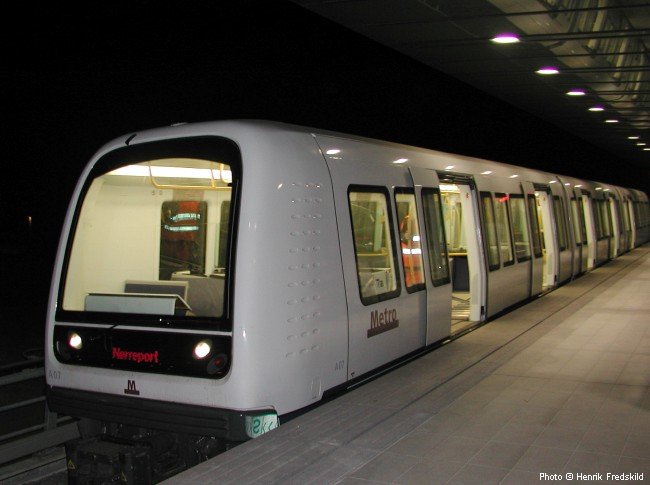 Here is the interior:
Frequency of these transportation system are unmatchable, round the clock. you will never feel it difficult to find a bus or train, because of the frequency and self explanatory guide lines and information displays.
When we have plenty of time to spare, we can try water buses too which is a scenic experience. There are 2 types of water buses. The latest and powerful one shown below:
and the old open top (though the top is not open) models: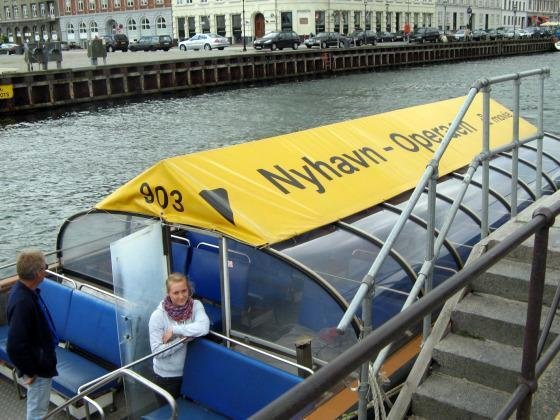 I have water bus stop just outside my office's back side where the old model is doing service.
Apart from these options, there regional trains of different types offering service to different islands and different countries. Those are of totally different types.
Back to work now, I will continue this thread later. feel free to ask if you have any doubts.
PS:
rates mentioned above are using direct conversion.