Every traveler keeps on looking for opportunity to travel. Yearend days are mostly good to travel because the pleasant climate and school holidays. I wanted to avoid famous tourist spot for this travel because there is always rush for new year celebrations. After listing down all these possibilities and striking off few other locations we finally decided to explore Gujarat (Saurashtra) region.
We were having total eight days in hand. The plan was chalked down on what to do and what not to. Gujarat has lot of temples which remains closed in afternoon. This has added a challenge to fit our visit based on itinerary. On other hand most of the hotels were as usual overpriced and almost full as it was tourist season for them. This was the first time where I need to keep altering itinerary till last moment. Alas we have finalized our stopovers based on itinerary and packed our bags
Day 1: Pune to Ahmedabad
Finally, the drive day has arrived. As usual started journey along with small prayer early in the morning. Pune to Ghodbunder (Fountain Hotel) was smooth drive as there are no issues on this stretch. Early starts always help to bypass city traffic which starts building in later hours.
One needs to keep plenty of patience between Ghodbunder to Ahmedabad as this section is truckers' paradise. Need to utilize all lanes to overtake trucks and proceed ahead. Till Bhoisar it was very tight way between slow moving trucks. Though the road keeps opening ahead but there is same story on every flyover. The best part of this highway is that it is lined by ample amount of fuel outlets, food outlets and transit stay options. You will find many restaurants of famous chains like "Sugar N Spice", "Honest", "Giriraj Kathiyawadi" throughout the highway. We spotted few "Undhiyo" sellers beside road somewhere near to Surat.
Our attention was grabbed by these smoky earthen pots buried in ground. This is traditional way of preparing Undhiyo
Undhyo was a bit on spicier side. I liked chutney which they served along with it.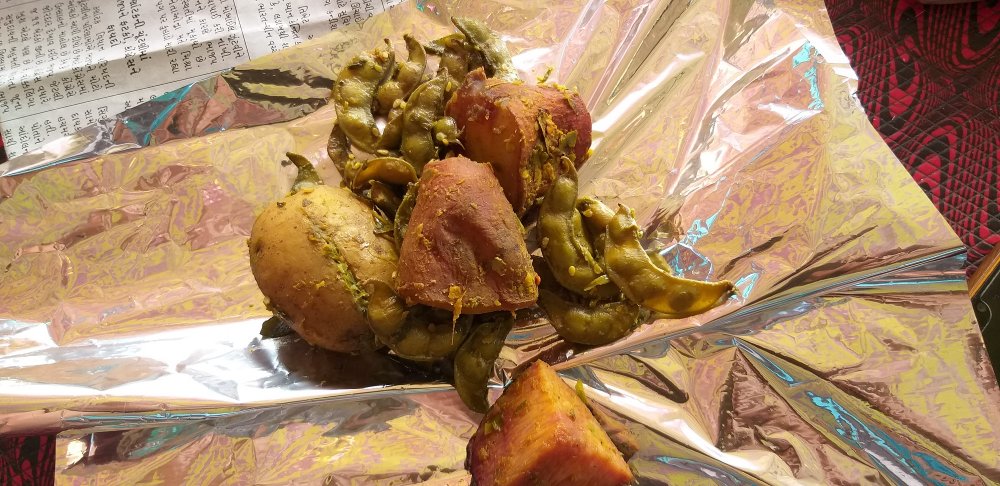 We resumed back to our journey. After making way through some hundreds of trucks we somehow arrived at expressway between Vadodra and Ahmedabad. The expressway was charm to drive as there were no two wheelers, autos, and tractors on it. At the end of expressway towards Ahmedabad exit there was a check post where I could spot few cops standing midway. The cops after looking my MH registered car stopped me while other GJ cars passed by. I could see one MP registered car was also stopped ahead of me.
Set of checks done by cop,
1st check: Rigorously checked my car and entire luggage in and out for any traces of liquor.
2nd check: Car documents, Insurance, License and PUC.
3rd check: Mask usage for all passengers (This they mostly spot while stopping your car itself)
4th check: Miscellaneous questionnaire like, "Why there is no yellow strip on right side of headlight?", "Why don't you have HSRP number plate?"
I was knowing that yellow strip rule got discarded many years back and HSRP number plates are issued to new registered cars while mine was 2013 registered. Secondly, MH is yet to issue HSRP for old cars. I explained all these to that cop. Once you pass out with flying colors in all these four checks then cop ask you to move with sad face else be ready to shell out few bucks.
It was almost evening when we entered hustling bustling city of Ahmedabad. We decided to visit Sabarmati Riverfront hence added location in Gmaps and started to drive. Ahmedabad city sees too much of traffic in evenings where most of the autos and two wheelers are driven like F1 cars. After following the instructions of Google lady and calmly passing through city traffic we arrived at Riverfront. It was good designed and well-maintained area with almost 11kms of walkway on both side of riverbanks. The river front is mostly used by locals for evening walks and jogging.
First view of Sabarmati riverfront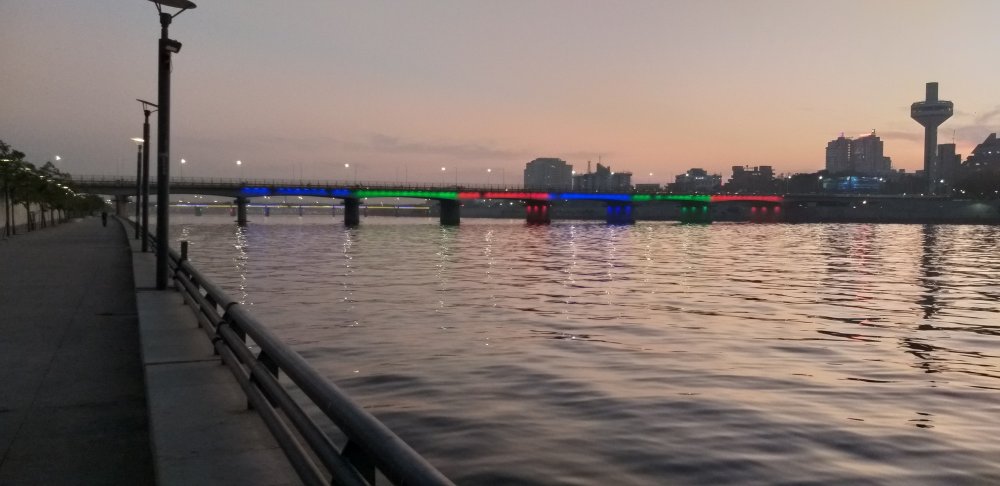 River itself is very clean
Lightings on the bridge crossing river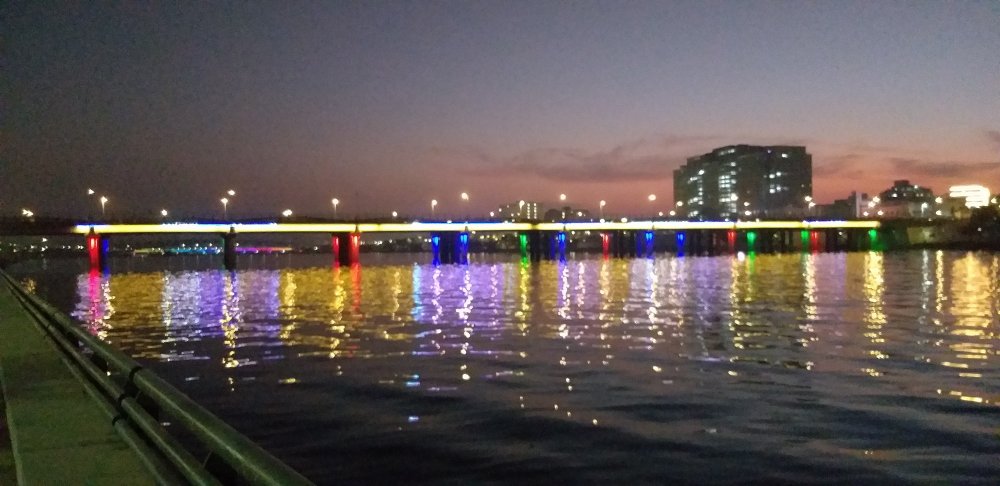 We walked a little bit on the banks. The authorities have kept few benches where you can sit and enjoy river view.
We sat for some time and then left for our hotel. At night we decided to visit famous "Manek Chowk" which is said to be foodies' paradise. As this area is situated inside old market of Ahmedabad which has narrow roads and parking issue hence it is better to visit there by auto. We hired auto and got experience of sitting inside F1 racer car.
Just before entering main food market, we visited nearby "Jama Masjid" which is iconic yellow sandstone mosque. One cannot gauge its beauty till you enter inside. There is a big courtyard and small waterbody created for washing hands before prayer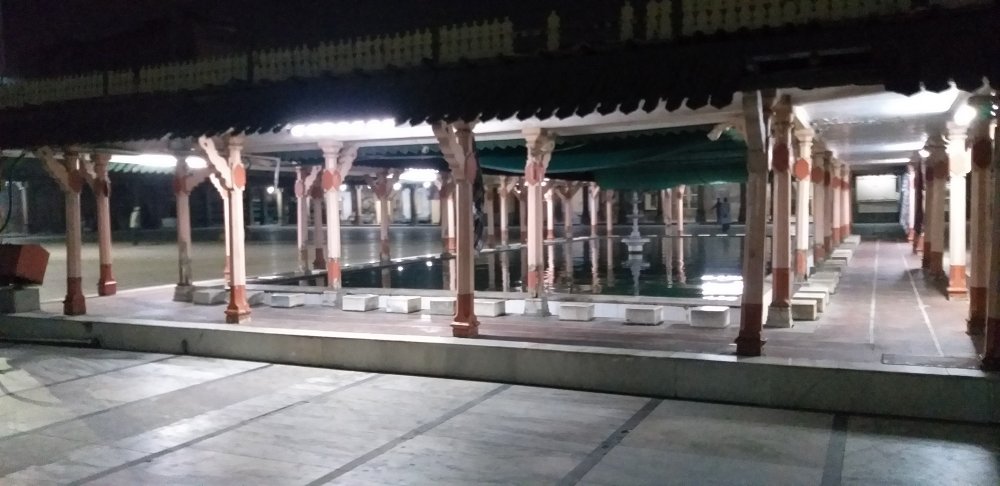 Jama Masjid is architectural beauty. It is said that there were tall minarets which are now cut short as they got collapsed in earthquake. It would be a beautiful experience to see this masjid in daytime.
We walked ahead to Manek Chowk. The area is jewelry market which gets converted into food market at night (Just like Sarafaa Bazaar of Indore). The vendors place chairs beside roads for foodies. There are many locals visiting this bazaar for food along with family.
We tried some veg biryani, pav bhaji followed by yummy and unique pineapple ice-cream sandwich (I tasted something like this for first time)
We had some chat items as well
Rabadi Kulfi Falooda
The lanes at the end of market have presence of vendors preparing fresh Fafda, Gatiya, Shev and Jalebis. The smell was so tempting that we had each one of them. Also, while returning we parceled some fafda and gatiya to our hotel room.
Continued..
Last edited: