Porsche yesterday unveiled the luxury saloon Panamera at its Mumbai dealer showroom in the morning.
Mr Rod Wallace, MD of Precision Cars India (PCI) the Indian wing of Porsche, Mr Allan Marriage Technical Head of PCI explained to the press the development of the Panamera through a audio-visual presentation. Following that, the car was unveiled sending the crowd into a frenzy.
Mr Rod Wallace stated that already 13 Panameras have been booked before the launch and they expected to surpass the target of 50 cars for this year easily. Three new dealers with fully equipped service stations will soon begin operating in Chennai, Ludhiana and Bangalore.
Mr Wallace said the Panamera is a "Super Luxury car" which also happens to have all the traits of a sports car. He claimed the genes of the 911 were buried deep in it and was responsible for the 4.3 second 0-100 run!
Porsche Panamera prices in India ex-showroom inclusive of VAT and duties
Panamera S:
Ex Delhi : Rs. 1,41,74,000
Rest of India: Rs. 1,44,36,000
Panamera 4S:
Ex Delhi: Rs. 1,47,11,000
Rest of India: Rs. 1,49,83,000
Panamera Turbo:
Ex Delhi: Rs. 2,01,84,000
Rest of India: Rs. 2,05,58,000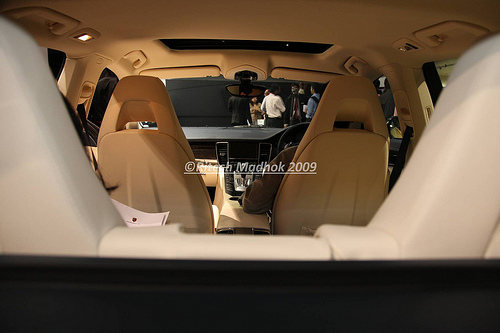 Due Credits to:
IAB
Drive Safe!
350Z