•
Route Taken:
Delhi > Mumbai > Silvassa > Shirdi (via Triambakeshwara Temple)
•
Mode of Transport:
Delhi - Mumbai by Air, Mumbai -Silvassa- Shirdi by Toyota Innova
Day 1
On Wednesday 27th May morning we departed to Mumbai by flight, it took approx. 2 hours and landed on the Maharashtra's capital, Mumbai. Our Toyota Innova picked up and we headed towards Dadra & Nagar Haveli, It was 4 hour long drive, I soon saw a board saying "Administration of Daman & Diu Heartily Welcomes You", as the time passed & Kilometers decreased, certainly the excitement level was increasing.
DAY 2
This was the second day of trip and we decided to visit the local tourist places of Silvassa. Since you all might be aware that this is much popular for facotires of famous brands such as Hindustan Unilever Limited, Siyaram's, Parle Agro etc. There was nothing as such to visit, So we just dropped into our relative's factory and asking upon our driver (who was a local'ite), told about Vasona Wildlife Park which was 9Kms. Away. On reaching, We took the small van and after getting inside park, realized that park was empty without a single animal, but thankfully soon spotted a lioness enjoying a sun bath near the pond. However, She was lonely in complete park and un-energetic as well as it can be seen from the pictures below.
After end of this Jungle adventure we headed over to the Daman Dam which was nearby;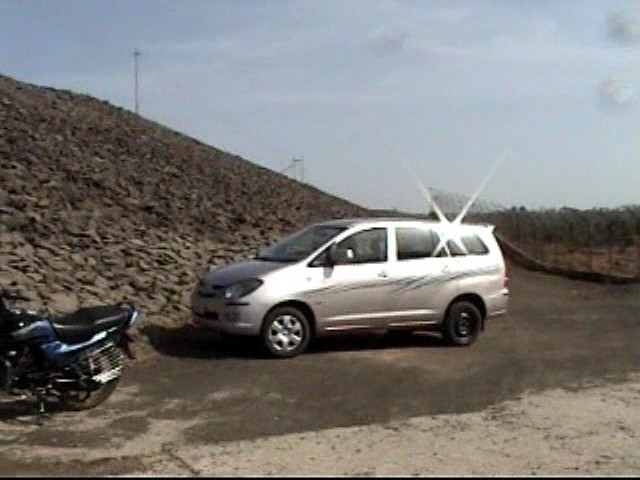 DAY 3 & 4
This was the day on which the whole thread is based upon. On early morning at 4, We packed our bags loaded them in the car started the journey, Our car was the only one on those straight, smooth empty roads and a few tribal
(Not the ones which you might be imaging say hoo-la-hoo)
. At 7 PM we reached at the Triambakeshwara Temple and done up with the
darshan
in less than 40 Minutes time.
It was 11 AM and I see a huge board saying,
Welcome To Shirdi - The Holy Place of Sai Baba
. So without taking trouble of booking any hotel there in rush, went straight away inside temple, Within half an hour we had darshan and after the noon aarti we went to visit other places in and around like Khandoba's temple and others are as follows,
Gurusthan
Dwarkamai
Chawdi
Lendi Bagh
Samadhi Of Abdul Baba and other devotees.
Use of Mobile Phones, Cameras etc is strictly prohibited in Temples Premises, Hence No Pictures.
DAY 5
On the day 5, After moring
aarti
, known as "
Kakkad
" Aarti, We entered in the Darshan queue and this time it took a lot of time to get darshan since it was sunday. On the same day we went to the Shani Temple which has distance of approx. 3 hours from Shirdi. It was time to return to silvassa and headed back with the hopes to make another visit to Shirdi soon.
Drive Safe,
350Z