Ford India has launched the Endeavour Hurricane 4x4 Edition in order to attract potential SUV buyers this festive season. This Limited Edition is available at a price tag of Rs.20,13,244 (Ex-showroom Delhi) and offers the following special features:
- Muscular Front Nudge bar
- Chrome Exhaust Trims
- 5th-Door convex mirror
- Hurricane body decals
High End In-Car Entertainment:
The touch screen based entertainment system has a built-in DVD player which supports all popular file formats and a rear camera. This unit also has a USB Input and Aux-in port that allows the users to connect popular MP3 players, such as the Apple iPod, with the audio system.
Ford India has targeted the 4x4 Hurricane Limited Edition of the Endeavour at a customer who is hard working, and parties harder, is progressive, seeks recognition, power and control and is a risk taker. "We are encouraging the outgoing, adventurous customer to take the new Hurricane where no one has gone before and come back impressed with its off-roading, safety features and overall performance. The launch of the 4x4 Hurricane Limited Edition will be accompanied by a 360-degree marketing campaign. The marketing activities will be a combination of traditional print media as well as the nontraditional digital media. It will also be backed up with events and promotional materials like danglers, fliers and standees at all Ford dealerships.
"The introduction of the Endeavour 4x4 Hurricane Limited Edition offers value for money coupled with distinct class and safety features for our customers during this festive season. This special variant offers aggressiveness, adventure and agility with features that improves safety, adds style and class'', said Michael Boneham, president and managing director of Ford India said."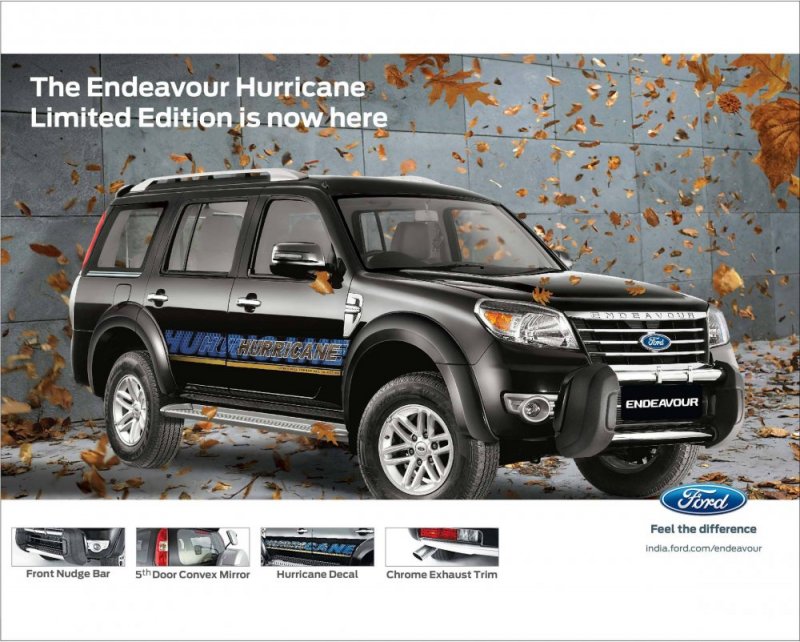 Drive Safe,
350Z