Joined

Jun 27, 2016
Messages

458
Likes

319
Location
**Disclaimer : Comparison is based on my opinion only. I used to own a Apache rtr 160, most of the things I mention is by comparing 6yrs of riding with that rtr.**
Hello everyone,
Background :
During July-2017 I felt the urge to have something out of life rather than my boring job. I read a quote "If you hate your job, then take a loan. You will love it from then onwards". This hit me hard and got me thinking what vent wrong when I compared with my college days few years ago. I really missed the days of just going out with friends, sudden unplanned road trips, night-outs, bunking college etc,. So I decided to make a change with my life and hence I decided to buy a new bike.
The Hunt :
My main preference were Comfort, Design, Maintenance, Ease of spare availability and Rear passenger comfort in that order and my budget was around 6L INR. The bikes initially finalised were Ninja Z650, KTM390, Benelli TNT600i.
Went to Bangalore and drove a z650, the bike is fast as hell and I felt like I could never use this as a daily driver and dropped the idea of getting an 600cc bike for now.
Next went to KTM showroom, during TD just a small throttle twist and the bike went wheeling. This bike also requires complete attention always and one small error in judgement may end up costing a life. So I decided I'm not even capable of riding a 43bhp bike and started to look for a lower bhp motorcycles.
Then I shortlisted FZ25 and Benelli TNT25. Benelli was great but I felt engine vibrations from it at very low rpm (may be an issue with TD bike). After enquiring the sales advisor, I came to know that benelli had a service intervals of 4K kms @ each costing around 2.5K+extra and I will have to change tires every 10-12K kms. Both tires would have costed around 16K. After calculating cost to own, it was as much as owning a superbike and hence I dropped that too.
So finally I was stuck with FZ25 and just went to showroom half hearted. Took the TD, IC of that bike was not even working. After few KMs I observed that the bike was torquey and still was in my control and suddenly realised this was much better for me to be use as a daily driver. After few days, I booked the Knight Black variant after an inspection. Final OTR was 1.47L INR including all accessories and extended warranty.
After Delivery till now :
Took the delivery of bike on 21/07/2017 and PDI went all smooth, got all documents and proof of extended warranty. Sales Advisor told me that they only have 2 accessories for FZ25 as of now and will install the remaining after stock is available and gave me a signed paper stating the same.
Initial Impressions :
1- Exhaust note of the bike was awesome (at least for me). Stock one's from Yamaha sounded like an after market one.
2- I felt that gear, clutch and throttle were hard and gave me a slight wrist pain. Later was adjusted according to my style.
3- Bike was always ready to be unleaded with slight throttle. The torques you get is awesome, especially for city rides.
4-The oil inter cooler really works effectively. There wasn't much heat radiating from engine even after a very rough ride.
5-Brakes are good. Never felt the requirement of ABS, not even once. (I normally use both front and back brakes simultaneously as mentioned in manual)
6- MRF zappers are doing their job pretty well.
Engine Break-in process :
As per manual, we have to ride the bike with <4000rpm till 500kms and <6000rpm till 1000kms.
FE and other details :
Initially i was getting an FE of 36.1kmpl in city which later increased to 39.9kmpl as ODO reading increased. Bike gives more FE than what is shown in IC panel. And FE in highway is around 43kmpl. FE was calculated via tank full to tank full method only.
First service is at 60 days or 1000kms and next consecutive services are at 6months or 5000kms. Only 3 free services can be availed.
Pros :
- Peak torque is at 6000rpm. Even in 5th gear bike can easily pull from 60-110kmph.
-Very good and well thought ergonomics.
-14 liters tank, some say we can easily get a range of 470kms.
-Even riding with Pillion you don't feel any lag in power output.
-Response of dual throttle set-up is accurate and predictable. You can feel the minute level of twist and the output of power.
-A constant Mileage between 37-40kmpl. (Great for a 250cc!)
-No heating issue, Air cooled engine with Oil cooler performs well.
-Good seating comfort for both pillion and rider is good.
-Bike feels smooth even at 60kmph.
-Superb exhaust note.
-Since it's an Yamaha, Fit and finish is great.
Cons :
-Sadly headlight is a major con for this bike. Not only it not that good but there is a slight headlight vibration in all fz25's.
-High beam throw is pathetic. Have to adjust manually.
-Slight vibration can be felt at 4000-6000rpm and afterwards it magically becomes smooth.
-IC panel is small in comparison. It should have been slightly bigger.
-O2 sensor and horn's wiring is exposed.
-Rear and front mud guards are useless.
Bike has a dimension of 2015x770x1075mm (LxWxH). Seat height is 795mm, wheel base is 1360mm and minimum ground clearance is 160mm. Turning radis of the bike is 2.5m
Engine is an air-cooled, 4S, SOHC, 2 Valves FI model. It can deliver peak power of 20.9ps at 8000rpm and peak torque of 20Nm at 6000rpm. Please do not let these numbers undervalue the bike, just take a TD and you'll understand what I mean.
Fuel tank has a capacity of 14L and can provide a range of 430kms easily. I really like how the tank is neatly sculpted. It gives the big bike feel. The scoops are aerodynamic is design and doesn't let water lodge in them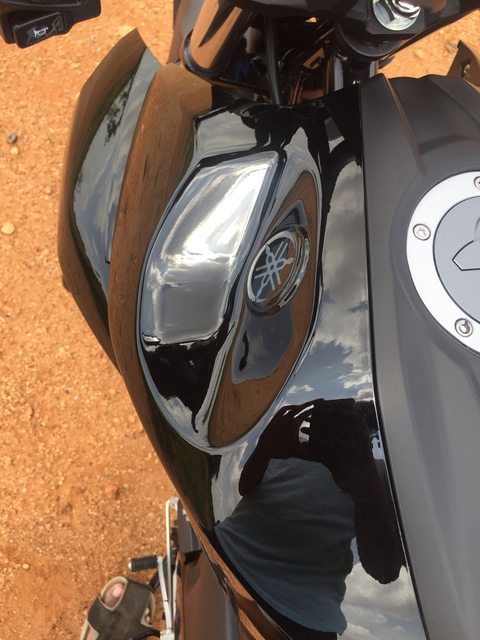 Front tyre is 100/80-17M/C 52P Tubeless and rear tyre is 140/70-17M/C 66S Tubeless. Front disk brake is a 282mm hydraulic one manufactured by Bybre (Brembo) and rear disk is 220mm hydraulic manufacture by Nissin. Wider tyres help in maintaining the stance. Most of the times you don't have to turn handle bar, just bend it at appropriate speed and it'll start to turn.
Rider seat is wide and comfortable, especially suitable for long rides. Pillion seat is higher than most of the bike in that segment. Only one friend of mine reported that pillion seat was hard.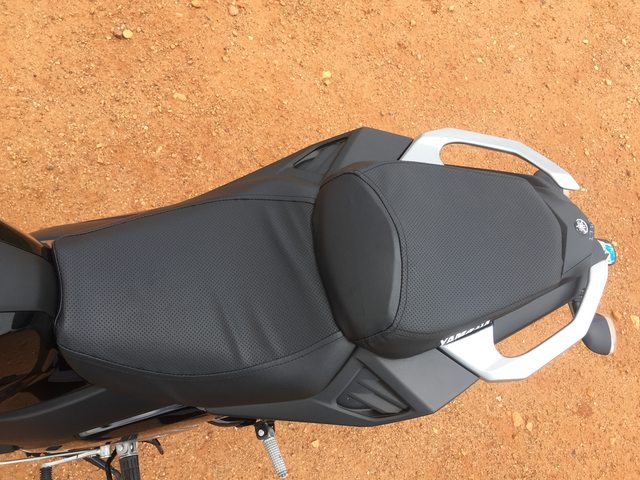 I like the look of head light, it has some inspiration drawn from MT03. It has 2 led for low beam and 1 led for high beam. There is an halogen parking lamp which cam be switched to an LED one. Frankly I would prefer halogen parking lamp only since it helps in fog conditions. Turn signals are doing their job pretty good but I felt like LED ones could have made this better.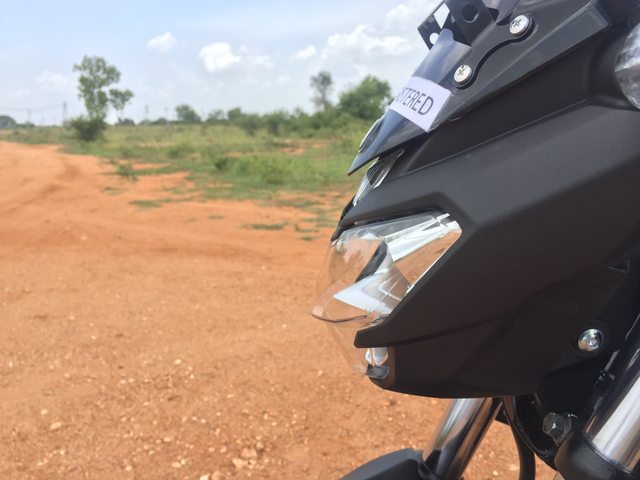 Front view of Head light at night, low beam and high beam respectively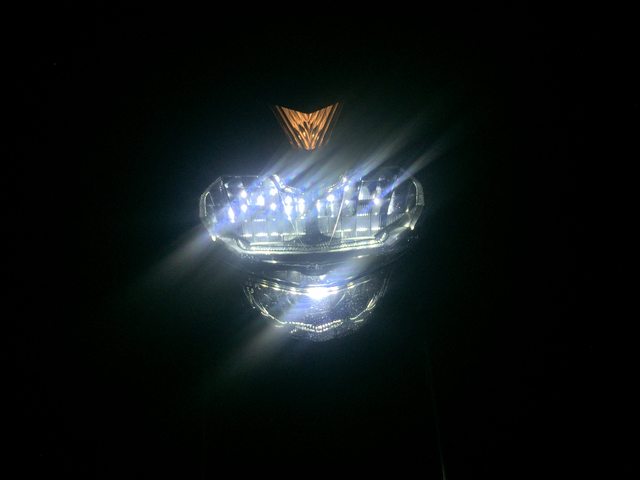 Rider point of view -
Low beam :
High beam :
Low beam comparison with halogen lights of i20 with hb.
Please don't let the pictures of headlight fool you. I felt like headlight is okay for city use but for
those who ride on highways at night you will have to get an auxiliary setup as high beam is less than useless
.
The bike has split led tail lights, good but it's same as that on rtr 160. There is nothing great about this especially in this segment.
Instrument Cluster :
Even though it's small, it is very informative. The bike has a tacho, fuel indicator, check engine light, HB indicator, Turn signal indicator.
The normal order of Select function is ODO > Trip 1 > Trip 2 > Instantaneous FE > Avg.FE > Clock.
When your bike reaches reserve level, the fuel indicator starts to flash and you get a trip function called "Trip F" which shows how many distance it's been travelled after reserve is reached. Typically you can travel upto 50-70kms on reserve only, but it is recommended to make sure that you fuel doesn't come below reserve level since it's an FI engine.
The new order of Select function is ODO > Trip F > Trip 1 > Trip 2 > Instantaneous FE > Avg.FE > Clock.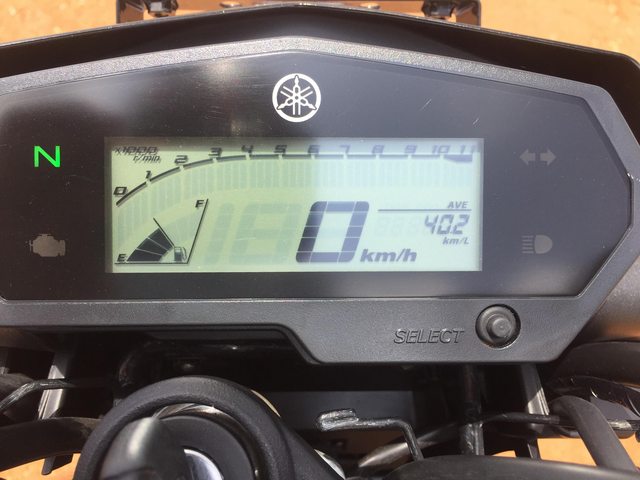 The bike has a self diagnostic mode. If any errors is found it'll indicate in trip section. There is also auto self diagnostics of FI pump when kill switch is off. If kill switch is on, it'll disable diagnostics on pump.
Bike has good mirrors but it also suffers from issue which haunts the segment. It has a huge blind spot at rear and sometimes i have to straighten my arm to see at back. I honestly felt like TVS apaches's mirror were pretty good.
Basically bike is an great example of modularity and cost reduction, very similar to KTM's way of thinking. FZ25 has parts borrowed from FZ16, hence spare availability is easy and lower in cost.
Who should consider this bike ?
-If you are a person who is new to 250cc segment and want to take time to built your skill to go to higher cc segment.
-If you are a person who has budget restriction of 1.6L.
-If you are a person who hate waiting for spares and service.
-If you are a person who drives a lot in city and needs torque and good FE.
FIRST SERVICE
SECOND SERVICE
THIRD SERVICE
FOURTH SERVICE
FIFTH SERVICE
Last edited: