Joined

Aug 24, 2009
Messages

5,891
Likes

1,143
Location
Ghepardo - Italian for Cheetah.
Mahindra calls the XUV a cheetah. I will call it Ghepardo. But why Italian? Well, in tribute to my loving Fiat Punto to which I am bidding farewell soon...

EDIT:
Name changed to Xoovy as a dear friend suggested the earlier one dint sound good. Hope Xoovy sounds better than Ghepardo!
Our Innova is 6 years old and has over a Lac kms on the odo. So ideally the XUV should replace the Innova right? No, it is replacing the Punto. Well, I am moving to UK and there would be nobody to look after the Punto, so it has to go. And since it is going, we have the freedom to have another new car.
Our primary requirement for a new car was that it should be a 7 seater, has all the goodies and creature comforts, has to be spacious and above all, should cost less than 20 Lacs on road. So there goes the Fortuner and Captiva!

Options left :
1) Tingu Mingu - Skoda Yeti :
We dint even bother having a test drive. We just had a look at it. It was much more expensive than the XUV. The biggest disadvantage it had was the cramped rear seat (for us) and the lack of 3rd row. Plus I feel the song 'Masha Allah' from 'Ek Tha Tiger' has been composed with Skoda's A.S.S. in mind.
2) The flamboyant uncle - Tata Aria :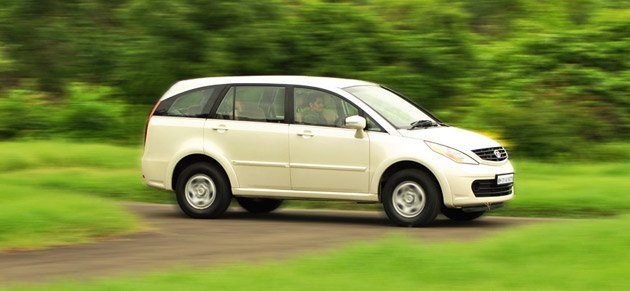 I dont know, whenever I see an Aria, it looks like a 40 year old uncle in a pink chiffon shirt, who has six pack abs and is smoking a cigar... Stylish, but OLD! I mean, look at the Aria from front 3 quarters - so mean and classy. Move to the rear -

Anyways, we did a test drive. Everyone in my family was impressed with the ride. For me, I was kind of okay with the performance of the engine, the turbo lag was a teeny weeny irritant, but not a big issue. Biggest dampener was that the top end Pride is not available in 4x2. We were not nuts to spend almost 19 Lacs on the Aria for the Pride 4x4. Plus, we did not need a 4x4. That means, we would have to opt for the Prestige 4x2 and miss features like side airbags, ESP, GPS, and Cruise Control, even after paying more than a Lac and a half over and above the XUV5OO. This is after discounts of close to a Lac on the Aria! Plus my father was not keen on buying a TATA again. I was not too keen either, as the Aria lacked a lot of gizmos...
3) The General - Safari Storme :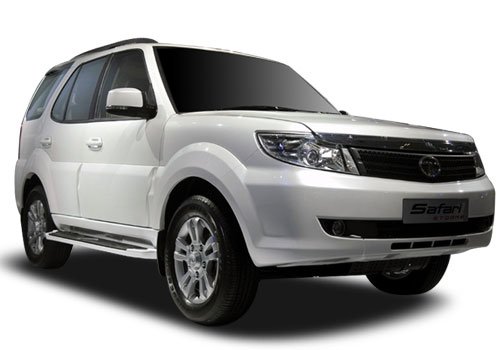 Safari Storme looks like an old 60 year old man with a B-I-G mustache. Hence - the General. I guess even TATA did not know when it will be launched. Plus it looked too similar to the older Safari for comfort. Plus it was rumoured to be priced closer to the XUV. Plus it had jump seats in the boot. Plus it was a TATA again. So bye bye General.
4) Cheetah bhi Peeta hain - XUV5OO :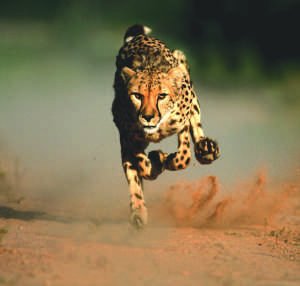 Oops, sorry... wrong image!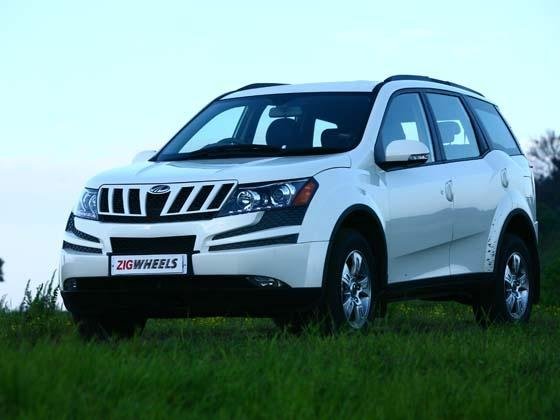 To be honest, my first choice was always the XUV. I have been following the XUV threads and ownership reports since the day of it's launch. I believe I know the in and out of it now. I am also aware of the serious issues and niggles associated with it.
So, took everyone for a test drive. When I entered the M&M showroom, I could hear an echo - "Ohh damn! You are back. Chipkoo." The sales executives looked more like my brothers who bichdofied in Kumbh ka Mela. I was so "at home" in the sea of Scorpios and Boleros.
My brother and my mom felt that the Innova's second row was slightly more spacious but overall they liked the XUV.
Shocking part was that, since the day of it's launch, the price has increased by 2 Lacs - some part by Mahindra and some because of the increase in tax for diesel vehicles.
Anyways, there was close to no debate on the colour - I wanted Opulent Purple or else Silver. Rest of the family wanted Satin white. And needless to say, we booked a
Satin White XUV5OO W8
today. On road price is close to 16 Lacs.
Dont ask me about the waiting period. I believe the car will come sooner than you all expect!

Needless to say, when I returned home from M&M's showroom, I started feeling homesick.
Moral of the story :
The MAHINDRA legacy in our family continues... Please welcome the new chap everyone.

Note:
PDI pics on second page.
Initial Impressions are
here
.
Some pics
here
&
here
and
here
.
A semi-long term review is
here
.
Last edited: