Joined

Jul 31, 2013
Messages

18
Likes

59
Location
We, 5 Gurkha owners, undertook a snow drive to Spiti valley last year in late February. I had always wished to share it with interested persons, however, couldn't do so due to work pressures and simply due to procrastination. Our expedition was also a sort of lockdown, and I guess it took another lockdown to act as reminiscent for me to write about our winter drive. So here it is, our self invited lockdown when 11 of us were stuck at Shego village, 9 kms from Kaza in Spiti valley in February 2019.

All 5 of were Gurkha owners and were already connected through Whats app group. So it was quite easy to coordinate, the only issue was availability of leaves and snow. Nature has been bountiful last year and there was plenty of snow, so now only second issue of leaves was remaining and thankfully that proved to be a major issue only for me. So the date of departure was started as 17.02.2019, Sunday from Chandigarh and only issue of time availability was with me. I wasn't sure till 5 pm a day before and when leaves were approved, Gurkha suffered a major puncture, leaving me in doubts about capacity of tyre to handle tough terrains offered by Spiti valley. Already the spare tyre was one with tube as it also suffered from a terrible puncture while being tubeless, so the

jugaad

was done with tube installed and keeping it spare and just to be used in case of emergency. Still mentally prepared myself to take on the challenge and reached Chandigarh by 9 pm for an early start tomorrow.

Preparations:

Practically nothing other than Yokohama Geolander AT equipped Gurkha and a tow rope.

Due to time scarcity, couldn't even pack properly and due to puncture en-route Chandigarh,can't even purchase specialized snow clothing though had packed plenty of winter thermals and pure wool socks which proved to be a blessing later.

Just had high spirits and a great company of fellow Gurkha owners.

Our team was taking one Force Motors mechanic and electrician along with though.

Culprit Nail


Let's start the journey:

Day 0: Only highlight was that I was able to reach Chandigarh, facing a puncture enroute.
The Culprit Mega Nail
Day 1: Sunday 18.02.2019
Chandigarh to Rampur with late lunch at Narkanda
Started around 8 am from Chandigarh after having breakfast. This drive was routine for me as I had worked in Shimla for a good five years. We had brief stop at Shimla before an extended stop for lunch at Hotel Hatu in Narkanda. We also encountered first major snow at Narkanda. It took almost a couple of hours for lunch as the service was constrained due to extreme winters and rush at restaurant. Other dhabhas at Narkanda market were already closed since it snowed heavily a couple of days ago.
Our Group, yours truly on extreme left, also my Gurkha is on extreme left
Met a couple of Gurkhas at Kufri which were returning from Nako. A lady from Pune was driving Solo, while other was back up.
Driving up from Main Market of Narkanda town to the parking lot of Hotel Hatu, hardly a distance of 600 m was in itself an adventure as a snow cutter was working and crossing it on narrow road gave us the first taste of adventure ahead.
Snow covered parking of Hotel Hatu, Narkanda
Since the plan was to stay at Rampur, as it was the only place where we can stay in hotel, so the drive was quite relaxed and we reached there almost by sunset.
Total Distance Covered: 240 kms
Drive Time: 8 hours
Day 2 : Rampur to Spillow
Original plan was to drive upto Shego village near Kaza, but came across the bad news that a huge land slide has taken place just after Nathpa on the main Hindustan – Tibet highway. So we started late in hope that landslide will be cleared by the time we reach there. However, it was such a mammoth landslide that it could be cleared only around 6 pm and it was already dark by then. It was also raining making it more difficult to drive. So, we had to cut short our plans and stayed at a rest house in Spillow. Encountered black ice near Ribba and slush in many areas as this road is prone to landslides and rain had made it worse.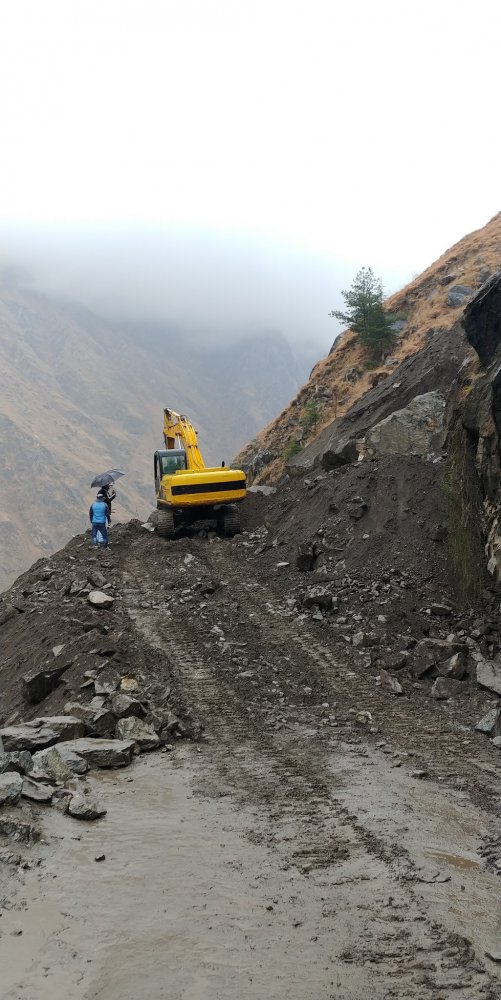 Landslide just after Nathpa
Total Distance Covered: 130 kms
Drive Time: 4 hours
Time Wasted due to landslides: 8 hours
Day 3: Spillow to Shego (Kaza)
Starting diesel vehicles in extreme cold is quite an art in itself and here we encountered our first brushes while starting Gurkhas in morning. All 5 were parked in open skies completely exposed to wind as well. Almost all faced troubles in starting in morning, temperature was almost sub-zero here. Other diesel vehicles were also having issues as well.
Got up to a spectacular morning view at Spillow
After having a heavy breakfast, we left spillow by 9 am. There was a notorious Tinku nallah just about 20 kms from Spillow. During summers it floods the road and during winters at times it leads to avalanches. And since we were already proving unlucky for almost third day in a row, so I was not having a good feeling. We first crossed a glacier easily and I thought we had crossed Tinku Nallah, only to realized after a couple of turns that it was some other glacier and Tinku Nallah was further ahead. And to prove our worst fears true, an avalanche had already taken place here just before we reached. I was cursing late start of 9 am, since I knew its importance before hand. Such delays are bound to happen when you move in a group though. So to make good use of available time, while Glacier was being cleared, we found a dirt track to the river course and drove our vehicles there. First taste of proper off-road in the trip so far.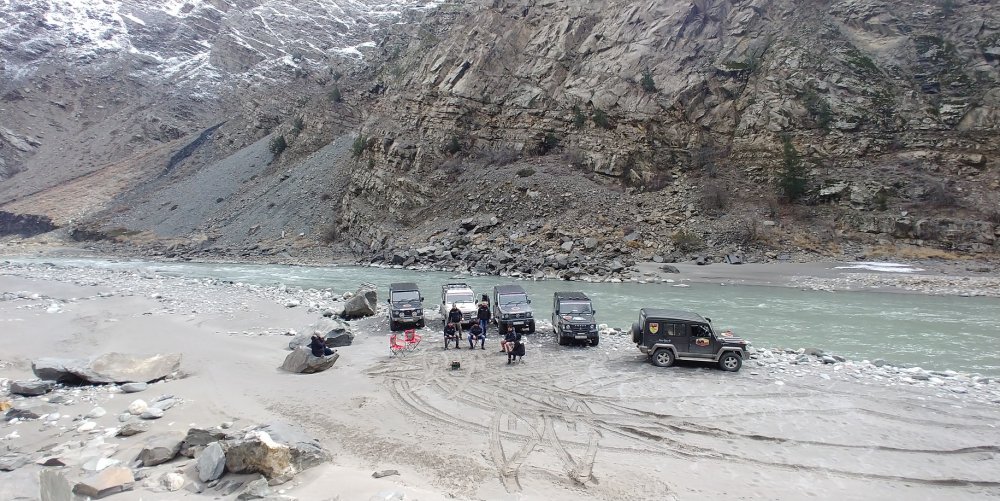 All 5 Gurkhas parked on the banks of mighty Sutlej and our little picnic underway
While we were enjoying our little picnic, there occurred avalanche in glacier which we had crossed earlier. It was quite a view and breathtaking experience watching avalanche so close and for real. Now we were grandly stuck as snow cutting machinery from Spillow had first to clear this glacier and only then, it will be able to clear main Tinku glacier. There was only a JCB working at Tinku glacier, which wasn't enough to clear the four story ice wall that had encroached upon the road. Another mishap happened here just earlier, when JCB ran dry and one Gurkha of our convoy had gone there to give JCB extra diesel from its Jerry Can. On return, its tire had burst due to a sharp rock, thus jeopardising further our chances of steady progress. Finally heavy earth moving machinery was able to clear the glacier at back and made it to main avalanche site by around 5 pm. With two such machines working from both sides in tandem, one had reached down from Pooh on other side, we were able to start around 7 pm.
**** Happens.... : Well Avalanche happened for us
See the amount of snow that needed to be cleared
Now we had to decide where to stay, only possible stay option was at Pooh itself, though that would have made us to wait for another day for making it to Kaza. Since we had booking arrangements made with a trusted home stay owner at Shego, near Kaza, so group decided to go for it, while I was not willing to drive at night on roads infested with Black Ice had to concur with the group. Thankfully, it was a full moon night and we managed to reach Shego village at around 1 am. Rescued a couple of vehicles enroute which were moving alone. Moving in a group/ convoy is always helpful in such extreme areas. Post Tabo, snow had covered road completely and there were large swathes of open glaciers as well. Just around Nako it looked magical with full moon. The dreaded Malling Nallah was totally frozen.
Here at Shego hot food and warm bedding awaited for us. Homestay was made in traditional Spiti style though it was a modern version of old mud houses which are found in this valley. Heating mechanism was quite ingenuine, a Bukhari (type of stove) was used to cook and heat the kitchen on ground floor while the exhaust fumes of the same were used to heat room on first floor, where 8 of us were staying. Outside temperature was around -31◦ C, but inside was quite cozy and I was amazed to see that these Spitians were making merry in the middle of winter with chill comparable to polar areas. We kept our Gurkhas running through out night to save trouble from starting those in morning in such cold temperatures. Also, all 5 Gurkhas were covered in heavy duty tarpaulin sheets to protect fuel from freezing in cold temperatures.
Traditional Bukhari/ Stove at our Shego homestay
Due to peculiar nature of diesel fuel, starting diesel vehicles in sub-zero temperatures is an art in itself and we had to master it soon as there was no escaping from it. Since diesel tends to gel in sub-zero temperatures, it almost becomes grease-like, so it's impossible to start diesel vehicles without additives and these too fail in these extreme temperatures. One friend had brought a german made anti-gelling liquid, which itself had frozen. We considered ourselves lucky that we were driving Gurkha which had old but prove technology and could withstand what it had to go through for starting on other days.
Total Distance covered: 160 kms
Time taken: 7 hours
Day 4 : Fun around Kaza
Let the fun be described by pics themselves

Gelled Diesel in Jerry Can

Our group in Kaza, this time I am standing on extreme right
Moving in tons of Snow around Kaza
And there was plenty of snow all around. Even the Spiti River had mostly frozen

Chortens at Kaza
We got fuel tanks filled at Kaza and then ventured 15-20 kms towards Losar side until we were blocked by almost 4 feet of snow wall.
Stay hooked for further adventure. Travelogue will be continued