Joined

Aug 9, 2012
Messages

91
Likes

5
Location
This is Volkswagen Vento ownership review. Covering buying, ownership and maintenance experiences. ​
Hi everyone,
This is my second thread in the forum. It's weekend and let me make use of the free time to come up with my VW Vento ownership and car buying experience.
Let me see how interesting and excited I could keep all my fellow TAI members through my post.
Well the search started almost a year back during end of May. It's been close to two years since our Tata Indica Xeta has been with us. I liked my Xeta and it's a true value for money. We absolutely had no problem with the car and the after sales service from Tata is really to be appreciated. I had taken an AMC from Tata and had not paid a single rupee for all my services, spare parts replacement, labour. Tata/Fiat car owners - if you need to know more about AMC you can reach out to me.
Now coming to where I started. Well the Petrol price has almost increased by 1/3rd since we bought the Xeta car. Also we needed a more luxury/comfortable drive for our long rides.
Unlike our first purchase where we kind of rushed, me & wifey were much focused now.
Preparation:
Me & Wifey listed on what we need in the new car.
1. DIESEL & only Diesel car [even if there is a free car no more petrol car]
2. Comfortness/Luxury for long drive
3. No customizations to the car. No more Autocop accessories. All accessories should be standard & inbuilt.
4. Airbags [both driver & front co-passenger]
5. ABS
6. Alloy Wheels
7. Decent boot space
8. Atleast 50% down payment - means car loan for not more than 50%
Then came the major question – how do we fund & budget constraints. So budget came to about not more than 8L on-road price.
Then started the showroom visits, test drive.
We shortlisted
1. Swift Desire
2. Fiat Linea
3. Ford Fiesta – One of my friends has this. So ruled out.
4. Chevi Optra - very old model. So ruled out
Yes Vento was not in the initial list
We were excited on our car hunt.
Swift Desire:
Surprisingly we had a decent reception and service @Maruti showroom. Only ZDI comes with ABS, Airbags alloy wheels and no optional features in VDI. ZDI on road comes to around 9L+.
Pro:
Maruti tag, service
Cons:
Somehow I am not a big fan of Swift & Desire
Also you get a feel of a hatchback and not that of a sedan
Waiting period 6 months
Also the resale value they quoted for my Xeta was peanuts. They never got the test drive vehicle. So ruled out.
Fiat Linea:
With ABS, airbags the onroad came to about 9.5L+ There was an offer going on and if we are lucky winner Fiat will offer 1L discount. We are taken aback and this will be well within our budget.
Pro:
WOW, Linea is a fun to drive.
Smooth ride and better handling even at higher speeds.
Complete package – ABS, airbags, alloy wheels, Bluetooth, Steering Controls, USB
Moreover Fiat gave us a very good deal for my Xeta.
Cons:
Very discouraging sales figure of Linea
Fiat brand value
But we zeroed on in Linea. Yes we had.
Wifey insisted on visiting another Fiat showroom and the hunt began on the next weekend. I missed the route and entered into Hosur road [from Silk Board]. Wifey spotted the Volkwagen showroom and she was happy to visit another car showroom. I was hesitant and told Wifey that Vento is way beyond the budget. She was insisting on to visit.
Well I have to stop at VW now

. Hesitantly I entered the showroom. My craze on German cars came out and Wifey spotted a glow on my face.
I should thank her now.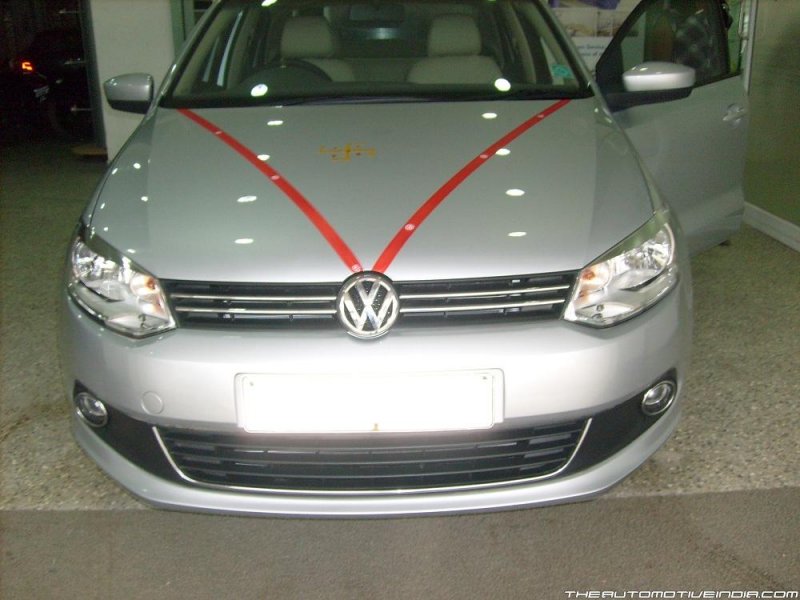 The sales guy was very interested and did good justice for his job.
Now we headed to another Fiat dealer in Bannerghatta Road. Almost here also they offered the same deal.
I said a strict no to VW and we zeroed in for Linea and planned to do the booking in July end. We happily visited our native place in August and things got a complete U-turn over there.
My father-in-laws friend suggested –
why Linea? Why don't you add 10% more and go for Vento.
We don't have plans to sell this new car and not bothered about resale value.
Well we were puzzled and now back to square one! We relooked at the options and decided to check for
1. Vento
2. Verna
3. Scorpio
4. Xylo
Booked test drive for Vento & Verna. Luckily both got their test drive vehicles to my place the same day. I was able to take back to back test drive. This helped a lot in deciding.
Verna:
New model and has almost all loaded features.
Pro:
Has almost all features
Disk brakes on all 4 wheels, ABS, Airbags, Bluetooth, Steering Controls, Reverse camera
Cons:
Ride handling. I was taken aback by it ride handling abilities.
I could literally feel the Steering wheel vibrating [like hell] even @ 90KM.
My Xeta is better when compared to Verna.
This defeats all other pro's.
Waiting period 6-8 months.
And moreover the dealer was behaving as if he is giving the car for free.
Scorpio, Xylo:
I was bit concerned about the mileage factor and hence ruled out.
Vento:
Now comes our best pal VW Vento – Highline Diesel
Pro:
VW brand value
German Engineering
Wonderful ride handling.
Vento is a sheet beauty to drive.
2 months waiting period
Cons:
No steering control
No Bluetooth
No USB support
I was promised though that I would be a one of first customers to get the new model with USB, Steering control mounted Vento.
Well I din't believe the sales guy, but still decided to book Vento.
My Wifey was in favour of Verna. But she let me decide as I would be the one driving the car [mostly].
Hurreeyy!!! Booked our "Vento Highline Diesel" mid-September & we asked for delivery during Decembe
r.
Now coming to the more reasons on why I chose Vento.
German car
Tilt & Telescopic adjustable steering
You won't feel a difference whether you are driving at 20KM or 130KM speed.
At 1500KM the car literally flies. You will just love and enjoy the engine power on a highway.
Brand Value.
Well now I can happily say a big thank you to my Wifey and my uncle's friend.
During November second week the sales guy called and informed that my car is allocated. Wow a pleasant surprise. Well, the immediate weekend we headed to see our car. Did a thorough pre-check of the car and went ahead with the other pre-delivery formalities.
To our pleasant surprise, the car was with Steering mounted audio control, USB support as promised by sales guy. In addition it also has reverse parking sensor with a digital display. We were in cloud nine!
Had gone with a checklist
1. VIN number
2. Odometer reading
3. Check for scratches
4. Apart from these they dint allow to check the interiors.
Completed the formalities and we were ready to take our Vento during last week of November. We had been preparing for this day for a long time.
Arrived at the showroom well ahead of time. Inspected the car again.
1. Checked the exteriors again.
2. Checked all the features of the car
3. Asked for a thorough demo of the car.
The sales guy was surprised to see me come with a checklist.
The puja for the car done and I started the car. Asked the sales guy to get the car out of the garage. Another puja done and we headed straight to temple.
It's been close to a year now. Wifey is now just enjoying the Vento. Better road handling. She read few -ve reviews on Verna. The brand value and wow factor when someone asks
"Oh you have a VW! & that too Vento"
.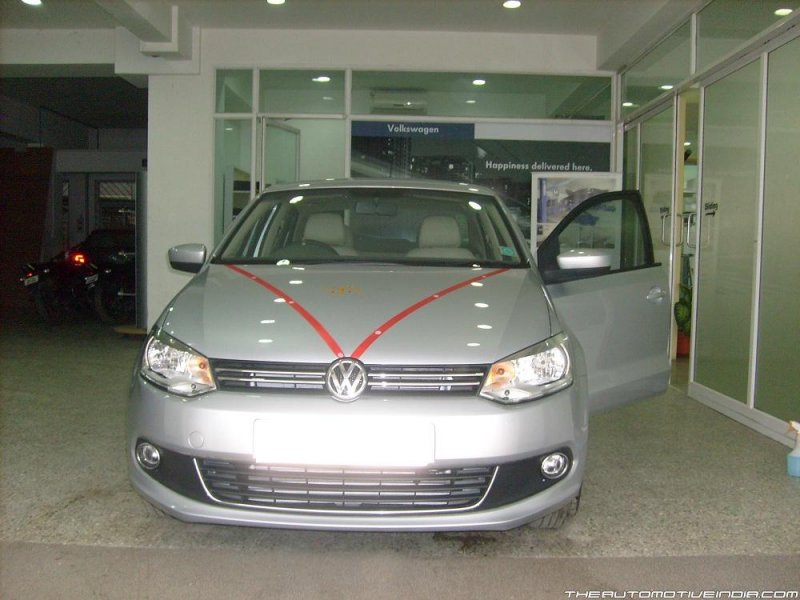 Now we need not worry about whether uphill or downhill, with AC or without AC, @50KM or @120KM the car behaves the same.
Just Loving the Vento experience! 9000KM+ and counting
If you need more specifics, you can let me know. All other standard car features are available everywhere. I have shared my experience here.