Kolkata based Vibgyor Allied Industries flagship company, Vibgyor Vehicles, is planning to set up second two-wheeler manufacturing unit in Dankuni in West Bengal, a top company official said in Mumbai.
"We have an existing manufacturing unit at Dhulagori plant near Howrah and setting up another unit at Dankuni in West Bengal which will be operational by June this year," vice president of the company Mrigen Banerjee sais after the launch of its vehicles in Mumbai.
The company plans to invest around Rs 100-crore in both these units, Banerjee said. The company proposes to increase its manufacturing capacity from 15,000 units per month to 30,000 units per month.
"We plan to expand our manufacturing capacity for which we are planning to increase assembly units. We are also looking at setting up an assembly plant in Maharashtra for the western region, subject to the demand," Banerjee said.
The company, which recently launched its first 100cc bike 'Gallop', is poised to to launch its 125cc model 'Hunter' and 150cc model 'Shark' shortly. The 100cc Gallop is priced at Rs 29,990 ex-showroom in Mumbai. Its 150cc Shark will cost Rs 50,990 while 125cc Hunter will cost Rs 43,990. The successive launches of 100cc Persona, utility scooters and 200cc bikes are in the pipeline, he said. The company is also eyeing an all-India presence banking on an extensive dealer and sub dealer network of 521 and 1200 outlets respectively. The company plans to sell 1.5 lakh units of Gallop in the first year of the launch and increase it to 2.5 lakh in 2010 and 3.5 lakh units 2011. Vibgyor's Dhulagori plant is capable of manufacturing 17,000 vehicles per month in multiple shifts.
Source: Economic Times.
-----------------------------------------
Was anyone of you aware about this brand earlier? I came to know about them only after recent Auto Expo.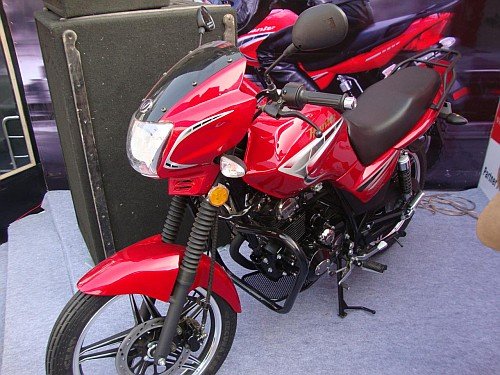 Drive Safe,
350Z