The background.
One of my friend owns a few trucks and badly needed new tyres (a pair or two). His regular garage guy was not in town and we could not wait till he returns.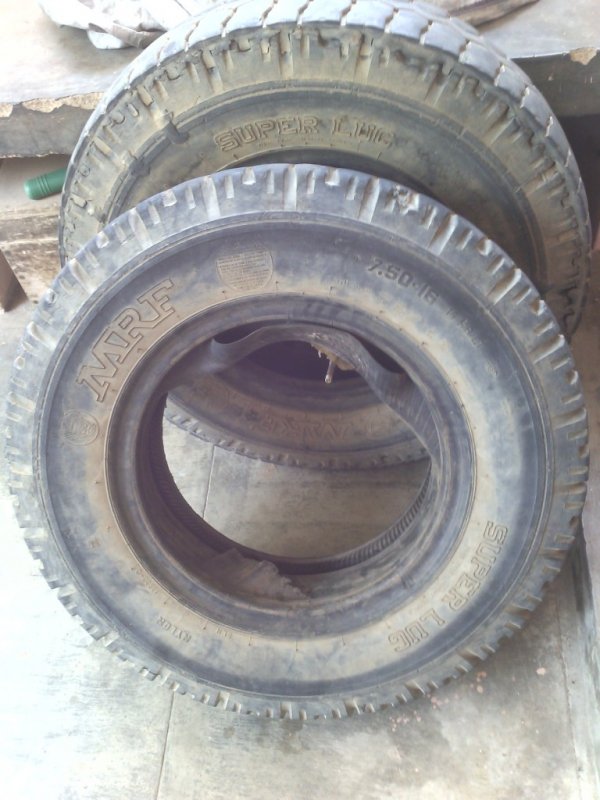 We set out on a rather "Business As Usual" trip with no great plan of any sort to J.C.Road.
Got to see a few tyre shops and enquired prices etc
What came next is what this thread is all about.
The tyre industry runs on a crazy combination of the below products
1. Genuine tyres - sold with bill, tax, warranty
2. Genuine tyres - smuggled & sold without bills
3. Factory seconds tyres - quality rejected ones, disposed off on weight basis which is picked up by dealers in auction and polished and sold outside. Usually These kind of quality rejected tyres will have the band name scratched out of the sidewalls. They look perfect in every way, most of them have minor defects in date printing etc, but the ones that have no visible issues are the most risky ones (as you have no idea, what exactly went wrong)
4. Cheaper imported tyres - Hifly, Ling long etc One of my cousin is using "HiFly" brand tyres and surprisingly it is a soft compound tyre and does a brilliant job in absorbing road noise.
5. Cheapest of the lot - Indian make, replica of same design MRF/JK/Bridgestone etc (a huge no"of of auto rickshaws run on these tyres - manufactured by a local tyre company and sold without bill and has same thread patterns as any reputed company.
The Location:

After one of my friend gave me a hint on this godown near Chamrajpet, we both went in hunt and after nearly an hour, an autorickshaw guy gave us the right direction. Inside a huge compund that has multiple mini godowns (rice, tyre, cement, etc)there lies 4 huge godowns, we entered the first one and my goodness, the first time in my life I saw thousands of brand new tyres in one place.
Here are the prices quoted:
Truck Ply tyres - 16' - 6000/- quality reject ones
(original ones not available) -
market price 7500/
- - its a quality rejected michelin
Truck Radial tyres with tube -16' - 7000/- looks very genuine, but market price is 10500/- for the same at a retailer (made us feel suspicious)

155/xx R13 tubeless JK - 1900/- each and no other brand available - final price 1600/- each (market price is double of this)
185/xx R14 MRF - 2200/- each, final price 1750/- (market price is double of this)
The location is such that we got to buy something once we enter, the sales person is pretty bully in nature. I was interacting with the helper there (same mother tongue hence) and he gave some insights about these tyres.
Lots of trucks, water tankers etc run on these tyres
Almost 2 out of 5 cabs in bangalore use these type tyres (especially when they have to run for FC renewal)
Most common failure in these tyres seems to the thread pattern getting misaligned at half the age of normal tyres
They have an understanding with the concerned govt bodies so that, when tyres are transported in between cities, as long as they dont have any COMPANY name on them, they will be considered as used tyres! Hence no big checking at checkposts and minimal bribing to local cops.
Hifly car tyres are imported for a 3digit price! sold for double at retailer end.
In one hour I saw about 15 - 20customers, mainly trucks drivers, tractor owners, jcb owners and few cabbies bought tyres. A transaction worth 1 - 1.2+ lakhs with no bills and goods sold without any delivery offered.
We also ended up buying 2 JK tyres for his Santro (as he just wanted good tyres while selling the car and nothing else.
Now this scene scared the hell out of me, thinking about

Imagine the number of high speed trucks out there running on factory reject tyres!
Bangalore is filled with cabs - of all kind, they usually touch 80+ most of the night trips, imagine what a tyre burst can do
Some top tourist & travel agencies including ones that operate Volvo's are his customers.
80% of all tyres seen there were HCV kind.
I saw about a Lakh tyres in one place, imagine the size of go down.
Isnt it the responsibility of the tyre companies to shred factory reject tyres?
How to be 100% sure about the tyres we buy even at genuine outlets?
I saw same tyre in both genuine showroom and godown - who is selling what?
For guys who use car occationally and dont do high speeds, it may not matter.
But think of yellow board, trucks, buses plying on these!
I will share a pic of the JK we bought soon.
If anyone else knows more about the quality check at a tyre company, please do share.
Last edited: