Joined

Aug 6, 2011
Messages

15
Likes

5
Location
Twin Battle,
I would like to share my ownership review on Maruti Baleno and my Dad's Ford Ikon TDCI.After returning from US ,I was looking for used sedan around 2.5 lakhs,
I had following options
1) Accent - My first car was Accent sold it before moving to US,so decided to buy something different.
2) Baleno - was with in my budget,during my college days I used to think that Baleno was a big luxurious vehicle from Maruti stable,read lot of reviews and found to be a driver's car ,so it was top on my list
3) Esteem - Since Baleno and Esteem where quoted for similar price,I decided to opt for Baleno(better car than Esteem,in my opinion,no offense to any esteem owners)
4) Fiesta - Good to own,but couldn't get a good car with in my budget.
5) Lancer - Would definitively love to own a Lancer,i was worried about maintenance, so decided against it.
Finally decided to buy Baleno and was looking for it.I found a silver Baleno Lxi with 36000 km from Maruti True Value,went there with my mechanic,got a thumbs up from him,did a test drive was happy and took the deliver for 2.3 lacs on Dec 2010.
Around same time my dad decided to upgrade his M800 to sedan,he was looking for diesel.One of his close friend had Ikon TDCI and recommend it ,he bought Ikon TDCI on Sep 2010.
Now my Baleno is @ 47000 km and Ikon is @ 33000 km, hence I thought of writing an ownership review comparing two cars.
My Suzuki Samurai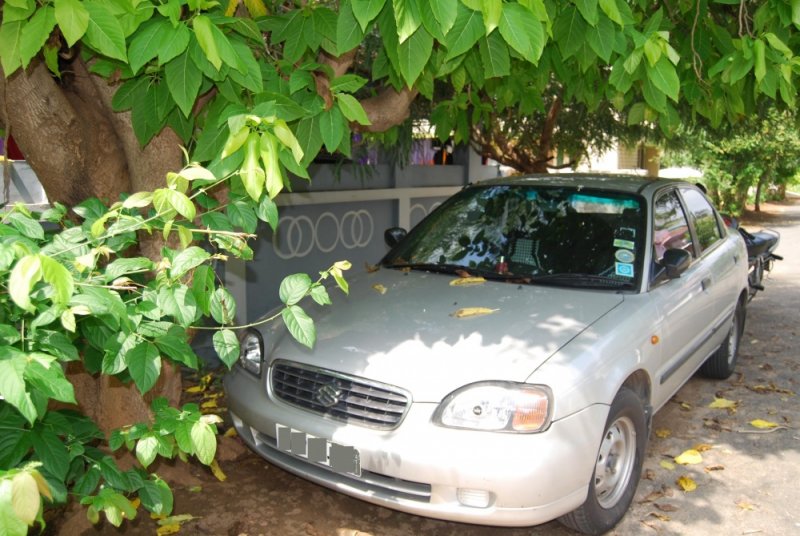 My Dad's American Cowboy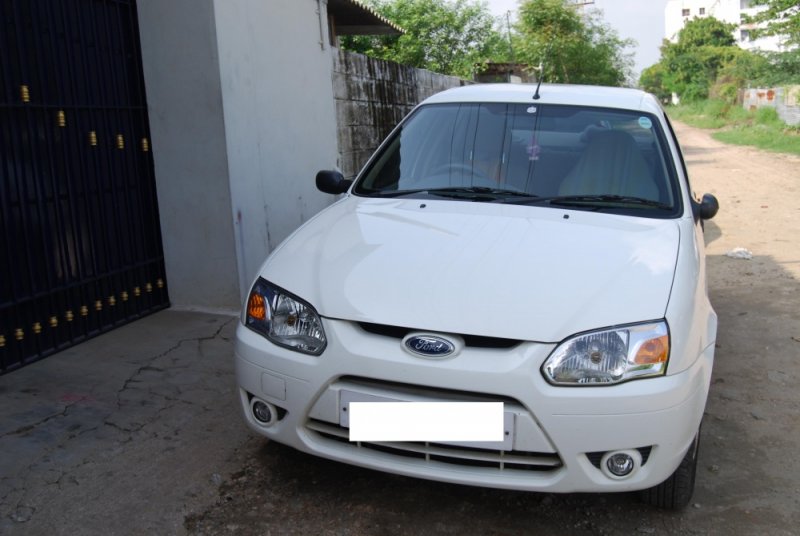 Exterior Design
I like baleno's long bonnet design and elegant side profile but hate blunt back design.
Ikon is really cool in all angles, looks like a proper compact sedan,my vote for exterior design goes to IKON TDCI
Interiors
At front, cars have similar amount of space, dash board in Ikon is too primitive, baleno is ok.Ikon seats are little firm compared to Baleno's.Space in back seats are similar and have room to accommodate three adults.
Engine
Baleno's 1.6 is not too refined but it is smooth and rev happy engine. You can drive in 5th gear with 40-45km/h speed range, which equates to less gear change in city. Highway cruising is also good, could easily cruse around 110 km/h all day. Touched top speed of 140 km/h ,just to check my comfort zone and cars capability. Usually prefer to cruise around 100 – 110 km/h speed.
FE – 13 – 17 depending on driving conditions (AC, speed, traffic etc).
1.4 TDCI is frugal, refined to an extend with almost no turbo lag which feels like driving a petrol car.I can cruse around 110 km/h easily but I restrict myself not to drive beyond 100 km/h due to buzzing sound after 100.
FE – 17 – 21 depending on driving conditions (AC, speed, traffic etc).
Ride and Handling
Baleno's slow speed ride is little bumpy but when it reaches 50 km/h,it gets into nice and smooth sailing. After upgrading to Michelin Tubeless from stock Bridgestone tires, there is tremendous improvement in ride, handling and reduced road noice.Steering feedback is perfect, light in slow speed, weighs well in high speed. Hydraulic Power Steering is really cool.
Since I always prefer captain's seat I have limited knowledge on back seat comfort. It can comfortably seat thee adults. I guess Baleno comes with independent suspension and it really helps in providing comfortable back seat ride.
Ikon ride is much more composed ,may be diesel engine weight?, it's steering is ok for me ,not in the league of Ford FIGO or Fiesta, In my 10 years driving experience ,had driven Toyota,Honda,Mazda,Hyundai,Chevy- thanks to US rental option, nothing had come close to my Ford Taurus steering feel, its one of the best. Ford cars carry that DNA around the globe. I expected little more from Ikon steering feel, little disappointed. Front and back seat ride is good and I guess it has more space in back than Fiesta classic.Seating position in front and back is better than Baleno and really gives good view and comfort.
NVH
I'm comparing apple with oragnes? Yes ,still go-ahead and do this,
Baleno's NVH level till 100 km/h is really good, after 100 there is no vibration but can hear a whistling sound.
You can get a free hand massage in Ikon gear stick,any gear, any speed. Plenty of noise after 90 km/h speed and an annoying BUZZZ sound after 100 km/h.After upgraded to Apollo Acer , road noise is reduced to acceptable level and you can cruise around 100,anyhting beyond that ,be ready with your ear plug.
Maintenance
Apart from routine service both Baleno and Ikon didn't ask for more.
Verdict
If money is not an issue and never worry about petrol price, then I would choose Baleno over Ikon TDCI, but reality is different. It really hurts when you know that you have to shell out nearly 6 Rs/Km,driving alone in baleno.I use my Dad's car in almost all possible opportunity to save the petrol bill.When I drive Baleno,I get immense driving pleasure and I console my self that I have to pay little more to get such driving pleasure. One additional point is that, my Dad is spending only 2.2 Rs/Km and that is where you tend to forgive high NVH, heavy power steering and decade old dashboard.
Leading the Battle