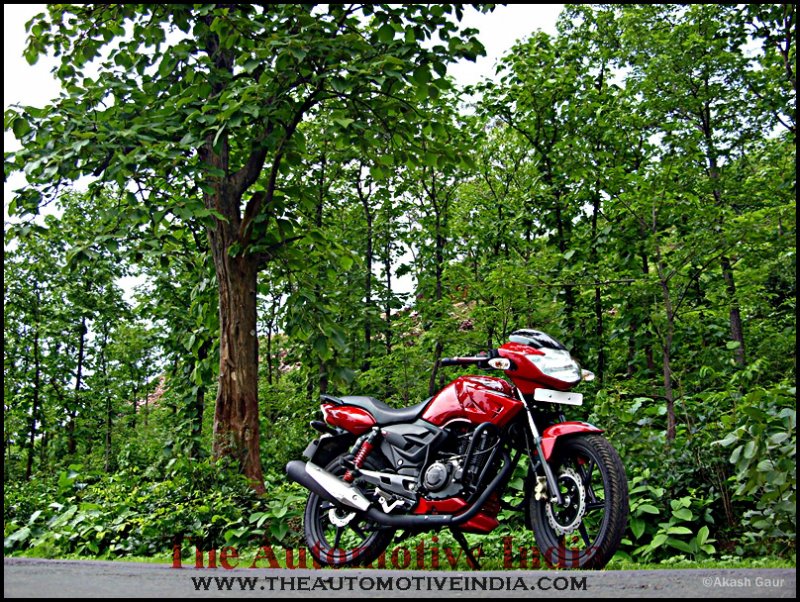 Indian Bike Market is currently jam packed with standard 150cc motor cycles range, Almost all of them boast their own strengths, but at the same time, they have their own weaknesses too and this could literally translate in more confusion for a typical buyer. Therefore, The Automotive India took one of the finest and most talked contender of this segment for a spin to check out its qualities and flaws. Meet the TVS Apache RTR 160.
The TVS Apache RTR 160 has been around for quite sometime and is one of the most favorite models for biking passionate and so the popular model from the stable of TVS. Initially, Apache was launched with 150cc heart, although it was not an instant hit, but still it did manage to sell in decent numbers. However, with minimal styling, TVS was not able to impress the Y-Gen out there, and as a result they finally had to try something new and different, then came an all new surprise for us, which was an Apache plunked in with a 160cc engine with refreshed body works. Let's check out.
How it looks?
For the one word answer, the new Apache definitely looks appealing. It is a kind of safe and decent styling; the fascia looks fresh with a smiling headlamp, giving an impression that bike is gladly inviting you to check out its strength. Inside this assembly accommodates a couple of pilot lamps which lights up pretty well during evening.
The well-sculpted visor complements the overall front and front mudguard has been decal-ed with racing strips, which look really sporty. The color of the strips is different for different body colors. Fuel tank sports an aircraft styled fuel cap. The addition of cowl, which has been well sticker, garnishes to give a muscular look. Give the bike a view from side, and you'll find it a well grown baby having total length of 2020mm. The tail lamp comes with dual split LED brake lamps, and surely looks fantabulous at night, where as turn indicators look sharp and are just perfect for the job. If you give a closer look at the area near wheels, you will find the naked chain, which adds to the brawniness. Black alloys, black engine and black footrest! Everything's black here. A body colored engine guard is nestled at the bottom of the engine, which completes the entire look.
Almost all the bike manufacturers recently switched to the Digital mania, and Apache is no different. The cluster has a digital speedometer, clock, fuel gauge, trip meter and a lap timer. The tachometer is Analog with RTR embossed on its background. Daytime visibility is quite impressive, though the real attraction is when the digital meter lights up with the orange glow.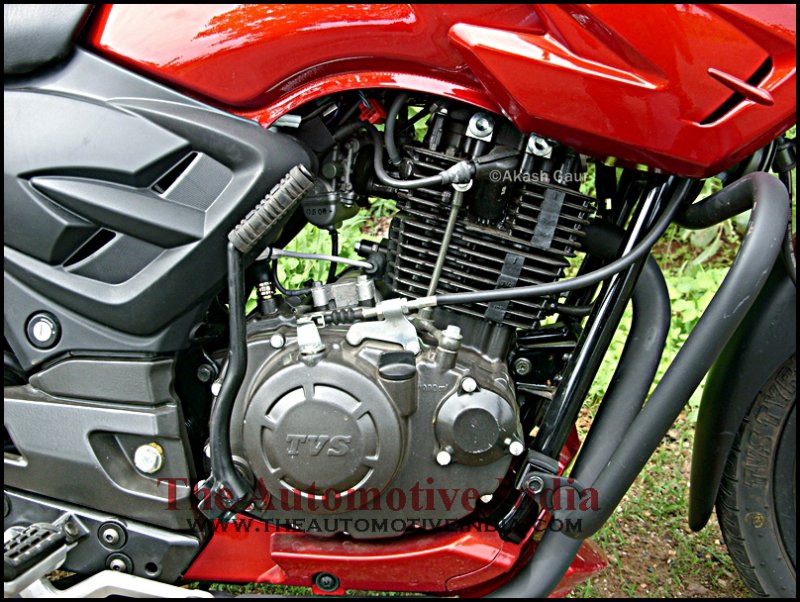 How it Performs?
"Awesome" is what I uttered after getting off this bike from a joyful fast stretch on highway. This bike loves to be revved hard. The RTR stands for "Racing Throttle Response" and true to its name; the throttle response is absolutely breath taking. The response to stimulus here is quick and in no time, this bike zooms ahead to high speeds.
In spite of reaching a speed of 100kmph, it did not run out of breath, but was ready for more. The top speed I could achieve was a whopping 109kmph. High-speed handling is superb and the vibrations too are very less even at higher RPMs. The 159cc engine is able to deliver 15 Brake horse power, which not only sounds "Powerlicious" on paper, but can be felt during the ride too. Also, the exhaust note of RTR is personally my favorite, unlike the other bikes; its note is a bit sharp and gives an impression that you are riding a high cubic capacity bike.
Gearbox has similar mechanism as that of current ones. It has 1 down and 4 up shifts which is bit stiff. It takes a good effort to up shift the gears. We hope that TVS works in this area because a little refinement is actually needed.