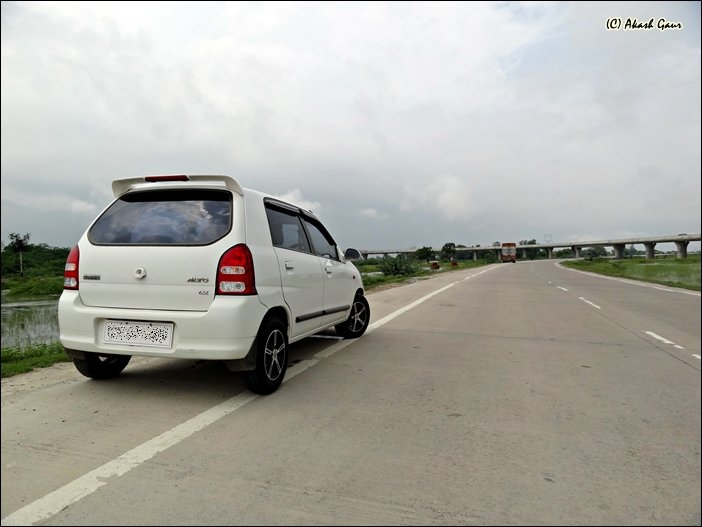 ​
After a very long time, I got a chance to please the travel bug in me. The break was in the beginning, intended for Kolkata. It was a 720km one way trip through GT Road. A total of approx 1700km (two ways) was good enough to satisfy my hunger. BUT God had planned for something else. The trip shortened to just 1300kms, for details, read on!!
Now a road trip was long planned, but it could never turn into a reality due to unavailability of leave. Fellow TAIns working in Project s would well understand my situation. Getting a leave is a Project in itself.
However, I struck gold when Monday was declared an OFF day (Vishwakarma Puja). This translated to the fact that I could work till second half on Saturday and move for the destination in evening itself and reach early morning. I am a kind of person who prefers night driving over day, why?
Because I save the day for sight-seeing, since driving never fatigues me, A power nap of an hour
(A little more than what Professor Viru Sahastrabudhhe of 3 idiots took

)
is enough for me to recharge my battery.
A recap of how this trip was planned:
Initially it was thought that our destination would be Kolkata. I had even started visualizing taking pics of my car on Howrah Bridge; however, the only issue was the distance and time. This combo was not working out well since I was instructed to join office on time on Tuesday. This made our plans almost cancelled. 1 of our travel companion hopped out, and we were in apprehension, on where to go or not!
Finally an Orissa Locale, a senior of mine, suggested going to Puri. I denied straight away. No, its not that I don't love beaches, but I previously had been to this place a few months ago (yeah, the travelogue is pending, I know). So Puri trip was cancelled, however I regret my decision. More about it, at a later stage of thread.
Now, all of a sudden Varanasi came into picture, courtesy- Another senior of mine.
He too is a UPian and a native of that place. After seeing lots of amazing pics of Ghats in his lappy, I could finally make up my mind that our Destination is going to Be Varanasi, however, after giving some thoughts, we planned to extend it till Allahabad.
Preparations:
Vehicle Check Up: General check up done.
Engine Oil & Filter: Changed a day before the trip.
Wheel Alignment: Done
Tire condition: I had purchased new Rubber a few weeks back, so no issues here, I just got all the valves checked for leakage.
Windshield Washer Fluid: Filled it with 10% Collin solution. Also carried spare pouches, which went short at later part of the trip.
Spare headlamp/fog-lamp bulbs: Kept in glove-box
First Aid Kit: Reloaded with new medicines.
In addition to all these things, I also carried other food stuffs, water bottle, etc.
My Samsung Omnia W was the navigator for the trip.
The Route:
Day1: Ranchi(NH99)-Chandwa-Chatra-Dehri crossing(NH2)-Aurangabad- Varanasi(350kms Night halt at Varanasi)
Day2: Varanasi-Allahabad(NH2- 300kms to n fro) (Back to Varanasi in Evening)
Day3: Varanasi- Chandwa, latehar (350kms)
Last edited: