Joined

Apr 21, 2012
Messages

7,925
Likes

3,791
Location
I always wanted to go to Leh and this time me and my wife could finally visit the magical place. After last year's terrible spiti trip we decided not to take our parents along.
Trip Duration - 2nd June - 16th June.
Total Expense for two - 1 lakh.
Distance Covered - 3500 kms
Roads Condition - 90% good tarmac. Manali to Leh is perfect and you won't find any problem reaching Leh. the worst route starts from nubra valley to pangong tso and continue till Chang la.
Route taken - Manali - Jispa - Leh - Hundar - pangong tso - Leh - Kargil - Srinagar - Amritsar - Delhi.
Important - if you have the time and you can stay 2 nights in manali and then 1 night in jispa before reaching leh then i will suggest manali route since while going uphill in many passes i found the roads to be in much better condition than going downhill. this means if you are coming from srinagar side you will get a whole lot of bad roads while going uphill which will be problematic and chang la in this matter is the worst.
Average Mileage of the car in whole trip - 18kmpl

Total Fuel Expense - 16000rs (included in total expense)
Average accommodation rate - 2800rs per night
Hotel Bookings - even in peak season we didn't do any hotel bookings besides manali. rest all of the bookings were made by checking the hotel first.
Problems faced - My diesel powered car didn't get enough oxygen at high pass of Taglang La. for 30 seconds car produced white-ish blue smoke and there was only 20% power output from the engine. was really scared after this but this happens and car performed fine after this without hiccups. Just don't turn off your car in scenarios like this , i kept the engine running for 30 minutes when it started snowfall at pangong tso.
Special Items to be carried
Oxymeter
Portable Oxygen Cylinder (atleast 1 per person)
Hydraulic jack
puncture repair kit
tow rope
lots and lots of food items
cotton clothes with different type of jackets(bomber , windcheater , sweatshirts)
at least 3 pair of shoes
body wash , shampoo and other day to day things since many hotels keep only 15ml sachets of these items.
M seal , screw driver , zip ties , emergency lights , torch , umbrella and other necessary things you can think of.
Day 1: June 2nd 2022
Delhi to Manali 550kms
Started early in the morning at 6:00 AM and reached Manali at 6:00 Pm. this includes multiple stops of 1 hour total plus 45 minutes of traffic jam because of ongoing tunnel work.
Hotel :
White Mist Cottage
(3000\night for family room ie 2 double beds , the only option available at that time.
Since this was peak season our usual amazing homestay
Idylicc inn
was full and we really don't like to stay near the mall road or any place where there will be lots of tourists.
Hotel room although a little old was spacious and the food was good. ample open sitting area.
Day 2 : June 3rd Manali
Visited local Village in the morning , had breakfast at Drifter's Inn cafe
Night dinner at Fat Plate which was amazing.
Day 3 : June 4th Jispa
Manali to Jispa 70 Kms 4 hours
I didn't want to take risk of AMS by staying at Sarchu so stopped at Jispa at
Hotel Ibex
(3000rs/night)
Food quality was brilliant and rooms and washrooms were clean.
We left Manali at 11:00 am and reached jispa at 3:00 Pm. this was because of tourist rush in Manali plus big line at tandi petrol pump. FYI , there's another petrol pump which opened near Keylong.
Jispa is colder than Leh and Manali. we couldn't stay near the river for more than 45 minutes. Every place we visited had it's own charm.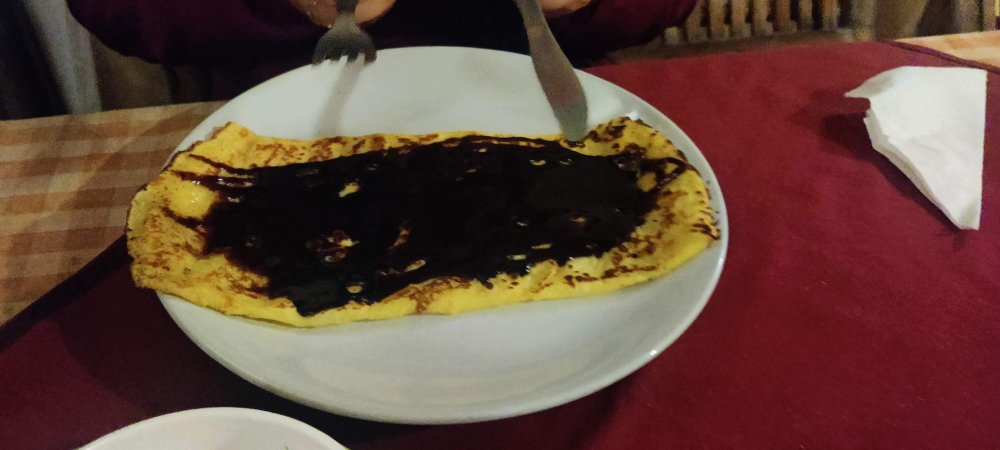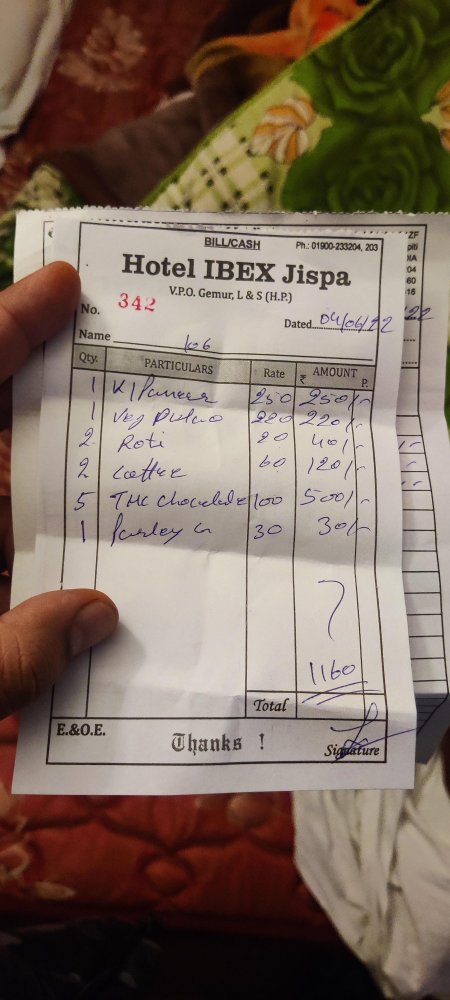 Last edited: