Joined

May 5, 2011
Messages

295
Likes

86
Location
Travelogue: Bangalore -> Pune -> Shirdi -> Pune -> Goa -> Bangalore
Alright, so it was a quick decision to head towards the holy land of Shirdi and take the blessings of Sri Sadguru SaiNath but long pending on my part. I wanted to go to Shirdi in my Scorpio ever since I bought it nearly 6months back but couldn't go. This time as it was kids holidays and I had some time off I made a quick decision to zoom to Shirdi. The trip was full of wonderful driving experience in my Scorpio, a fun filled holiday for all especially kids and a great expedition to Goa on the New Year Eve.
Highlights of the trip
- Amazing drive of about 2800 kms in a span of 1 week
- Tried nearly 5~6 cuisines !! Feeling hungry... read on!!
- Visited one Temple, 4 beaches and a friends place
- Enjoyed the holiday in GOA, the
place-to-be
and
not-to-be
on New Year eve !! Read why ??
Part 1 of 3: Bangalore -> Pune ​
Well, this trip was long due form my side as I had to pay a visit to Shirdi in my new MHawk, so this December I made it true. It took a great time and effort to plan this trip on what routes to take, where to halt for refuel and for refueling ourselves (where to eat), what not to miss en-route etc.​
So finally it was the D-Day eve and we packed our baggage and put it in the car the night before to avoid any delays in the morning as we intended to start early morning around 4am. It took us about 20 mins to fit and secure all the baggage and tid-bits for the trip. Apart from the essentials, I had packed the following​

​
Tyre Inflator for emergency (though I have nitrogen in the tyres now)
Jack, toolkit, spanner etc
Swiss Knife
iPOD, DVD's, CD's
GPS with present route which we wanted to take
​
All set for the start, my beast and my darling Scorpio​
​
Had set the trip meter to "0"​
​
Halted on NH4 to check the tyre pressure as I suspected that something is wrong. The culprit was the nitrogen which I got it filled just few days back and the tyres were looking bulging. But everything was ok when I checked so we moved on. ​
​
Early morning fog​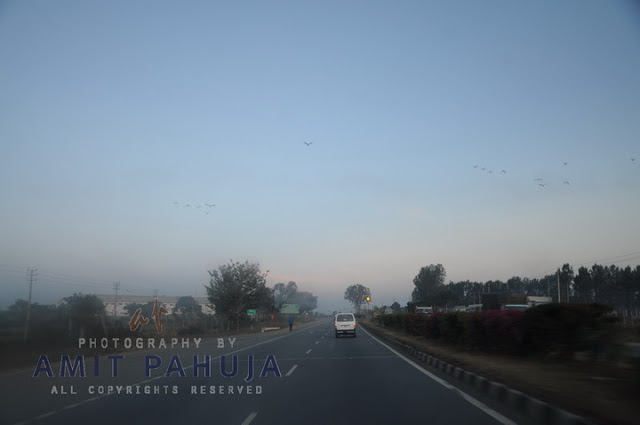 ​
NH4 towards Pune
​
​
NH4 towards Pune​
​
NH4 towards Pune​
​
NH4 towards Pune​
​
Toll on NH4 towards Pune​
​
NH4 towards Pune​
​
NH4 towards Pune​
​
NH4 towards Pune​
​
See the guy coming into us from the wrong direction on NH4highway. I salute these guys for their bravery and risking others lives... ​