Joined

Sep 3, 2013
Messages

896
Likes

2,256
Location
ULTIMATE GUIDE: How to get - Optimal Dashcam Display, Avoid Dashboard Glare and Safe Hardwired for Parking Surveillance like a Pro!
We buy a Dashcam that suits our need and budget. (If you wish to buy one, please read first our
Ultimate Dashcam Buyer's Guide
)

But
Many of us
miss to get the best out of it
by wrong positioning and by wrong hardware wiring !

I share here what I learned during my Dashcam '
DIY'
installation.
DASHCAM : OPTIMAL DISPLAY
Mounting / Positioning on the windshield is most important factor to get optimum resolution and color saturation.
Wrong spot and improper lens angle deteriorates the footage with disturbing undesired images of both internal and external source.
Internal and External Factors:
The internal ones from dashboard toys, idols, display of car head unit, light colored and shinning dashboard surface.
The external ones from over illuminated street lights during night and sun rays that's getting through right and left side door glasses.
Mounting the DASHCAM right way!
The best Dashcam placement - spot is high on the windscreen and just below the rear-view mirror to have an uninterrupted view upfront, regardless of using a suction mount or double sided adhesive. Also, we don't need to worry about blocking our view further.
Dash cams have wide-angle lenses, rarely can be adjusted horizontally, but almost can be adjusted vertically.
Therefore, it should still be mounted in or near the middle of the front windshield to get an even field of view for the sides of the vehicle recorded.
We can get the best footage with a good balance of exposure, color and details by angling the lens to cover 60% road and 40% sky.

Avoid disturbing images!
1. By looking at the live preview, Adjust the lens angle to focus little downwards so that some amount of car bonnet is visible. This definitely prevents appearing the
IMAGE OF HEAD UNIT
during night. There may be a line of reflection of rear lights of vehicles on the bonnet line but overall image will be the best.
2. To avoid
DASHBOARD REFLECTION
, avoid glossy dash board polish (use matt finish), remove all colorful things like flags, toys, light colored things kept on the dashboard. Change the location of God Idol if one towards inner side, away from windshield as for as possible. You may have to wrap black on light colored dashboards.
3. You need to ignore such issues that may appear rarely at some angle of sun rays even after doing the above. It is inevitable unless we use an extremely dark sun control films over side door glasses. You may note,
the image of airbag lid /cover
in the following pictures taken in my car.
Also it is difficult to avoid, as extremely bright street lights and ambience can create the
appearance of shinny dots
over the footage as it over powers the windshield glass.

The truth about CPL Filter!
Though Dash cam manufacturers claim that these glares could be avoided by adding an external CPL Filter. But, they are not always good in different intensity of lights during day and night. Sometimes it even degrades the image quality, especially in low light.
Also I could feel as the sky appears to be totally blue, masking the white clouds by over saturating with a blue shade during a sunny day.
Dash Cams are meant for all light and weather conditions. But, a circular polarizer will need to be adjusted constantly for many specific lighting and reflecting conditions that not only tedious, also practically difficult.
Addition of CPL filter does help with the video quality in some ambience, but it does not resolve it completely at least in my case.
So, it is purely an Individual choice & experience whether to have it or not.
NOTE:
Please see the pictures here. Always follow the legal norms as permitted in your country.
While mounting avoid red zone obstructing the drivers view of the road; avoid over and above windscreen wipers areas as dirt on the windscreen could obscure the view of the Dash Cam.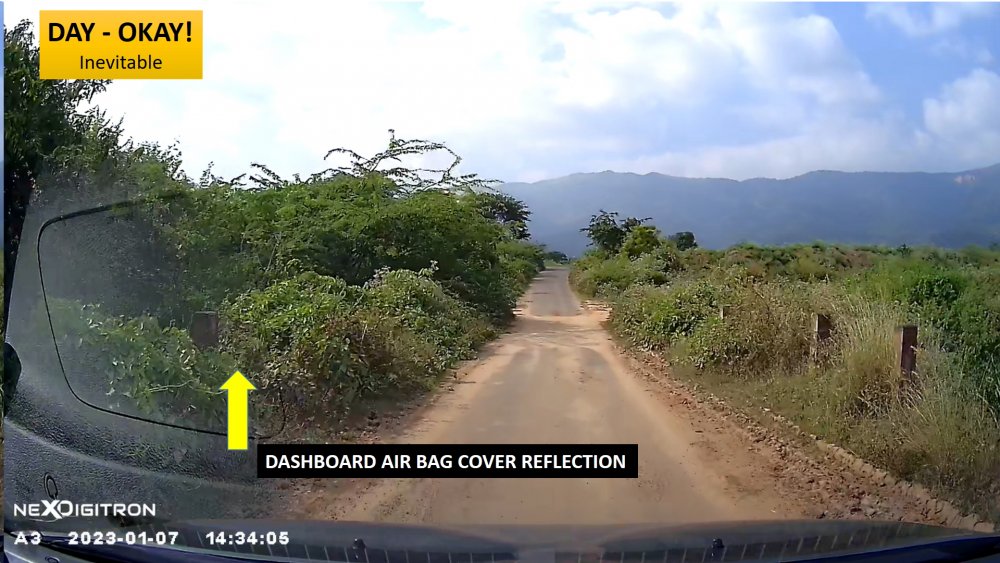 * Inevitable, because sun rays that's getting through right and left side door glasses.CFL filter can not resolve this issue always.
* Its just transient due to overpowering Led street lights.
Useful Video:
Best Place to Install a DASH CAM (Easy Locations & Video Comparison of Each Angle)
.
.
Last edited: