Joined

Jan 16, 2016
Messages

13,596
Likes

5,074
Location
Finally, after a long waiting of around 3.5 months, I got my scooter delivered on 10th February, 2022.
Now, it's time for me to pen down a brief
ownership review
The search for a new two wheeler started in the month of August 2021. I was having an 5 year old scooter which was given away to my relative thinking that I would go for an electric scooter. Of course, that decision was taken in a hurry without checking the market and availability of a good electric scooter in my area.
Frankly speaking, I was not having much knowledge about electric scooters at that time, but after giving away my old scooter, I started reading YouTube reviews of various local electric scooters, but only one or two brands were available in my area which were of course Chinese made parts assembled here and marketed as India made vehicles. And the worst was almost all of them are of slow speed scooters - 250W motor with max speed 25km/h)
Also, Opinion from others, including other TAI members was that considering my low usage, an electric vehicle is not at all needed and may not be able to save any money (electric vehicles are usually worth for those who drive atleast 30 kms a day or more. My usage of a two wheeler has been very low all these years, i.e. just about 100/120 kms per month so its not that worth going in for an electric vehicle.
There were a couple of branded ones like Ather and TVS iQube which reviews were good, but unfortunately, both of them do not have a dealership nearby my place. A good 2 months passed by searching for a good electric scooter and eventually I couldn't locate any decent brand, I started looking for Petrol variants again.
The scooters checked were TVS Ntorq, Honda Grazia, Hero Maestro Edge 125 Bluetooth, Access 125 Bluetooth. I took my friend along with me (He also was looking for a new two wheeler to replace his old Bike) who has more experience in two wheeler, to whom I have asked to test ride TVS Ntorq (the others didn't have a test ride vehicle hence unable take a test ride) and he liked the vehicle's drive quality. I too liked the scooter but I didn't like the body graphics and also the external Fuel tank lid as well as the seat opening lock was kept down below the seat (left side).
The confusion kept growing and I was not in a position to make a decision and at that time I have seen a media report that TVS planning to launch a new 125CC scooter which later confirmed that it was going to be the Jupiter 125.
So, I decided to wait for the launch of the new scooter. I spoke to the TVS dealer in my area (Malabar Motors) whose Managing Partner Mr.Ashokan is well known to me for over a decade (I purchased 3 vehicles and 2 scooters purchased by my relatives as per my recommendation from them in the last 10 years) to let me know when the new scooter will be available to see/check it.
IIn the meantime, I have been getting regular calls from another dealership for their Scooter a 125CC fully digital console with Bluetooth connected.
They even ready to provide me a test ride vehicle, but I did not show much interest as I already decided to buy a new vehicle from known people rather than a new dealer.
I also knew well the Service head of the TVS dealership so do not want to change my decision.
It is always better to deal with a dealer where you have known people around as after sales service is more important than purchasing a new vehicle
When I got confirmation from him that scooter arrived at the dealership, self along with my friend again visited the showroom on 21st October, 2021 and seen (also test driven) the scooter and we both liked it especially the large under seat storage area and the new style/look. The sales executive suggested me to pay Rs.1000 so that they can book one which I agreed. Though, the girl advised that the waiting period was around 10/15 days, but I never received that good news till 3rd week of January 2022 and I too did not push them all these days.
January 2022
Since I was not getting any positive news, I called them in the last week of Jan 22 and was promised that new scooter will be made available in a couple of days and finally I was asked to pay the full amount which I did on 2nd February 2022. The documents submitted to the RTO on the same day and was waiting for the completion of Registration formalities.
On 5th Feb the Registration number was allotted by the RTO and on 8th Feb HSRP number plate was received. I got a call from the dealer informing that the scooter will be ready for delivery on 9th of Feb, but I took delivery of the scooter on 10th of February. The ODO meter shown '1km' at the time of delivery
Delivery process was very smooth, all documents handed over to me, photos taken etc. - all over within 30 minutes.
Accessories
: Seat Cover and Foot mat were given as FREE from the dealer and I opted for steel guard (Rs.2000) and scooter body cover (Rs.300).
Driven the scooter for about 1/1.5 kms and then took her to a petrol pump and filled full tank (3.92 litre has to be filled up to get the tank full mark which means around 1.1 litre was there in the tank on taking delivery). Since then I did a test drive like for 8 kms just to feel how the scooter performs, before I reach home.
It is too early to give a pros and cons about the scooter, but my initial findings are:
Pros
:
1- The scooter impresses with its stability and handling , while the refinement levels are right up there
2- The scooter comes with largest under-seat storage capacity (33 litres). and that's ample space to store a lot more than knick-knacks. Two half-face helmets
will fit easily. There's also the usual hooks and an open mini glove box too.
3- The floorboard is quite large and not only accommodates the rider's legs well but is wide enough to carry other things, may be a gas cylinder.
4- The seat is long and possibly can accommodate 3 people, though it is not allowed by law.
5- The fuel tank is placed under the floorboard with reinforcements all around and the fuel filler lid is placed on the apron which is very convenient.
TVS Jupiter 125 comes with a new semi-digital instrument cluster that includes an analogue speedometer and LCD for readouts such as trip meter, odometer, malfunction indicator, average fuel economy, instantaneous fuel economy, distance-to-empty, clock, helmet reminder, Side stand indicator etc.
The Jupiter 125 shares its wheelbase with the 110CC engine Jupiter, but is longer by about 18mm. One of the reasons why this 125 CC scooter gets a longer seat.
Cons
:
Too early to find out any cons on the scooter. However, wish they should have come with a fully digital instrument panel,which is already available in other brand scooters of similar range. Ofcourse TVS Ntorq comes with Bluetooth connected and digital panel, but thought TVS would provide a similar instrument panel in Jupiter 125 also.
Further, most of the other brands have the black colour for their scooters, which also missing here on Jupiter 125.
There was no Owners manual given this time instead there was a Service Handbook (just 28 pages) contains service related matters and other major topics like TVS area office details, Safety information, Running in information, Safe riding tips, Recommenede lubricants, Warranty and Services, Service information, Technical specification of the vehicle, Free and Paid service record sheet etc.
TVS Motors already sent me a link with Owners manual which has to be downloaded and printed, if needed (another cost cutting process from TVS motors). It contains 88 pages and if we have to take a print out of all pages definitely need minimum one full ink cartridge.,!
My sincere thanks to all in the dealership M/s. Malabar Motors, Payyanur, especially for Mr. Ashokan K (Managing Partner) and Mr. Biju KV for all their cooperation and assistance throughout this scooter purchase process.
Herewith some pictures of the Blue Beauty:
The Jupiter 125
The front view
OEM Kick Starter (Initially the scooter came without a Kick Starter)
Central Console
Fuel Tank cap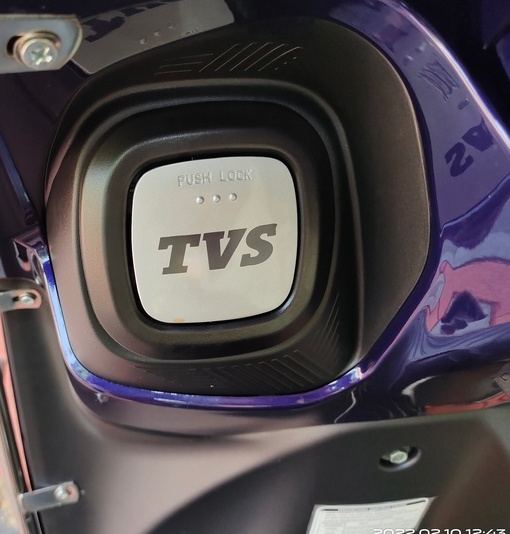 Front Disc Brake/Telescopic front Fork
Multifuncion all in one lock, Smartphone charger and front Glove Box
Head light switch (Dim/Beam), Pass switch, Turn indicator switch and Horn switch
Meter Console when Ignition ON position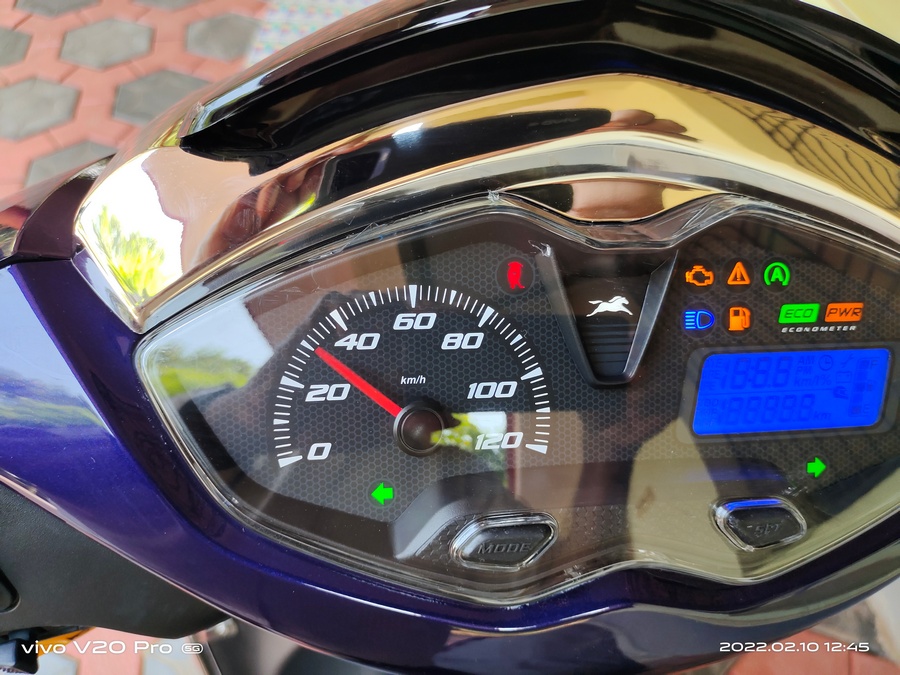 The large (33 Litres) under seat storage
First aid kit and tool kit pack kept under the seat
Chasis Number(VIN)
The Rear side of the scooter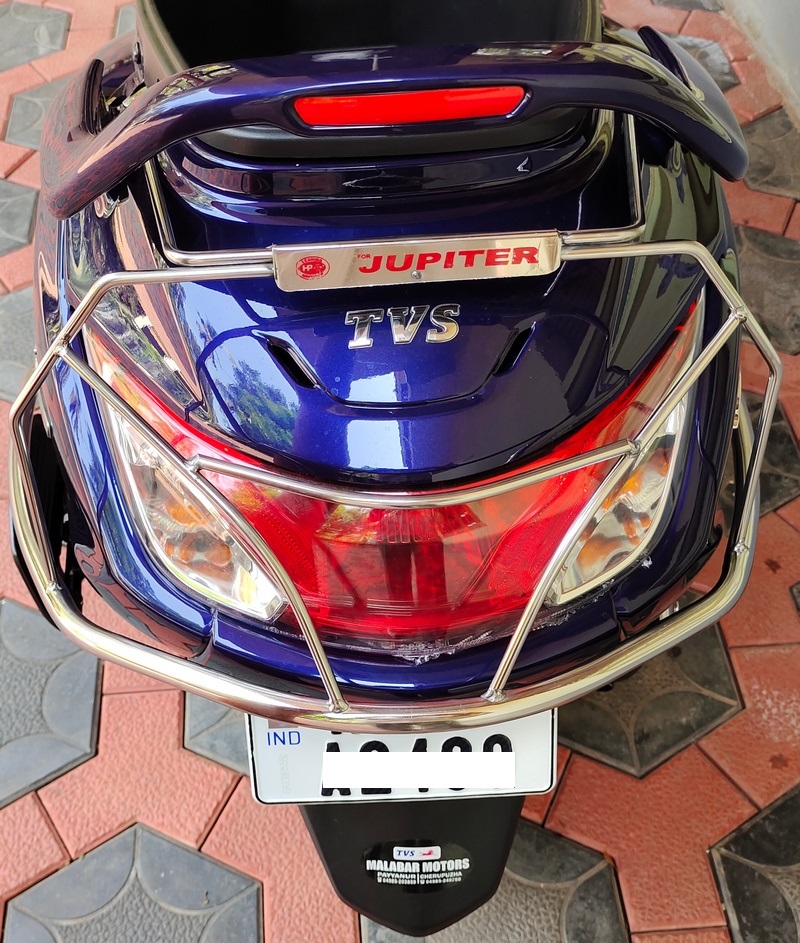 Foot mat
Parking Brake (rear)
The headlight
Rear View mirror with Chrome insert
Intelligo switch - Engine cut off automatically if idle more than 15 seconds if kept on ON condition
The Keys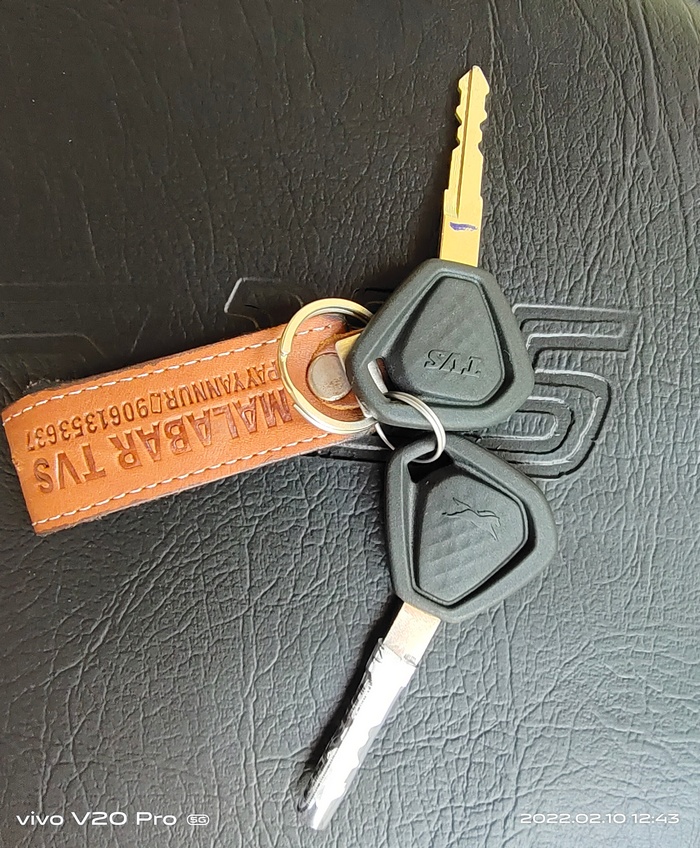 ​
Last edited: