Joined

Sep 11, 2009
Messages

2,857
Likes

4,450
Location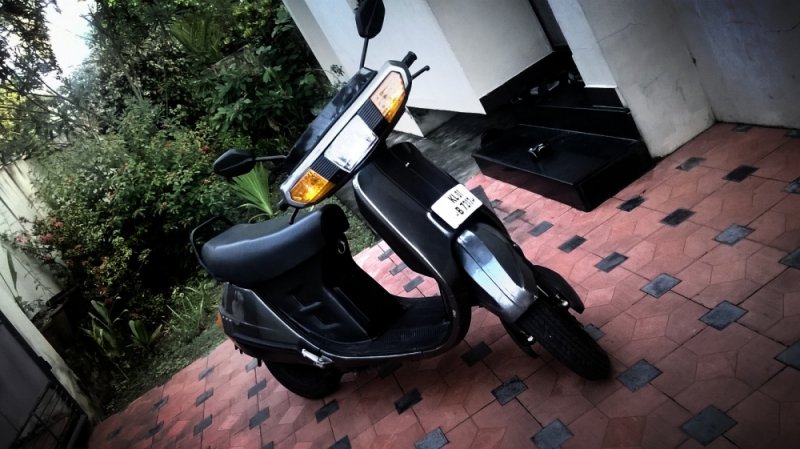 Nothing much to write as an ownership thread. Restored in memory of my dad. The machine I almost grew up with, which I wished to mod/ride all my childhood, which dad never did, the machine that never let him down, the machine that keeps me happy now, the machine that polished my patience, so and so. Now my trusted daily commute machine, my best companion.
History: Kiney was bought 2nd hand from a doctor in 1993-94 with very little reading on ODO. This is the second Kiney dad buying, first one was a 91, which developed engine trouble, which mechs of that time were not able to rectify. Kiney was an owner's pride, neighbors envy kinda machine that time. No gears, no oil mixing, self start, funky sound, etc., etc. Which ever garage you take it, they pursue hard to sell to them. Even 5 years back, one workshop guy quoted 10k the time other Kinetics were going scrap or cheap like 3k max. The time I took over, it remained idle for more than a year and came to life in 4-5 kicks.
Kiney was a bright red model, which was converted to Black after an accident and then Metallic Grey by me.
My era: Kiney was parked when dad fell ill. Remained idle for long time. I was using it for a brief period of some 2-3 months before that and screwed it up and dad never gave me again. After his death, everyone was telling to scrap it. The time was nearing for 20-year retest. I had only 2 options – Scrap it or Restore it. Decided to restore it. Every workshop guys were saying same thing, are you mad to spend a lot on such old scooter, which don't even fetch 1/3rd the amount. Cost quoted in making it retest worthy was an average of 10-13k, minus tire and tidbits. Had a very tight budget and decided to fix it myself. Started off with stripping and DIY painting, but tight work schedule and date nearing I had to get it painted outside. Then also most were quoting 5-6k, and one local painted set the deal for 3.5k. Got it done there, decent quality, can't argue for more at that price. Threw away spare tire, added new grab rail, painted the plastics myself, new light, new number plates, new nuts and bolts, new tires, new battery, reworked seats, Kiney was ready to roll. Engine was in perfect condition. It had already done 1'11'3xx km. Now 1'19'6xx in 1.25 years, 25 km daily use.
Riding experience: Incomparable handling, I can even lean and scrape the foot peg. If won't go beyond 50 kmph, reaching 60 from 50 needs another 2 km of road. 20 years of 40 kmph made it so. Still I was very happy with it. 90% of the time it came to life in just 1 crank. Mind blowing acceleration. Most of the time, I will be leading from the red light (but only till I reach 50 :D). Recently rebuilt engine, now much more smoother and better performing. Now it can take more than 50 kmph, but I don't want to push it more. I am loving the 40 kmph now. Enjoying every meter of road is incomparable, with an end product called "Patience." Now my daily commute in this only, taking Barricade only on weekends and highway rides. Giving steady 45+ kmpl. Running only on semisynthetic 2T oil, little to no smoke.
Troubles: Ran without oil and the engine started showing troubles. Then gave it to a friend one day, he ripped more and engine was done. It used to stall at every traffic light. Once had to take bus to home as it refused to start. Engine had to be rebuilt then. Ride it for more than 25 km in a stretch and balls and ass will get numb, that is the only issue, thanks to the bloody seat guy.
This is one boring write-up, I know.
Additions from stock:
TVS Olivia 100/90-10 rear tire. (Love wider tires).
Original 90's Kinetic Honda grab rail without spare wheel holder. (Got it from scrap dealer and got powder coated, I was looking for Kinetic Campus Chills' grab rail).
R15 foot pegs (Just tried the ones bought for Vichu and it fitted perfectly).
Unicorn rear view mirrors.
Unicorn handlebar end (somebody stole it).
Clear lens headlamp, tail lamp and indicators from Kinetic 4S.
Maintenance-free battery.
NGK G-Power platinum-tipped spark plug.
Standard size rear number plate.
Halogen bulbs.
FZ horn.
FZ handle grips.
Carbon fiber wraps and stripes.
Wish list:
Better painting with clear coat.
Kinetic Campus Chill ladies step (so that I can take mom out).
Tubeless tires.
LED indicator and tail lamp.
Embossed number plates.
Full DC wiring.
Parts replaced so far:
Cone set.
Speedometer glass.
Front mudguard.
Speedometer panel.
Headlight panel.
Indicator screw cover panel.
Number plate clamps.
Number plates.
Center stand.
Brake levers.
Indicator flasher.
Air filter.
Engine bearing.
Engine packing kits.
Drive belt.
Oil switch.
Oil pump.
Kicker lever.
Front shocks.
Wheel bearings.
Indicator switch.
Foundation bush.