Joined

Sep 11, 2009
Messages

2,922
Likes

4,699
Location
December 2022 - Bodywork
Bottle jack slipped the boss and caused a dent in the running board. I was ignoring it, but then there was a hole developing in the middle from a cracked putty job.
There was also some peeling from putty crack in the rear bumper. Now that qualified for a paint shop visit. Dropped at Murali's where I have been doing all the paint works recently with VFM and decent finishing. Quoted ₹ 5,000.00 total.
Took a bus after a long time. KSRTC City Circular, the ₹10 bus.
Bumper came nice.
Quarter panel and fuel lid were also painted. Diesel/Chevy assistance sticker amalgamated into the paint, causing irreversible damage. I have been advocating against sticker job on painted surface in TAI for some time, this being the reason. I have seen the worst with factory stickers (the white Scorpio). I fear the same with PPF stickers too.
The running board was properly pulled, unlike a full Bondo work, but they didn't care to replicate the rough surface, which the previous painter did perfectly.
Alloy wheels turned disastrous. The owner promised to level them up and paint, instead it was painted as such. Called up him to complain and he asked to bring back when the shop is free as it takes time.
Painted everything in the way, didn't mask anything.
Not even the rotor or the caliper. Drove home with unbearable grinding noise.
Used paint stripper to clean the rotor. Thinner didn't work.
Ultimately, removed pad and sanded vertically.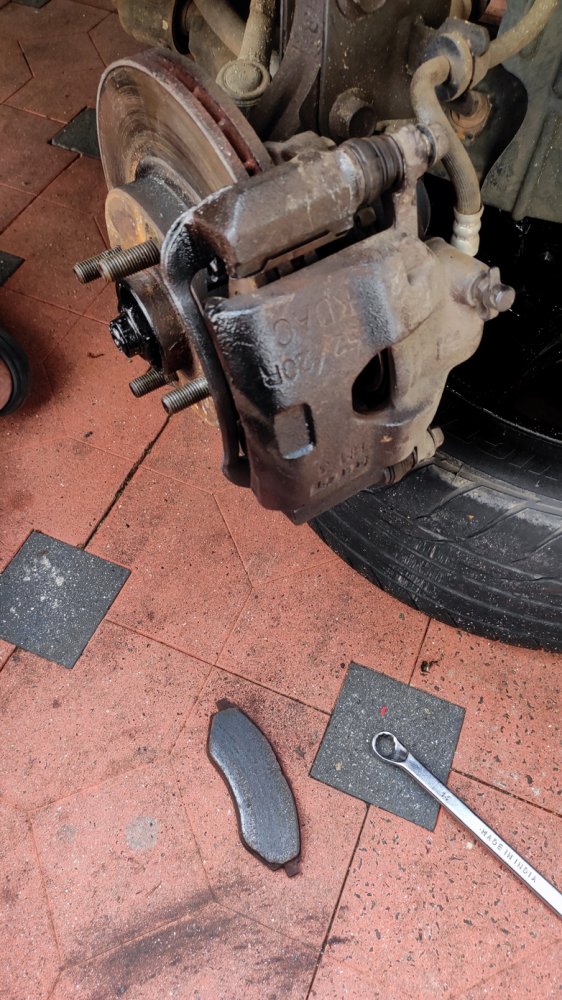 When I was about to keep back the jack, spotted water in the boot.
On inspection, found the rubber grommet dislodged. The lights were out during body work and the car was standing in rain for a week at the body shop.
The carpet was all wet.
Took some effort to dry it out.