Joined

Sep 18, 2009
Messages

4,020
Likes

91
Location
Todays economictimes has one nice article on DSLRs.
SLR CAMERAS
Pro photographers would use nothing less, but what's so great about SLR cameras, and what witchcraft goes on inside those mysterious black cases? Let's find out…
WHAT IS AN SLR?
A Single-Lens Reflex camera, with a viewfinder that sees through the lens.
WHY WOULD I WANT ONE?
Compacts are simple to use, but SLRs offer greater control. Lenses can be changed, a viewfinder allows you to quickly compose photos without looking at a screen, and sensors are superior.
HOW DO THEY WORK?
1 Light enters the camera through the lens
2 and hits the mirror
3 directly behind it. The mirror reflects the light upwards towards a pentaprism (or pentareflector)
which corrects the image so that you see what the lens sees. This system means that SLR viewfinders provide an accurate rendition of the resulting photograph.
Press the shutter release button…
and the mirror swings up, the aperture sets to the correct width and a shutter
4 in front of the image sensor opens, allowing light from the lens to fall onto it. The image sensor
5 converts the light into electrical impulses that are manipulated by the SLR's processor and recorded to a memory card. Snaps are then stored either as compressed JPGs or uncompressed RAW files.
WHAT ABOUT...
SLRs with Live View?
In Live View, the mirror and shutter are held out of the way so that the sensor can feed the screen with pictures. Shooting this way is slow because most SLRs need to close their shutters before taking a snap, and also because they use their mirrors for autofocusing.
And video?
In some respects SLRs have a head-start when it comes to video, thanks to quality lenses and sensors. However, to record video, the camera must also have sufficient grunt to compress each frame and string them into a sequence. The challenge increases with higher frame rates and hi-def.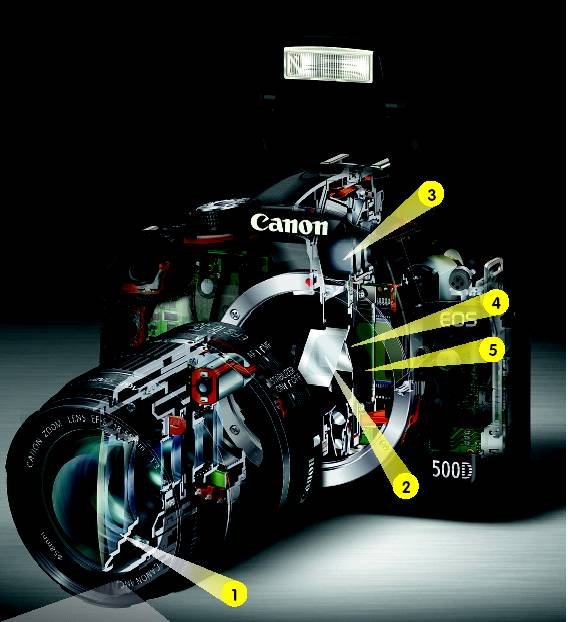 INTERCHANGEABLE LENSES
There are lenses for every type of photo. Focal length affects how much of a subject is captured. Short focal lengths (eg. 24mm) capture light from a wider area and are, in effect, "zoomed out". Long focal lengths (eg. 115mm) are "zoomed in", accepting light from a tightly cropped area. Lenses with wider maximum apertures (f2.8 or less) are referred to as "faster", because they let in more light and thus let you use higher shutter speeds. Prime lenses have set focal lengths (they don't zoom) and suffer less distortion.
Also prices and details of some of the camera -
Nikon D700 Rs 1,10,000 (body only)
What do you get when you cross the flagship D3 with the outstanding D700? Yep, this full-frame beauty that sits just in reach of enthusiasts' pockets. That large 12.1 MP sensor gives amazing results at all ISO settings and the build is pro level. Astonishing.
Nikon D5000 Rs 48,950 (body only)
Take the winning tech of Nikon's entry-level SLRs, add 720p hi-def video recording and what you have is the tasty D5000. The controls are friendly for beginners while still offering plenty of options, and the 12.3 MP images present minimal noise.
Canon EOS 450D Rs 42,995 (body only)
A good, solid all-rounder that's packed with cuttingedge tech. Great shots, with excellent tonal range, are backed up by the impressive – nay, class-leading – 3 inch LCD, 3.5 fps continuous shooting, Live View and superb, intuitive control layout.
Nikon D90 Rs 78,990
The D80 rewrote the rules about what to expect from a mid-level camera and the D90 picks up where it left off. Resolution has been bumped up to 12.3 MP, images are superb throughout the ISO range, plus you get Live View and 720p hi-def video recording.