Joined

Sep 3, 2013
Messages

896
Likes

2,256
Location
The Dashboard Camera '
Dash Cam'
is a helpful gadget, provide us with a silent witness to events in and nearby our vehicle.
I have been planning to have one, the recent discussions in our TAI forum inspired me to dig into the details, and such efforts resulted creating this Comprehensive Guide – Thread!
Hope, this could be a one stop reference for the benefit of the author and the readers as well.

DASH CAM TYPES: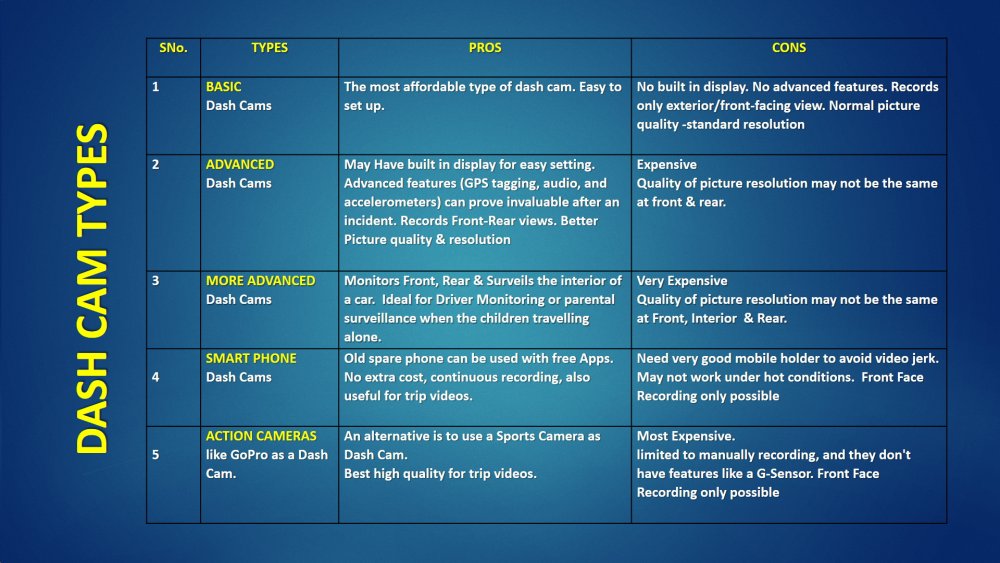 FACTORS TO BE CONSIDERED BEFORE BUYING A DASH CAM:
The purpose of a Dash Cam is to carefully record every instance & details that takes part on the road within the vehicle's journey.
Dash Cam videos are more of evidences while we drive and their field of view (FOV) are different from normal cameras. It depends upon how wide the car Dash Cam can see. The ideal FOV is between 130 and 160 degrees.
Please note, such videos are not okay for Family Trip memories or for the use of regular Vloggers. We humans are largely binocular beings. Each eye alone gives us roughly a 130-degree field of vision and with two eyes, we can see nearly 180 degrees.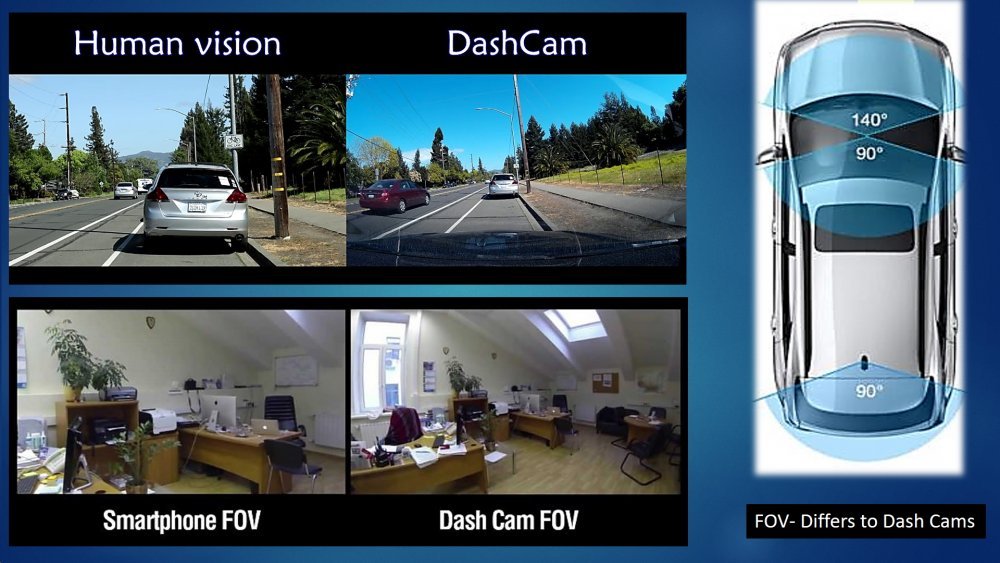 FACTORS ON IMAGE QUALITY:
Video Resolution:
Practical Experience reveals that the actual quality of videos are little lower than what claimed by the Dash Cams manufactures. Therefore, it is better to buy at least a FHD, but 2K or 4K are the best.
Frame Rates:
Most Dash Cams offer a frame rate of 30 frames per second (fps) and it is a must. Footage captured at 60fps takes up twice the storage space, but the best to give a clear view of Vehicles Number Plates in front at a reasonable distance.
Camera Lenses & Night Vision:
Night vision ensures that even in dark situations, the footage has enough detail to make out what's going on. Only a good quality glass lenses, manufactured by reputed companies like SONY can have better LUX to capture such details. The clarity & details depends upon the aperture size; it varies from 1.4 to 2.
Lower number means better LUX, as it represents a wider aperture which lets in more light and improves clarity. Cheap Chinese Dash Cams have plastic lenses and tend to deteriorate. Number of lens (elements) is important, more lens elements can reduce distortion and increase sharpness (Ex. Good Lens: 7-Element, f/1.6 Glass Lens)
Aspect Ratio:
The footage in wider screen (16.9) will look beautiful. Some Dash Cam are deigned to shoot only on 4.3 ratio like our old box TVs. Some can shoot on different aspect ratios on different resolution, Ex. 70Mai Pro Plus+ A500s - 16.9 @ 1080p and 4.3 @ 3K.
Recording Formats:
Older generation and unbranded Chinese Dash Cams record in MP4, H.264 formats which are generally played by our Windows Operating System Media Players. The newer ones use the advanced compression format like H.265 for which we need to find out compatible codecs / free media players like VLC.
Loop Recording & Time Lapse Photography:
The video clips are normally recorded in bits to store minute wise, say 1 to 3 minutes as preferred to avoid accidental deletion of the whole video. Loop recording provision ensures continuous recording by deleting some previous footage step by step. That way, it won't have to reformat the Dash Cam's memory card every time it gets filled. Some can make Fast-motion playback 'Time Lapse Photography'.
HDR, WDR &
Noise Reduction:
These marketing gimmicks are post-processing features to increase the clarity of a scene by increasing contrasting light or reducing the grain or noise found in videos. These may not be always perfect in every scene and at environmental weather; it's better to look at the original video quality instead.
Most Dash Cams are designed to run on car battery power Accessory Socket @ 5 Volt / 1.5 to 2A - USB adopters. They'll be 'ON' when we turn on the car, and turn off when the car gets turned off.
But, someone might want a dash cam to work on 24 hours' surveillance, to record after they've parked their car in a public lot. In this case, we need to connect to the battery directly like the car security system works.
Lithium Battery and Super Capacitors:
Some Dash Cams, however, have a built-in Lithium battery or Super Capacitors. Both gets heated up while recording and its normal, not a major concern.
But, Capacitors provide higher durability and temperature resistance and its suitable for temperature ranging from -25 to +85C.
STORAGE AND FOOTAGE PROTECTION
Most Dash Cams today don't have internal memory. Instead, we need to purchase a recommended third-party Micro SD card to store all the recordings. The normal storage is 32 /64 Gb. Provisions for larger capacity like 128Gb & more is always best as we can keep as many recordings as we need.
We should remember one most important thing – these Dash Cams tend to overwrite / record over old footage on a loop, and the important moment/incident/footage what we require might have got deleted when we need it. So, it is prudent to save it as early as possible.
Dash Cams with G-Sensor protect against writing over such footage. It can detect a sudden change in motion and tell the Dash Cam to save / lock the footage of that incident which is helpful when we need to access later.
When we buy a Micro SD card, the recommended / compatible speed - Class (C or V) and maximum storage (Gb) are to be noted. To ensure best video quality and FPS (frame per second) during recording and play back, manufacturers recommend the users to use C10 (10MB/s) cards (ultra-speed Read & Write) for 1080p videos and V30 (30MB/s) cards for 4K videos.
Dash Cams are typically mounted on the front and rear windshields of the vehicle and come with either adhesive or suction cup mounts.
Adhesive mount is recommended as they don't require as much space, also heat resistant & stable ; now a days provided with electrostatic base films for effective bonding..
It is recommended to stick as much as at center of the windshield to get the balanced angle.
Some are designed to fit (ex. DDPAI MOLA E3) on the IRVM which are bulkier, hide the original IRVM and also its Auto Dimming feature unfotunately. The display is wider, may be beautiful, may also distract the driver.
DESIGN & FORM FACTOR OF DASH CAM
Apart from aesthetics, the design should not block the view, the camera should be tilt able for better focus, more importantly, should be compatible with the design of the windshield, as some vehicles may have a flat type windshield design.
OTHER FEATURES:
Built-In Display
It is not a must, smaller IPS displays may look good inside the cabin. The screen size fall between two and three inches, may be helpful for those who might need to change a setting using external buttons, though it can also be done by their Apps using the mobile phone.
Wireless Connectivity
A camera with Wi-Fi can connect directly to your smartphone through an app. You can do a few things which include playing back videos, updating the firmware, changing settings and more. They are single 2.4GH or dual band 5GH.
Note, Most Cameras Can't Connect to the Internet! Some people think it can connect to the internet and watch the footage from our office or home. The range is limited, 10 to 15 feet at most.
It can connect to our smartphone and not to a router and therefore, remote view is not possible as of now.
GPS
Mostly GPS Module is inbuilt, it is is only a logger and not a tracker. Means, there is a possibility to view your trip route by its Dash Cam software and, we can't monitor the movements remotely like OLA /SWIGGY Apps.
GPS in dash Cameras allow us to sync the time and date through the GPS system, log our speed and position, but not to give directions. The time stamp helps to know the event location and the speed of the vehicle at that time.
ADAS
This '
Advanced Driving Assistance Systems
' supposed to give the driver Lane Departure Warning (Warns when we accidently drift outside our lane so we can straighten our vehicle) and Forward Collision Warning (Warns us to have our car a safe distance away from the vehicle in front).
In reality, it is not fully integrated with vehicle system and as effective as seen in TESLA cars. There's a lot of false alarms that makes us become quickly annoyed and switch it off. May be more useful in regulated traffic abroad or in traffic_ less rural zones than a city.

G-Sensor & Parking Mode:
The G-Sensor
detects external impacts, movement and will lock a Footage / Video Clip from being overwritten. We can select the sensitivity, force threshold level. Otherwise more the sensitivity results more the frame locking and even a road speed brake impact is recorded and memory card space is occupied unnecessarily.
Parking mode
is a feature which is used while parked to save memory as to record only when there's movement or if it detects an impact / hit or if someone vandalizing the vehicle.
Needs hard wiring kit to connect directly into the car battery and ACC fuse link to enable this feature.
Processor & Sensor Combinations:
The processor and sensor specs greatly influence the final video quality of a Dash Cam. Some of the popular and notable combinations - Novatek NT96660 + OmniVision OV4689 (Ex. Viofo A119), Ambarella A7 + Omnivision OV4689 (Ex. Vantrue R2), Novatek NT96650 + Aptina AR0330 (Ex.Viofo A118), Novatek 96655 + Sony IMX322 (Ex.Street Guardian SG9665GC)
Audio Recording:
Some Dash Cams hears and records everything- The car music, road noises, and the conversations! But it could be muted / switched off if not required, as many of us would not be comfortable with the private conversations being recorded.
WIRING INSTALLATION:
Last edited: