25th November 2008 was just another day for me only until I stumbled upon a random website's footer saying "Create a free forum". Next's what? A small moment that may seem insignificant to many brought an everlasting change in my life. Well, the concept of forums always fascinated me for the reason that it offers a much broader scope of interacting with the world than a mere static website. However, as an individual, I was afraid about putting a considerable amount of investment that goes behind running one.
Thanks to that link, it made the task somewhat easier and I created a free forum right away. Since I was already a casual car blogger, there was almost no brain exercise needed to name this new forum. It was certain that this forum is going to be known as "The Automotive India". By 9:18 PM on 25th itself while adding final touches to this free website, I called up fellow enthusiasts aka Adam (Zinam), Archit (Type-R), Balachadar (Crazy Cat), Bharat (Im_Hummer_Freak), Raj (raj_5004) etc. who willingly joined the forum and became the initial members of The Automotive India. Eventually our forum prospered with healthy discussions covering every aspect of automobiles and necessary changes were also implemented considering the members feedback.
March - April, 2009
The Automotive India was now successfully online for more than four months. In fact, soon it turned out to be one of the most recognized forums on the web. It was time for us to replace our lengthy old tagline with a much proper one, which was finally concluded as "Fuel For Petrol Heads". Yet another month passed and TAI recorded a significant achievement in its history. This time, we kicked off one-of-its kind initiative by celebrating "Road Safety Week". And the spirit shown by the forum members as well as our visitors alike was incredible. News about this initiative of ours was also covered in certain websites as seen below.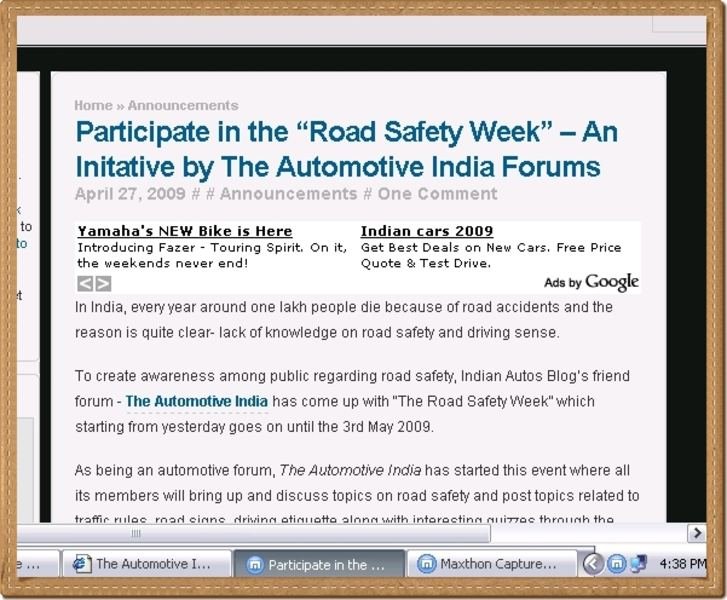 July - August, 2009
By now, our forum noticed a growth to such an extent that we realized a free forum is not the best one to continue further. After a lot of thought-process, it was finalized that we are moving to an entirely new premium platform with separate web hosting. The unfortunate part was that we had to sacrifice all our existing posts, topics and member base since the database was not transferrable. But as someone said, whatever happens, happens for good. In spite of bearing a huge loss, began our new journey called NGTAI (New Generation of The Automotive India) with a new spirit. Thanks to the invaluable support of each member with us today, our forum has coped up from the loss in no time and we're marching ahead at a much faster pace than ever.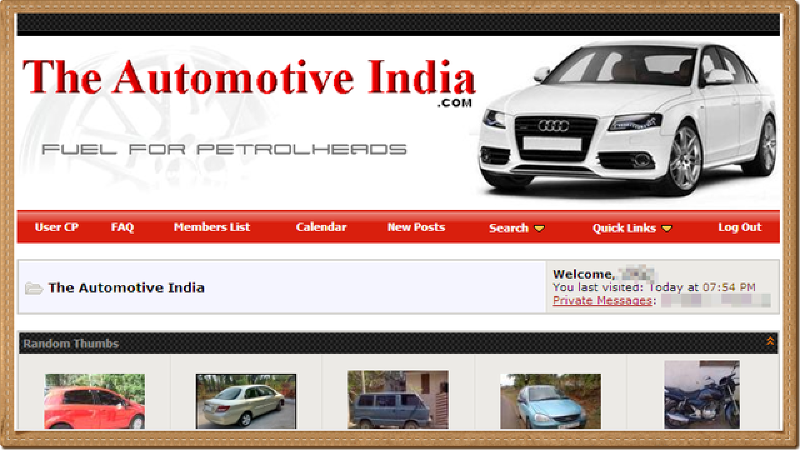 November 25th, 2009
Today, being the first anniversary of The Automotive India. I would like to personally thank each member present with us on board who has continued supporting the forum and help making it the ultimate destination of Petrol Heads because we are 'the' forum for Petrol Heads. Now moving on the celebrations part. Here's what we have stored in:
- Inventory:
Members above rookie rank can use this feature to upload the pictures of their rides or rate / post comments on other's photographs.
- OGTAI is Back:
From where our journey started and today where we are. To offer a quick experience to new member about our old platform, our previous forum has been re-opened for a short while. Here is the log in information:
> Old Forum URL:
Index
> Username: Demo
> Password: demo123
- Direct Uploading:
Good bye to external hosting websites. Members can now upload images directly using built-in attachment manager function.
- More New Smilies:
Set of new smilies has been included.
- New Theme:
You can now view TAI in an all new avatar using "Midnight Black" Theme.
Keep that foot buried onto the pedal; watch out for this space on our second anniversary.

Drive Safe,
350Z