Joined

Aug 14, 2014
Messages

213
Likes

176
Location
I was following the falcon cars for quite sometime since I was looking out to buy a hatchback or a Compact Sedan. As soon as I heard that the falcon cars would get their design cues from the Hybrid Manza I started to like the cars even before seeing one. Reason, I had liked the design of the Hybrid Manza showcased in an earlier auto expo. Remember City like headlights anyone ? Somehow I had a soft corner/liking for the Tata's. Make In India ??
I wanted a car but there was no time-frame hence I was relaxed in choosing one.
Cars Considered:
Since I was going to buy a Petrol car (No I don't tend to use it daily) available options were Swift, Brio, Grand i10, Figo, Etios Liva last but not the least Bolt(Falcon)
Swift: No doubt the best hatchback around with a fun to drive engine and quite decent handling, But Dated styling and not a VFM. You have to buy the top variant to get the necessary stuff. Every 2nd or 3rd car you see is a Swift.
Brio: Peppy engine but looks awkward from both ends and limited or impractical boot
Figo: Great ride and handling but underpowered petrol engine
Grand i10: An all-round car with good value proposition. I liked it
Liva: Ugliest of the lot though it has a decent/reliable engine
Polo/Punto: Underpowered lower variants and over priced top variants. ASS is not so good compared to the above.
I had almost zeroed in on Grand i10/Xcent till TML unveiled the Zest/Bolt on Feb 4.
From then its only daily visits to few auto portals for latest news on Zest/Bolt. Have tracked each and every bit of it till date. Right from the launch of 1.2 Revotron to Unveiling of cars to Media Drive in Goa to the actual launch.
Having seen the cars exterior and interior, I was fully impressed with it. HK infotainment with loads of features especially.
When the first photo of the HK infotainment (in Twitter) during media drive was shown, it was a 2.5 inch head unit without the touch screen unit. To add to the confusion the tweeter said it was from a top variant. It came in as a BIG surprise and I started cursing TML. Though inactive in twitter I was refreshing the page like hell on that day till I could see a touchscreen unit on a top variant. Yes the earlier photo was from a mid variant. Jagrover (If he is Sreekanth Jayadevan on Twitter else forgive me) might remember this well. He was busy retweeting every update available. Both of us were very exited on that day for sure. July 9 it was. There was another exciting day when the reviews were out in major auto portals.
So the car was decided on Feb 4 itself

Booking:
Booked the car on July 20 through the online portal. Booking was open on July 19 and when i tried to book on that evening my bank's portal was shutdown due to a maintenance activity.
Reason for booking earlier, a strong gut feeling that this car would rake in many bookings and the delivery might get delayed due to it.
Confirmed the colour and variant on 30 Aug since the dealer (Concorde Mysore Rd, Bangalore) took some time to get the real pics of all the colours. XT Dune Beige it was.
The wait starts again. These guys aren't proactive and you need to call them up and check on your booking status.
Allotment, Payment and the Mess:
One fine morning on Sep 27, got a call from the dealer saying the car is allotted and could finish the payment ASAP. Went ahead and completed the full payment on the same day. No news whatsoever even after 10 days. Had called the SA to find out several times in between and could not get any positive response. Thought of escalating and wrote a mail to customer care on 9 Oct. SA called up on 10 Oct and told A Pristine White is available for a quick delivery if you are fine with it. Asked wifey to go to the showroom and check the colour in real since I was okay with it. When she liked it I only had to say a YES to bill it to me. I had to shell out Rs 6740 extra

But she was worth it.
Accessories opted:
Opted for spare alloy wheel, mud flaps, mats, perfume and puddle lamps as accessories. Thought of going for the fabric and art leather combo seat covers. But the fitting was not so great in an already fit Vista and Manza. Hence didn't go for it. Should thank the accessory guy who promptly showed and accepted the loose fitting.
Did a short PDI on Oct 14. None of them knew where the accessories were till then.
Delivery:
On the auspicious day of Oct 15 a Pristine White Zest was waiting to get out of the shackles at the Concorde's Garage. It was almost dark when we reached there. Mats and mud flaps were fitted. No stock of XT alloy wheel. Accessory guy did not know how to fit the Puddle lamp. The SA gave a good demo of all the features. HK infotainment was the star of the lot to impress. All the features like setting temperature, fan speed, tuning to a frequency on FM, playing a song from USB, calling a contact by pairing up my Gionee Elife E6 (Android) all worked flawlessly.
Received a 5 ltr coupon for petrol. Filled it and drove home

About the car:
There is nothing new that you would expect from me here. Zest is a brilliant package and VFM for its price. The XM and XMS variants are affordable to majority of the flock looking out for a hatchback/CS. This could be a game changing car for TML.
Exterior:
Looks are subjective to an individual. So it is perfectly fine if you don't agree to the below mentioned statements.
The new design of the Zest speaks volumes about the hard work put forth from the design/creative team at TML (Coventry, Turin & Pune) which is headed by Pratap Bose. They have done a fantabulous job to the exterior with the existing Vista platform. The projector headlamp surrounded with corona ring/angel eye looks brilliant for a car of this price bracket. Though I feel the head light unit is a bit big. Humanity line and trust line as TML likes to call, gives it a rather composed look mixed with a bit of aggression to the front. If you can imagine the front without these lines( especially Trust line) you would understand the previous statement.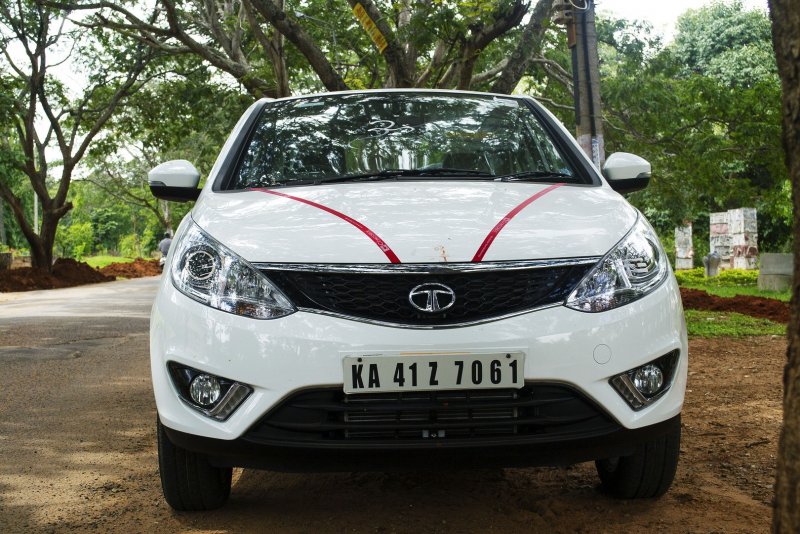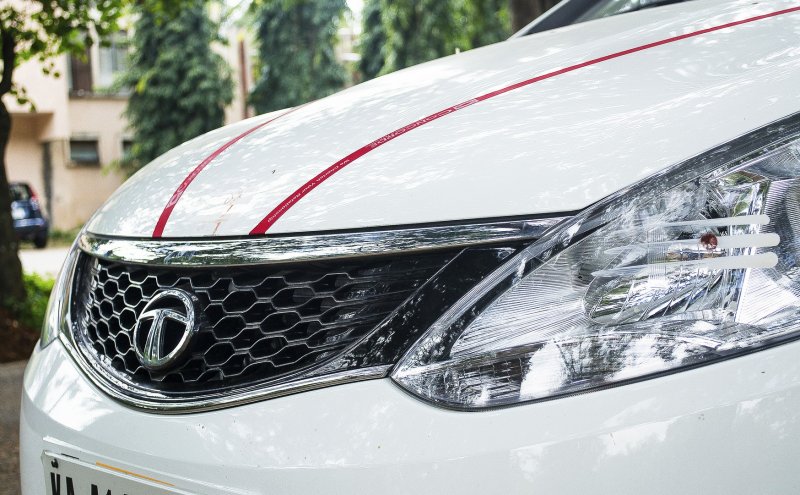 DRL's have become a standard across the recent cars and are a welcome design which adds some glamour to the front. Usage however is limited or NIL in most of the states in India.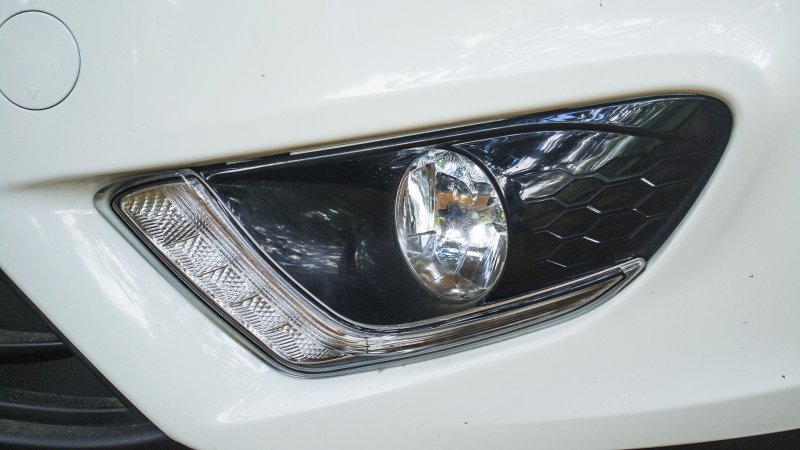 The shoulder lines in the side profile looks decent. But visible more on Silver and Beige colours.
The ORVM with turn indicators are integrated well. Body coloured ORVM with lower part in black looks classy. Put a contrasting paint to the black part like Punto White/Red and you get a sportier look.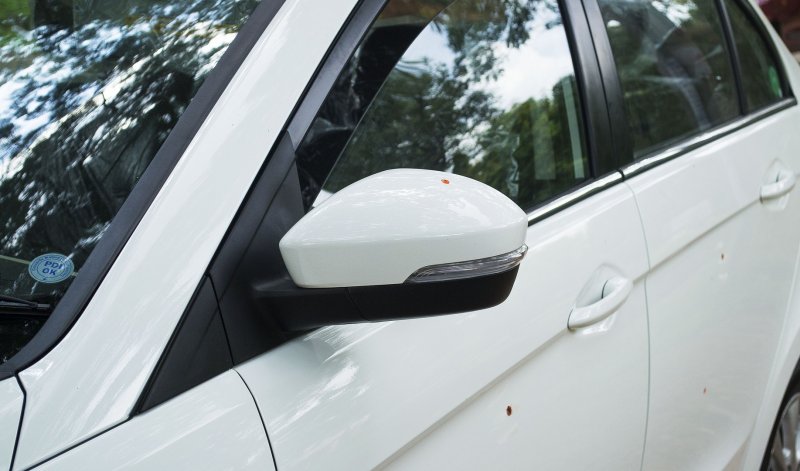 The rear is nowhere related to Tata if you look at their earlier designs. The swept back LED tail lamps looks stunning. The thick chrome strip above the number plate could've been thin IMO. Black cladding on the front and rear bumpers looks classy in White, Beige and Silver colours because of the contrast it offers. Same applies for the blackened B pillars and the window frames. Fog lamp in the middle just adds to the beauty. Check out in the below photos.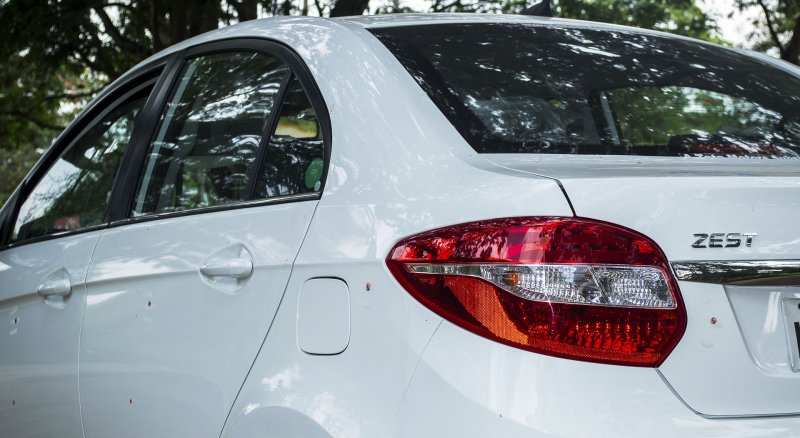 Boot integration can be debatable but lets not do it due to the 4m constraint in the design, Though it doesn't feel ugly like Dzire. Xcent has a better integration IMO.
The overall stance of Zest has a tallboy character and can be compared to that of SX4 on road.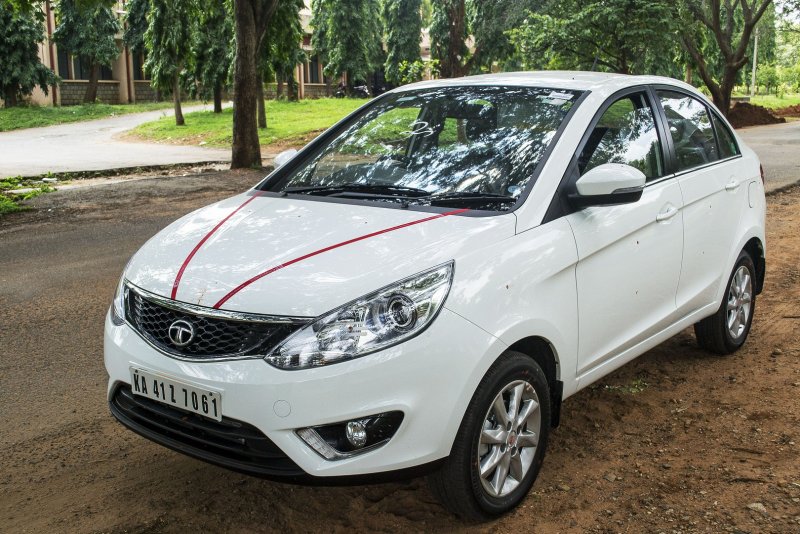 How the rear LED tail lamps look at night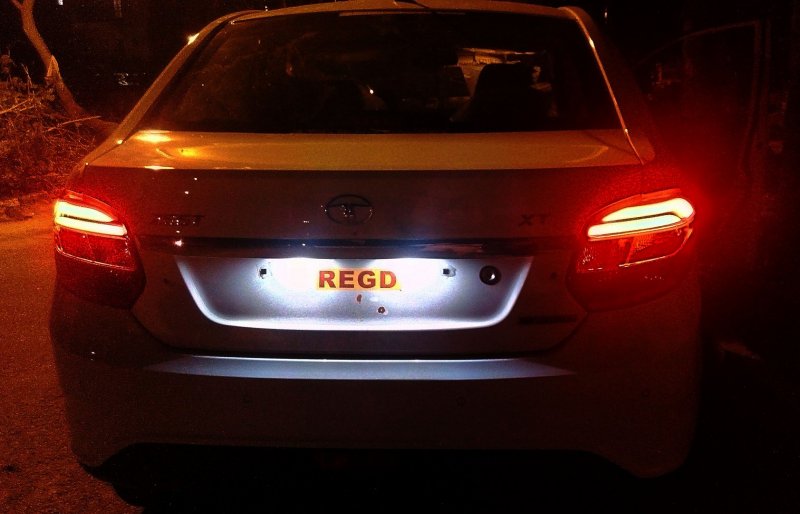 Corona rings, BMW types ??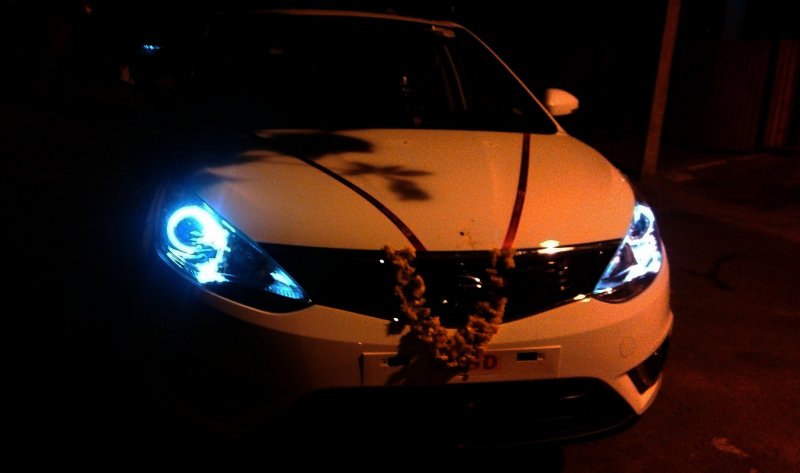 Closer look at the front light console
ORVM has a decent coverage as seen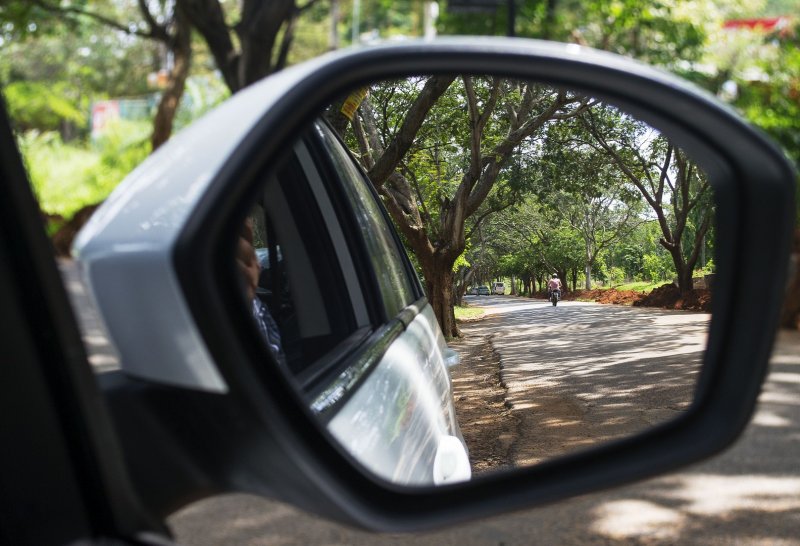 Rear view mirror also has full coverage of the rear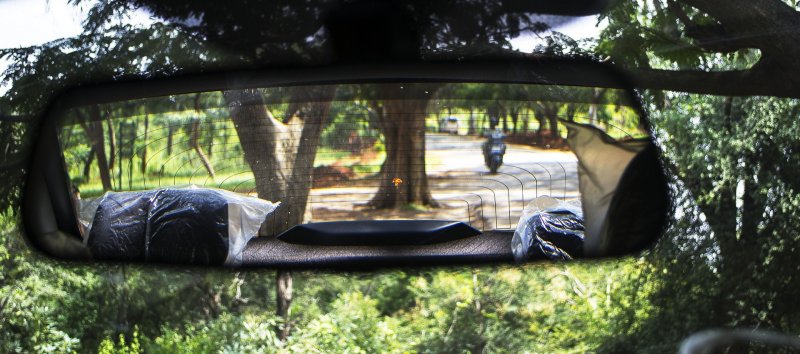 Interior:
If you step in to the cabin thinking of a Tata car then you will be surprised for sure. Biggest change for the brand Tata is inside the cabin and especially on the black and beige dual tone dashboard. There is a new 5 inch resistive touch screen based infotainment system developed by HK with 8 speakers in the top variant. Capacitive touch screen wouldn't have been costlier but the resistive touch screen is there for a purpose is what I believe. The audio quality is brilliant for an OEM unit. In fact the controls which can be configured/controlled via touch screen is definitely 2 segments above. The knobs, buttons and thin lining of chrome everywhere gives the cabin a premium feeling for sure.
MID has all the features you need like 2 Trip meters, Distance to empty, Instantaneous fuel indicator, digital fuel and temperature indicators. You can increase/decrease the brightness of the display.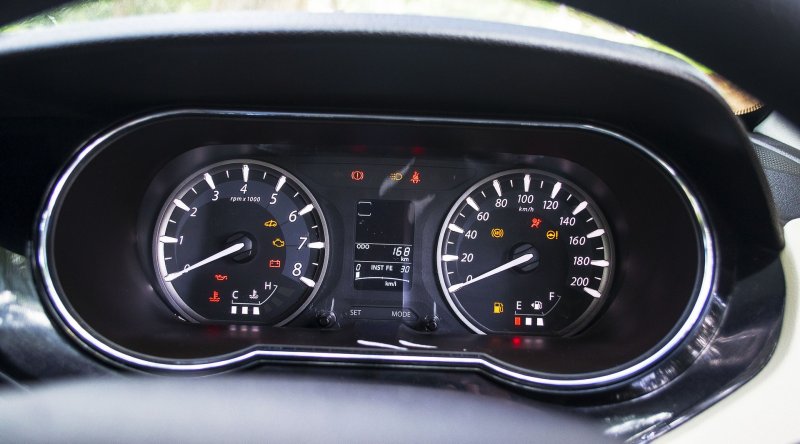 You have some space below the hand brake area to keep your mobile or purse.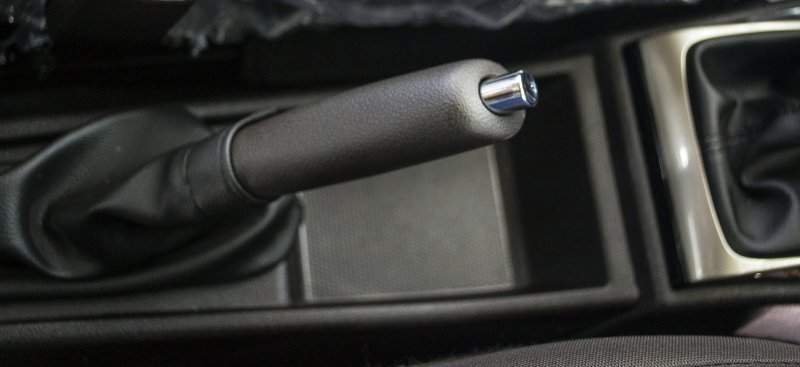 AC Vents centre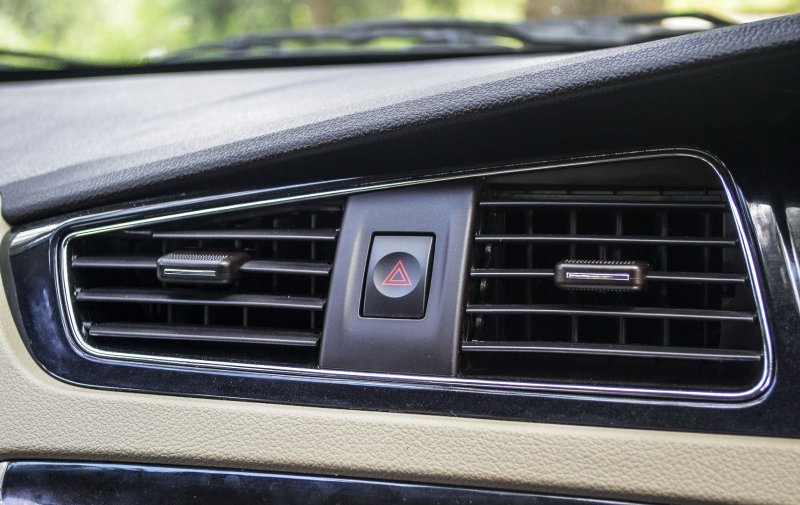 Side AC vent. Same as Vista. Look at the chrome lining.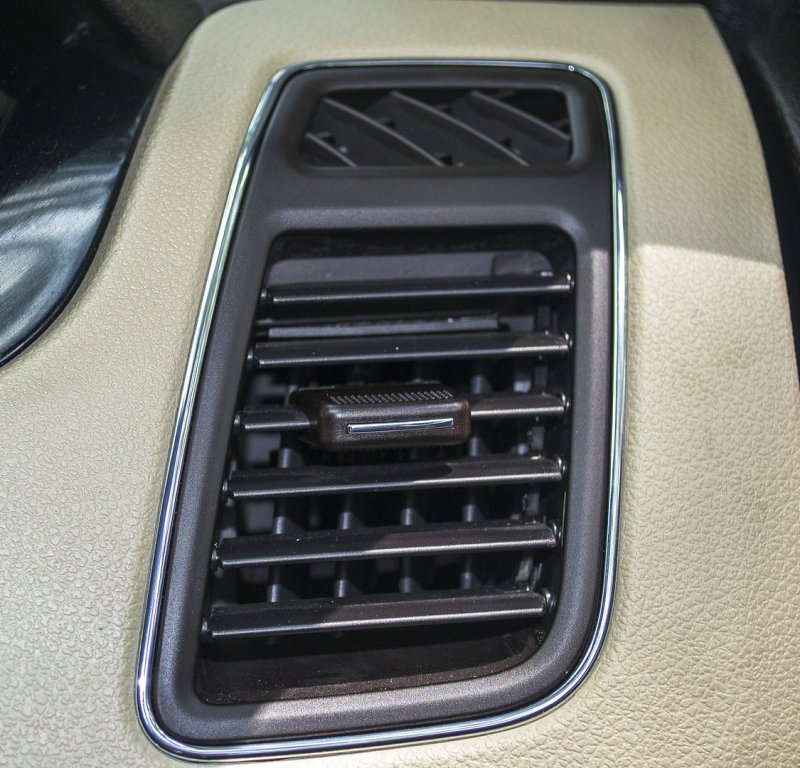 Driver door controls. Drive window has one touch down feature. You know the rest of the controls.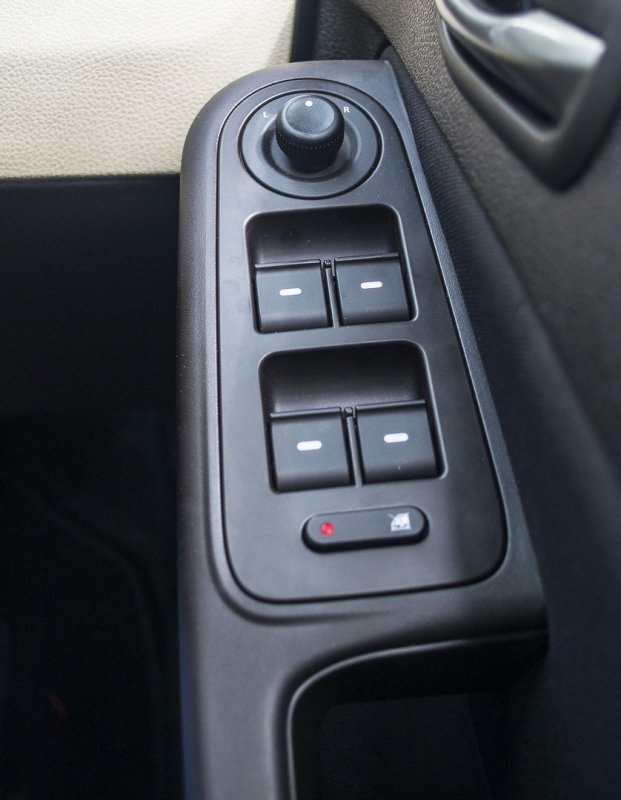 12v charger and the only cup holder in the entire car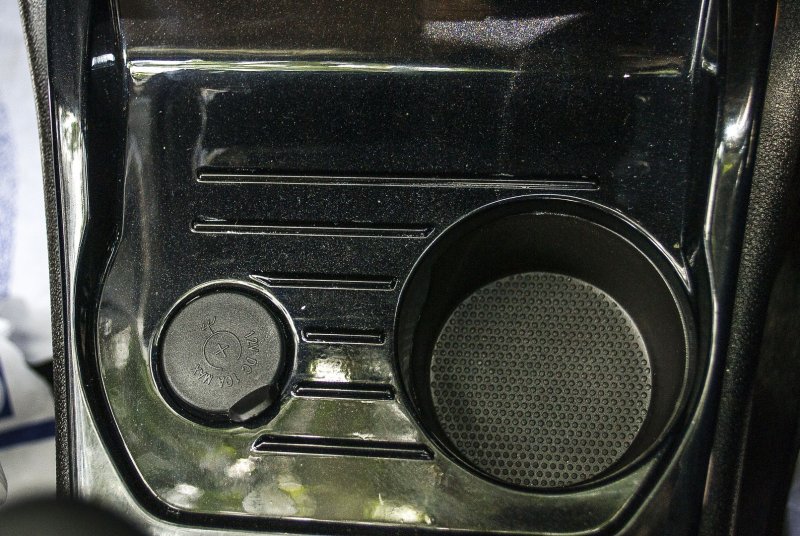 Steering wheel is shorter than most of the outgoing cars in the market. It feels sportier due to its size and feel. The steering mounted audio controls are integrated well and overall looks good. This is an EPS unit with active return function which was introduced first in the Nano Twist.
The Key fob is great but you need put a bit more pressure to press the buttons. Also you cannot quickly insert the key to the ignition hole. It takes some time and then unlocks i guess only after it goes inside, security feature huh ?? I would've liked a boot release button alongside the follow-me lamp button.
Front seats have a good lateral support and the cushioning is good, though on the softer side. Expecting leather seats at this price can be called as greedy. However would've liked a two tone fabric seat cover. You anyway cover it with art leather,as I have right ?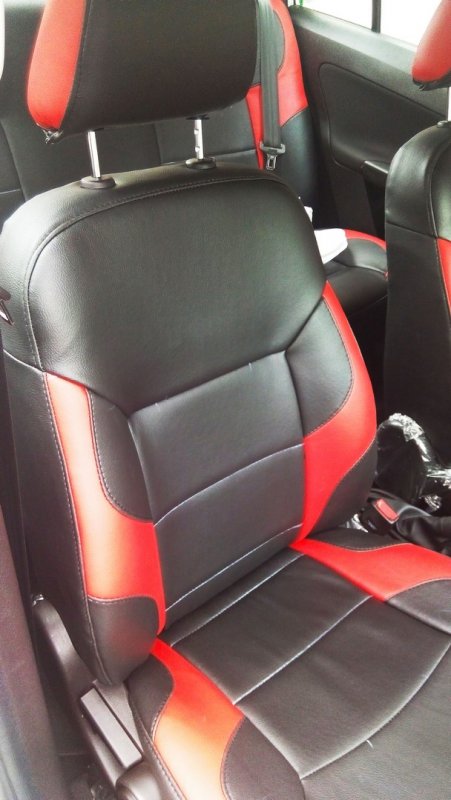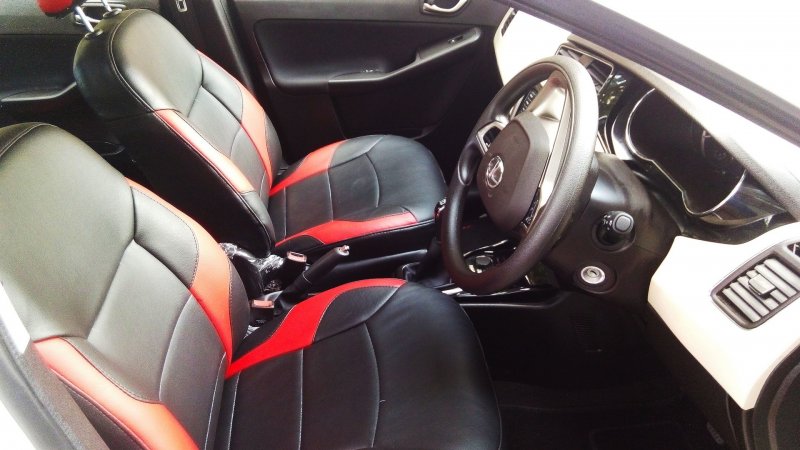 Surprisingly there are no bottle holders on the doors. At least the doors should've been capable of holding 1lt bottles. However there is some storage space under the passenger seat. You can keep those rectangular bottles here.
Forget dead pedal, There is absolutely no space to the left of the clutch. You cannot rest your foot next to the clutch pedal. In the available foot well you could've easily etched some space to the left.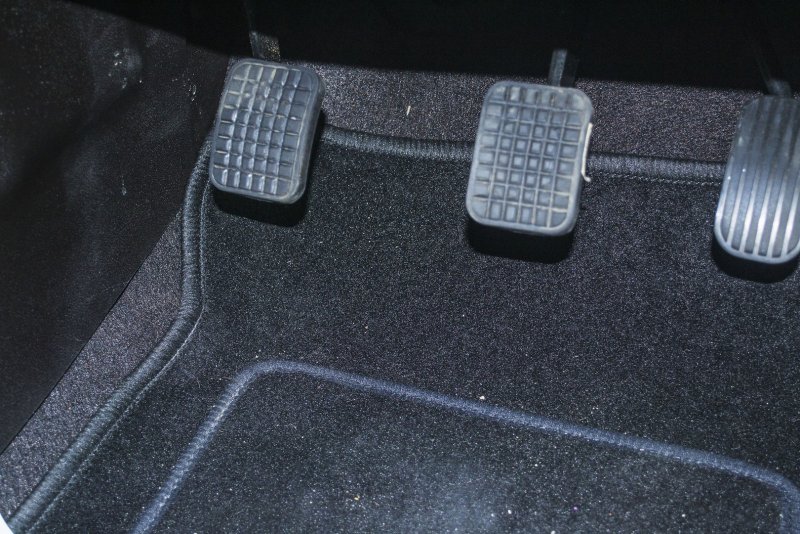 The A Pillar is thick which translates to blind spots, be careful during Ghat sections.
Grab handles have a soft return action. Rear ones have coat hooks.
Rear seats can accommodate 3 moderate people comfortably. The floor hump is present but not too intruding.
Sunk in parcel tray will keep your tissue boxes without falling with an abrupt brake.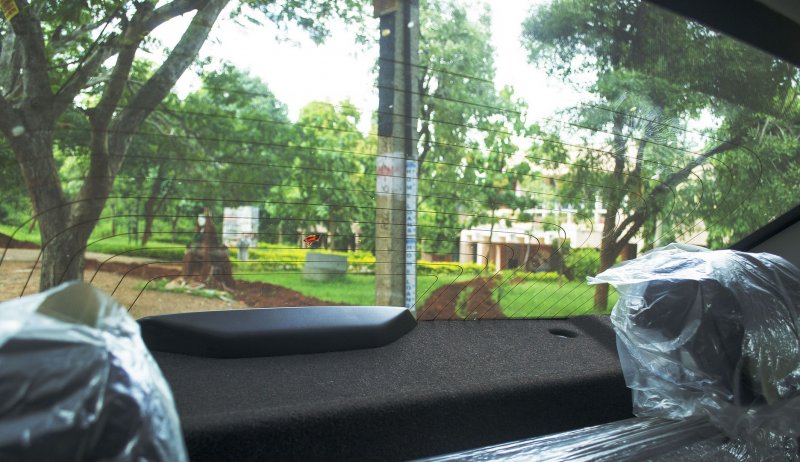 No cabin light for the rear, only one at front.
Microphone for the calls. It works pretty well. I could pair up my Android (Elife E6) phone to call/receive calls. Voice quality is nice. All this without panicking for your phone and getting distracted while driving.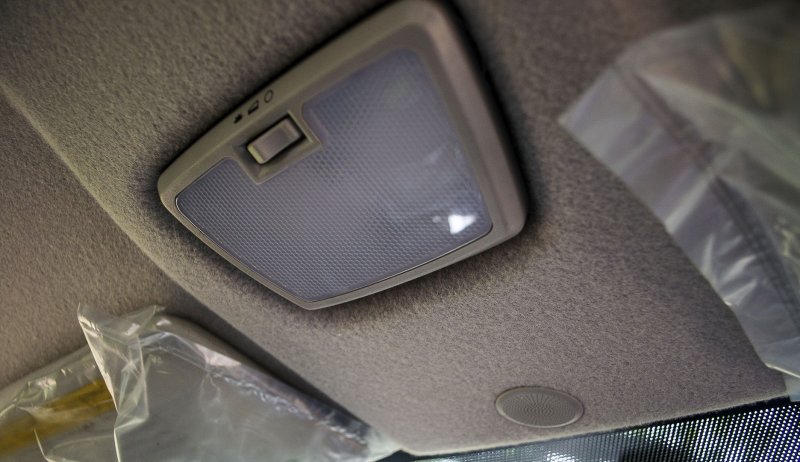 No central armrest at the rear. Needed for long drives with only 2 at the rear.
Child safety locks are present at both the rear doors. Doors locked by pulling this down can only be opened from outside. Pretty nifty feature.
Puddle lamps fitted. It projects a blue Tata Logo. When you are a proud owner of Tata, show IT (Logo).
Alloy wheel looks good but as many feel the lower variant looks better than this. I could not get them even after speaking to many folks at Tata.
The wheel wells are not completely filled by the 15 inch alloys.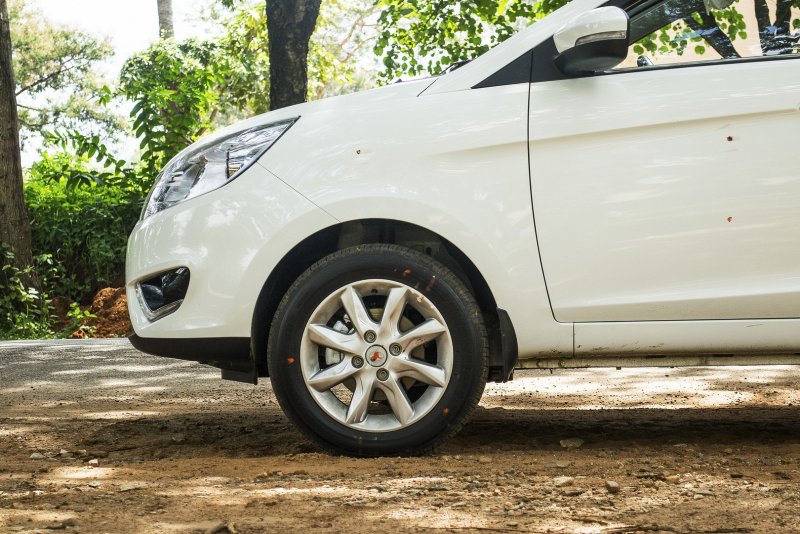 Last edited: