Joined

Jul 25, 2014
Messages

248
Likes

224
Location
Greetings to All,
Hunting
started in Feb'14 with the need of second car for wife once she joins back her hospital after long maternity break. You sense the bundles of joy heading towards us. I checked Ford Ecosport and 2014 Honda City. But, as a responsible father I thought of saving some grands in my kitty for the new member. So, I lowered down my budget and started searching for Compact Sedan.
As we already have Maruti Suzuki Ritz, we wanted (rather say needed) an upgrade to bigger boot. At the same time car should be easy to drive and park. So a spacious CS was our need. During this time only Dzire and Amaze were the options. I didn't want
Dzire
because it is aplenty in road. At the same time
Amaze
was very plain from inside.
I rather decided to wait for some time until wife's maternity break expires in Sep end. We Indians are so deadline oriented. Then came Hyundai
Xcent
. Both Me and my wife liked it from inside out. It was feature packed, spacious, fully loaded CS with segment leading boot space. Plathora of features like complete keyless entry, push button start, reverse parking camera integrated in IRVM, rear arm rest, rear ac vent, cooled glove box made us to finalize the Xcent. But you know, "Yeh Dil Mange More" I asked wife to wait for Zest launch since the deadline was still far. If Tata doesn't surprize us we can still go for Xcent any day.
Complete July month was spent in gathering information about Zest through reviews in different forums and articles. I was very happy with the overall package but was waiting for icing on the cake and it came on 12th Aug'14 when Zest pricing came out. It was definitely
Zest
for me

. Took wife for TD on 14th Aug'14 and got her approval after convincing her that cooled glove box is not the necessity

. She was already convinced about the tall stance of Zest as she feels claustrophobic in low lying vehicles. Feature richness of Zest was at par with Xcent if not greater. Projecter headlamps, LED tail lamps, smiling front grill, Airbags, ABS, EBD, spacious cabin, bluetooth connectivity with USB and AUX-IN, informative instrument cluster, sporty steering wheel etc. etc. etc. made XMS a real VFM. But then, it didn't have rear defogger, reverse parking sensor, Daytime Running LEDs, outstanding sound quality and premiumness of Harman touchscreen Infotainment System (with voice commands, sms readout and so on), FATC, perimetric alarm system, angel eye corrona ring, boot lamp, new design alloy wheels. So we opted to pay some 55K more and get the top model. Blue color was finalized over Grey after visiting dealer stockyard and checking all the colors in person.
But some adventure was awaiting our way and that was
Dealership Experience
. We booked on 28th Aug with Urmil motors, Ghaziabad with delivery commitment by Sep end. However, soon came to know that Delhi registration will be little costlier because of temporary registration and higher broker charges. So checked with Concorde, Delhi on 12th Sep and they were ready to deliver by 20th Sep. I opted to go with outside insurance and they were ready. I booked with Concorde, Patparganj on 12th Sep'14 with a promise that I'll get the delivery by 20th Sep'14. They gave me the engine & chassis no. on 16th Sep'14. But, asked me to hold the outside insurance for sometime. Even with multiple follow-ups, they couldn't confirm that the same vehicle will be billed to me or not. SA and the manager had two different versions of the story. SA said that Concorde CEO is not allowing outside insurance. Whereas manager said the vehicle has been billed to another person.
I escalated this issue to Tata Motors through various channels. On 19th Sep'14, we had a meeting with manager and Tata Territory Sales Manager. We came to know that vehicle has already been billed to another guy. We asked TSM to arrange the vehicle for us. He got to know that one Blue Revotron XT is available with AutoVikas, Motinagar. We confirmed that we are ready to take that. But the harassment doesn't end here. Concorde motors had already debited the amount and hence we had to wait for their CEO to sign the cheque and it took 3 more days.
Finally we got all our amount back on 24th Sep'14. We did the RTGS on 25th and got the outside insurance. Took the delivery on 27th Sep'14. It felt like climax of some Bollywood movie with deadline on sight and things going haywire at 11th hour. It was Happy Ending though.
10
Things I liked
in Zest are:
1. Good road presence because of dimensions
2. Projector Headlamps with Corona rings
3. LED tail lamps
4. DRLs
5. Smiling front grill
6. Excellent sound quality and usefulness of Harman touchscreen Infotainment System
7. Plush and roomy interiors
8. Sporty steering wheel
9. 15" alloy wheel with 185/65 section tyres
10. Bone chilling FATC
5
Things to Improve
in Zest are (considering the price point in mind):
1. Front arm rest
2. 1 ltr Bottle holders, at least in front doors
3. Cooled glove box
4. Boot lid release button in Key
5. Not able to think of fifth one…
Outside insurance is from Tata AIG with IDV of 5.69L @17500. It's a zero dep policy with maximum 2 zero dep claims allowed. Below are the Covers:
TP: 7.5 L
Own: 2 L
Paid Driver: 1L
Repair of Glass, Fiber, Plastic & Rubber Parts without affecting NCB.
Loss of personal belongings upto 10000.
Emergency transport and hotel expenses upto 10000.
Key Replacement upto 25000.
Finally car is ready to go home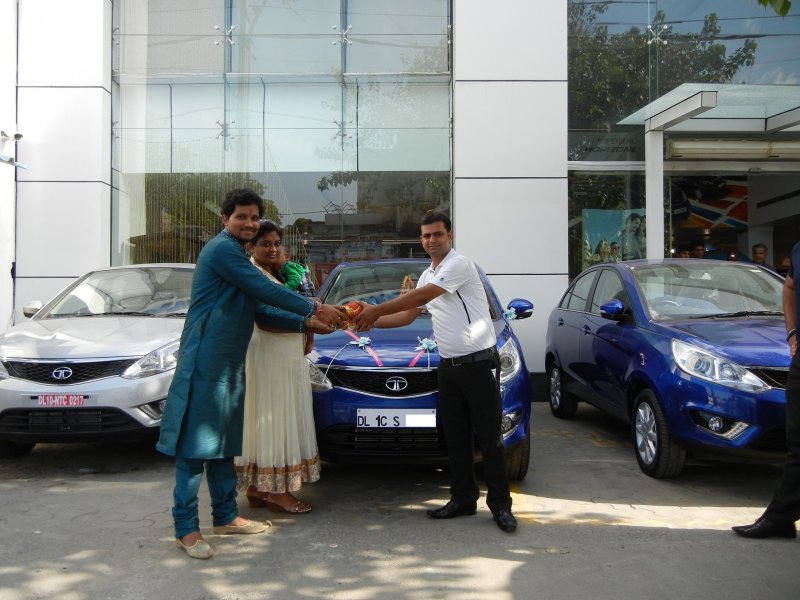 Family photo
Two of the new members of family