So finally after a week of planning, finally went for a Winger Test Drive. If you have read my previous test review of Force Toofan, you would probably know that we are on a look out for an 8+ seater UV with a generous luggage space. So after Toofan, i did a test drive of Tata venture too, more on that later.
After the Force Toofan drive, I was on a lookout for more options. Many of the members here suggested different vehicles. I have already driven the Eeco extensively, though it's a good van, with good drivability, space and a decent price tag, the reason it runs on petrol and because it's a 7 seater, in the 5 seater version the boot floor is not completely flat, it was off the list.
Next was the Venture. I did a small test drive recently, was impressed with the way space is utilized in the cabin. It's airy with a comfortable seating for 8 (7+1 as they say). The boot though decently spacious, the spare wheel intrudes into the boot space thereby reducing the space right in between. Only the backrest of the last row folds, so boot space cannot be increased. Driving wise, it rides well, handles decently for its size and shape. There is turbo lag initially which can be annoying in city. The driver seat restricts driving to 5'10ish drivers. Tall drivers will complain about their left leg touching the steering while using clutch unless they cross their legs somewhat. Also there is a clamp like thing, which I believe is the clamp for Speedo cable or something. If you wear sandals/Slippers while driving it will badly hurt your toe area. As the vehicle we are looking for will be self driven, these things mattered and venture was off the list.
Tata Winger:
I have always had a soft corner for UVs, be it old matador, Mahindra Maxi-cab (or Mexe-cab as it normally painted on the back of the ones I see, lol), voyager, 207 to 407, Traveler, Tata HCVs or Ashok Leyland's, Prima and so on. Because of this i had a natural attraction towards the winger right when it was launched. There is a Kerala interstate highway that passes near my house. This being my daily route, I keep seeing lot of Toofans, travelers, the much forgotten Allwyn-Nissan mini buses Tata wingers and so on.
After many of people here and my friends had suggested the winger, I asked the people at URS KAR (Tata showroom for personal vehicles in Mysore) and got to know that there is a UV showroom in here. So called them up the other day and enquired about the prices for the basic version for white board(private use). The person after some enquiry with staff there said it was 6.39 on road with tax and all. I was surprised that the price difference between the Venture (6.10 for base model) and Venture (6.39 base model) was merely 19k!!
After a week of trying, finally went to the showroom. After giving the price quotation, the sales executive showed me to the vehicle. There it was, finally I was seeing a Winger up-close. You may be wondering what the whole excitement is about, well as I said I have love for UVs and when I'm seeing something new it obviously excites me.
The one I was interested in was the basic model. The only 'feature' I was looking for was Power assisted steering. Basic model, I was told comes only in white. The sales guy told me Tata had sold 3500 of these (don't know what this figure means), they were sent a light blue version and this was the only winger in the showroom.
Exteriors:
The first thing you notice in the winger is it's width. There was a 207 being washed next to the Winger and for the first time I felt the 207 to be narrow. Lol. Anyways back to the winger, everyone, well most of us have seen a winger. It's a no nonsense boxy van.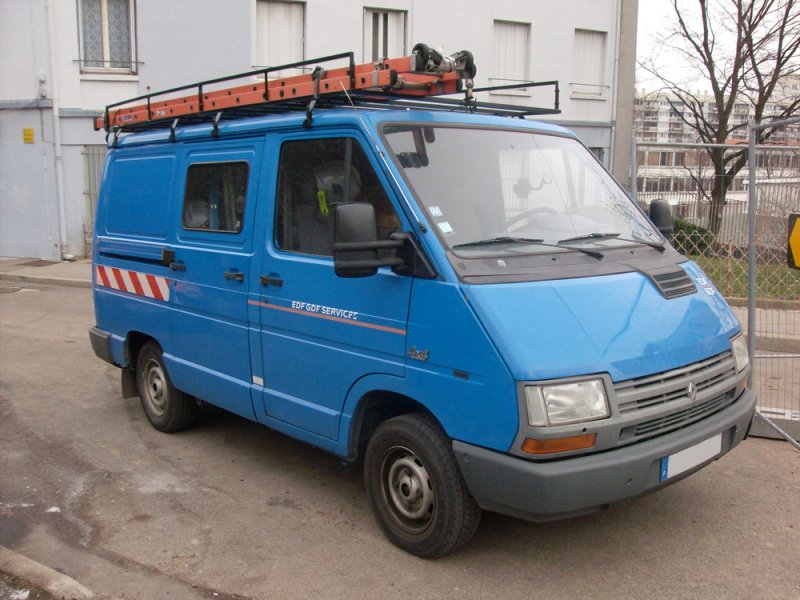 Renault was moving ahead with a new design for its Trafic van and was doing away with old dyes. Someone from Tata thought, "hey why not buy it and make ourselves a new van??". So they took the trafic, plonked their NA 2.0 Liter IDI engine from their parts bin, tweaked the engine and its gear box for this application and tada!! India's First Maxi van!!
Honestly it's not a bad thing; actually it's a good thing. Though Winger looks boxy from every single angle, it does what it's supposed to do, passenger comfort. Thanks to Renault's design, the engine uses only a small portion of the vehicle, leaving a huge cabin for passenger.
The standard version comes only in SWB (2800mm). The front comes with black grill, air vent and bumper. Clear Lens headlamps are standard. Provision is provided for Fog lamp fitment.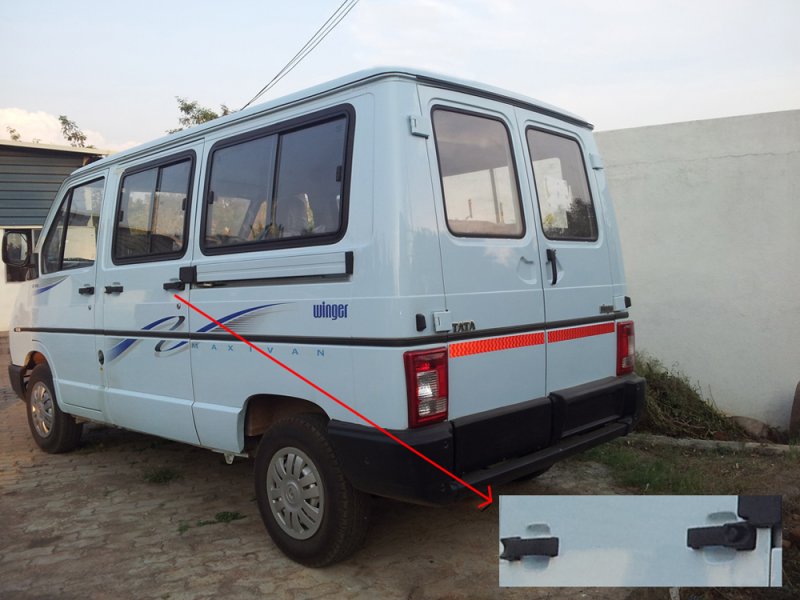 Coming to the side , apart from the shape, you see that the side door is of sliding variety. It comes with two handles for easy opening and closing. One good thing I noticed in both venture and Winger is that once you slide open the door to the end, the door cannot be pulled back unless you press the door opening knob on the handle. A very good touch specially when parked on steep slopes. Both venture and winger do not come with a right side sliding door. The vehicle is as long as an Innova (4520mm).
The rear has a split door like in Force traveler. Handy to load unload luggage. Tail lamps are simple n purpose built. I personally felt it was little small for the size of the vehicle.
Interiors: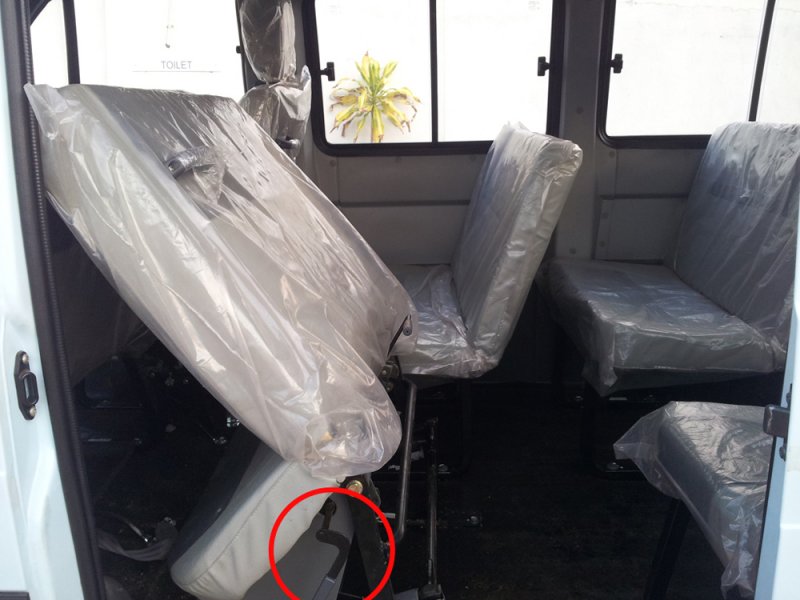 The doors open wide. So getting in and out will never be a problem. The door pads are like the ones seen in early Maruti's. Front gets bottle holder but it looks like a aftermarket fitment. But considering it's a UV it's all forgiven. The doors are heavy n close with a thud. Driver door though refused to close because the door setting wasn't done. I have to mention here that this was a brand new vehicle and no PDI was done. So the issues with the vehicle were not sorted.
Once inside you notice it's got decent space for all 13 seats + driver. As mentioned before, this is the SWB version and a seating capacity for 14 is not easy. This being a monocoque, the floor is lower and is flat. So even though the rows are placed close to each other, there is enough legroom for a person of 5'10ish height.
legroom in second row.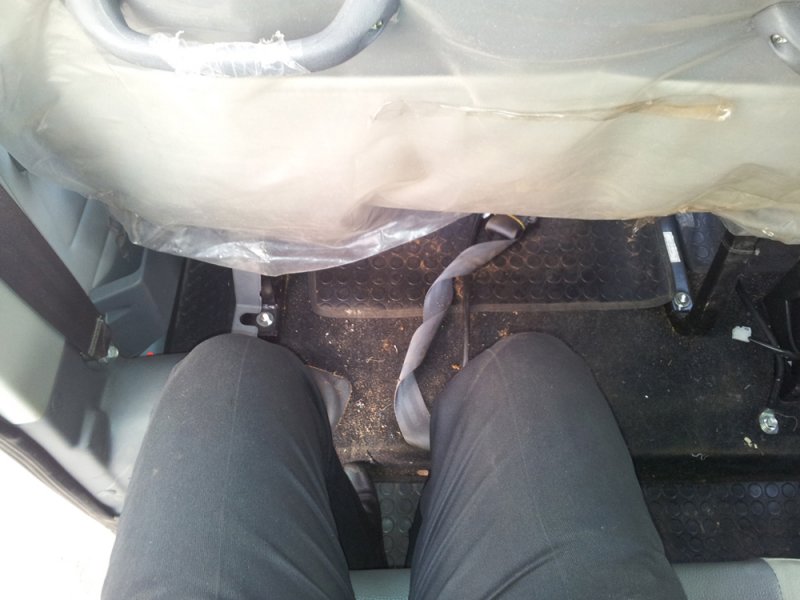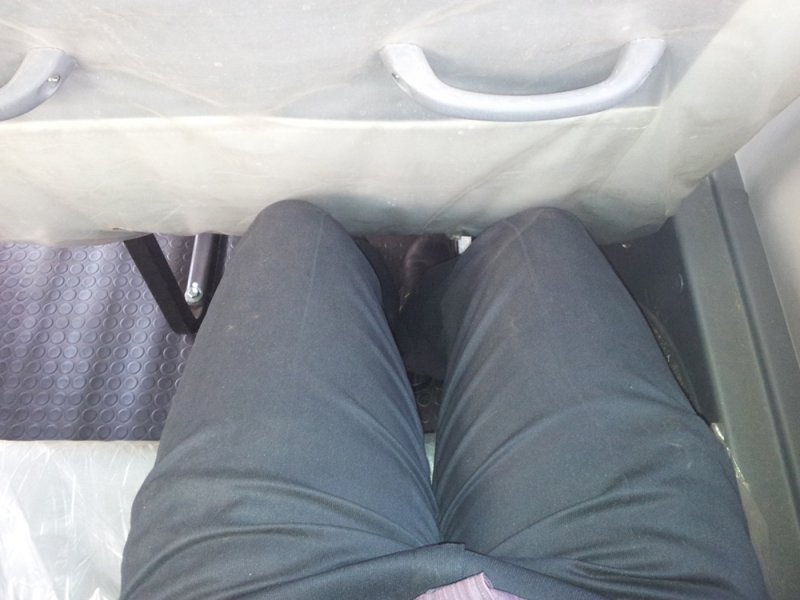 You can spread your legs (last two rows) under the front row. Seats are bench type in this version and aren't very comfortable. There is no shoulder and neck support as the seats have short back rests, forget about the headrests.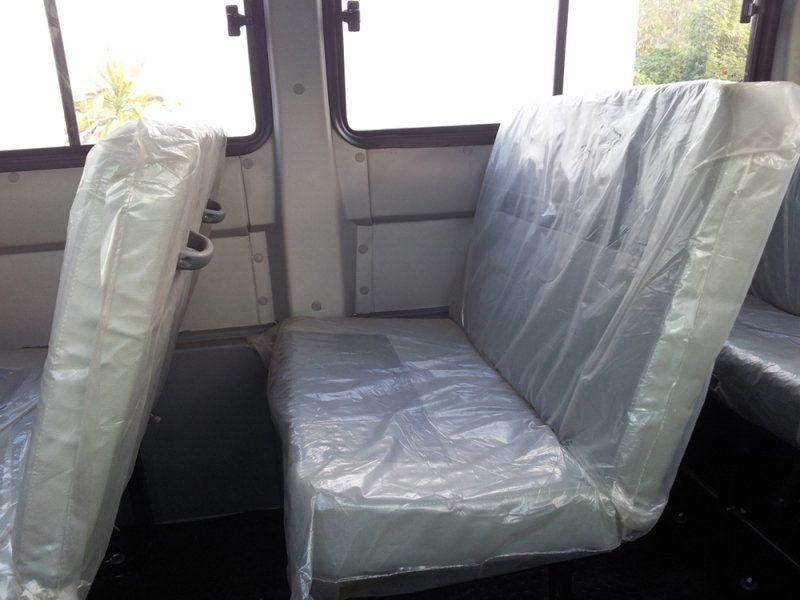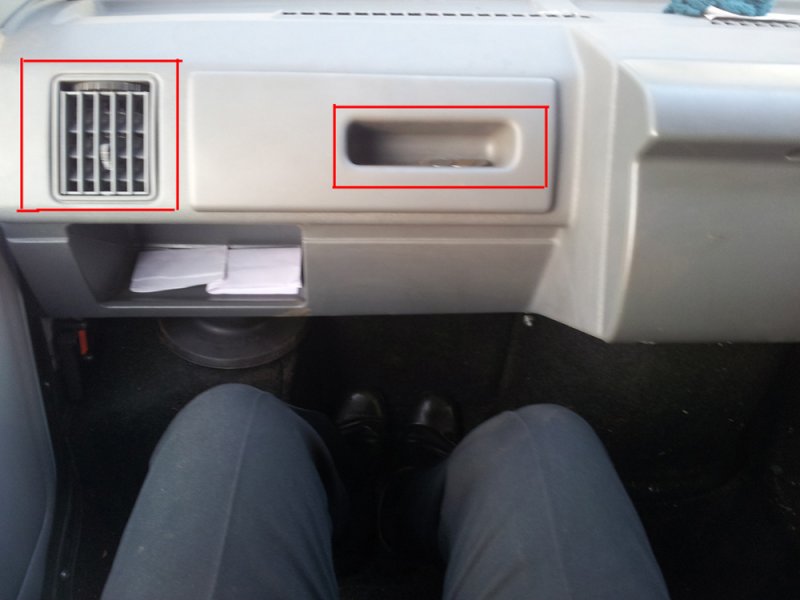 P.S this is a standard version devoid of any kind of luxury. The front row is spacious enough for two passengers and driver.
The good thing is that the gear lever is placed between the seats and hence doesn't disturb the middle seat passenger.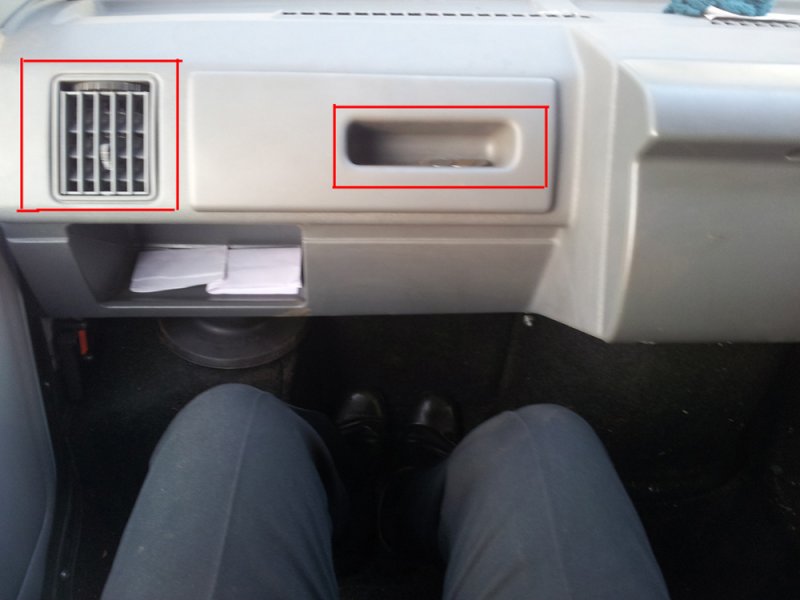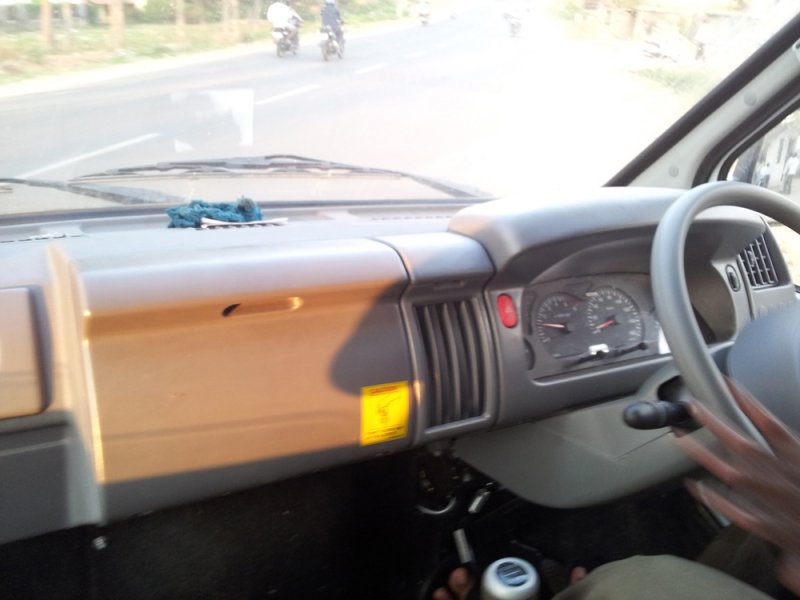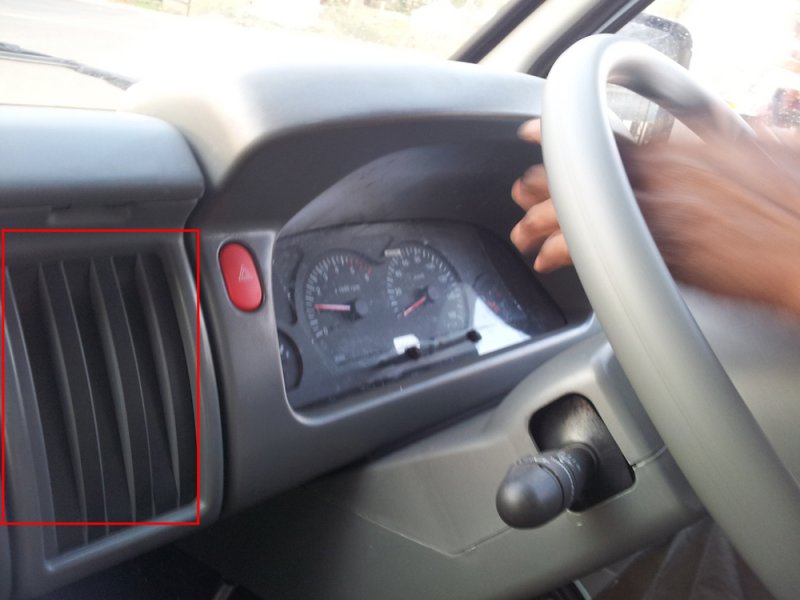 The dashboard looks and feels cheap. There are vents on the either side of the dash, the sales executive told me it's for ventilation. I didn't find any blower controls. Still wondering how it works. Guess it like in the Omni where the vents were behind the headlamps for ventilation.
Didn't get time to further inspect the vehicle as they were waiting to close the showroom.
Drive:
Now the most disappointing (yes! You read it right) part of this whole review is that I never got to drive it. The vehicle wasn't registered and some TCR thingy wasn't done. So according to the company policy, others aren't allowed to drive this particular vehicle that i was traveling in. Anyways they called in the company driver for the test drive.
When he cranked the engine, the first thing I noticed was the NVH levels were on the higher side. This version didn't have much sound insulation I guess. I got in and off we went. The vehicle had three people including me. The NA engine showed signs of strain while pulling. Not that it wasn't pulling but it was quite audible. The driver was almost redlining the vehicle in every gear. I guess he was on 4th and doing 80kmph and the engine was howling.
Our drive included a section of bad road. Though the vehicle had only 3 passengers, it kind of glided on the bad roads. Never felt a single pothole. P.S. I was on the front seat and the sales exec on the second row and I didn't see him being tossed around like in most vans. The drive was comfortable. Though the driver was zipping around in the traffic like he was riding a bike, I was pretty comfy inside. We took the U turn and reached back. Once we reached the showroom, the driver took the vehicle in took a quick turn which included a reverse and put it in its parking. The overall visibility from the front is good. The ORVM provide good visibility too.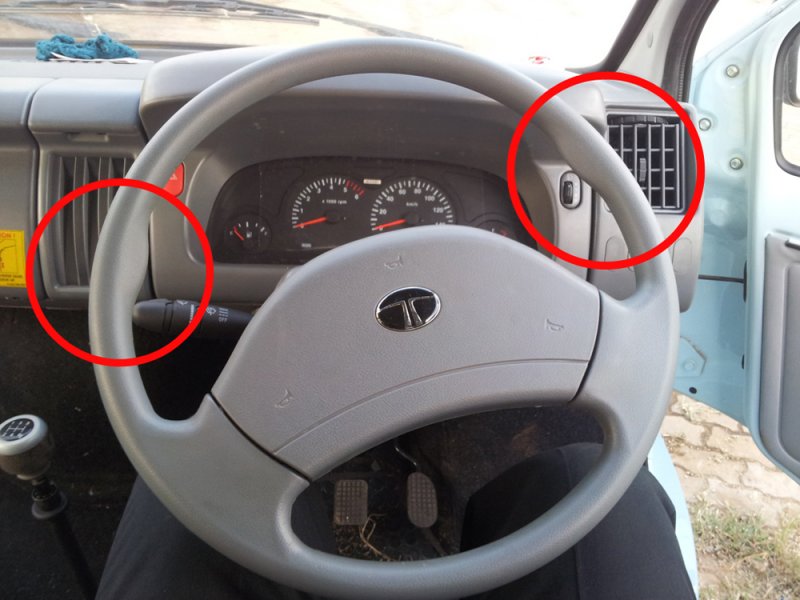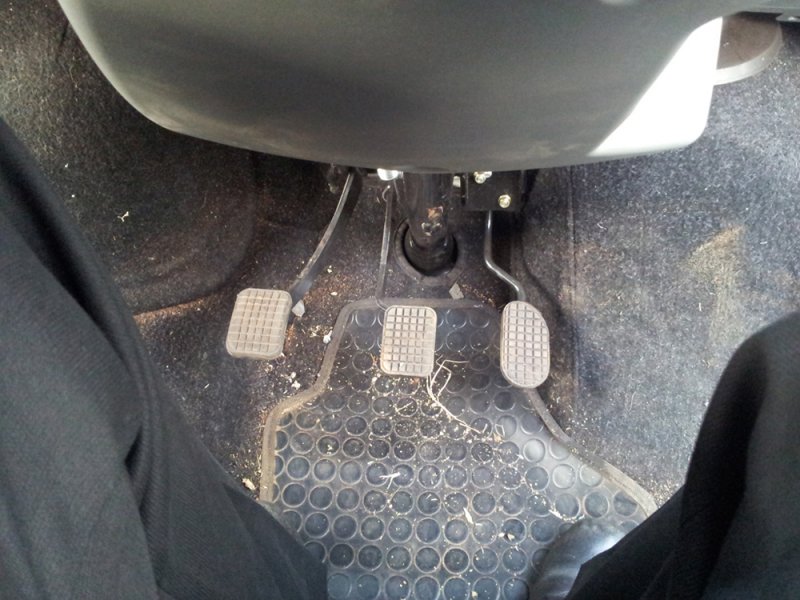 Since I didn't a chance to drive, I got onto the driver's seat to see how it feels. Driver seat is height adjustable. Power Steering is standard across all variants. The steering position is like Omni/ eeco/venture. The steering has contours to hold your hand like in ikon, fiesta, Linea; A nice touch.
I was surprised to see such a light clutch in a UV of this size. Some cars have heavier clutches. The gear lever has medium length throws. It notchy and but slots in properly. To engage into reverse, you have to pull up a small lever. The gear position though is like normal cars. 1st left front and reverse right back.
Thoughts:


It does have it shortcoming. The NA IDI engine isn't good enough. Tata should have at least put in the same 2.0 liter TCIC IDI from other variants. This one is on the noisy side. Fit and Finish isn't the best. BUT, and it's a big BUT, this is a entry level UV, meant to transport people from point A to B. And that it does well. It's got good ride and handling for its segment. Decent space, roomy cabin.
What I initially thought was to remove the third row and move the 4th row to its place. Put two jump seats in the boot jus in case. That way I can carry people or luggage. Then when I was browsing just now I came across a 9+1 seater version. So I may replace left second row with two seats. That way I will have 10+1+2 jumps seats.
Anyways this is still under process, but plan to buy it in two months or so.
Price: