Joined

May 30, 2019
Messages

113
Likes

165
Location
Tata seriously? these were the reactions I got back then in December 2017 when I booked my Tigor. Well frankly I must admit, it was a gamble to me also and a gamble which played off very well, this Is the First Car i have purchased with my own money so it was special.
The Criterias
So coming on to my ride, It was the December of 2017 and I was looking for a Car, we had an Alto K10 in the family after selling off our Ertiga just a year back in Nov 2016. The criteria for selection were as follows:
Needs to be a diesel, as most outstation trips would be done on this car and my daily driving is minimum 60Km
Needs decent Boot space
Sub 4 Meter Sedan or a 4m Hatch
Strong Build Quality
Soft and Comfortable ride Quality
Decent Interiors(Quality wise and Visually) and Equipment(head unit and music system)
Budget between 7 to 8 lakhs On Road.
was open to all brands until the above criteria's are met.
Scanning through Options
Maruti & Nexa
: As most of us Indians do, and the previous 5 purchases in my family were Maruti, hence my first stop was a Maruti, infact a Nexa
Checked out two cars which budget allowed, the Baleno Delta Diesel, Ignis Zeta Diesel, Test drove both the cars, while Baleno appealed the most to me and my wife at the showroom, when we took it out on the road was shocked with the ride quality, while driving the Baleno, I was thinking "why is the suspension of this car feeling like my K10" it was hard and made thuds while going on uneven stretch.This thot got concreted when my wife simultaneously said that the same thing. I asked the salesman if there is some issue with the test drive car(It had covered on 4500kms) to which he said I can try out another Baleno, which I did, and removed off Baleno from my list. The next we test drove the Ignis and frankly I was blown away by the ride quality, it was decent and comfortable, steering was awesome, interior felt good Ignis was sold to me, abeit there was one issue, or rather one question from my wife, "Why are you paying almost 7.7lakh rupees for an improved WagonR?" i tried to justify but in vain, my wife did not like the Ignis so both the Nexa Products were dropped one of which, the Ignis I really liked (Much more then my Tigor frankly).
Next we went to check out Dzire LDI(I had to compromise on equipment to keep in tight budget), test drove it, Ride quality was better than Baleno, the 1.3 diesel mill needs no talking, Interiors were I think the segment best back then. Me and my wife were sold on the Dzire, but! there were certain bummers, Every panel on that car felt feather light(biggest issue), a 4 month waiting and Callous attitude of the sales staff with the financials, they were behaving as if the are doing me a favor by selling me their car. We put the booking on hold and thot of evaluating some other options. The New Swift wasn't launched then or else that would also have been a worthy contender.
Honda:
Amaze was never considered as I never liked the Brio Face which it had, infact while purchasing the Ertiga we were inclined towards Mobilio but that Brio'ish Face and lack of CNG made us go the other way.
Hyundai:
Xcent and I20 Grand never appealed to me so did not drop in at Hyundai.
VW:
Ameo was never in the scene for me although Polo was a distant dream yet out of budget.
Fiat:
, I mentioned Fiat Punto to my family, my wife said what is that

, my dad was like do they even make cars(His first car was a 1962 Fiat millicento "Dukkar Model")
Tata:
I had heard about Tata's new recent launched the Nexon and Tigor, my friend had a Tiago and he was gaga over it so told my wife lets visit the Tata showroom, she got ready with a mindset that this is going to be just another formality before booking the Dzire.
Visiting Tata Showroom with no real expectations:-
We went into the Tata Showroom at 11am, saw 3 service advisors, and it felt to me as if I was the first customer, and infact in the 2 hours I spent there I was the only one who walked in!.
The Nexon Diesel XE(bare bones) was slightly above 8lakhs and long waiting of 4 months, although the test drive was good but the fact that after paying 8.20'ish lakh rupees going for bare bones variant made me ponder whether even it makes sense.
The Tiago diesel was well within budget, but back seat comfort and boot was sad, although after Ignis I must commend that Tiago has one of the best ride quality.
Saw the Tigor, XT Diesel, took it for a test drive and I was blown away by:-
Ride quality, Steering and that small little piddy Diesel engine.
Rear seat comfort(so much that, wife uses the rear seat whenever it more than just two of us travelling)
High Speed Manners
Music, although XT has only 4 speakers yet they were stupendous!
The feel of Sheet metal and heaviness of doors.
Purchase
We were sold on the Tigor XT Diesel, now only the next thing was which variant and what deal do we get. I was getting, ABS + EBD + CSC(no airbags and I regret my decision today everytime on the highway) Steering Controls, Decent head unit, wheel covers, remote key, Fog Lamps, Body color ORVMs with integrated indicators, Rear Armrest, Adjustable Front Headrests. Rear parking Sensors, all this at 7.3 lakhs onroad, including free Insurance.
The XZ offered touch screen unit(not a big fan of it), Chrome interior door handles, Alloy wheels, Airbags(hate they did not give it in XT) Premium roof lining at 8.1lakh on road.
We went ahead with the XT as it fulfilled all my and wifes criteria and was almost 1.1 lakh lesser is price than equivalent trim Dzire.
Booked the car in Copper Dazzle Color in the last week of November 2017, by paying 15000rs, delivery was promised by third week of December, i asked to register the car in January 2018 and deliver the same in first week of Jan 2018.
In the 3rd week of December received a call for SA that the car has arrived in the yard and asked if I want to take a look, so went and took a look with the PDI list, checked for the VIN, and it showed Nov 2017 manufactured. gave a go ahead.
Made the full payment, received the car on 8th Jan 2018(Wife's birthday). The buying experience was simple, straight forward, Transparent and uneventfull 10/10 to the SA(more than TATA it was effortless due to Mr Paresh Gavankar the SA)
The Product
Now coming on to the product Pros and Cons:
Pros:
Build Quality, my car was dragged almost for 50-60m in reverse at low speed by a truck!(More on this later in the post)
Ample space, 3 people are comfortable at the rear on long rides.
Large boot, 420litres all can be used.
VFM, bang for buck on what it offers
Comfortable and precise ride quality
Music System, I enjoy every sound that comes up.
Beautiful and well designed car inside-out.
Precise Gear Throws
Excellent FE, I have once got 26kmpl with tank full method(MID was showing 28!)
Cons:
Engine, although Its a hoot but only when its 2-3 people in the car. put 5 people in with full luggage, the engine feels underpowered.
At high bass music the door trim rattles!
When Fully loaded, the rear suspension becomes choppy(trade off for otherwise wonderful ride quality)
Inefficient air conditioner, coupled with a noisy blower, not at all powerful, here I prefer my K10s one over this.
Rear Visibility due to the sloping roof and raised boot line.
Wind Noise! even after 2 layers of rubber beading on door it is very much evident.
Smaller tyres 14 inchers
Now lets some pictures do the talking:-
Exteriors
Tata's designs have evolved and how! A much confidant facia.
Side profile, so uncommon to other compact sedans, beautifully design.
That right ORVM was once knocked off by a truck, it was dangling on just wires, what did I do? Used Araldite Adhesive and voila, it has held good for last 2 years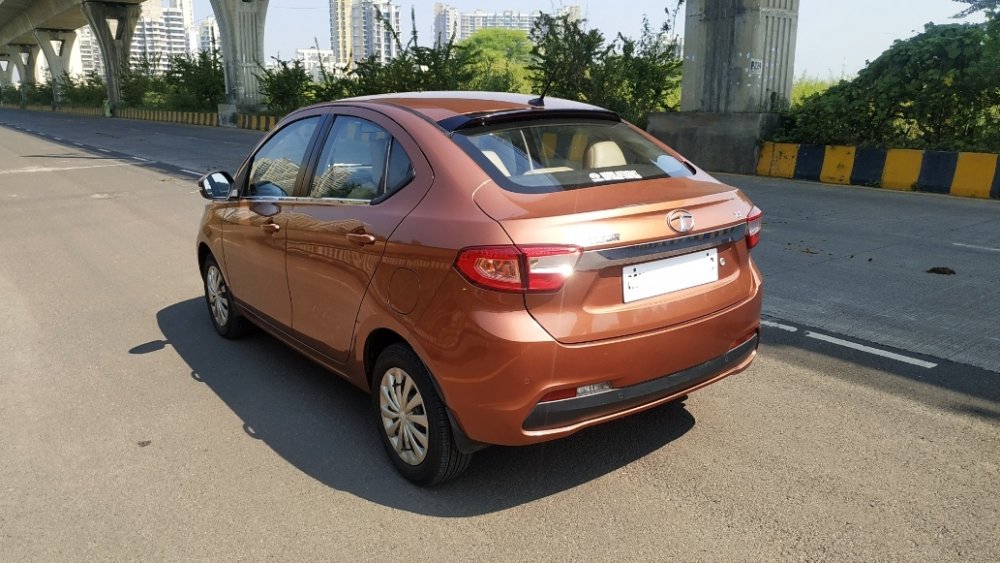 Generally in compact sedans the term is "Boot is Integrated" but for Tigor, it looks as if the car was designed to be a compact sedan!
Now Some Low Angle Shots
Now with some TAIger stickers.
Coming to the Interiors
The dash has a good layout, and the design actually gives a good depth feel. top of dash as well as bottom parts have good textured plastic. That Steering feels meatier after addition of cover. Small steering feels good in city.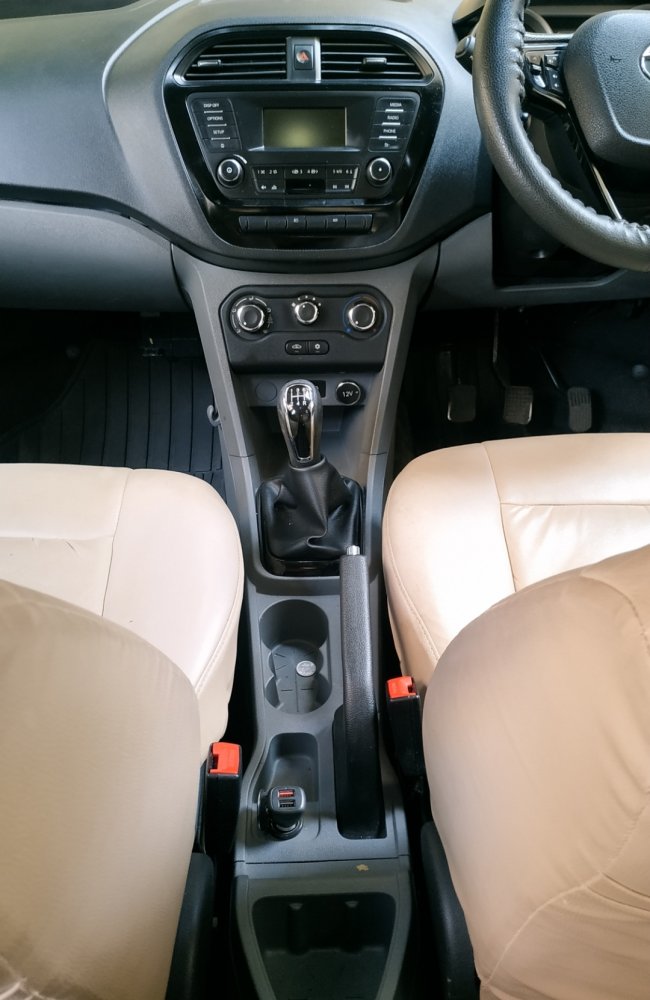 Subtle chrome inserts on central console feels good and has held good over 3 years.
That is one well designed Dashboard, and Head unit, the material and texture is good, and I must say after 3 years and 50000km of usage the interiors have held up gracefully. Yes rattles have cropped up from some areas in dashboard as well as door trim.
IRVM is just enough.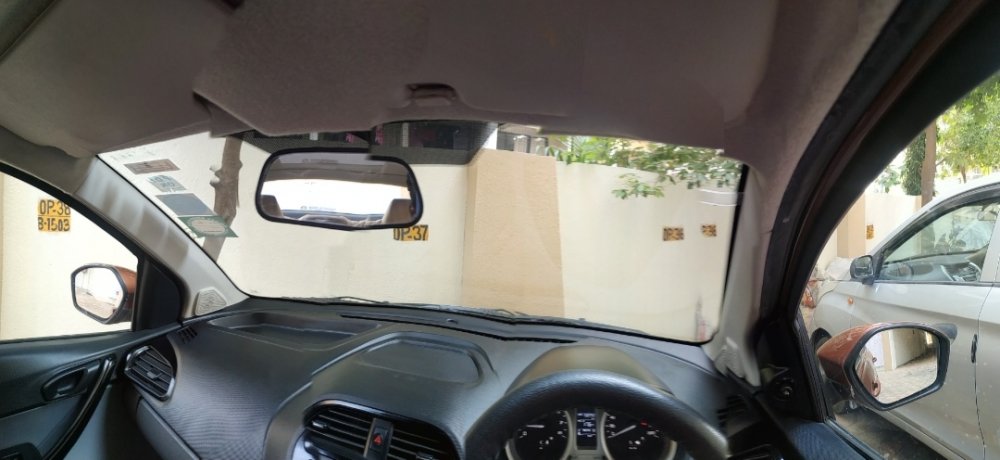 This is the view that I as a 6 footer driver gets, I must say this A pillar is dangerous in certain cases like Ghats and constant right curves.
Everything is very ergonomic in placement. Aftermarket PU Leather seat covers are custom stitched, from a local shop, 2 years of use, they have held on good. while making the seat covers I had given the Honda Accord type seat covers as reference, the workman did all justice. Had got these Custom made with added padding just for 3800rs, steal deal isnt it?
Although OEM Front seats are "Just" comfortable and accommodating, Dzire has better ones here as they are tad bigger.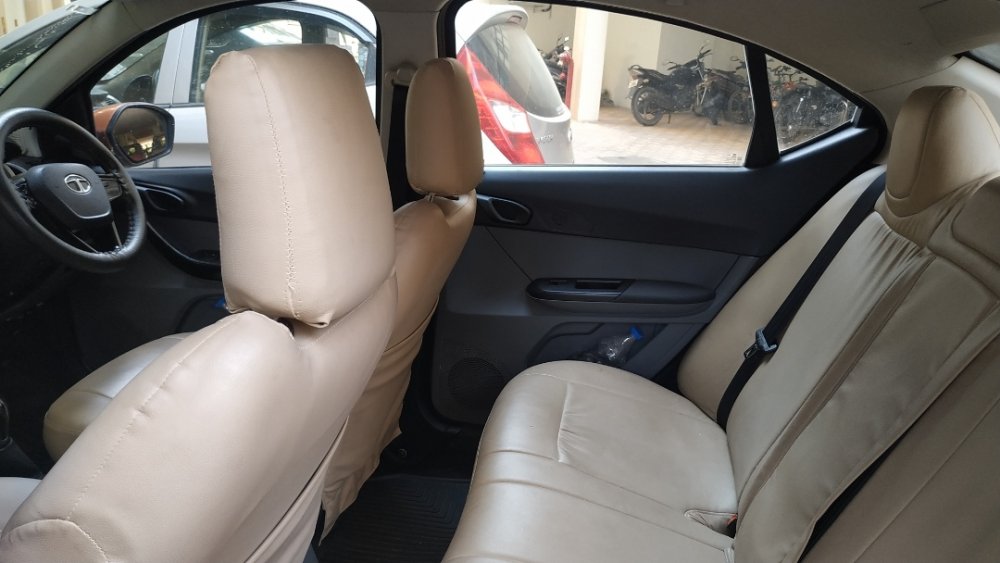 Rear seats are very comfortable and I can sit without brushing my head against the roof. This rear seat with the comfy ride quality makes it one of the best place in Compact Sedans.
Rear window is wide and keeps one visually fresh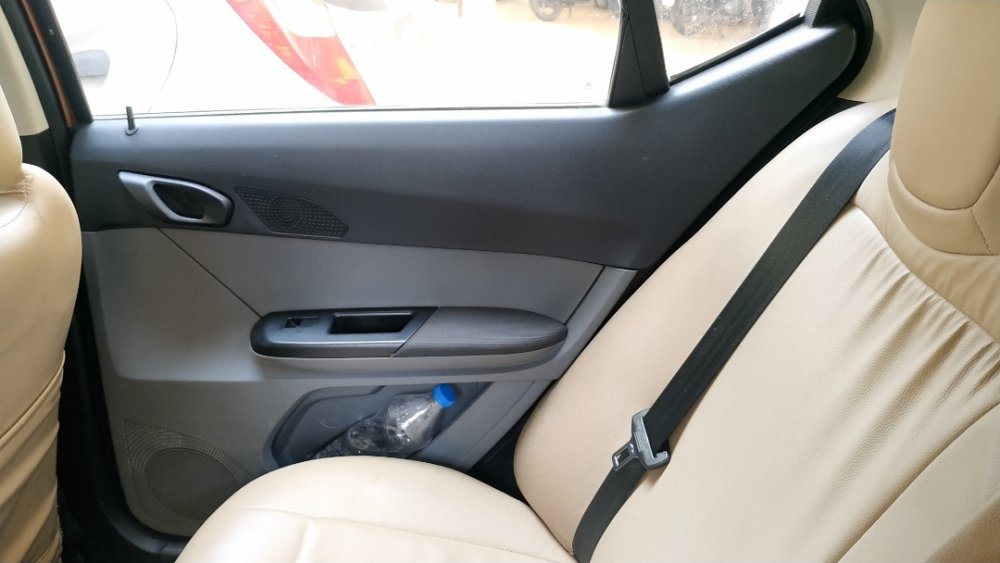 Rear door trim is has fabric on armrest, Love the way the seat aligns with the door. Note the provision for tweeters.
Front door trim, the armrest has fabric, the door trims do rattle with Heavy bass music playing at high volume.
Rear Left side passengers view facing to the driver.
A well arranged engine bay.
A very thick and efficient under hood insulation.
Also the underside of the boot lid is cladded, I guess this cladding is missing from 2018 onwards manufactured cars.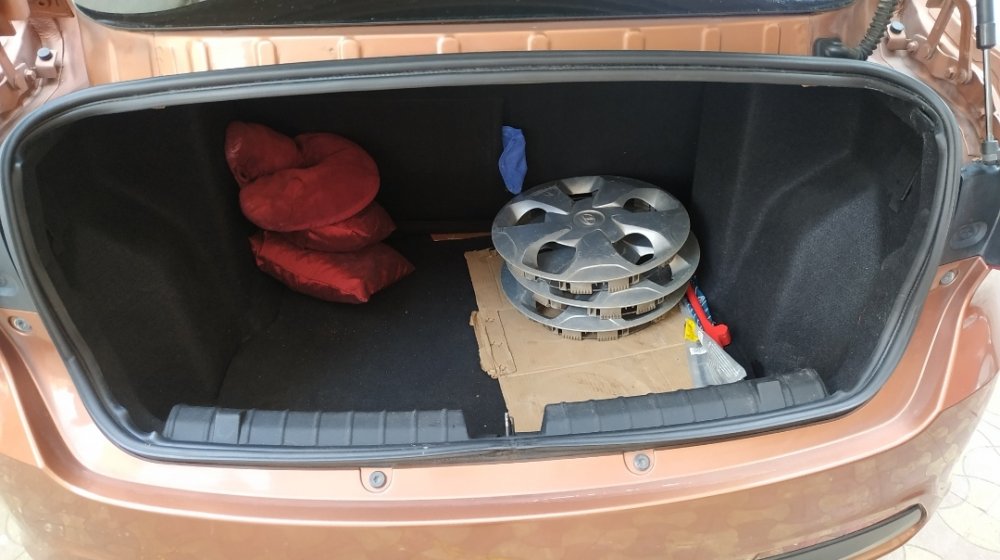 Practical 420 liter boot, swallows heavy luggage easily.
The Ownership:
The car had covered almost 44000kms in first 2 years, infact if the lockdown wouldn't have happened my car would have covered at least 65000kms, but it stands at 52500kms as of today.
The car has been services at TASS and my experience have been good.
A few things were changed in warranty in first 2 years though, following is the list:
The engine mounts gave way and were changed.
Steering rack and steering assembly.
Front Disc brake Pads, Wiper sets twice & bushes changed (under P2P scheme which I opted for 6000rs)
While I have opted for Promise to Protect scheme it provides free replacement of the following wear and tear items uptill 60000kms and 4 years:-
Clutch plate and assembly
Rear brake drum and liner
Front Disk Brake Pads
Hoses
Window winder & Motor
Engine mounts
Wipers
Bushes
Have also opted for Extended Warranty for 2 additional years and 1lakh 50k kms.
Now a Tragedy
A big tragedy struck in November 2019, my father who uses the Alto K10 occasionally takes the Tigor. On that day he took the Tigor which is a diesel and filled in Petrol, even the fuel attendant missed out the Diesel sticker on fuel cap. The car travels 6km without an issue and then starts Jerking. Till then dad had no clue what happened. Dad calls me back and narrates the jerking issue, Immediately a shocked me asked my dad which side of the fuel station did he fill fuel, to which he said the extreme left. I knew the fuel bunk very well as had been using it since 2 years, and i knew extreme left is petrol and extreme right is diesel bunk, I told dad he has filled Diesel. Dad and I were equally shocked. asked dad to just not start the engine, got the vehicle towed to ASS. Now I had good terms with my ASS guys, told them the issue, they checked the tank and confirmed it is petrol in tank as well fuel line and has entered engine too. ASS guys told me there can be 2 things that can happen.
1- The Injectors and Common Rail system is damaged
2 - Fuel filter, pre filter and pump is damaged
If it is scenario 1, then I am staring at an expense of anywhere between 50k to 1lakh rupees.
If it is the fuel filter system and fuel line system then the expense would be 10-12k only.
They went ahead and changed the fuel filter, prefilter system, they drained all the petrol from the fuel line and engine(I don't Know how), they said the Common rail system looks good. Ran a few tests and by next day I receive a call that my car is good to go and the hole in my pocket is just 10k rupees. I have used my car almost 10000km after that and no issues faced at all, only a few hiccups were felt in Dec 2020, and i guess it was a one off incident. Last week did a Mumbai Solapur Mumbai run with some heavy footed spirited driving and my car was flying!. The common rail and fuel injectors survived, I think it is because it was a frugal Tata diesel engine, If it would have been a Hyundai or German diesel engine, i would have been staring at a huge bill.
Another Incident
Was travelling with my wife to Indore from Mumbai, parked the car near parking bay with hazard lights on, a few meters behind a truck to visit washroom near a Toll Plaza. When I come out of the washroom to my shock I see the truck which was parked in front of me was reversing and had dragged my vehicle almost 40-50 odd meters! I ran towards the truck asked the driver to stop, in the meanwhile some other drivers were also instructing the truck driver to stop. finally when the truck stopped, ran to my car, and saw my terribly shocked wife. Calmed her down took a look at the car there were no visible damages, hence did not engage with the driver as it was 3am, middle of night on a highway, never a wise and safe thing to get into argument in such scenario.
This is the only visible damage, a minor scratch on the Tata logo, thats it! need more writeup on build quality?
What do I love the most about Tigor?
Its ride quality and Precise Electric Steering, I enjoy my rides on ghats as well as winding rural roads.
The absolutely stunning Fuel Economy, My last trip to Solapur I got 22 Kmpl(Tank Full Method) with spirited driving and AC on 100% time.
It swallows any type of bad roads thrown at it with grace. Want proof? I visit my farm house once in every 3 months and the last 5 kilometers to my house is an inexistent road, the one where you will only take your 4x4 Thars, Fortuners and Eneavours, see the pics to understand the state of roads:-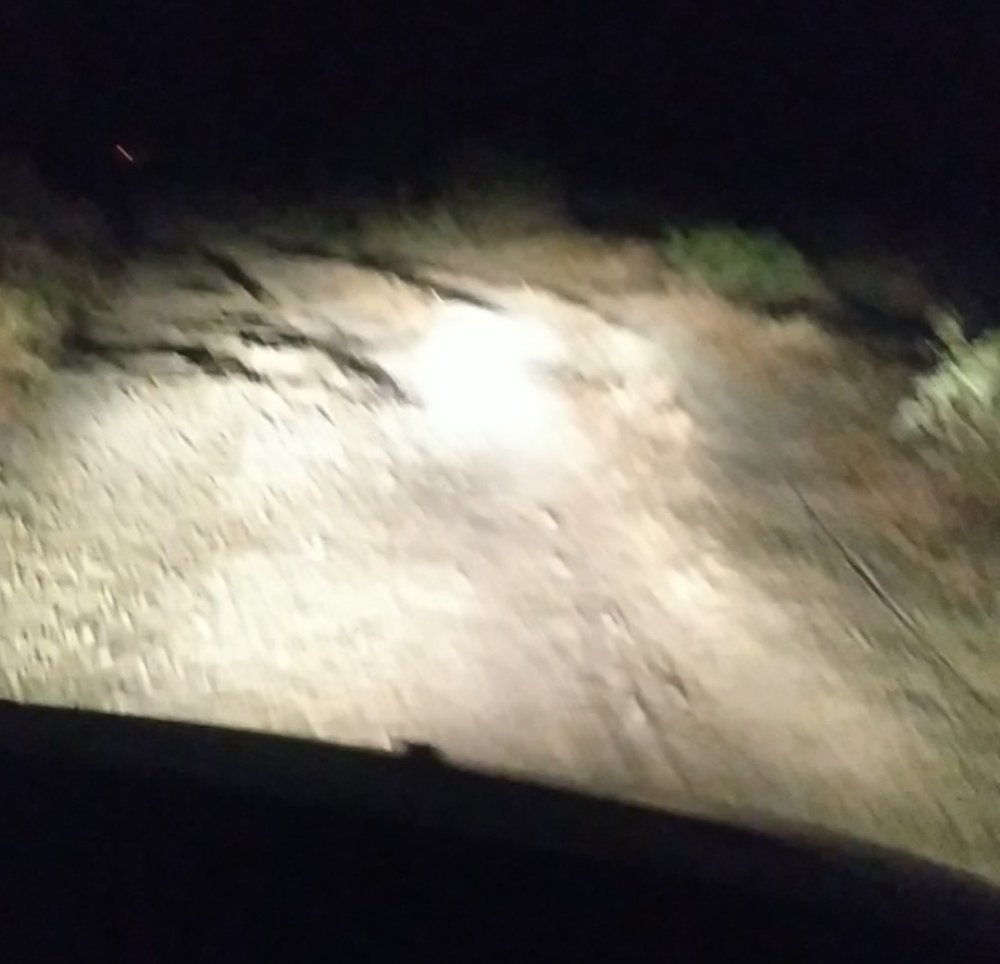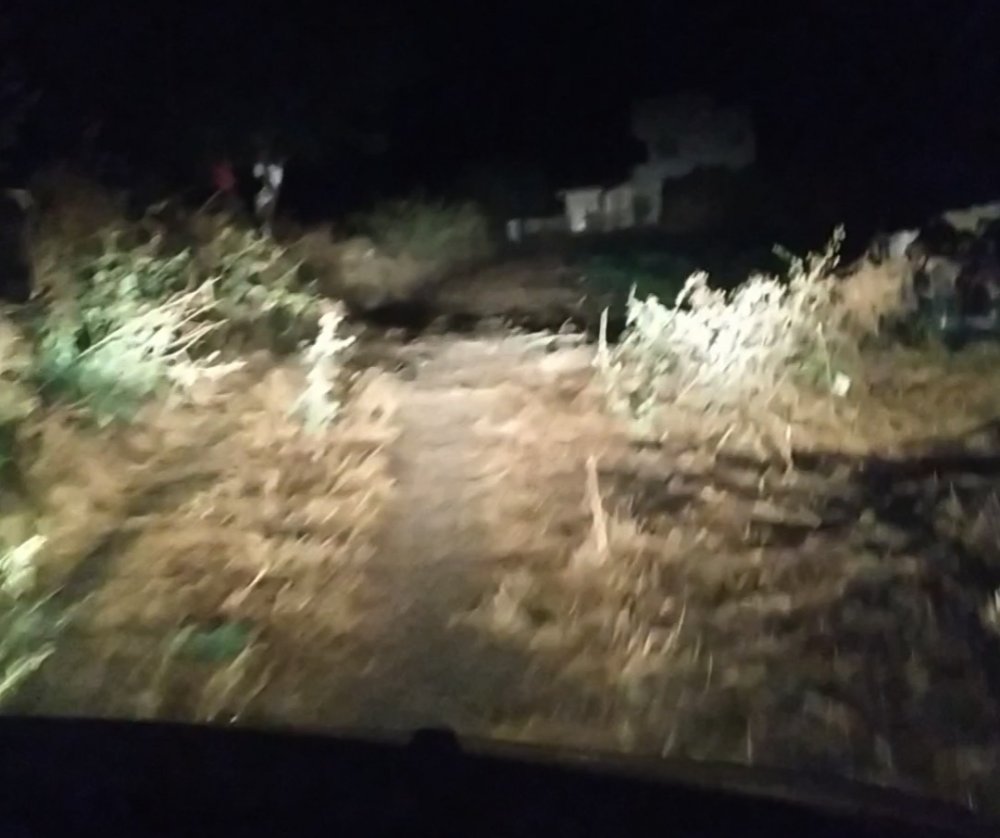 That dear friends is our Farm house at the end of the road
What you see in above image is an undulation with a ditch measuring atleast 1feet deep.
Sorry for the shaky pic quality the snippets were taken from a video recording of the entire stretch of the road. Off-roading anyone?
Finally on the last visit my dad said that next year lets plan to bring in a rugged SUV and he meant a Bolero!
What do I hate the Most in Tigor?
Recent rattles that have crept in, panels vibrate on hard music being played.
Recently engine has become tad throaty(I am too much nitpicking here)
I would say Stressed rather than underpowered, but I underline here that only on full occupancy
On gravely rough roads the steering column and rack rattles.
End Note
What a capable car and an efficient workhorse has Tigor been, my first purchase has been a right choice indeed. After Driving the 1.4 liter Maruti petrol on Ertiga, 1.3 liter petrol on Ritz, The 1.3 MJD, Till date I Still don't know why the 1.05 Revotorq on Tigor received so much flak & criticism, it is a good frugal and efficient engine with ample power. I always believe more than the Engine it is critical how one is good at driving and how good one can understand the engine to make out the most in terms of performance.
Will keep updating this thread with further experiences, till then Drive Safe, Live Safe, Live Healthy.
Last edited: