Joined

Apr 25, 2016
Messages

1,300
Likes

2,133
Location
Dear Fellow TAIgers,
This post is a layman's observation of driving around his Tiago for about 15 days/1000 KM. I am no good at writing so included several pictures save you from boredom. Looking forward to your comments and critics. Thanks!
Background
I am one of those IT guys who spent a few years abroad (you guessed it right, USA) and returned home earlier this year. One of the necessities after living a relatively luxurious life abroad is "car" and in my case I also wanted it to be safe to drive around, because:
I am a new dad and obviously (over)concerned about my baby's safety.
I got used to driving disciplines of the west and nervous of our roads/drivers.
With this in mind, I had my requirements sorted out:
Strong structural body that can withstand accidents.
Airbags are a must (at least driver side).
Budget 5L (max 6L)
Comfortable rear seating as my baby and wife will be seated behind most of the time.
Nice to have: Decent ICE with steering mounted controls (I change songs/volume often).
The Search
With safety on top priority, I started my search with the Japanese car makers Honda and Toyota (I owned a Civic sedan back in the States). Test drove the all new Jazz and instantly fell in love with it. Then came my second priority - a budget of 5L. The pricing sheet of Jazz SV was slapped on my face and made me walk away with disappointment. Didn't bother TD'ing other cars as almost all of them were missing one or the other requirements of mine under 5L budget. Safety comes at a premium in our market!
While at this confused state, a friend of mine sent the official review links of Tiago and sat down with me discussing all its good stuff (pricing was not announced back then). I wasn't impressed with the car just because it was a Tata and for some reason it resembled Indica to me. Slowly my negative bias towards Tata faded away as I read through all the good reviews and TD feedback on forums. Shortly after that, Tiago's official launch announced the stunning price tag.
We visited a Tata dealership at Coimbatore and found 4 Tiago's on display. Test drove and realized all those good stuff were actually true and honest. So I went ahead and booked Petrol XZ variant on 20-Apr-2016 with a 4 week waiting period. I made up my mind to accept the risks involved in brand new engine and possible niggles with first few production batches, needless to say Tata's ASS.
A quick note on other cars I had researched (didn't TD any of them though):
Toyota Etios Liva: So-so looks and interiors. Out of my league on budget.
VW Polo: Emissions scandal.
Maruti Swift: Poor VFM and safety features. Tight rear seat experience and unusable boot.
Maruti Celerio: Considered only because of its AMT transmission.
Mahindra KUV100: No comments!
Renault Kwid: Didn't bother as it had 6+ months waiting period.
Hyundai Grand i10: Expensive. Boring interior design IMO.
Ford Figo: Poor reviews on Petrol engine and arguable build quality in facelift.
PDI & Delivery
My restless wait continued while I was following Tiago news and updates on various forums/news sources. That's when I joined TAI and also made friends with some nice people on the Tiago WhatsApp group.
My car had arrived at dealer's stockyard on 24-May and I did a quick PDI on 28-May. Everything looked good with very minor issues (
PDI Link
). Wrote them a check for balance amount to proceed with temp registration and finalized delivery on 2-Jun-2016.
On the day of delivery, I visited the showroom with my family, signed the paperwork and listened to boring explanations by the CRM person. We were running out of "good" time to take the car to a nearby temple for pooja.
To our surprise, they had arranged for ribbon cutting ceremony: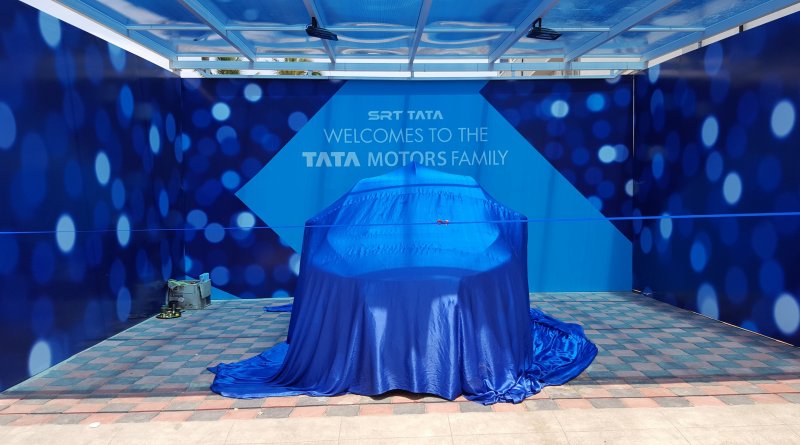 The sales team surprised us by showing up in blazers for the ceremony!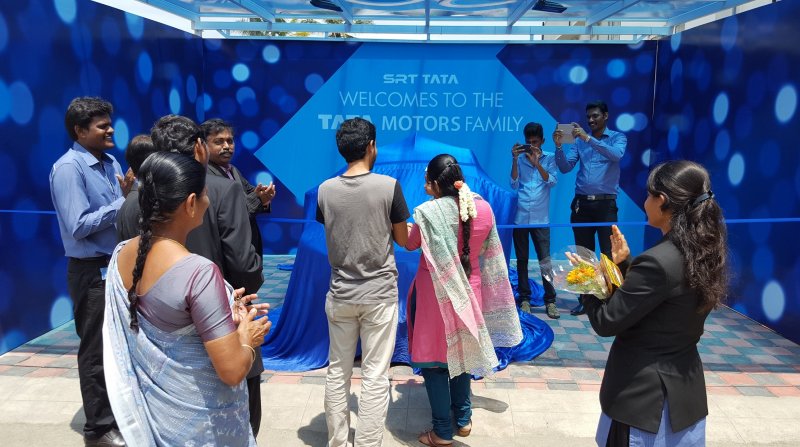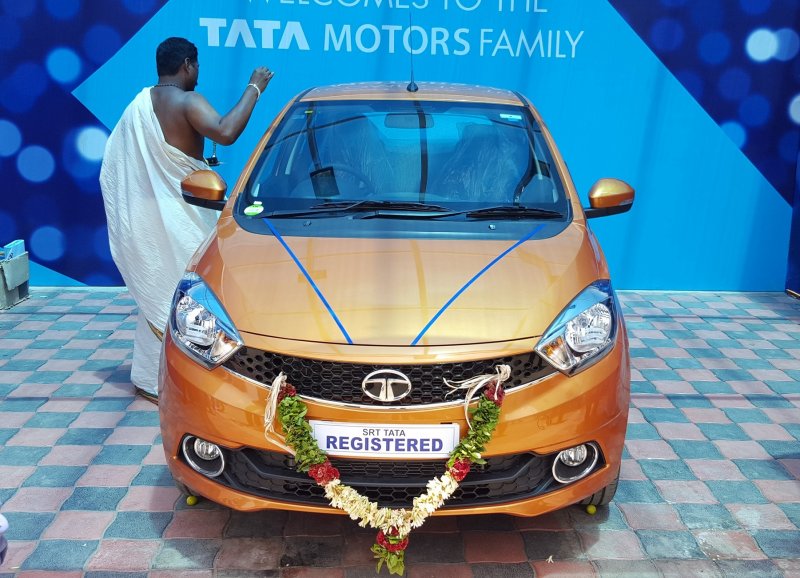 Sales manager handed over keys along with a flower bouquet and sweets packet. We shared our sweets with them and presented token gifts to my SA's (I had to deal with 2 of them):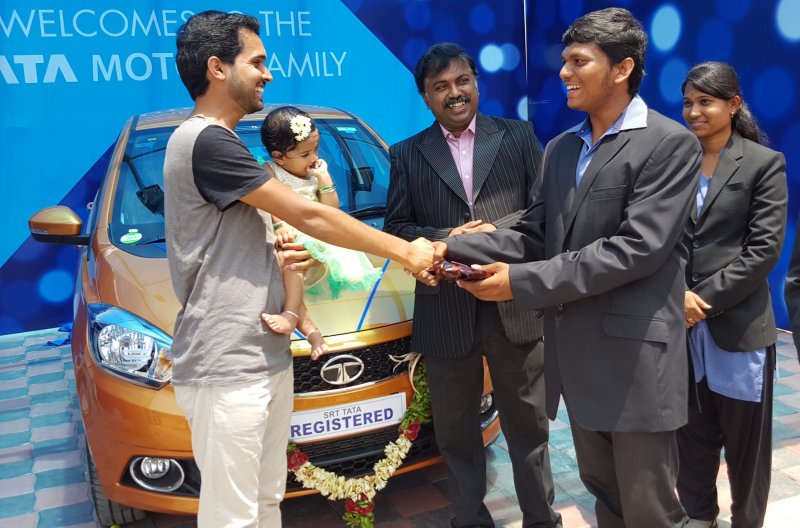 We happily drove home our brand new Tiago :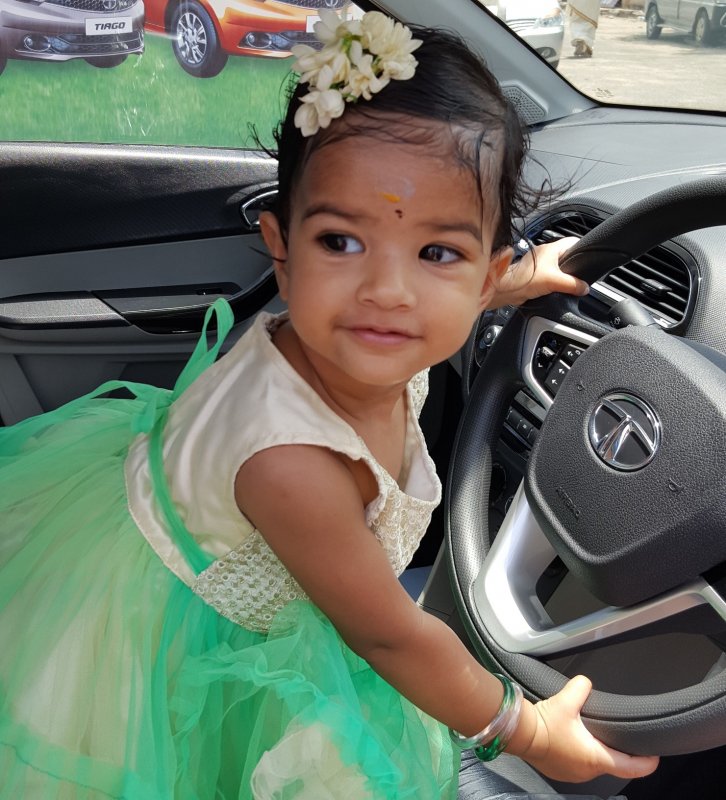 Dealership Experience (SRT Tata, Coimbatore):
Overall, dealership experience was decent. They had the most cars on display and were constantly showcasing their mods to promote sales. My SA's were courteous amidst hot discussions back and forth on advance part-payment for allotment and handling charges (which I lost to them in lieu of RTO fees of 3K for temp registration). They were open to purchasing outside insurance too. I bought from Royal Sundaram for 16.5K vs their quote of 23.5K from New India. Also they didn't have the EW and AMC booklets from TML during delivery.
Cost Split Up: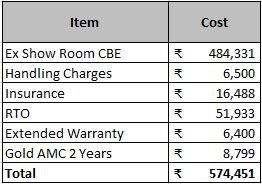 -----------------------------------
Links/Updates: