Joined

Jul 23, 2020
Messages

282
Likes

469
Location
Hi guys, I would like to share my ownership experience of Tata Tiago in this thread.
Contents
Introduction
Service
Performance Upgrades
Detailing Products
Prologue
Ever since I was bitten by the travel bug somewhere during my college and doing innumerable solo rides as well as group rides on my Duke 390 as well as trips on my friends' cars, I wanted to own a car and travel in my own car as well(This would be very rare as I still prefer riding Bikes). My mom also wanted to travel to places on our own vehicles. My Dad was against buying a car, so the only option was to buy one myself. Soon after starting my own business, I bought a Duke 390 within a year, by the end of 2016. After I had finished my Loan dues around mid, I started planning for a car. I could only afford a budget car at about 5 Lakh OTR in TN. So started looking online about the the budget cars. My choices were narrowed to
1. Renault Kwid
2. Hyundai i10
3. Tata Tiago
4. Honda Brio
5. Maruti Ignis
Went to the showrooms, collected the quotations and didn't take test rides for now as I didn't have enough data about these cars. Started researching about these cars in Youtube. Soon after, had to drop the plan since I had planned to go to Ladakh on my Bike some time around June, 2018. That plan didn't materialise. But we were sure we will go in 2019. So, plan was to not spend on anything else and save for the trip. So the Ladakh plan finally materialised in 2019.
The Choice
After the trip, I thought It would be the best time to start planning for a car as my brother also got Engaged and during his marriage time a car would be very useful. I again went to showrooms and collected the Quotations around December, 2019. This time my choices were
1. Tata Tiago
2. Hyundai Santro
I wanted a petrol car as my monthly running wouldn't exceed 500 kms on an average and I was limited on a budget. The Kwid seemed too small and too underpowered on paper. Brio was too old and I didn't not even bother to go to the showroom as it didn't excite me much. Same with Ignis, Celerio and Waganor. My main preference was a petrol hatch, not bothered about mileage, preferred safety.
The Tiago seemed a better choice for me as there were some discounts going on. I was impressed with Build quality and the necessary features like AC, power windows, Dual Airbags, ABS were all there. I felt Santro was a bit over priced and I personally think Hyundais are very unstable in highway speeds. Their cars feel floaty in high speeds. I went to TAFE Access, Coimbatore to get a quote. I was quoted 5.63 Lakh OTR(Including EW, p2p) for the XM variant, with the dealer promising delivery within 20 days as they didn't have stock. I went to SRT Tata to get another quote. They quoted me 5.55 Lakh OTR(Excluding EW, p2p). They tried pushing White colour as they had stock. I wanted either a Cherry Red or a Titanium Grey. Wasn't too impressed with the way they pushed me for the white colour and I also didn't like the white in XM trim. It was too cheap looking ( No offence to the white XM owners). I preferred XM variant because the only basic feature that it was lacking was an Audio System and it wasn't very costly to buy an aftermarket one. I always want to keep the car basic and simple without too much options. May be my friend's Polo has spoilt me.
Booking
I again went to TAFE and asked them to remove the EW and p2p. Also negotiated the price and finally settled for 5.5 Lakh OTR with extra Rs.4500 worth accessories of my choice. Paid the booking amount of Rs. 5000 on 20th December and was promised to take delivery on 12th January(my birthday). I didn't inform about my parents of this decision. Got the loan verification and everything done at my office. Loan got approved in a day or two and the waiting started. Around the first week of January, the nice sales guy called me informing me that my car had arrived and I can come and take a look of the car. Did PDI of the car and was satisfied. Asked them to fit the FOG Lights as other accessories were either overpriced or unnecessary. Gave them my proofs for Registration and left.
Delivery
The delivery experience was very hassle free. Just signed some papers and the Car Key was handed over to me after cutting my Birthday cake. It was a Sunday and there weren't many employees. So distributed the cake to the people present there and left. Took the car to the petrol bunk, filled Rs. 2000 worth petrol and went to Eachanari temple to do the Pooja. My parents were in for a surprise as I would be taking the car to them. I chose my birthday for the sole reason of not getting any scoldings from them

. Went home after the Pooja and they were shocked. My mom was very happy as it had been a long time wish for her. My dad was a bit angry but calmed down a few days later. I went out with my friends for dinner and returned back. I have named her
ERZA - an anime character name.
Basic Modifications
My friend has a workshop and he helped me get all the basic checks done. He also helped me install all the basic accessories fitted and get painting works done in his workshop. The basic works that were to be done were
1. Mirror Painting (Didn't paint body colour but went with glossy black)
2. Rear Bumper Painting (The black colour bumper portion around the number plate to Body Colour)
3. Window Tints
4. Horn (Hella)
5. Remote Lock
6. Audio System (Sony Head unit with Polk Audio Front and JBL Rear speakers)
7. Full Floor Carpet
8. Noodle Mats
9. Rear Dummy Fog Light
10. Antenna
11. Detailing (Tried out the Meguairs Black Wax - Gloss was good after the polish)
Had to leave the car in his workshop for 3 days to get all the works done. He personally took me to all the shops to purchase the items and it was far less than the market rates. I was lucky enough to have a friend who runs an automobile workshop

. I also didn't take EW because I would be servicing my Car from him only after the warranty gets over.
First Highway Encounter
By the time the basic mods were done, two weeks had almost passed and we had covered only 200 kms. So decided to take her to the highway and get in some kilometres. Went to Erode which is around 150 Kms from Coimbatore. Tried the eco mode and it felt too dull. The car was good for cruising at around 80-90 kms. Anything over 100 kms, felt like it didn't have enough breath. Also it was a very hot day, so the cooling didn't feel sufficient as the driver's legs were burning since the sun was direct opposite to us. One complaint to tell in the First service. The mileage was 21 KMPL as indicated by the MID. Since it was a brand new car, didn't bother much about the mileage.
Second Highway Encounter
But after this trip we felt we need to upsize the wheels, as these were puny and not good enough for the highway runs. Initially this wasn't in my plan for at least a year, as expenses had gone up in the last few months with the Ladakh trip and the car purchase. We were looking up in Instagram for some alloys. Myself and my friend both saw an alloy in GRID 7 Customs page at the same time. I called my friend immediately and we both felt it was great looking. We decided to enquire about the alloy specs. It was a 7.5 J r15 ET 35 alloy. I confirmed with the guy if the alloy will come out of the body or it will be within the body. He assured me it will be in the body line. He quoted me a price of 29k. Next was deciding on the tyre size. I felt 185/60 would be good enough as it is the size used in JTP. Obviously there would be definite drop in mileage but I can live with it. We decided to take a look the next day itself. Went for a short trip to Thrissur which is around 160 kms from here.
The alloy looked great in person too. Negotiated the price at got it got 27k. He was pushing us Accelara tyres of 195/50 size. I said I wanted 185/60 only. I also enquired a friend of mine who works in an alignment shop for 185/60 section tyres. The choices were very minimum and price was north of 8k. Also the guys at grid7 said that 185 section tyres would look puny on these alloys. Then finally after looking up in internet, we decided to go for 205/50 tyres from them and got it for a good deal of 17k for the full set. We went there only to checkout the alloys and the enthusiasts in our heart made us spend 44k without any further thought. But when your heart is happy, there is no complaining. We went to a tyre shop nearby and got the alloys fitted. We had to spend another 1k for the wheel nuts and 1k for tyre fitting and balancing.
While returning, we didn't feel any drop in performance, but MID was showing far less mileage. But we didn't care much. The steering feel which was a bit dull for my liking with the 13" wheels improved considerably. The road noise increased but when you put on music you don't feel much. The grip was also better and the car felt much more planted at high speeds.
Third Highway Encounter
Since I do not run my car regularly, I never miss a chance to take the car to trips with my friend. A friend from Mysore was here for a weekend to visit us. Myself and two other friends decided to drop him in my car and come back provided I pay for Half the fuel

. We decided to take a longer route via Bengaluru. Bengaluru Mysuru route was okish. Slept at my friend's room in Mysuru and then returned via Dhimbam ghats. Its a nightmare route for around 50 kms from the TN Border. Nothing much happened in this trip except that the MID indicated FE was 16 KMPL. My friends were shocked. It is one of the lowest FE in any of our cars. But then we didn't care much about it as the car was still new and we had 4 different drivers, went up the hill, down the hill and rode at 120 kmph constantly in highways as well. Little did I know that this would be my last highway visit for few more months.
First Service
I went in a little above 1600 kms for the first service. TASS didn't make any fuss out of it. The SA was admiring my alloys for some time. Informed him of the low cooling and he said he'll take care of it. My mechanic friend's friend works at the Body shop. Gave him a visit and asked him to take care of my car. Got my car delivered after 4 hours. Got a complementary interior cleaning also (which wasn't required as my car was cleaned a few days before by myself). The bill was Rs. 0. I felt the AC performance was improved. They either cleaner the AC filter or topped up the AC gas. Didn't ask anything from the TASS.
Unlock 1.0 Photoshoot.
My car had decent amount of running during the lockdown as I had to take my Pregnant cousin for hospital checkups. She was due in May. Nice empty roads, flaunting my Epass to the authorities was feeling like a VIP. When the govt announced Unlock 1.0, myself and my friends decided to go on a small photoshoot nearby as myself and my friends wrapped my friend's POLO ourselves in Avery Denison Satin Black.
Notice the Bumper Lip? Its Samurai Bumper lip. Looks good IMO.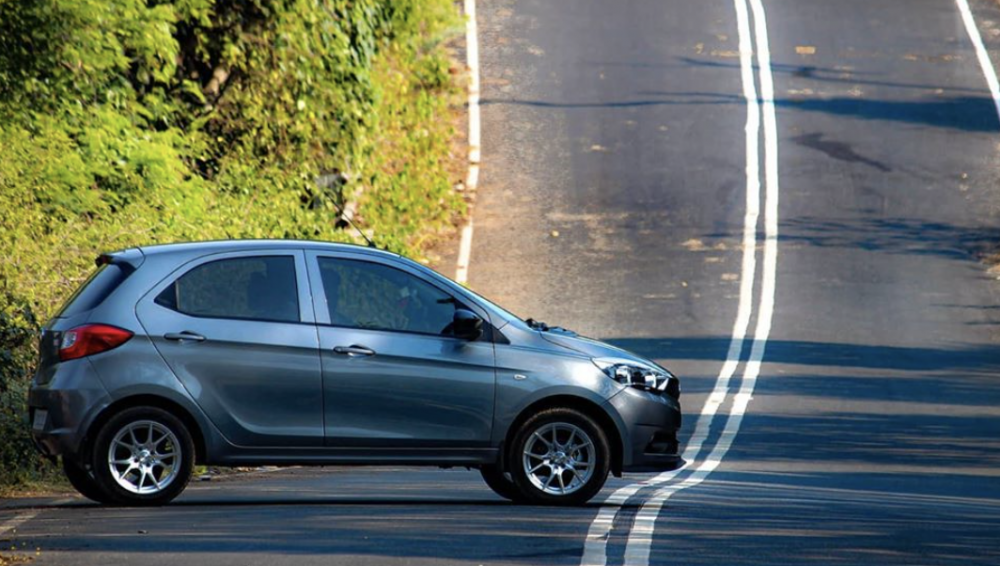 Second Service
As it was time for my second service, I took the car to the service centre. They tried to fool me by saying Tata has made it mandatory to get a Sanitary cleaning worth 1200 rs. I firmly refused and asked my mutual friend in the bodyshop to help me out with it. Finally got the car without the sanitary cleaning. The experience this time was bad because they told me my car was ready for delivery at 3.30 PM. I went around 3.15 PM. The service advisor met me at 3.45 and told me they have to rewash the vehicle as there was a bird dropping. I was pissed off but then I could do nothing. I decided I wouldn't let them wash my car in future. I myself have a pressure washer and detail my vehicles regularly. And I do a far better job than them with far less damages to the car in Long Term. Got my Car back at 5.30 PM. Hope this won't be the case with them the next time. When you call a customer saying his car is ready for delivery and make him wait for 1.30 hours, it really pisses you off. So in all, since this is also a free service and only checkups to be done and no issues (touchwood), the bill was Rs. 0.
First Problem
I had let my car in front of my friend's house. It started raining cats and dogs. I returned home after some time. While on the way, when I had to brake suddenly, water splashed from the IRVM side. While on inspecting the Roof Liner, found some water pooled in the bump near the IRVM. I immediately suspected it would be from the antenna. While searching in the ATOM Facebook group, a lot of members were also commenting about this issue and it was fixed in the Body Shop. There must be a misalignment in the antenna base I guess. Haven't got it corrected yet. Will have to go to the TASS sometime. I hate visits like this for such small issues that too in this pandemic time. But yeah cars do have small niggles here and there. Luckily there has been no rattling issues for me for now. Since this being my first car too, the Three Pot vibrations also don't bother me much even after having ridden the Polo GT Tsi, Verna 1.6 SX and Swift Vdi 4 pots.
8 month Experience
Having owned her for 8 month driving only about 2900 kms, the experience has been more than satisfactory for me. I don't miss the Electrical ORVMs or any other features. I still haven't faced the necessity for rear wipers so far. And I think that will be the only thing I will miss in my car. Will be filling up this thread as and when something happens. Happy motoring everyone.
Last edited: