The Hunt Begins ..
After selling my Safari 3.0, I was looking out for a big vehicle, mainly for highway driving. Though I have Grand i10 and I did go for few long journeys in this car, still was missing the feel of Safari.
First choice ..
Initially I thought of buying a Toyota Fortuner though I was aware that it could be out of my budget. Still, I called and enquired about the finance options. Even for base model without accessories, the down payment was Rs.5.5 lac with EMI of almost Rs.50k. No way I was going to afford that at this moment.
Thereafter, spent few days browsing the net but just could not decide on any particular vehicle. I just wanted a big vehicle that would give me a sense of comfort and safety, along with driving pleasure, especially at nights, as I love long drives / journeys in the dark.
Second choice ..
On March 8th, visited Mahindra showroom to check out Marazzo M8. Took the test drive the same afternoon and no doubt it was very easy to drive with extremely light steering and clutch. Interior space was good too, but it still lacked the class that I was expecting. The infotaintment system and other buttons didn't really impress me. Even AC was not that effective on driver's seat though it was pretty chilling for 2nd and 3rd row passengers. On a positive side, almost 100% finance was available on on-road price of around Rs.17 lac and the EMI too was below Rs.30k.
Interestingly, the showroom I visited had Alturas G4 parked outside (in fact, right behind the Marazzo) and it's massive looks just blew my mind. Requested executive there to allow me to look inside and it was indeed a royal feeling.
After returning home, read multiple reviews and also saw videos of Marazzo. Lot of positives were mentioned but still it all boiled down to one thing - that it's a people mover. On top of it, after looking at Alturas G4, I just couldn't convince myself that I should go for Marazzo.
What next?
Third and FINAL choice ..
My son suggested me to have a look at Tata
Harrier
. So the next day (March 9th) I visited Tata showroom near my house to check out Harrier and Hexa as well. The Harrier was on display and the very first look made me fall in love with it. Interiors were cool & classy, tall and wide tires, big length and huge boot space, and of course, a powerful 2 litre engine - everything seemed just perfect. The price of Harrier XZ (top end) was almost Rs.20 lac and luckily 100% finance was available through SBI.
Also, had a look at Hexa, but Harrier seemed just too good. Requested executive for a test drive and he agreed to bring the vehicle to my place later as it was not immediately available.
Test drive ..
The executive came with Harrier to my place around 7 in the evening and we went for a short test drive. The first time I started, the vehicle almost lunged on 1st gear. I was on city mode but could still feel the immense power. Feeling inside the cabin was awesome, steering pretty light and responsive. The pedals were pretty dip and I had to pull seat close to the steering so that I could engage the clutch fully. I took a drive on a plain road and it was definitely a cool experience. At one point, I initiated sports mode and I was at 100 km/h within few seconds. The power was simply awesome. The cabin was not that silent, I could hear engine noise but that wasn't a major factor for me for rejection. The sound quality with JBL speakers was great, AC was cool, and the boot space was good too. Plus considering all the other features that the top variant was loaded with, I made up my mind to go for Tata Harrier.
So, that was it. This was the vehicle I wanted and I just booked it as soon as I was back from the test drive. Handed over a cheque of Rs.30k to the executive and very next day forwarded all the documents to him to check loan eligibility.
Also, requested the executive to bring the vehicle for one more test drive during the day time and he agreed.
But unfortunately there wasn't any positive response from the sales executive and it was I who was calling all the time and enquiring about availability of vehicle for one more test drive. Finally, after 4 days I realized that this is not the dealer I would prefer to buy the Harrier from. So I called the guy and told him to cancel the booking and refund the amount. Surprisingly, even he readily agreed and didn't seem interested in pursuing the deal. Don't want to get into details, but I did receive few calls from that dealer for the next couple of days to go ahead and buy the vehicle from them. But I just politely refused.
The hunt continues ..
On Thursday, March 14th, I visited Rudra Motors (on Pune-Ahmednagar road, near Wagholi) along with my colleague from the office and was greeted warmly by SA Chandan. Initially, I did not tell him about my earlier experience related to Harrier. He provided all the details and we again took the test drive. He seemed very interested in explaining and showing all the features about the vehicle.
After returning home that evening, though I liked Harrier, but just due to bad experience earlier, thought of exploring Hexa also. I just called Chandan and told him that I want to consider Hexa as well. Next day, he forwarded Hexa details along with price list over WhatsApp and I called and informed him that I would visit the showroom again on Saturday to discuss things further.
Eureka ..
Visited Rudra Motors on Saturday (March 16th) and the first question was if I had finalized on the vehicle. I was not sure and the discussion continued for some time. Soon there were more people (of course, staff from the showroom) around me trying to discuss and help in deciding between Harrier and Hexa. Finally, it was back to Harrier XZ again - Calisto Copper, signature color for this SUV. As I had all the required documents with me, we all decided to move quickly and close the deal.
Again, avoiding details, the loan was processed quickly (certainly took half a day for completing the formalities) and as the vehicle was available, I was even given the chassis number by end of the day. Three to four months of waiting period coming down to ZERO. No words to express my excitement :)
About registration of vehicle, I was told on Saturday itself that the vehicle would be registered with PCMC RTO as my address was from that area. But I was bit confused as the pin code of my area came under PMC and I thought that, may be, I could get the Harrier registered with Pune RTO. I called the showroom again on Monday morning to verify the same and they re-confirmed that it would be PCMC RTO.
As the vehicle was available in their stockyard I just thought of having a look at it hence visited the dealer one more time on March 18th afternoon. Had a quick discussion with executives there, re-verified the accessories that I had finalized and requested them to take me and my son to their stockyard to have a look at OUR Harrier.
Took some snaps of the vehicle without accessories as the looks were surely going to change at the time of delivery. The insurance was filed and done the same evening by them (got an SMS) and the Harrier was all set for registration.
The wait begins ..
THE HARRIER
So, after waiting for another 10 days with continuous follow ups with dealer regarding the progress on RTO registration, the delivery was confirmed at 4pm on March 29th, which also happened to be my son't 18th birthday. The RTO tax was paid on same day by the dealer and coincidently got an SMS about registration number being allotted while we were at the showroom to collect the Harrier.
First look - it was just looking awesome. I had opted for base pack of accessories which included few chrome fittings and it only made the Harrier look more beautiful. The ODO read 138km - I asked about the same and they said that the vehicle was driven to conduct few tests. Got a coupon for 5 ltr of diesel which I immediately utilized so that I could drive home without any worries.
Without going into details here, we drove home our Harrier the same evening. The dealer promised to deliver number plates the next day.
First drive after reaching home - went to pick up my daughter from her friend's place at 10 in the evening and also got tank full at Shell. Frankly, I still wan't comfortable with the seating position as my left knee constantly touched the lower part of dashboard. Also, due to incorrect driver seat's height, I wasn't that comfortable using pedals. But all in all, it was good first day of Harrier.
Next day, I lowered driver seat position to it's minimum and then all was good. My knee was comfortable and also using clutch / brake pedals was as desired. As I was driving Safari till last month, lowering seating position in Harrier didn't affect the driving judgment as such. I could still maneuver easily through the city traffic. Big ORVMs were and are still a big risk and they seriously create blind spots. The only option I see here is to be extra careful and consciously make efforts to check for approaching two-wheelers and other road users from the side lanes.
Called the dealer on Saturday on status of number plates, they were ready but guys were busy so could not deliver them. Finally, collected my number plates on Sunday and I am all set now for new adventures.
What I think about Harrier ..
Looks - definitely "OWNER'S PRIDE"
Steering - pretty light considering the size of the vehicle and very responsive. But this again may need extra precaution while driving at high speeds
Clutch - it's light but has a long travel, a lot of play and may take some time to get used to it
Brakes - a bit of play which I don't enjoy but very effective. The stopping is quick and confident
Cabin noise - it's not very silent but still ignorable. The noise inside does increase considerably when the AC is switched ON and especially when the blower is on high speed
Suspensions - seems a bit hard, usually feel it on bumps. Might prove more effective when the vehicle is fully loaded
AC - it's good but blowers make too much noise
Driving modes:
Eco - just right for driving school candidates
City - just perfect for city driving with right amount of power and pickup
Sports - just what every Harrier owner would love to use all the time
Space & comfort - very spacious and one has to seat inside to feel it. Back seat passengers are sure to enjoy long journeys in Harrier
Infotaintment - yet to explore fully but it looks good though screen touch response is not as desired. Also, no support for Apple car play yet. The 7" screen on instrument cluster is pretty informative and useful, provides tons of information. Haven't tried navigation yet
Anyway, this is just the beginning and hope to create lots of beautiful memories with my HARRIER. Will post more details and snaps soon.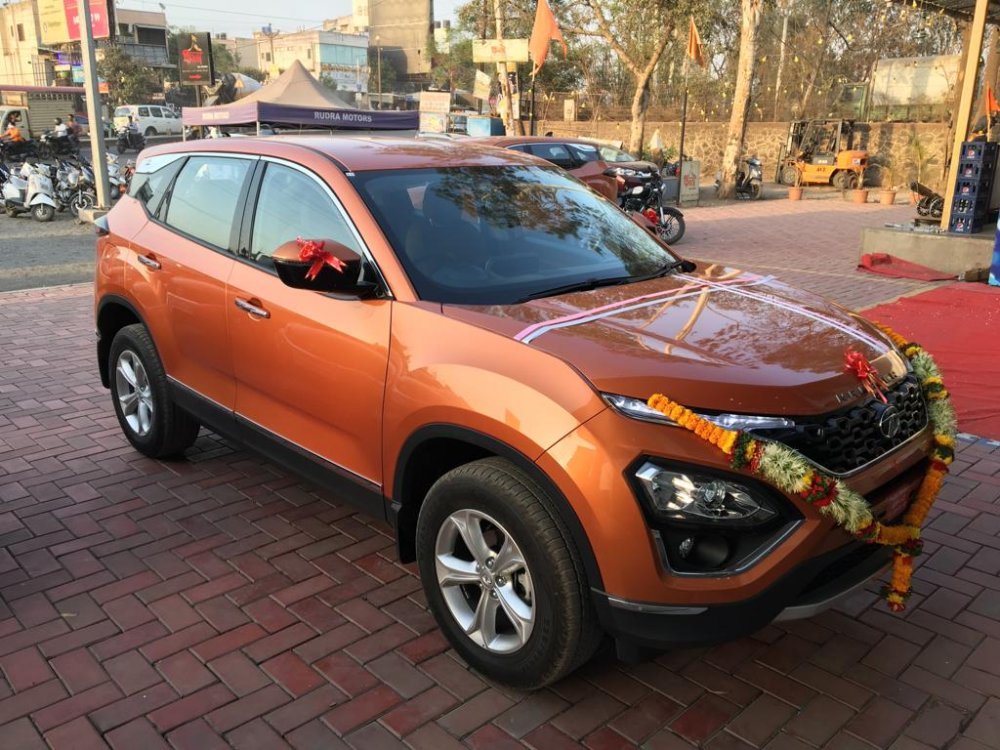 Pre-delivery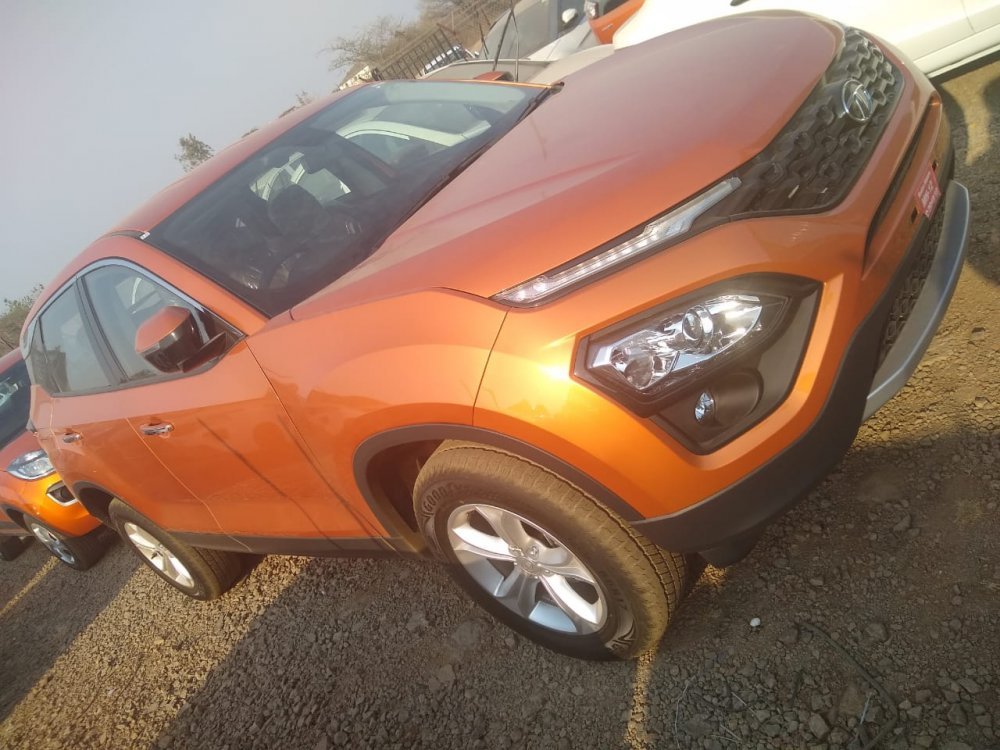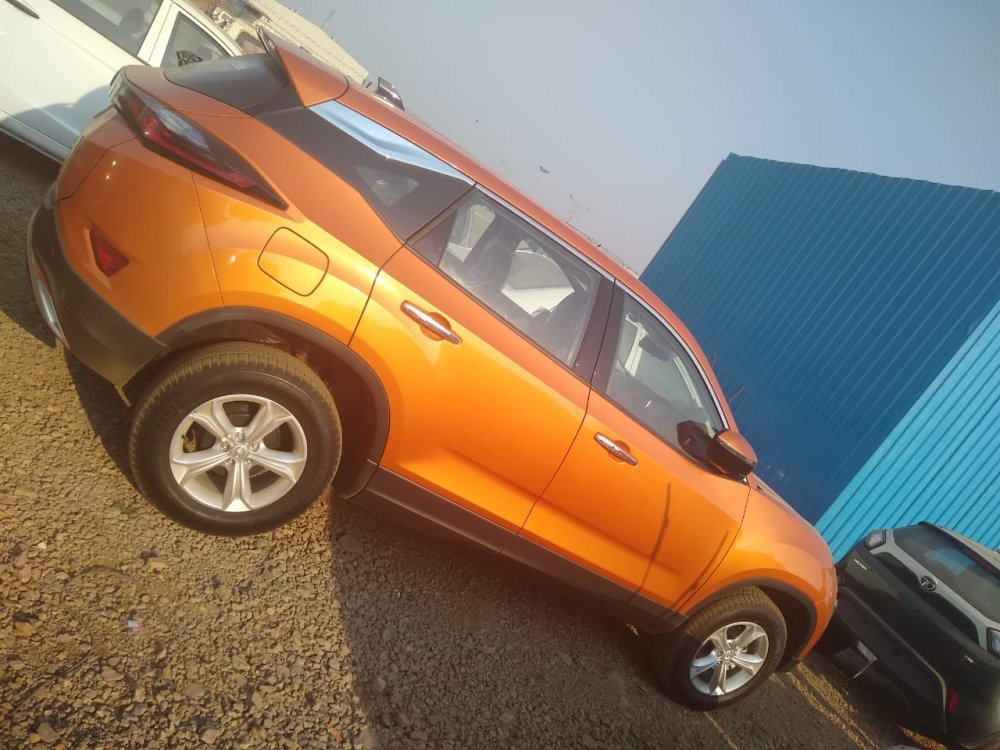 Post-delivery..intend to do a nice photo-shoot with Harrier over the coming weekend.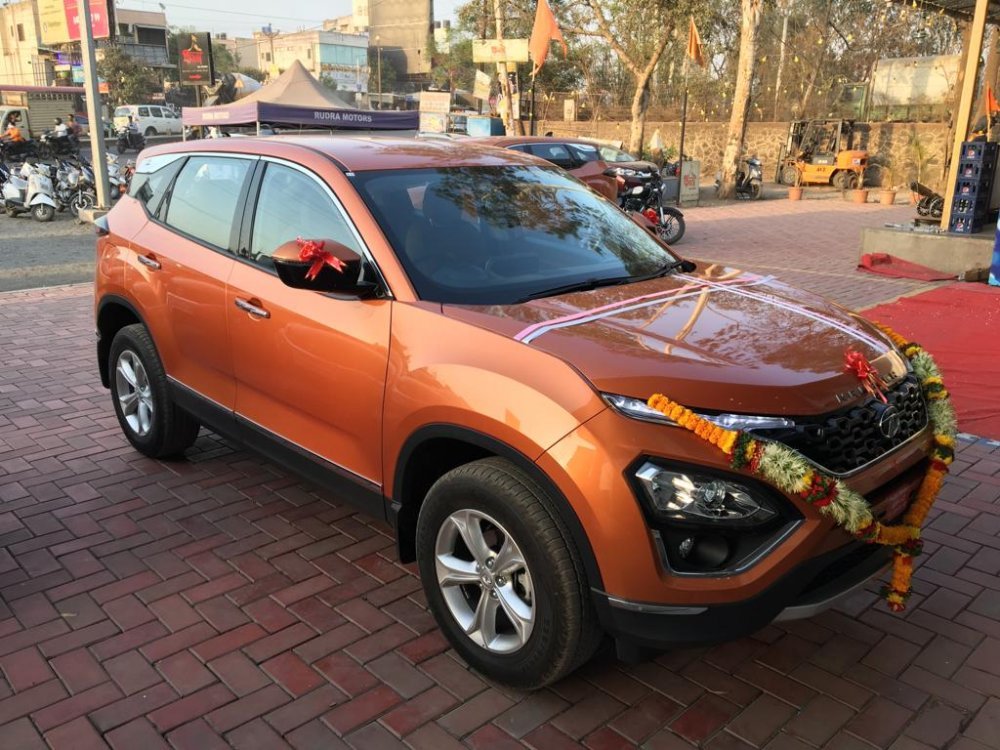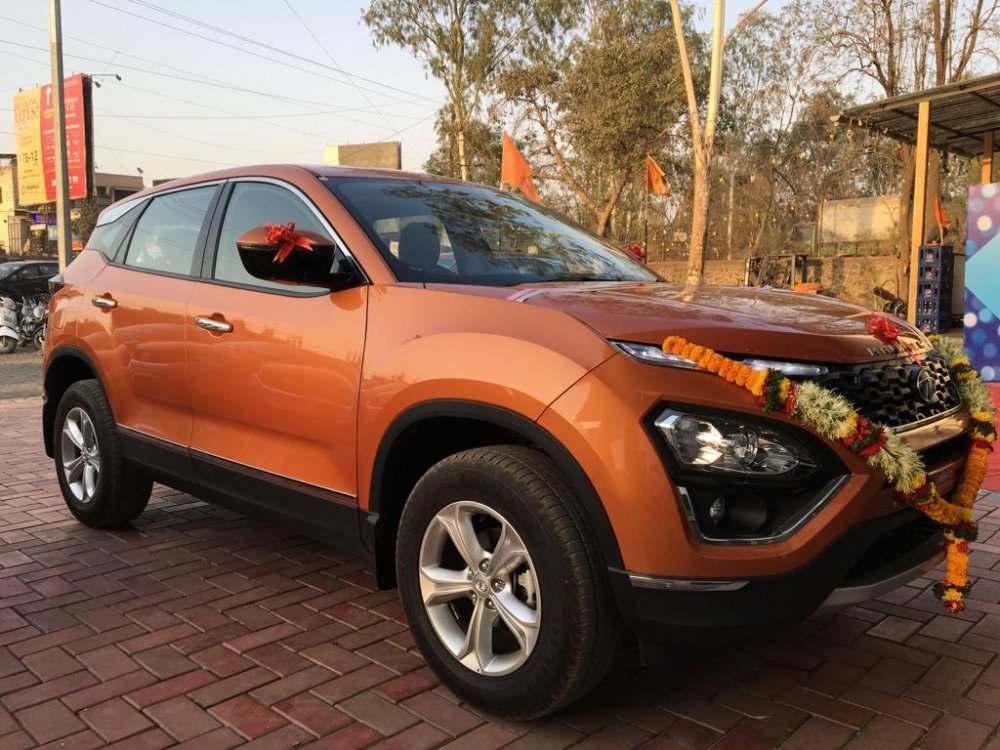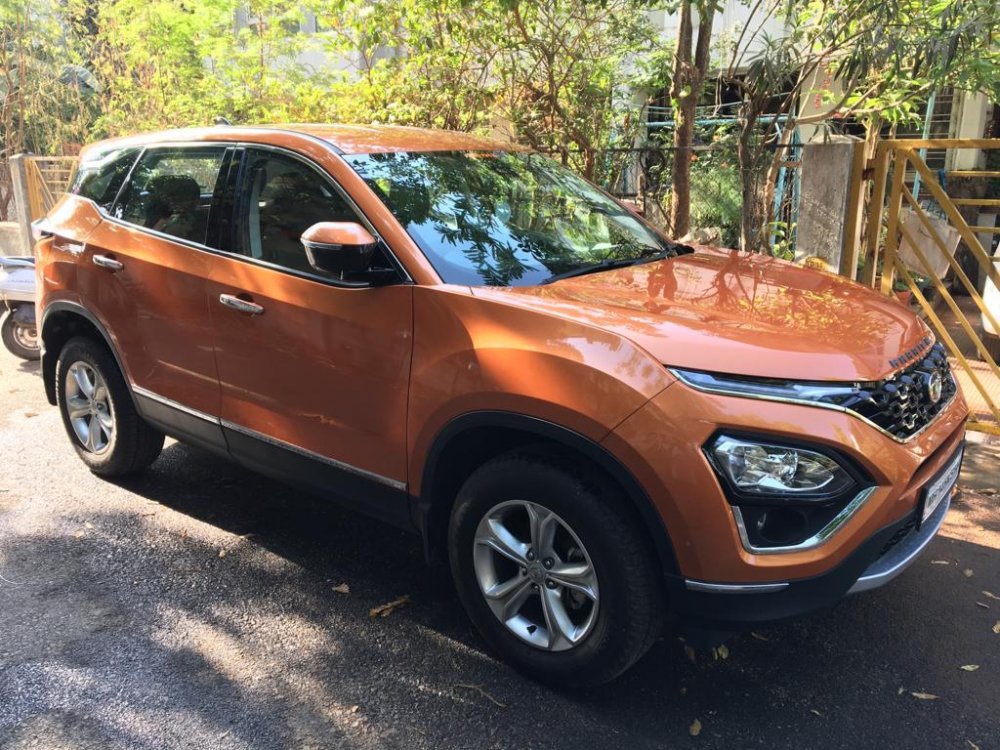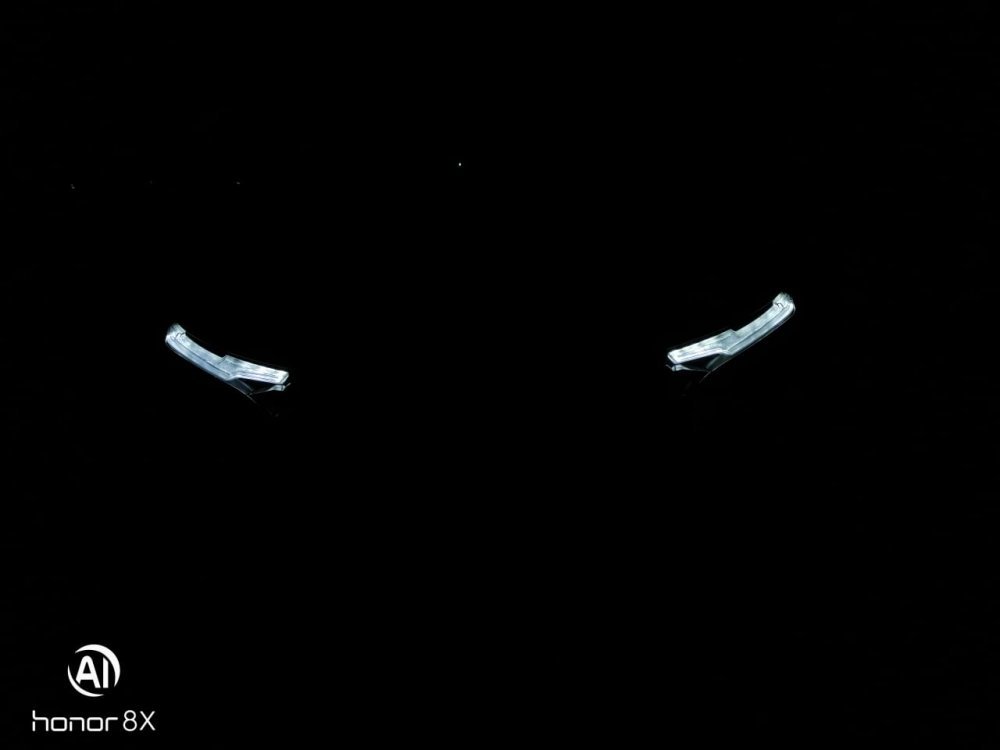 Last edited: