Prelude
Visit your financial institution along with your RC book / Smart Card / Insurance Copy and take below things from them -
1) No Objection Certificate (NOC) to RTO for removal of hypothecation
2) Form 35 (two copies)
3) Form 17 (Trade Certificate from financer)
4) Letter of loan closure
Please check whether all above forms are duly stamped and signed by your financial institution. You need to sign ONLY on Form 35 (both copies) just above the line where it is written "Signature of Registered User". Do take Xerox of all these four documents for your reference, I would also recommend to take Xerox of your RC book / Smart Card as original will get submitted to RTO forever.
Step 1
Now you need to visit Pune RTO office at Sagamwadi for de-hypothecating process. The working hours for this is between 10:00am to 2:30am. I would request you to reach there prior to 10:00 am along with below things,
Documents:-
1) Original RC Book / Smart Card filled in one transparent plastic pouch. (This plastic pouch can be ID card pouch / PUC plastic pouch. You can get one near RTO office as well)
2) Original documents from Point 1 to Point 3. The document mentioned in Point 4 is not needed in RTO (it is for your reference)
3) Xerox as well as original copy of your driving license
4) Xerox as well as original copy of your PUC certificate
5) Xerox of your vehicle Insurance
Others:-
1) One Passport size photograph
2) Stapler
3) Glue stick
4) Pen (Blue colour)
5) Cash at least Rs.150 (EXACT change)
6) Drinking water in a bottle (It's hot now a days / relax yourself)
Do staple all documents in above order and enter into main building of RTO office. As soon as you enter inside you will find "May I help you" cabin on your right (sadly this was empty).
Go ahead and you will see different windows with numbers ranging from 1 to 32. You need to go towards window number 15.
There are two windows numbered as 15 beside each other (though they are interconnected from inside). You will find "Verification" board on right side window (this window opens at 10:30am) and "Cash Payment" board on left side window (this window open at 10:00)
As soon as you approach these windows you will find a board stating document list required for removing hypothecation as well as for duplicate RC.
As per government norm, none of these windows get opened at 10:00am. Though people start making queue outside these windows from 9:45am onwards (hence reach as early as possible). The babu's will come around 10:15am and then will drink water, do chit-chat with fellow babu and then will slowly open the window.
Now here starts your patience test, window 15 on your right side is the only windows among all others which has opening time as 10:30am (Don't know the reason behind this). The babu sitting inside will arrive at 10:45am. Till he comes you will witness how queue gets longer at window 15 on your left side.

Step 2
On arrival of this babu you need to handover all your stapled documents to him. He will just run over it in few seconds and will ask you to paste your photograph on NOC and write your mobile number below it. He will also ask you to take signature of Assistant Regional Transport Officer.
You need to leave the queue at this point, paste your photograph on NOC with the help of glue stick, write your mobile number below it and go in search of this Assistant Regional Transport Officer. He is present in his cabin (thank god) which is located just behind "May I help you" cabin (which is still empty). Here you need to take his permission asking "May I come in Sir!!" before entering his cabin. He will just nod his head without looking at you.
(Red arrow mark is pointed towards Assistant Regional Transport Officer Cabin)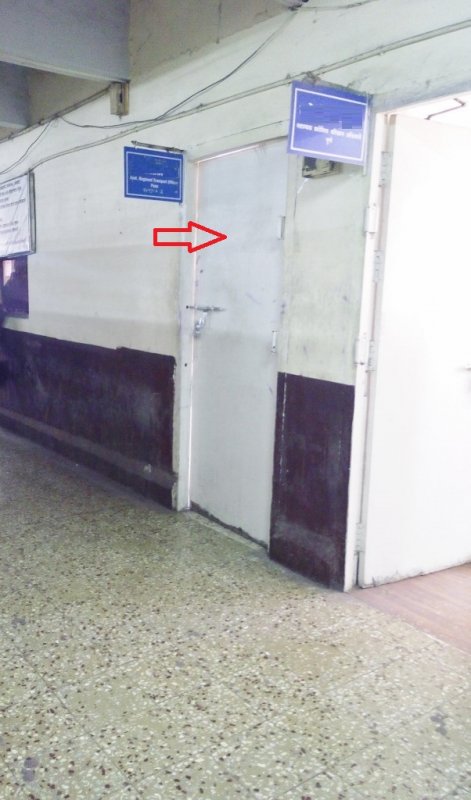 Step 3
You need to handover all your stapled document to him. He will also run through it (but will take slight more seconds than the babu on window number 15). He will demand for your photo identity and will write your name and identity number on Form 35.
He will also ask you to sign beside that writings and provide your left hands thumb impression. (My god, you have to search that Ink Pad on his vast table filled with papers). After doing all this he will handle your stapled papers back to you and will say "Ok!!" (This everything he does without looking at you)

Step 4
You need to again come back to that legendary window 15 (right side) and catch the queue. Again hand over all your stapled paper to that babu and tell him that you have met "Assistant Regional Transport Officer" (otherwise he will end up sending back to meet him).
Now this babu will again run through your stapled sheet and will write two different types of amount on your NOC, Rs.100 for Hypothecation Removal and Rs.50 for Postal delivery. He will sign below it and will write date as well (in DD-MM/YY format)
Step 5
Now you have to catch the longest queue of all counters present on that floor. Yes!! Left side Window 15. This is the single window which accepts all sorts of payments in RTO matter. Hence, you will find different sorts of people with different documents with different amount and with different mentality.
This queue will move at snail's pace as there will be many main agents, sub agents, minor agents standing ahead of you having bunch of different forms. (They have a habit of moving out of queue and come back again after few moments with at least two different person).
While moving at snail's pace you have wonderful entertainment along with other people talking on current sad state of affairs, how to improve RTO process, agents should be banned, relaxed government employees etc.
While exchanging your thoughts you will at last see upper part of head appearing behind that window. Yes that is the babu whose is accepting the cash without looking out of window.
You need to handle all your stapled document (at last) to him and he will start typing your vehicle number in his system. You need to pay Rs.150 (remember EXACT change) to him and he will handle you printed receipt (final objective of this entire process) for the same.
Step 6
After leaving this counter do check details on the receipt like your name, vehicle registration number, VIN number and off course the amount.
Come out of RTO building. While coming out again look at "May I help you" counter (it is still empty). Drink some water which you have brought along with you. Take Xerox of that receipt and leave from there.
So with this you have completed RTO process for removal of hypothecation. Now you need to wait for postal delivery of your new RC (Note that smart card system is not there anymore and you will get your new RC in paper format)
Some Significant Points:-
1) If you are enough confident about the document you are carrying then I would recommend to fix your photograph on NOC, write your mobile number below it and start this process from Step 3 onwards. This will save most of your time.
2) Pay the amount in CASH only and that too in EXACT change.
3) Ignore some people who will start giving you information or will ask to show the papers, they are agents.
4) Do not get excited or shout to people who are joining queue in middle, they are the agents or sub agents. They make any one person stand in queue and after some time that person leaves and agent / agents join in his place with bunch of cases and papers.
5) All information displayed in RTO office is in Marathi, that too governmental Marathi language.
6) Entire process take around 1:30 to 2:00 hours of time so plan accordingly.
Thanks for reading this lengthy post. Happy de-hypothecation !!

Last edited: