Joined

Mar 1, 2012
Messages

941
Likes

260
Location
MY STORY
BACKGROUND
Well it all started from a promise my dad had made to me in my first year of college(AUG 2007) that the day I pass out from college and start my internship I would be getting a car of my own. He very well knew that I was a car freak and this would keep me going in a place far away from home.
For that matter of fact I had a car to my own( black TATA INDICA V2 diesel 2003 model) from the very days I was in 11th and 12th as my dad was never keen on getting me a two-wheeler and passed on his car to me and bought himself a new one.
This is the only pic i have of my beloved INDICA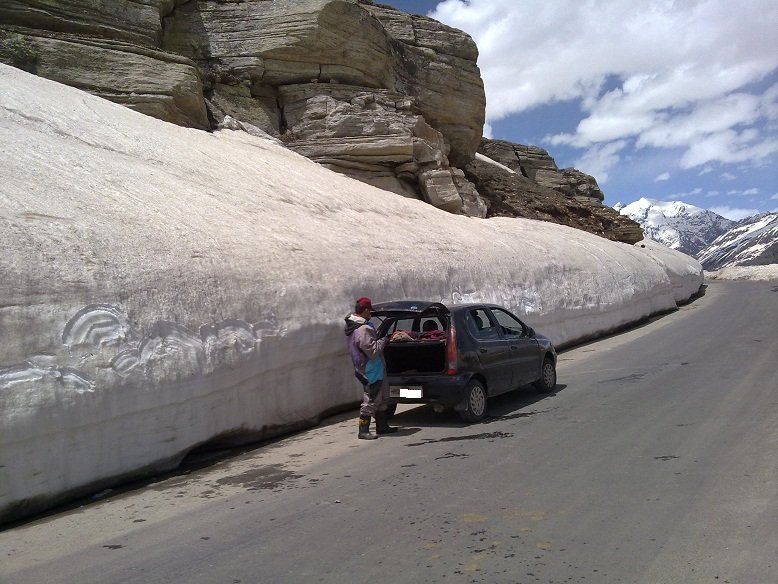 Indica was there at my disposal for my day to day works like tuitions etc. I was in love with my Indica as much as it can get. It was a true workhorse and we parted ways with the car last year in March. It had clocked close to 80,000kms without any major troubles in the 8 years we had it with us. A minor issue of the fan belt making noise occasionally was always there and the TATA engineers had no idea how to rectify it.
Coming forward to May 2011 and my dad bought a
diamond white Ford Fiesta Classic CLXI diesel
. My dad loves driving cars and he has been a rally driver himself before representing INDIAN ARMY. So choosing Fiesta over the lot was not a very difficult job for him. Truly gem of a car with exceptional ride and handling. The car has clocked around 12k kms till date without any shortfalls . Not even a single punctured tyre till date and returning amazing mileage in excess of 20kmpl wid AC on almost 100% times.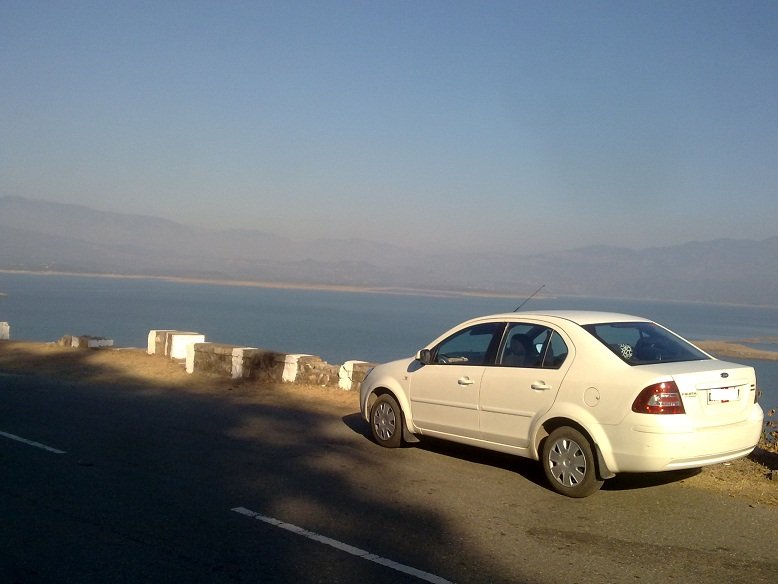 In Oct 2011 another addition came to the family as we bought the
Hyundai Verna(fluidic) 1.6VTVT SX
in sleek silver color. This was basically going to be driven by my sister for her local office commute. The car looks great inside out. Amazing exterior design, interiors too feel good, equipped with loads of gizmos and a great car to be driven in the city with the soft suspension and a light steering wheel. Perfect for her requirements. The car has clocked close to 5000kms and has been absolutely problem free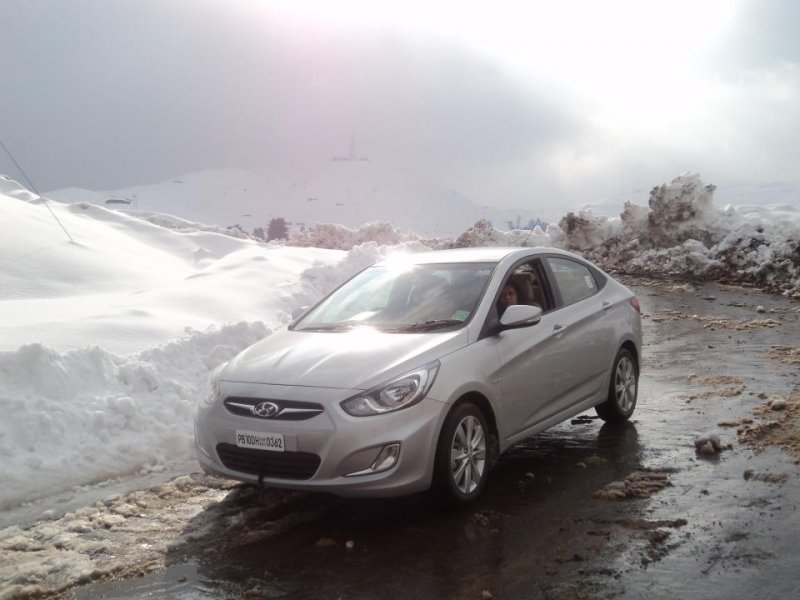 Coming back to my story, I was to finish my studies in March 2012 and I started ringing the bells at home that dad I hope you remember the promise you made. Now parents are always smarter and know there kids very well and plan two steps ahead . I wanted to do my internship in Pune itself (see the transformation here – 4 years back I was in tears when my parents were leaving me alone in college and today I'm pursuing them to let me stay here for some more time) and was asking them to get me a car here itself in Pune. They kept a criteria for me " you'll get the car only if you come back home and do your internship from Chandigarh" . With many of my college buddies moving to their hometowns for internship, I too decided to go back to Chandigarh and the car plans finally took off in Feb 2012.
BUDGET AND REQUIREMENT
Dad gave me a rough budget of around 6.5 lacs on road and the requirement was for a diesel hatchback as we already have two sedans in the house. The car would be basically used by me in the city and very occasionally on the highways.
THE CONTENDERS
I had my eyes set on the Volkswagen Polo from very long and every time a Polo in red went by I used to stare blankly in admiration till it went outta sight sometimes making a fool out of myself in front of my friends.
But anyways for the sake of it to show my Dad, I made a list of cars that would fit in our requirements.
The ones who made the cut were
1. VOLKSWAGEN POLO
2. HYUNDAI i20
3. SKODA FABIA
4. FIAT PUNTO 2012
5. RENAULT PULSE
SUZUKI SWIFT - I somehow for unknown reasons have never been fond of Maruti Suzuki cars and the Swift even being the most hot selling hatch in the market today was never even considered.
FORD FIGO didn't make the list as it had the same engine and same interiors as our Fiesta Classic and wouldn't have given a feeling you get sitting in a new car.
TATA VISTA was not considered as I was upgrading from a TATA Indica only and wanted to get a more premium looking hatch.
NISSAN MICRA – Too girlish looking for my likings. It dint have that sporty character which I was looking for.
TEST DRIVES
Now in the first week of march I came back to Chandigarh. Immediately planned for test drives with Dad in that weekend.
On a Sunday morning, without any prior appointments and phone calls to any dealer we just went to check the vehicles in person and for test drive if available.
I wanted to show my Dad the Polo first so that he can compare it with the others
1.
VOLKSWAGEN POLO
–
We went to VW CHANDIGARH in the morning around 11am and were greeted promptly by SE. He took us near the glacier blue POLO (Highline) standing in the showroom and showed us the vehicle inside out with explaining all the features present. My Dad liked the simplistic and elegant yet sporty design of the Polo. We asked him to show us if he had any Trendline or Comfortline in the stock so that we can compare. The SE promptly got both outside the showroom. We did compare the Trendline and Comfortline and my Dad gave me the permission to go ahead with Comfortline as he thought the base version was way too stripped off. We asked for a test drive and the SE was more than willing to oblige. Immediately he got us a highline diesel test drive car. I took the drivers seat and my Dad in the co-passenger and the SE in the rear. My only fear about Polo was the 3 cylinder engine. That there will be massive turbo lag and the pick up would be horrible. In a minute of my driving the car and I was like hey,it's not that bad. I loved the feel of the steering and the drive was somewhat comparable to our Fiesta Classic , very planted and stable. Did around 5kms in all and was more than satisfied with the ride.
POLO TL diesel pre-budget cost was 5.65L ex showroom and POLO CL Diesel 6.24L ex-showroom. Left the showroom with a smile on my face.
2.
HYUNDAI i20
–
We went to the Charisma Hyundai and there too were greeted immediately. i20 in blue was standing in the showroom and the SE took us to show the car. It was the Magna variant which we were interested in. My Dad really liked the interiors of the car and it was anyday spacious than the POLO. Steering was very similar to our Fluidic Verna. Diesel Magna priced at 6.11L was close to the POLO CL(6.24L) and offered Automatic climate control , rear defogger and a proper 4 cylinder engine as compared to the former. We asked for a test drive and were offered immediately. It was a diesel sportz variant. Again I took the drivers seat and dad in the co-passenger. The initial pick up was anyday better than the POLO but the steering was way too light for my likings , even lighter than our Verna. We went on the same track where we tested the Polo and the soft suspension setup of i20 was easily noticeable and the drive was very bouncy over rough roads. Lots of vertical movement which I didn't like. My Dad was of the same idea as he didn't enjoy the ride and said POLO's drive was more plush than Hyundai i20.
3.
Skoda Fabia
–
we went to Krishna Autosales immediately after that. The dealership experience was not that good as compared to VW or Hyundai. We went directly to the silver color Fabia standing in the showroom and checked it out by ourselves. Interiors felt on par with the Polo but exteriorly Polo looked far better than the skoda cousin. After spending good 10 minutes around the car we went looking for a SE as they were not even bothered enough to get up from their chairs. We asked for a test drive and were told that their TD car is not available right now. Well this kind of behavior didn't go down well with my father and I too was vary about the scary skoda after sales and we came out without a test drive and the fabia went sliding out of the list.
4.
FIAT PUNTO
–
Now if you ask me which is the hottest hatch in the country right now , It will be a tie for me. Both POLO and PUNTO look stunningly gorgeous in their own ways. I had in my mind if not a POLO then it had to be a PUNTO. But as destiny has it one of my very close cousin in the family bought a White PUNTO diesel and we dint want to be driving same cars around so PUNTO was too cancelled out from the list even without a TD.
5.
RENAULT PULSE
–
No matter what,this one is a MICRA inside out except for the few exterior touchups RENAULT has given to it. Looks a very confused car to me. Not enough sporty and I'm sure won't go down with girls too. They will prefer the MICRA anyday over this one. Now this car was never in my list but Dad knew the MD of the local Renault showroom and they were ready to give us a real sweet deal on the diesel PULSE so he just casually told me to go check out the car and if you don't like it we can go with whatever your choice is. I went to the showroom and saw the car in person and in no time I made my decision and came out even without a TD. I just couldn't digest the looks. Called up Dad from the showroom and told him "Sorry Dad, NO PULSE for me."
Meanwhile the Budget hike came and the prices increased by 15-20k depending from variant to variant.

We decided to go forward with
Volkswagen Polo Comfortline Diesel.
Now the confusion started over the color of the car. I was keen on getting a
Black
Polo which was refused straight on my face by my Mom due to some religious issues

. Although we have had many black cars in the past she strictly refused this time. So black was out.
My sis was keen on getting me a
Flash Red
POLO but that again didn't go down well with my parents and Dad lightly cracked a joke none will think you are a doctor if u come out of such a loud flashy car. He gave me an advice and said go with the color of your profession and that
white
looks elegant and sophisticated. So white was chosen in the end to which my sis doesn't agree today also.

PART 2
coming up shortly....
Last edited by a moderator: