If you know me you'd be wondering if I'm crazy for choosing a Bullet, if you know me really well then you'd be wondering why it took so long to take the plunge! :D
For those of you who haven't a clue let me start with my experience with motorcycles, to keep things short I've been legally riding for a little over a decade now and have owned a total of 10 motorcycles of which I still have 5 with me, all in all I've clocked around 300k km's on 2 wheels.
A point to note is that I am a DIY'er and prefer to get things done myself even if that involves voiding warranty by skipping free services. Over the years I have picked up a few handy skills and if required can take apart my motorcycles piece by piece and put them back together without much ado provided I overcome my laziness, now having extensively ridden and worked on motorcycles I know a few things that are oblivious to most motorcyclists, for starters I know that the the main contributor to a motorcycles reliability is its spare availability and accessibility which makes any and all Indian motorcycles superior to their foreign counterparts, and I'm not saying this cause I have 3 Bajaj's in my stable at the moment as in retrospect I also do have the Honda Fanboi's dream the Honda CBR250R in my garage and I for one can attest that it falls short on the reliability front compared to the likes of my Bajaj Pulsar 220, Bajaj CT100B and even my 2 decade old Bajaj Chetak that still has spares easily available at every nook and corner, I know cause I'd gone out for a stroll on a weekend before and returned home with enough parts to rebuild the engine which included a brand new cylinder kit and crank shaft. :D
Now coming back to the Bullet, everyone and anyone who has ever ridden one or known someone who rides one would know that these machines are far from reliable, granted spare availability is decent but when indigenous and foreign motorcycles are neck and neck when it comes to reliable technology the Bullet's or for that matter Royal Enfields as a whole take a step back, engine rebuilds within warranty mileage is commonplace for Royal Enfield owners and even I myself am aware of the same, but yet why did I choose the Bullet?
This is about the time when a flashback is in order that would unequivocally glorify the Bullet, but unfortunately that was not my case, back in 2018 I had ridden the Golden Quadrilateral circuit covering 14 States in 13 days clocking around 8k km's averaging 600 km's a day and maxing out at around 900 km's a day, all the while riding my Humble Bajaj CT100B, my co-rider was on a Bullet 500 UCE, now you'd think with 5 times the displacement the B500 would've had a blast, which was the case for a few short minutes of high speed sprints but otherwise the B500 was riddled with issues from oil weeps to clogged filters to parts coming loose and finally to the motorcycle smoking and at times hesitating to start, in comparison my CT100B that was ridden at WOT for hours performed flawlessly.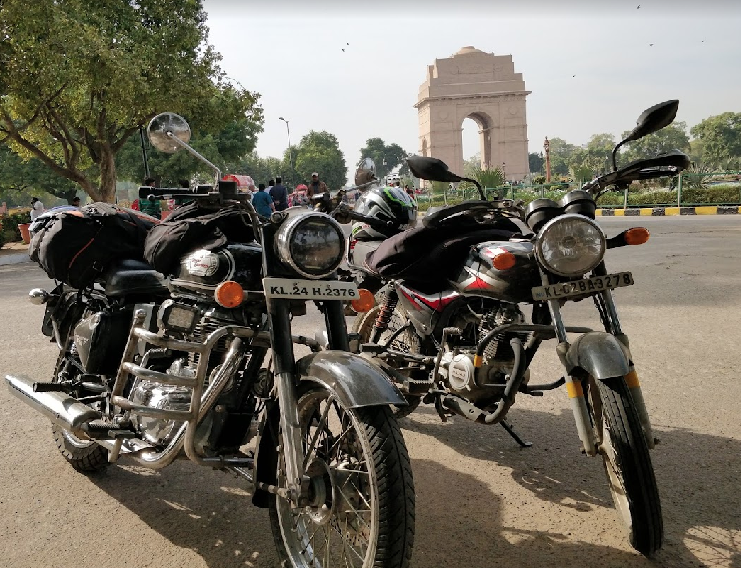 Okay, so to sum it I know my motorcycles well enough, and have had first hand experience of how troublesome a Bullet can be, also to note on returning my co-rider sold his Bullet 500 and got himself a CT100 as well! So on what plane of sanity would I pick one up for myself?
Well the answer is simple(at least for me), I was about to get married and since I live and breath motorcycles I was on the lookout for a machine that I and my wife could tour on as a couple.
By gods grace budget was not an issue for me at the time and that meant I had some leeway for negotiations as most if not all sellers are inclined to offer larger discounts, opt out of unnecessary packages and accessories and even let us choose our own insurance providers if we pay up front, this also means a shorter delivery date.
So I began my search and got to know that when it came to Royal Enfield they had the 650's in stock at my neighbouring district and the Bullets, Classics and Meteors in stock in my district, the reason for not looking elsewhere was cause I'm a heavy guy and so is my significant other, adding luggage to the mix would mean that we'd need quite some oomph to carry us, so short stroke singles were immediately ruled out, coming to twins the foreign options cost more than double of what RE was asking for the 650's and the upside for me here was that the RE was air cooled which again garners more reliability points in my books. As for singles the only long strokes every single in RE's line up is a long stroke, so I needn't look elsewhere even though some friends suggested the Honda CB350 Highness but my experience told me better and I decided not to touch it with a pole, plus even though long stroke it was still an OHC and I for one have spent my fair share of riding on them so paying a premium for one really didn't make much sense, hence along with it the Himalayan and Meteor's were booted from my list.
This leaves the 650's on one side and the Pushrod's on the other, I collectively call them pushrods as even though RE has brought out many iterations as far as my concerns go they're more or less the same, or that was what I thought, a little bit of research revealed that the Classic's came with a dual disks setup sporting 17 inchers at both ends, a commonly available size so tire options are aplenty, also this one comes with the updated swing-arm;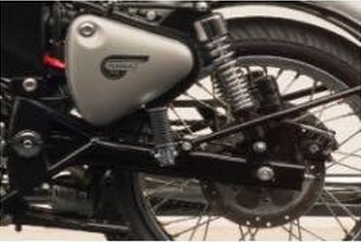 Compared to the Bullet that came with a single disc up front and the prehistoric tubular swingarm with a drum at the rear;
The Classic also came with Alloys but that wasn't a consideration for me as I can change my own tube. But what was a consideration was the its crank weight, it was 8.5 kg's compared to the 10.5 kgs of the Bullet, what this meant was that the Classic would achieve higher cruising speeds but at the same time the Bullet had a more flatter torque curve, the difference is roughly about 500 RPM's which is huge for an engine that barely revs to 5k RPM before calling it quits, the Bullet would be able to cruise at around 1800 RPM in 5th gear whereas the Class would need to maintain at least over 2300 RPM, now you could say that the Classic is sprocketed taller than the Bullet by +1 teeth at the front but then I'd remind you of the 2inch difference in tyre size between the Classic and Bullet.
So by now the Classics were also booted from the list, coming to the Bullet there were 2 options the Standard and the more economic X models, the Standard came with the fancy tank and a bit more chrome whereas the X was a bare-bone piece which again worked in my favour as less Chrome meant less headache as far as maintenance went. Now coming to the technical bit all Bullets come with 19 inchers at both ends meaning tyre options would be limited, which I was willing to compromise but what I wasn't willing to compromise was the Heavy Crank cause I got to know that even Bullet's come with the light crank, basically the Self Start models came with the lighter crank and the kick start models came with the heavier crank. But again a twist I saw was that some of the Standard kick only models came with a Cut-Out in the case to install a Self Starter, sharing below pics for comparison, in one you can see the cut out and in the other it is completely missing;
So now I had my sights clear, I would only opt for a Kick Only model without the provision to install a Self Starter.
Now my options were either one of the 650 Twin's or the Bullet 350X KS, now why are the 650's still in the list? It seems that I have my mind set, but why?
Well, I've never before owned a Twin and the 650's were available at an easily accessible price but then again the Pushrod Era was coming to an end as the 500 UCE's were recently phased out and there was talk of the new OHC Engine coming in future updates of the existing OHV models, so from where I saw things it was a Now or Never situation as far as getting a Pushrod went cause a OHC Twin isn't anything special all things considered and I'd be able to pick one up anytime I wanted whereas the Pushrods were soon to be phased out. Another sentiment amidst marriage arrangements were that I'd someday have a kid and the though of passing on the Pushrod to him/her had a sense of grandeur on its own rather than pass on a OHC Twin, the difference between a OHV and a OHC Twin is that between a Mechanical HMT and a Casio G-Shock, one may be better than the other depending on individual preferences but only one of them is heirloom material, and that settled it once and for all, also the 650's pillion ergonomics were absolutely pathetic, I had taken a female friend with the same physique as my would be wife and she found it quite uncomfortable.
So without wasting any more time I had paid in full for the Bullet 350X Kick Start, I didn't have a colour preference as anything that was in stock was good enough for me provided my previously mentioned criteria of the Self-Starter Cut-Out was met. Skipped on Extended Warranty and RSA not only cause it was a scam but also because I would be servicing the motorcycle on my own, as for insurance I had saved around 2~3k by opting for one from Coverfox.
So to sum it I paid around 1.6L and took delivery of the Bullet in the next couple of days.
This photo was taken on 28 February 2021, exactly 11 Months from Today. The helmet I got along with the motorcycle as a complementary addon, I ensured it was not part of the billed amount. As for wearing flip-flops, it was a working day for me and I was working from home, so had to drop by to collect the Bullet in between breaks, the showroom being near my house helped as well. :)
I had picked up an OE Crash Guard as well and installed it myself when the showroom lady told me that a technician would come and do some cutting to install it, she was referring to the lambda sensor wire and I ran away as fast as I could from there before they got a chance to mess up the motorcycle.
Soon after purchase the RE Quality was showing through quite well;
And I'm not talking about the above sticker, there were some nooks and corners missing paint;
Then the engine oil level was too low;
It took about 1L more of Oil for the level to come within the recommended mark.
But little did I know at the time that this was only the tip of the iceberg! :D
Would post more updates shortly as the wife beckons and I have to take leave for now :D
Last edited: