After a lot of preparations and drivings, i am back from my trip.
Totaling of 5039 kms in 7 days through 9 states and numerous cities, towns and villages. It was a very adventurous driving experience which included sight seeing as well. Was running against time to complete the tour as planned and without any delay. It was an aggressive tour, and we completed in time.
I would like to compliment Suvarka Roy and Soham Bhaumik for being with me all throughout. Though it was a solo drive by me they gave me good company. Special thanks to the man who needs no introduction, Kumar Sir, for encouraging me throughout the trip.
The itinerary was :
Kolkata - Choudwar (NH 6 - NH 60 - NH 5)
Choudwar - Sambalpur (NH 42)
Sambalpur - Raipur - Bhillai (NH 6)
Bhillai -Nagpur-Amravati-Akola-Bhusaval-Dhule (NH 6)
Dhule-Malegaon-Nashik-Thane-Mumbai (NH 3)
Mumbai-Vadodara-Ahmedabad-Udaipur (NH 8)
Udaipur -Chittorgarh (NH 76)
Chittorgarh -Jaipur(NH 79 - NH 79A - NH 8)
Jaipur -Bharatpur-Agra (NH 11)
Agra -Kanpur-Allahabad-Varanasi-Dhanbad-Kolkata (NH 2).

The places mentioned in bold are the places were we halted for the night.
The map looks like this :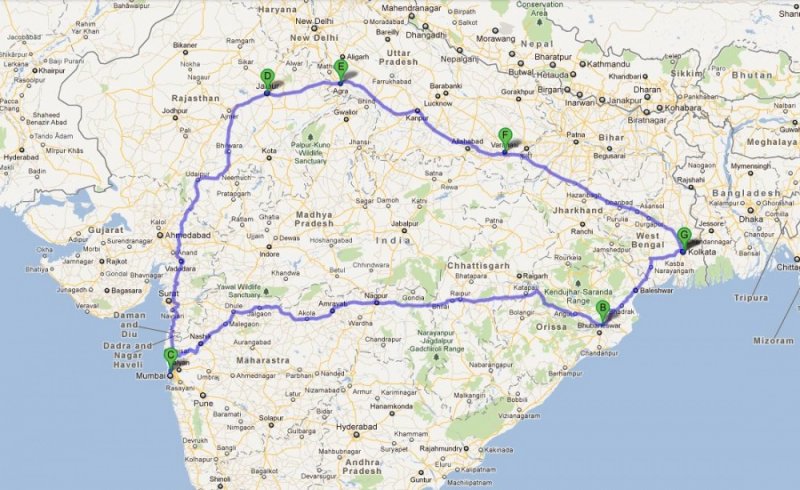 The maximum i could push myself was 22 hrs at a stretch non-stop from Bhillai to Mumbai. Faced very heavy fog while driving through North India.
I have got lot to say and share. Still in the process of arranging my logs and pics. I will get back very soon and start penning down. :-)
Just wait and watch..

By the way, Happy New Year to all my friends..