Hi Friends,
This trip happened a month ago, since am new to blogging had to go through few of fellow TAIns blogs, after going through many of my friend's awesome experience, here Iam expressing one of my recent trip experience, any suggestions or comments are most welcome
Finally the much planned weekend getaway happened on 28th January 2012. I was so excited about this trip that I could not sleep the previous night

Places Covered: Bangalore-Belur-Halebeedu-Chikmagalur-Hornadu-Sringeri-Gorur-Hassan-Bangalore.
Days 4
Kilometers Travelled: 1118
Team: 4 – 5 (On Return)
Transport Partner: My Swift VXI
Day: 1
I started from my place at 5:55AM reached Aj bro's home by 6:10AM picked him from his home had some talk with his mom & left his place by 6:20AM. We fuelled at shell petrol outlet Near Soap Factory at around 6:30AM.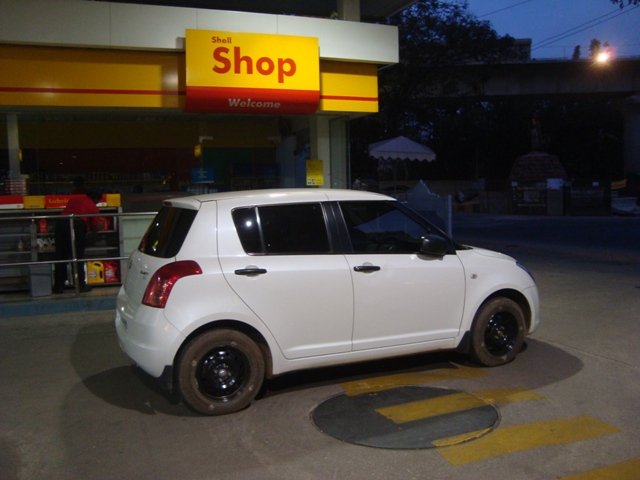 We started towards Magadi road to Pick up Veeresh picked him at 6:45AM , after Veeresh we continued to pick Srikanth had some lemon tea at his house (which was too good). Finally after all got together we started off towards Magadi at around 7:30AM. Roads were quiet good only after Magadi entry & exit of Magadi is very pathetic as the roads were in very bad shape later after exiting Magadi, roads were good along with curves & I was enjoying it thoroughly

. We touched the Kunigal Highway after exiting Magadi. Must say the road from here was absolute delight & driving was pleasure.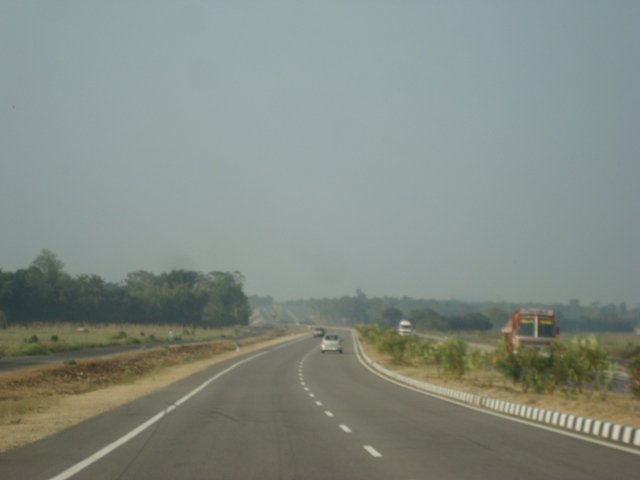 We could easily manage to hit 160+ kmph on this road. We had a Honda city that was competing with us. We were happy to see lane discipline on these roads.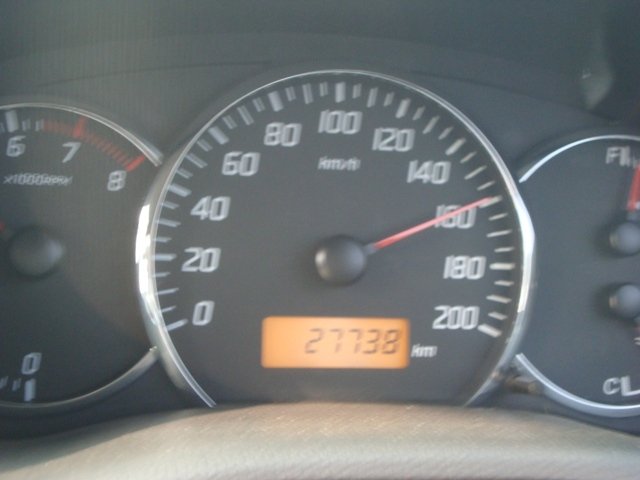 We stopped at 9AM for breakfast in Mayura Hotel. Very well maintained hotel with very good food. Took few pictures here & continued the journey towards Kunigal.
The weather was great & wind was cool so my plan was to touch the maximum distance before noon. We maintained good pace & had a couple of small pit-stops along with pics.
Plan was to reach Chimkmagalur by afternoon or early evening & do sightseeing.
We reached Belur by 12:10PM which was our first destination, after appreciating the beauty of Belur we moved further to Halebeedu at 1:50PM which was even better than Belur.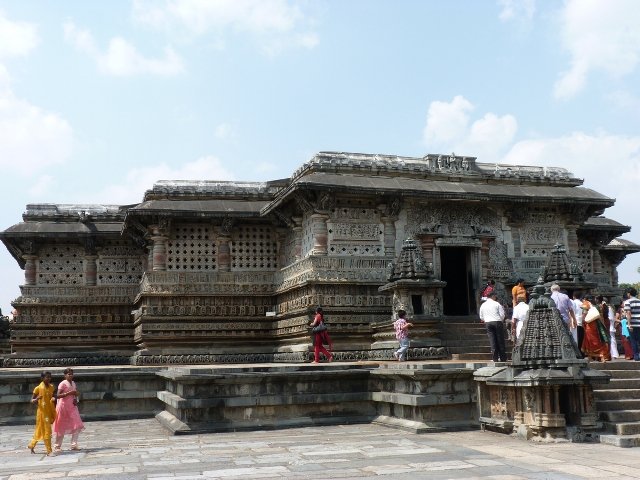 Both the places we visited were filled with school students as it was a weekend these places are major attraction for villages close by to it.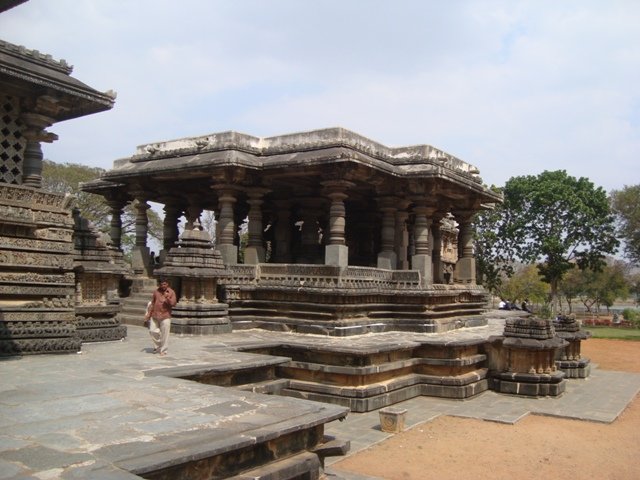 After this we were around 20 kms away from Chikmagalur. We continued our drive. As we were approaching CKM we had a surprise waiting, the road which was in its worst condition from almost past 4 years was still the same. I was amazed at the speed of the bridge construction here. We carefully crossed this stretch & finally made it to CKM at 3PM.
We first started searching hotel as we were terribly hungry. We got Mayuri Hotel again we had lunch here then we enquired about the local places to visit & a good lodge to stay with car parking. We were quiet lucky to get the lodge which was located right opposite to the Mayuri hotel. We checked the rooms & facility it was quiet good & reasonably charged. We checked in & decided to travel to hornadu & be back by late night.
We got freshen up & started to Hornadu by 4:30PM. We started with great enthusiasm towards Hornadu. We were progressing towards Balehonnur road when one person stopped us & informed to take the Mudigere-Kelgoor road as it would be short distance. We took a U turn & little did we have clue that this is wrong choice of road. We travelled for a little distance & noticed that road was getting worse even single kilometer. Finally the road was very narrow & we had a Fluence coming right in front of us. I could not take to extreme left as it was almost 2-3 feet deep & could easily damage my Car. We had a bottle neck jam here with some heated arguments, all thanks to the influence car guy, after lot of negotiation we crossed that stretch & faced the same consequence again & unfortunately I had to get down on the left at a particular stretch which damaged my car's metal parts underneath. Felt very bad & sad . We continued with the roads finally we reached the famous Kelgur Tea Point, this was a memorable place which we had visited long time ago, we cheered up after this & continued the journey. We reached Hornadu by 7PM. We had darshan & went to prasadam queue but it was very long & we had to wait till 8:30PM for the next batch to start. We were in a crunch as we had booked the lodge & keeping in mind the road conditions we decided to leave without having food. We started by 8:15PM here & after searching for Hotel to parcel food we went in rounds all over finally close to Hornadu we found a hotel called Suprabha. It was a great place. First we thought we will have some slight food & parcel. We ordered north Indian food & got some food parceled. The food quality was simply amazing here.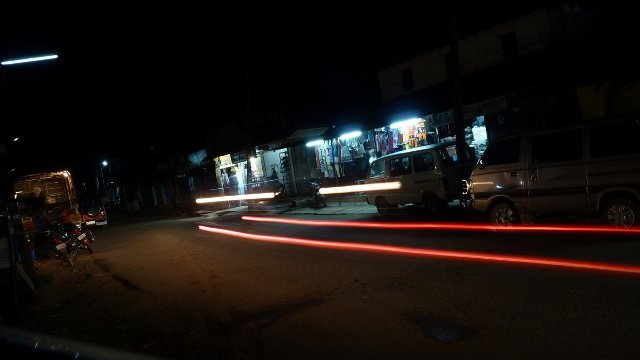 We left here by 9PM & we consulted the restaurant owner & he directed to take Balehonnur road. We started towards CKM by 9PM & we were happy because the Balehonnur road was much better than Mudigere road. We were little skeptical but still got some lifelines (People to direct us) on the way. Finally we made it to CKM by 11:45PM. We called up the lodge guy & opened gates parked my car in cellar & had the food which we parceled & slept off.
Day: 2
We had planned to reach Mullayanagiri early so that we can see the sunrise, but due to previous night tiredness we started to Mullayanagiri at 6:20AM, it was dark n people were busy taking their morning walk.
We reached the Top at 6:50AM. It was an amazing experience driving on those roads.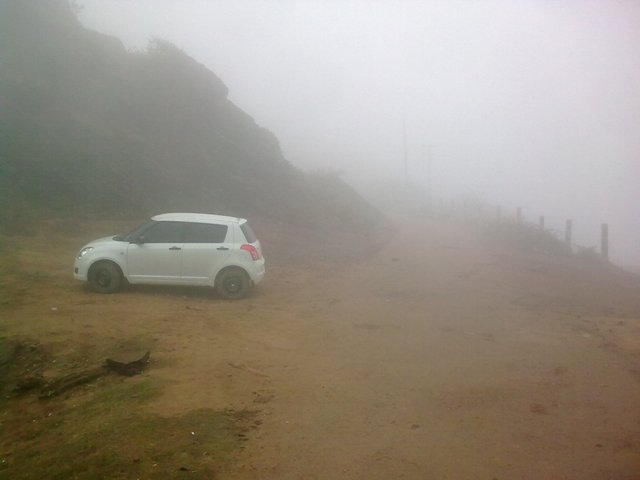 Took few snaps here & started climbing the hill through steps. We reached the tip of hill at 6:56AM.
Highest Motorable Road In Karnataka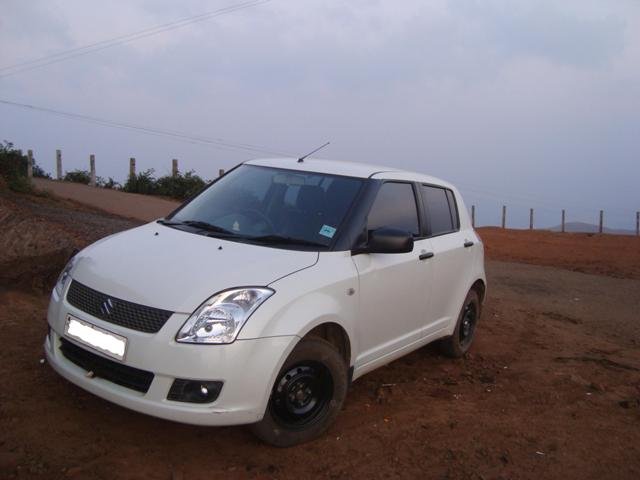 We were waiting for the glimpse of sun but he was reluctant,
finally at 7:30AM we saw the Sun rise it was a spectacular sight.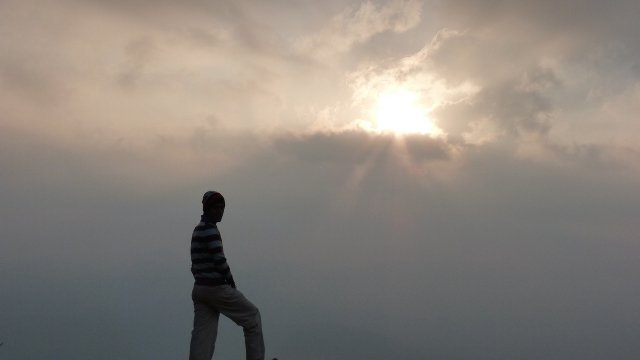 We took few snaps again started downhill again took few snaps & started downhill in car.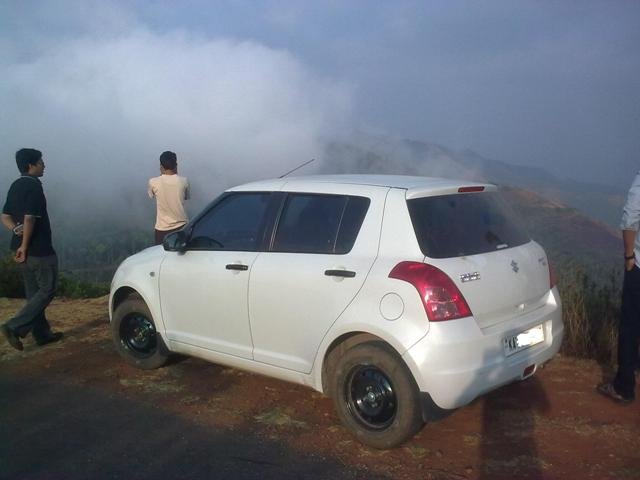 This part was little scary as it was dense fog covered all over & we were having a narrow road. We got down went to our lodge & then after getting ready went to have breakfast. After breakfast we decided to visit sringeri today. We again enquired about the roads & took balehonnur route this time, the same road which we used previous nightwe were now confident on this road, we started the journey at 11:30am & stopped near a coffee shop 30 kms away from Sringeri this place was a cool place to hangout.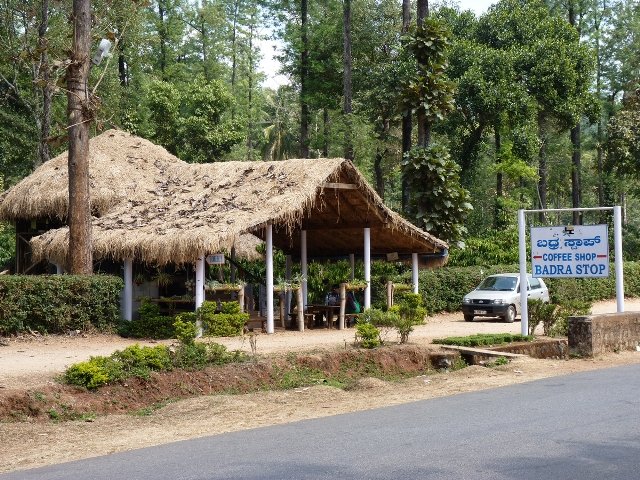 We kept our pace before this with a ford figo & Hyundai Getz both were two exceptional drivers who kept us on good pace. We reached sringeri after taking few snaps in a private tea estate.
This was an awesome place for pics. Starting from L-R: Veeresh, Aj Bro, Myself & Srikanth
Road conditions are good to sringeri except for few stretches. We reached sringeri by 2:30PM.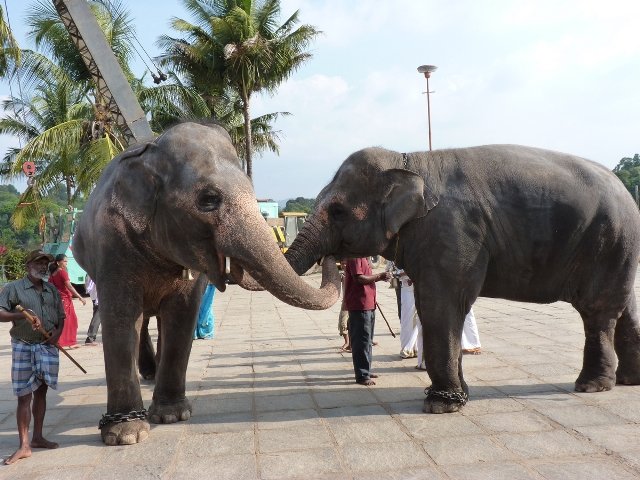 Darshan was closed at 2PM & Food at 2:30PM we missed both. We had lunch at a restaurant & rested inside the temple premises till 4PM.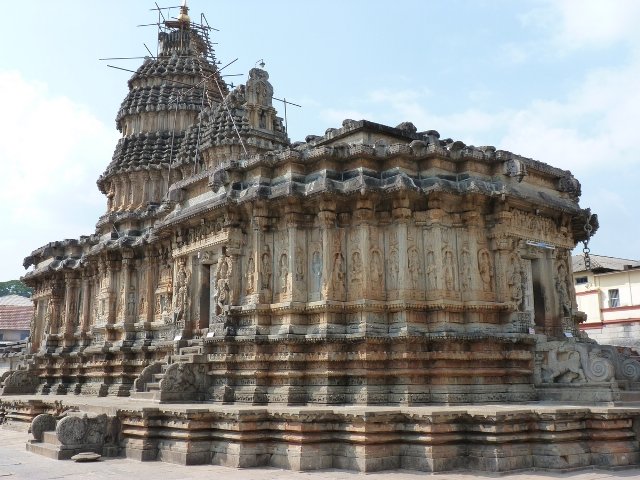 At 4PM we had darshan & without wasting much time we started towards CKM. Stopped at a place on the way for few photos.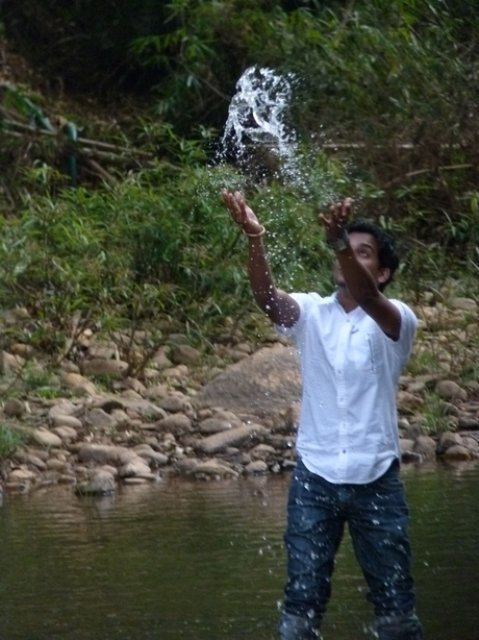 We reached CKM by 6:30PM. We rested for a while at lodge, thanks to the power cut at CKM, had to stay back at our room, later we went to try North Indian recipe this time which is exactly about Mayura Restaurant, Must say food was exceptionally good with added spice (as per our preference). We finished having our lunch by 10PM. We took a walk in MG Road late night & finally came back to Lodge room & slept.
Day: 3
We had to say bye to CKM today, we quickly got up, were ready with the luggage & stuff, we had to reach Gorur as we had to festival to attend here. We started from CKM at 9:20AM sharp.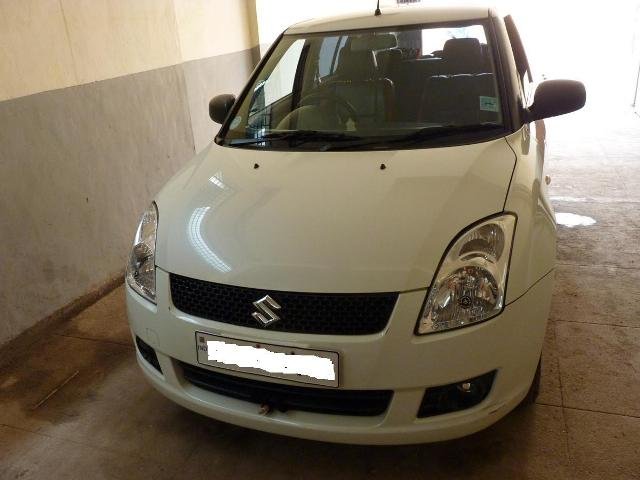 We decided to have breakfast on the way, we reached Belur & started feeling hungry, we had our breakfast here then continued our journey to Hassan-Gorur. We reached Hassan by 10:30AM fuelled at HP. We continued to Gorur, road from Hassan to Gorur is terrible. We finally reached our destination at 11:15AM. Rest of the day was spent in festival celebrations.
Day: 4
We had a slow start for the last day of trip, we did not have any plans for today. We just had planned to finish off with Lunch & start to Bangalore. We visted few temples around Gorur had lunch at 2PM & after all the Tata Bye Bye's We started from Gorur at 4:30PM. We reached Hassan by 5PM. We paused our journey for an hour or more as we had some people to meet here, we left Hassan by 5:45PM & again had to stop at Shantigrama for a site visit of my bro. We started off from shantigrama to Bangalore by 6:45PM. We continued without much pit-stops as it was getting darker & it was a single lane road too, I was cruising at 100/120 felt bumps beneath the tyres, stopped once to get air filled at stations but any petrol bunk hardly had the air option

. We reached the awesome kunigal road again We covered a good long distance & stopped for chats & tea break nearby to kunigal. We continued after a 30 minutes break, we took the magadi road instead of the NH4, this road was having less traffic density & we kept our pace, we touched Magadi & finally reached Srikanth's place at around 9:30PM. We then dropped Veeresh, then reached Mathikere by 10PM, after dropping Prakash Uncle, came back to my place by 10:15PM, me & my bro had a small chit chat about the trip review & dozed off after supper. It was an awesome trip with different driving experiences.
World Trade Centre-Yeshwanthpur
Last edited: