Joined

Jan 1, 2012
Messages

29
Likes

0
Location
Planned to go to Mangalore and ended up in Sringeri. On the morning of republic left home by 7:00 although the plan was to leave by 5:30 to beat the traffic. Reached Chikmagalur by 12:00 pm. As my car had covered 450kms only I maintained 90kmph and 200rpm through out. The NH-48 stretch from Nelmangala to Chennarayapattana is awesome. Later from Chennarayapatna onwards the 4 lane work is in progress. when it is completed we can reach Hassan by 2 and half hours.
After reaching Chikmagalur took a deviation towards Mullayangiri and climbed it in one hour. The road us ver narrow some places evening one car is difficult to pass through. But very scenic from top.
NH-48 view from wind shield :
View attachment 40214
Belur - Hassan Road :
View attachment 40215
Road to Mullayangiri:
View attachment 40217
At top of a small Hillock near Mullayangiri: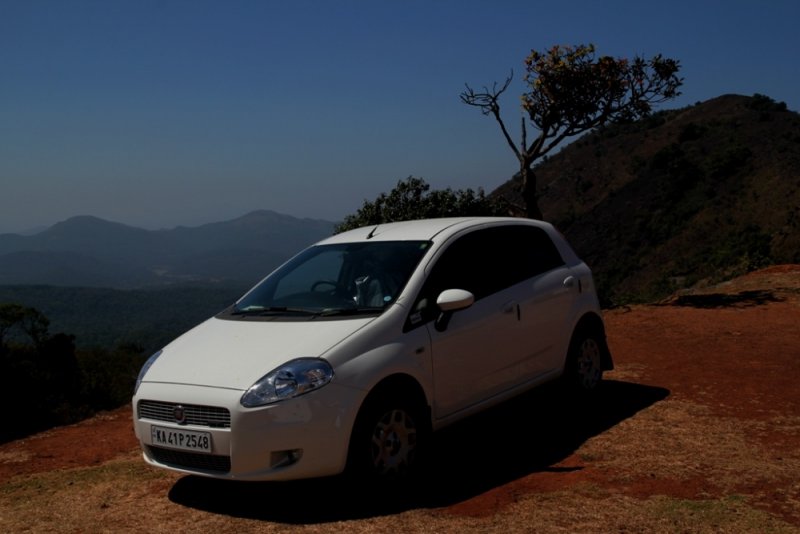 Left Chikmagalur by 2:45 after lunch.
about 20kms from Chikmagalur on the way to Balehonnur road is in bad shapes. Later half is good with winding curves and Punto started loving hungry to do more and more. Reached Sringeri (My Uncle's house) by 5:00 pm.
Next day morning set ou to Kigga and Siri mane falls which is just 10kms from
Sringeri and falls is 5 kms from Kigga.
Sirimane falls @ Kigga :
View attachment 40216
Day-2 was spent visiting some relatives and friends in
sringeri with some small trips here and there.
Day -3
Started the journey to Horanadu by 9:45 am the plan was to go through Jaipura - Balehonnur- Kalasa-Hornadu. But just before Horanadu I saw a devition towards Horanadu just 63 kms I was tempted to take that road and that was biggest mistake that I made. The road was katcha road with full of poth holes some times as big as a well

. Few times hit the Chasis.Reached Hornadu by 12:00 pm, had lumch and started journey bak to Blore by 1:45 pm.
The route was Kalasa - Kottigehara - Mudigere - Belur - Hassan - Blore.
The road from Kalsa to Kottigehara was scenic, curvy and almost good.
Road before Kottigehara @ Kelaguru :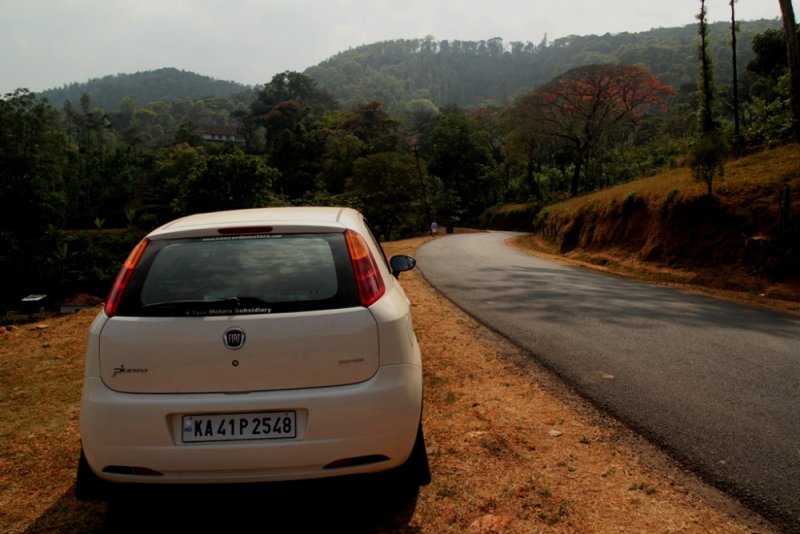 Had some nice local @ Kelguru coffe estate and then heade towards kottigehara. The road after this was good till Mudigere. The road to Belur-Mudigere is being laid out and 1st 10 kms is in bad shape later 20 you can easlily hit 120. Form Belur reached Hassan and took NH-48 from there on. While passing thru Chennarapatna town I was driving @ 30-40 kmph. Just before a u-turn, a 2 -wheler took a sharp right turn with out ant signal, I hit the breaks hard, just before stpping my car hit the 2-wheeler and he fell down on the road luckily he escaped with few scratches and not much damage to his bike but a scratch on my bumper and some part of his bike hit by fog lamp\

. That was the 1st damage to my beloved Italian horse

. She stopped instantaneously when I hit the brakes thanks to ABS the 2-wheeler escaped but she took the damage on her nose.
After a short break @ Kamat, reached home by 9:00 pm.
Now my car has covered 1350kms in 21 days.After going thru thos bad roads I feel need to get my wheel alignment checked. Punters please advise hwat else needs to be checked.
Here is the travel report in short:
Total distance covered : 850 kms
Average milage : 18.81 km/L
Top speed 130km/hr
damages : scratch on front Bumper + one front fog lamp