Joined

Jul 23, 2020
Messages

217
Likes

348
Location
This has been a trip in planning for several months as we had to wait for my friend Jayganth to get his RE Himalayan delivered. Finally the delivery happened in november and we planned this trip for New Year.
The crew
Myself on my Duke 390, Ayyappan on his RC 390 and Jayganth on his RE Himalayan were ready from the start. We asked a few friends if they would like to join. Velarasan readily accepted to ride with us on his Bajaj Dominar. We convinced Bala also to join. Since he had no bike we asked him to be the pillion on the Himalayan and we could take turns to ride. At the last moment, Rakesh(Vel's friend) also joined us on his CBR 150
The Plan
Now all that remained was our route and our stops and stays for each day. We planned to start on Friday(29-12-2017) evening as Vel and Jay had their project reviews. Our first day will end at Chennai, then initial plan for Saturday was to stop at Velankanni but then we decided to stay at Ramnad, the Sunday at Kanyakumari and Monday return to Coimbatore. We got a home stay at Kovalam on the outskirts of Chennai with the help of a friend of Jay. I had booked a room at Velankanni and then cancelled it. Our friend Shyam helped us reserve a cheap room at Ramnad. Kanyakumari was a blank as we could not find any rooms online or anyone who could help us book one. So we planned to go there and book it and hoped it all would workout somehow.
Day 1
Bala who works at Infosys Mysore arrived the previous night. He went and bought his riding jacket. I loaded my luggage, filled my bike's tank and went to Ayyappan's home. One bag had my clothes and electonics, while the other had the rain gear, thermals and other bike accessories.
Ayyappan and Bala loaded the Rucksack with their Clothes. We geared up and got ready. Ayyappan said that we'll start after 4:30 since thats an auspicious time. Bala wore Ayyappan's HJC lid as he had got a new MT lid. We tied up the Rucksack using the Bungees.
I was on my way to Vel's room where everyone else had arrived. Ayyappan filled his tank and met with me on the way. We then reached around 4:50 pm. Everyone was almost ready. We mounted Vel's claw and lubed Jay's bike and everyone was ready. We took some mandatory pics and started our ride. Jay had to fill petrol. After filling petrol we started and decided to stop only for the next fuel break after 200 kms as duke, rc and dominar doesn't have as big a tank range as himalayan or as good fuel efficiency as cbr 150. It was already 6:00 pm when we left.
It was dark soon and Two lane roads started soon after salem. We stopped somewhere near Attur toll for fuel. We also found good Highway roadside hotel and decided to have our dinner. It was a much needed break for everyone.
I then hopped on pillion seat of the himalayan as Bala wanted to ride duke. We continued on and then stopped near Melmaruvathur for the next fuel break. Then again continued on with the ride and went to Covelong Surfing Point to meetup with Jay's friend. Jay's friend with his friends were Barbequing. Everyone except me had a piece of meat and then we went on towards the room. It was already 2:30 am on Saturday.
Day 2
We had a decent sleep in a good room. Woke up at around 8. Everyone got ready and loaded up our bikes. Jay's friend bought us some samosas. We then continued on towards Mahabalipuram where Vel got his bike washed and lube whereas we all lubed at the room itself. Since it was getting late and the time was around 12 and we still didnt have our breakfast, we decided to have brunch at Moonrakers- Mahabalipuram. I had some Oily Veg Noodles while others had sea food.
We then proceeded towards Pondy along the ECR. It was fun to ride the ECR. We reached Pondy at around 2:45 pm and stopped at the Auroville Beach. We planned to take a few minutes break and click some pics and then proceed. But then Ayyappan's RC had other plans for us. It started showing High Coolant Temperature. So we decided to check up at the Pondy KTM. Ayyappan and Vel went to the showroom on the RC. We chilled out at the Beach for sometime.
After around 30 mins of chilling we called the guys and asked their status. They said it will take another hour or two since there was a problem with the Radiator cap and they have to replace the coolant completely. So we decided to move to the Rock beach and chillout there for some more time.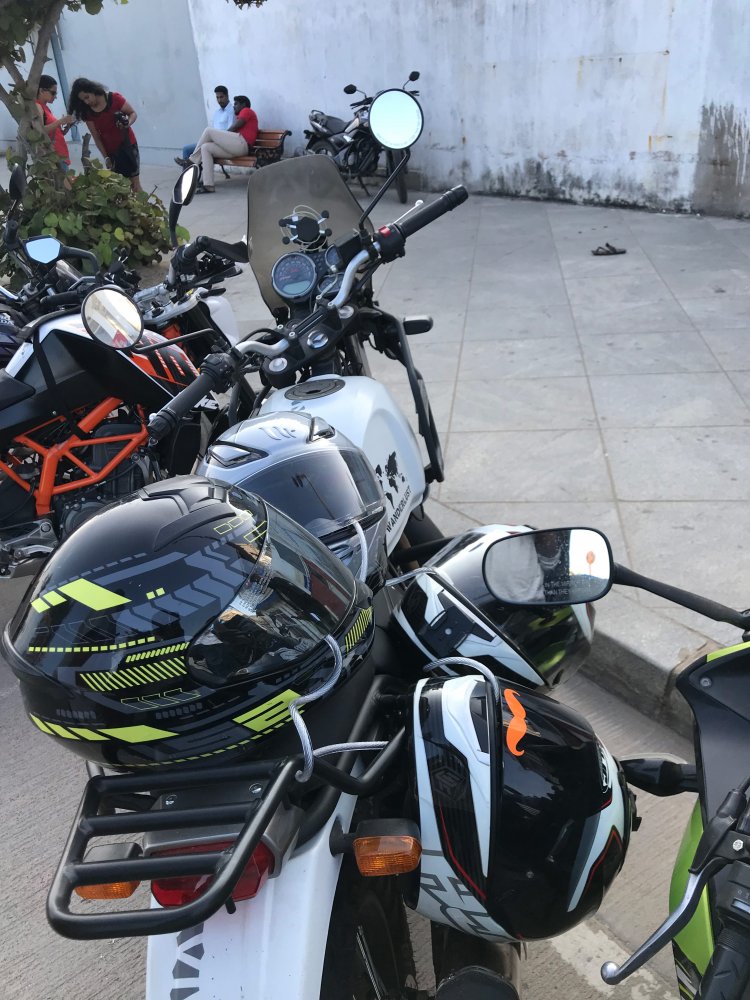 We then filled petrol and rc got ready. It was already 6:30 and proceeding in the ECR will take more time and waste since we will not see anything. So we decided to proceed via Karaikudi on the NH. We stopped somewhere near Trichy for our Dinner. We then proceeded and filled our Bikes. We reached Ramnad at around 2:00 am on Sunday.
Day 3
The room was ok-ish. We had to adjust because it was damn cheap. 1000 for 6 people. We had to wake up early because we were hosted by our dear friend Shyam for Breakfast. we got ready by 8:30 and shyam came to pick us up. we went and had an amazing breakfast. Poori with chicken gravy and fried fish and sweet Paniyaram. I had poori and gravy alone.
We then returned to our room, checked out and loaded our bikes and went to fill the bikes. It was already 10:00 am. We lubed our chains and decided that our next stop would be at Pamban Bridge only. We rode for another 45 mins or so and reached Pamban Bride.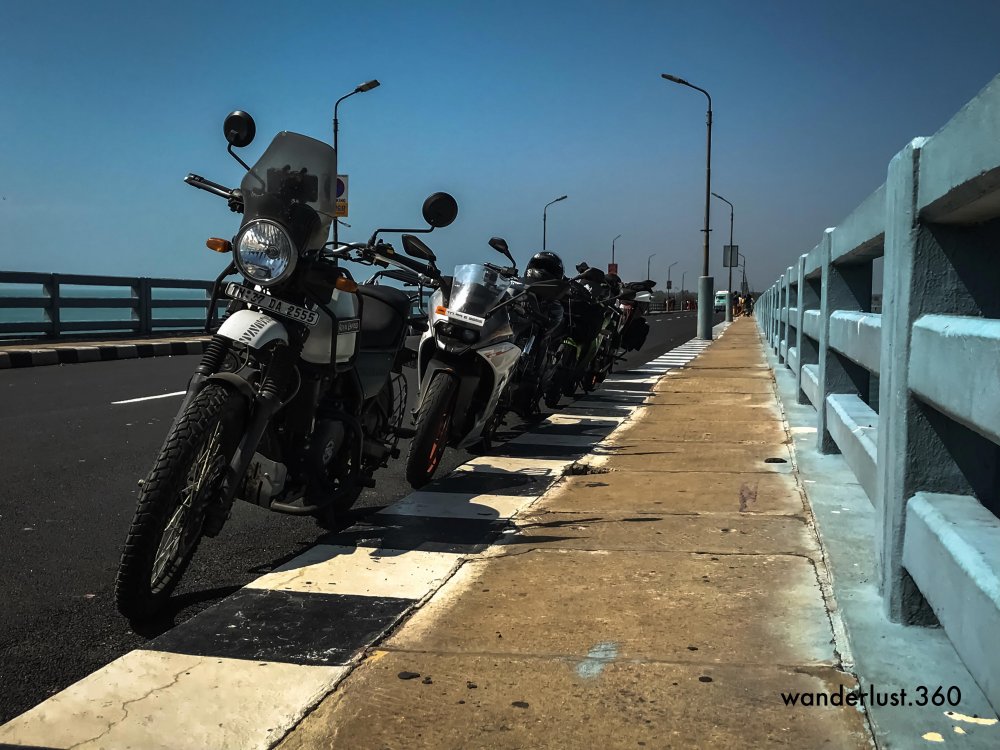 After clicking some pics and spending time on this amazing architechture, we proceeded toward Dhanushkodi which has been inhabited for a long time since 1964. A newly laid road meant access to the tip with our own vehicles. There are no words to describe this place. Its a must come if you are a biker. I bet this will give views comparable to any place. The suddenly changing landscape with seas on both the sides, one being calmer and other little rough, straight roads unlike others that never tire us, what else to say, its better to experience it first hand.
We then returned back to Ramnad, had lunch. It was around 3:00 pm. We started towards Kanyakumari. Filled petrol on the way and enjoyed the sunset on the ECR. We reached somewhere near the outskirts of Tuticorin and there was four lane roads. I got Vel's dominar and was wearing a Full tinted visor (first blunder). The road was super smooth and we were cruising at 100 kmph. The road was well lit and i closed the visor( second blunder). Then there was a sudden diversion and a bad patch of road without any indication. I was on the extreme left and road diverted to the right. I ran over a big stone, handle bar turned and then i slammed against two concrete slabs and flew over and fell down. Luckily i slowed down enough to not make it a serious injury. The bike had no visible damages and I had a sight sprain in my right hand. Myself and bala were only there in the spot. Since we did not come for sometime, Vel called us. We asked him to wait, met him and Rakesh and explained what had happened. Ayyappan and Jay were on their way in Himalayan. We asked them to proceed and find a room at Kanyakumari. I struggled with the sprain and somehow managed to reach Kanyakumari at around 9:30 pm.
They had booked a suite room. We unloaded our luggages and went to have dinner. My hand was a little paining and there was a slight swelling. We stayed awake a little until 1:00 am. It was an eventfull new year for us.
Day 4
I refrained from riding as much as possible and wanted to recover as much as I can before I reach home. We went to see sunrise. We didnt want to go to the usual Sunrise point as there will be crowd and we cannot take photos with our bikes properly. We wanted to go to the place that was shown in Simbu's AYM movie. We somehow found it and went to the spot.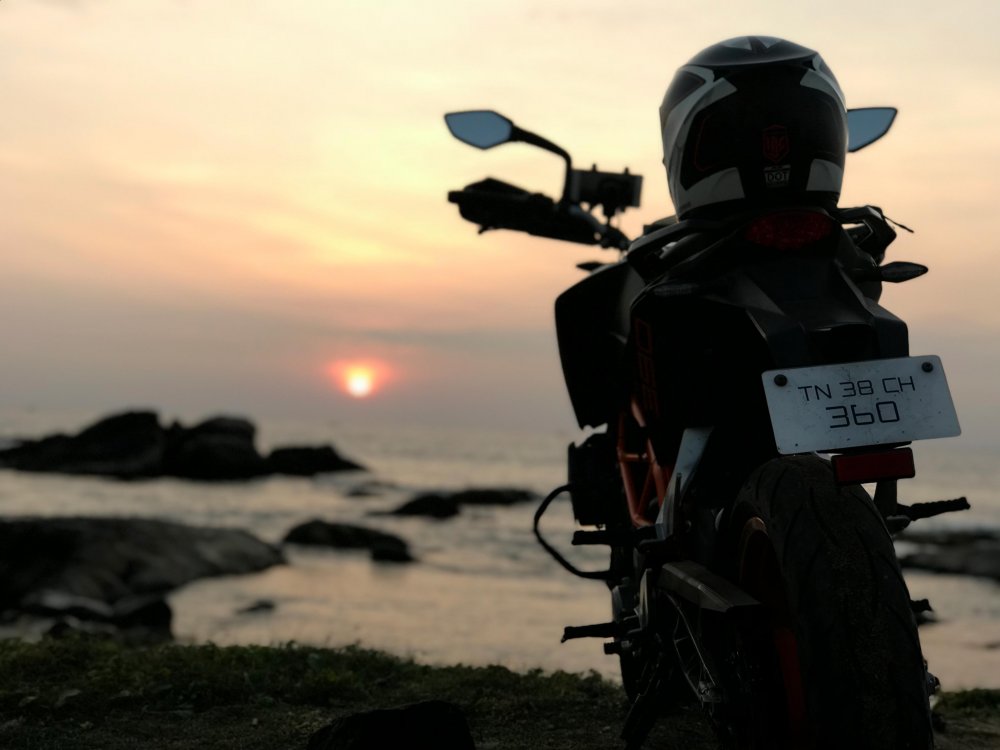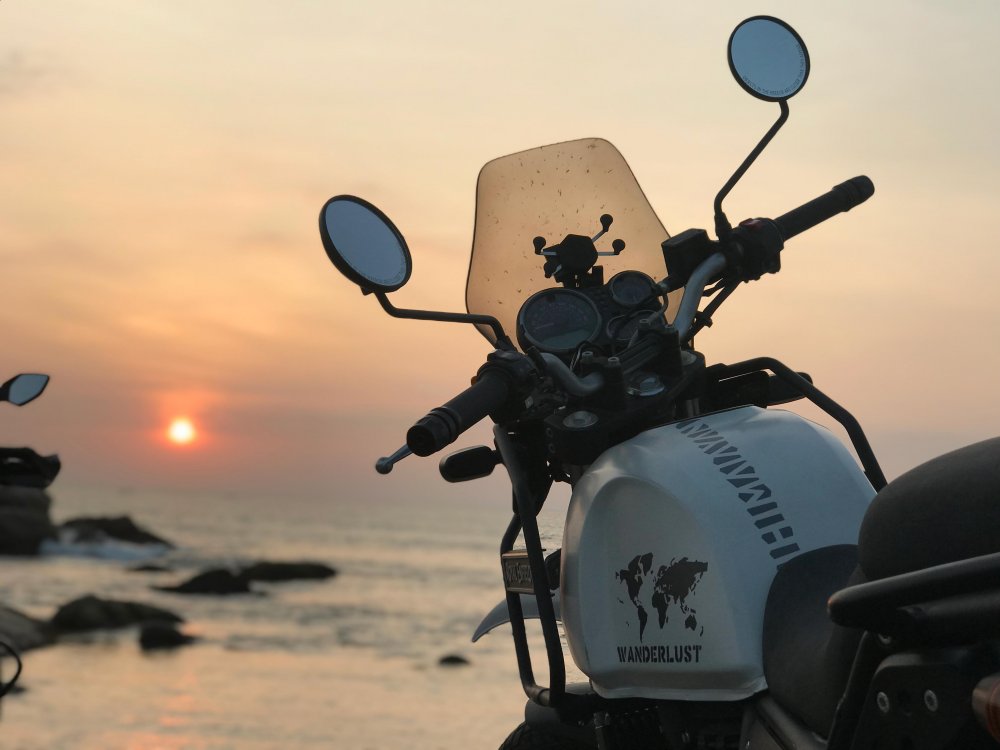 We returned, got ready by 10:00 am. Ayyappan and Jay went to wash their bikes. We got ready, loaded our bikes and met with them at the bike wash place. We lubed our chains and started our return journey. We decided to take Tirunelveli route on the NH44. We filled our bikes on the way and stopped near Palayankottai where Jay and Vel's junior would visit us. We spoke for few minutes and left.
We stopped at Virudhunagar Burma Kadai for lunch. We took the Sembatti route and returned to Ayyappan's home via Chettipalayam at around 7:30 pm. Thus a great trip of 2000 kms came to an end. These 4 days went by in a flash.