Diodes not must and not at all required, but got the habit of adding them to make sure nothing goes wrong
Didn't get the point.
The original idea was to get everything automated without adding any extra switch.
One fine day, Rakesh driving in rain with front wiper running and sudddenly he want to reverse, puts the reverse gear, tada the rear wiper working automatically

This was his idea
This was a rough 2 minute schematic without any second thoughts, open for finessing.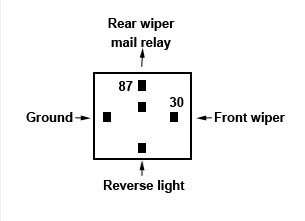 this is what I meant!
Simply remove the switch from the diagram.Thats all!. But what if his rear glass is full of dust and some leaves are stuck to the wiper blade. How he will turn it off before it makes any hard streaks?.
Simple, switch of front wiper!