Joined

Sep 11, 2009
Messages

2,857
Likes

4,448
Location
The Story:

All began with brother looking for an Suzuki SS80. After lot of search all were insanely priced and spares getting scarce and costly day by day. Then thought of Zen Carbon/Steel. Finally a good example reached close by, missed it in a couple hours gap. Car snatched by one bloody broker and now put for sale at 50% more the buying price. Then thought why not let it go and upgrade the bike.
His heart fell for the Royal Enfield Continental GT. Test drove it and almost fixed it. Lots of customization options. Everything used it was the best, tuner developed chassis, Pirelli Sports Demon tyres, Brembo brakes, Piaoli suspension, the cafe racer style, but the engine was a crap RE unit, which does not go well with the cafe racer theme. It had hell lot of low end and mid torque but dead flat after mid range. Plus RE-gene, it vibrates like hell and with the cafe racer posture all weight on wrists and this vibes means almost 90% sold GTs ending up for sale. We found so many examples in classifieds than ever sold in Trivandrum outlet. Plus I was riding a C500 the same day to go to take TD and I hated the already hated RE for such a horribly vibrating engine and precise false-neutral gear box. His heart was saying GT, my mind was saying no GT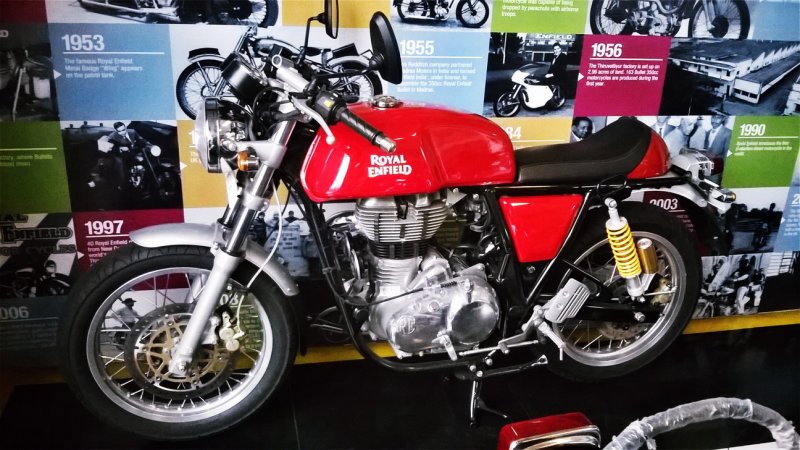 He was particularly in love with yellow GT. It's too too sexy.
Then came the KTM RC. Display bike was available at showroom, but unluckily no TD. He went and took a look and it was too sexy and the best designed bike available in India. It was very value for money also. 44 bhp 375 cc engine, projectors, ABS, etc, etc at 2.34 L on-road price tag. Decided to go for it. With some of my biker friends who are friendly with the showroom got oppurtunity to get proper feel of the bike, but terror struck. The riding posture was too stressed for short guys like us. Already reaching ground was very difficult. Adding to it, reaching the handle was difficult. Combing together, riding wont be as comfortable for us. So became double minded.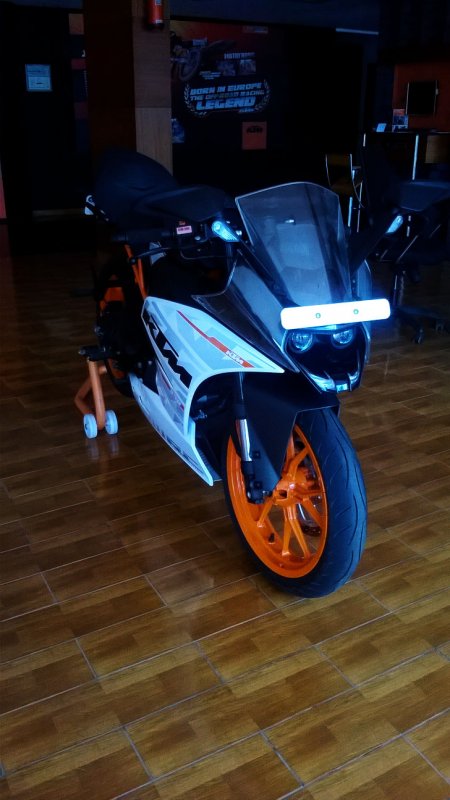 Then there was a black Duke 390 displayed, which was new color. Looked good in flesh. Hated the white. Took TD of D200 and D390. Again reaching down was difficult, yet manageable. Booked D390 paying 10k in advance with a promised next day delivery after paying the full amount.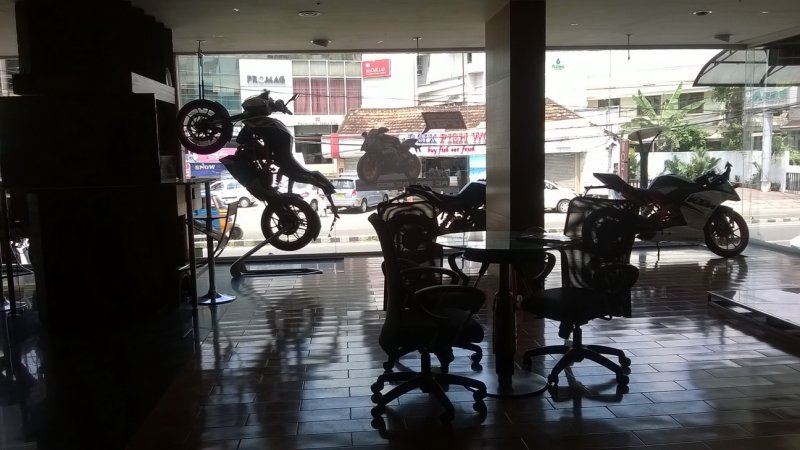 Got out from there, bought a helmet on the way home. MT Blade Raceline. INR 5650. Great padding, dual visor, double D strap, NFC tag, etc, etc.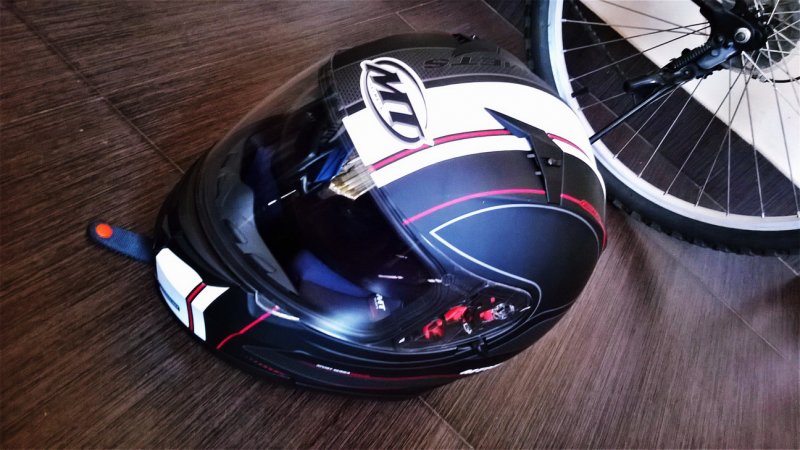 Settled balance amount on 15/10/2014 and bike was ready for delivery on 16/10/2014. Total amount was 2.10 L on-road.
Brother getting keys from Mr. Renju, the showroom manager (a nice guy, who wont treat you like a time waster when in for inquiry).
On the roll.
Home sweet home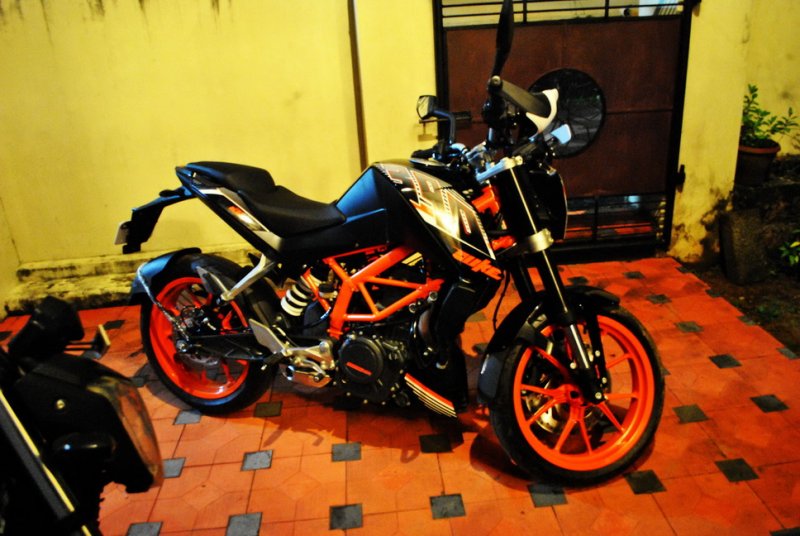 With Barricade.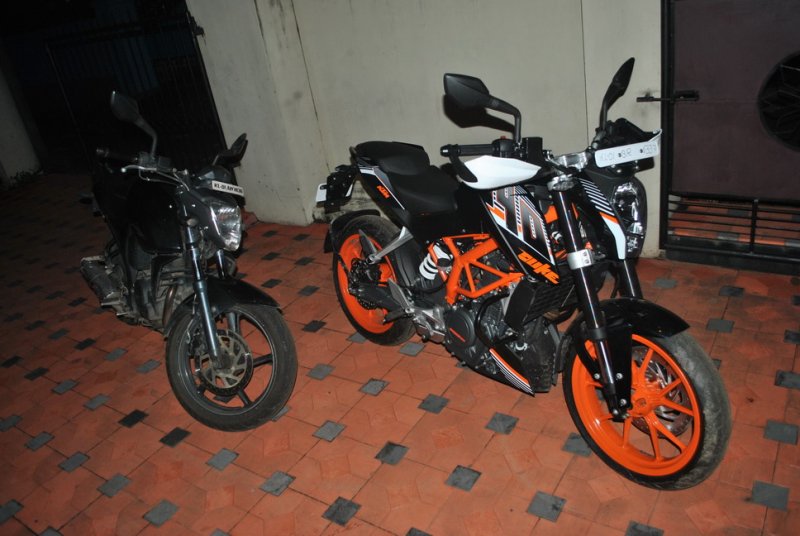 First Service Done >>
First service costs
Last edited: