Specifics
Need : alternate 2 wheeler
Mileage : ~50kmpl is OK
Power : decent (should carry 160 KG with ease)
looks : not important
riding position : need to be good with tall seats (not inclining)
weight : good weight (current bike is light weight @ 100KG)
Misc: good brakes, headlight, horn
Price : up to 1.3k (for RE) and 70-80k (others)
The need
My motorcycle was a 1992 Bajaj 4S. Even though good, the strain of carrying both me and my wife were beginning to take its toll. Moreover on our daily commuting to office both our bags were becoming too heavy to be carried easily. So we started thinking about an alternate ride, preferably a scooter.
The search
Everyone recommended an Activa, so first we checked some used Activas, the price was too high and condition was not good. So we decided to get a new one. Off we went to a Honda Showroom (the
story
is mentioned here). To cut everything short, Activa had a waiting period of 6 months and no TD, plus bad showroom made me drop the idea.
Next we went to the TVS show room, here everything went smooth. We almost decided to purchase Wego, then again one of her friend asked us to wait a little more, and re-think.
Confusion
At first my wife was willing to learn driving, but later on she flatly refused it. Now i was in a dilemma, if she is not willing to drive what is the use of getting a scooter and sacrifice: mileage, comfort, long distance commuting, power etc.
So after another discussion she too agreed on a bike. Next came the search for a quality 2-wheeler. Because of my 20 year old Bajaj, I wanted another one. But most of the garages advised not to get a Bajaj as they are of poor build quality.
I was again confused, then i consulted some friends who have used new-gen Bajajs.
One of them clearly said "see, if you are comfortable with what Bajaj is offering go for it, many people advise against Bajaj because of poor re-sale value. If you are not planning to dispose with within 2 or 3 years you can safely opt for it. Also a Bajaj needs regular maintenance if you can live with that then go for it. "
So we went to the Bajaj showroom, had a TD of Discover 125ST, Pulsar 150, Discover 180, Avenger 220 (actually i only sat on it as it was the only demo piece). The Discover 150 was the one i had in my mind, but they made me drive all the bikes.
Please note that I never, ever even in my wildest dreams thought of getting a Pulsar. But to my surprise the moment i sat on it, it was like just magic, the seating position, the power everything was too good.
Then we went to Royal Enfield. I went there with high hopes, but was disappointed to see the new Standard with lowered seats. The older RE were with good tall riding position. Moreover i was told a waiting period of 9 months for the Standard, 12 months for the Classic etc.
Next visit was to the Yamaha, here also i was not particularly interested. The riding position was not to my satisfaction (also she had trouble climbing to the rear).
Sling shot was also cancelled because of this steep rear end.
These were the showroom visits.
Now listing the models we considered for our purchase
RE Standard 350
+ lots of positives
- high waiting period
- low riding position
We could have opted for it, only that one of her friend told (he is also an RE owner) told her that do not buy Bullet, it has low braking power, and once the bike loses control we can't recover it blah..b blah...blah etc. Even tough me and my friends managed to convince her the truth, she was not much impressed.
Suzuki slingshot
+ good refined engine
+ mileage
- too steep rear side
Hero Karizma
- Riding position
Honda Unicorn
- back strain
- difficulty for her to climb to rear
Bajaj Discover 150
+ decent power
+ DC electrical
+ Mileage
Bajaj Pulsar 150
+ great power
+ comfort
+ low rear end
+ long seat
Bajaj Discover 125 ST
- steep rear seat
- looked little thin (when compared with its siblings)
Hero Super Splendour
(recommended by a mechanic)
not good
Hero Passion Pro, Plus
many of my friends have this, i was not satisfied mostly because of the low CC engine
Hero Glamour
same 110CC engine
Boxer 150
my wife flatly rejected this
Avenger 220
my wife was not impressed by the long looks, the SA assisted by saying that the mileage is low ~35
Apache
My cousin has one not comfortable riding it with pillion
Honda Twister
+ good bike
+ seating was very comfortable (only for me)
- rear side too inclined
+small bike
Scooters
TVS WGEO
+ Great scooter
+ the balance is perfect
+ mileage
+ metal body
- 110 CC
Honda Activa & Aviator
- bad showroom experience
- high waiting periods
Mahindra Rodeo
- low leg room
Vespa
- too costly
Suzuki Access 125
many of my friends have this, everyone highly recommend this. Also
ownership report
of Vishwas helped me a lot in the final decision.
Suzuki Swish 125
- lighter that Access
The above story has been going for quite some time. Meanwhile i started a
thread
on TAI (on 9th August 2012). All of you guys poured in your ideas and supported me, of which Gurralla , ERTIGA_ZMR and visran have tried to help me a lot.
Verdict
We were half decided on Pulsar and while en route to the show room, my old mechanic called me back (i tried contacting him earlier), when i told him that i was going to buy Pulsar, he asked me to wait some more time, and think it over. I could not defy his words as he knows my riding habits, my needs etc and has been servicing my bike for the past 13 years, he knows the ups and downs of everything with my 4S. So we dropped the Pulsar 150 and returned home.
The decision to purchase Access was quick. We were on our way to office after giving the papers of my 4S for re-registration, i was having a bit of difficulty controlling the bike with two bags on the fuel tank, my wife said we need to get a scooter, at that moment i went to the Suzuki showroom, no TD was available, which was not a matter of concern as i had already driven the scooter.
The showroom
Suzuki too have a relaxed way of treating people. No over enthusiasm etc. The SA explained Access but he was more interested in the Swish. He gave me a waiting period of 2 months. I was again disappointed, but the sales manager happened to pass-by, he assured me that if it is either white or red he can deliver it within 2 days provided full-payment is paid as advance.
We jumped at the opportunity, and i opted for the White. During booking me and my wife had an argument regarding the so-called crash-guards, I was not interested in spending 2.5k over worthless steel rods screwed on the scooter, but in the end she won. Then came the trick of the show room people, at first they were willing to give separate accessory prices, and i suggested that i fix the guards at the first service, at that time they said that there was a shortage of the crash-guard. When we agreed to add it. The manager said that it comes as a whole package with seat cover mat etc etc, and I have to take it as a package if i have to get the crash guards.
Price OTR : 59,443/- (Including all accessories and registration, insurance etc)
Colour : Pearl Mirage White (YPA)
The Astrologer had already given me a good time to get the scooter, so confirmed it with the Manager.
The delivery day. 26th December 2012
The time was between 10:40 and 11:55 hrs.
09:50hrs
My wife had some errands to do, at first we were planning to go to the showroom by bus, in the end we were late, and when i called the showroom they said to come in the afternoon, I was furious so we took an autorickshaw and went to the showroom ( a good distance, or we might have been late as we have to change 3 buses) and we needed the helmet too.
10:30 hrs
While reaching there i was really mad, there was nobody there, i searched and found the receptionist who was chatting with some one at the other showroom (the showroom is split into two with Suzuki on one side and TATA cars on the other side) the scooter was not ready i went to the manager and reminded him about the time frame. He was confident.
10:45 hrs
second reminder
11:00 hrs
nothing
11:20 hrs
I went to the service manager ans told him about my problem, he made a phone call to the service centre and within 5 minutes a White Access 125 came gliding up from downstairs.
11:30 hrs
The SA handed me the keys, only thing he reminded me was that I should kick-start it when starting for the first time in the morning.
It had 19 kms on it. We went to a near by petrol pump and filled her up (450/- Rs)
After reaching home we went to
Ettumanoor Mahadeva Temple
for poojas. Later we went to Kumaranalloor Devi Temple too.
In later posts i will post the mods.
Suzuki Access 125
+ power
+ pick-up
+ legroom
+ low stance
+ separate numberplate light
+ large under-seat space
+ single point key operation
- poor headlight
- poor horn
- no parking lights
- no under-seat storage area light (like the Rodeo)
- 120 mm brakes are not up to the level
- fordable grip hook is not strong
- rather difficult to place it on center stand
- choke is difficult to operate
- no tuff-up tyres like Activa
- no trip meter
- no rev-counter
Initial FE 37.88 KMPL (tank full method)
Photos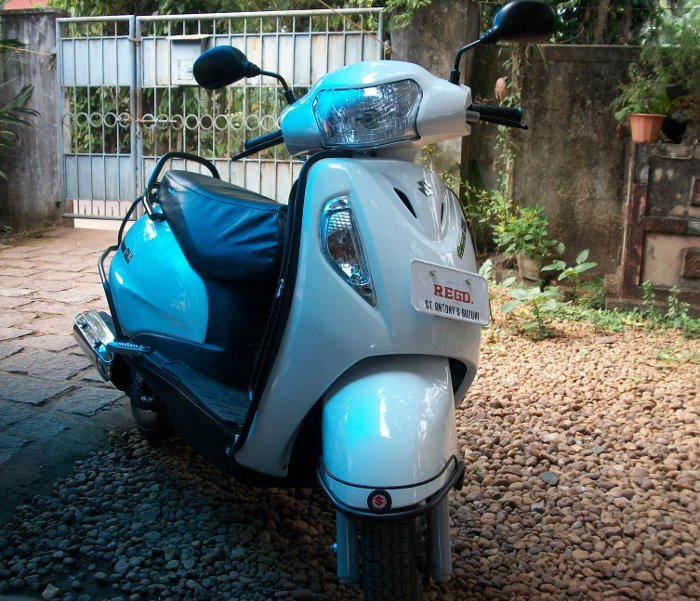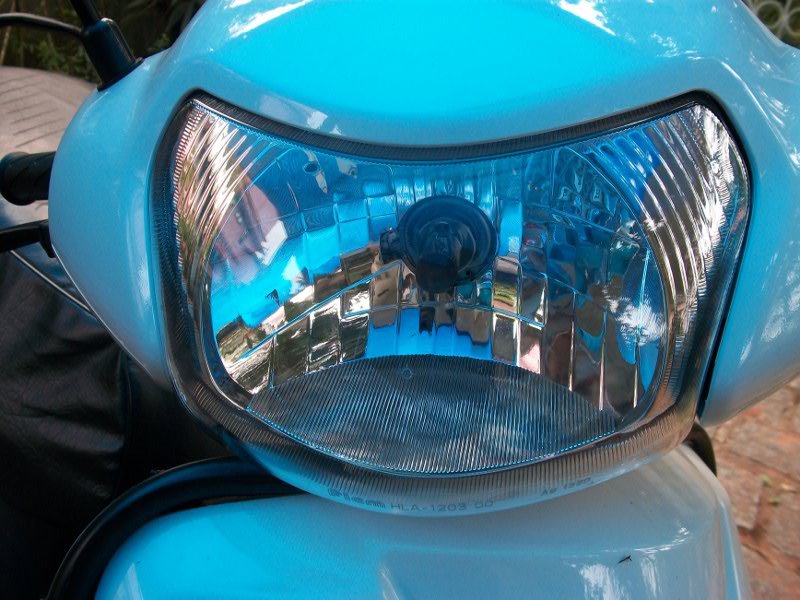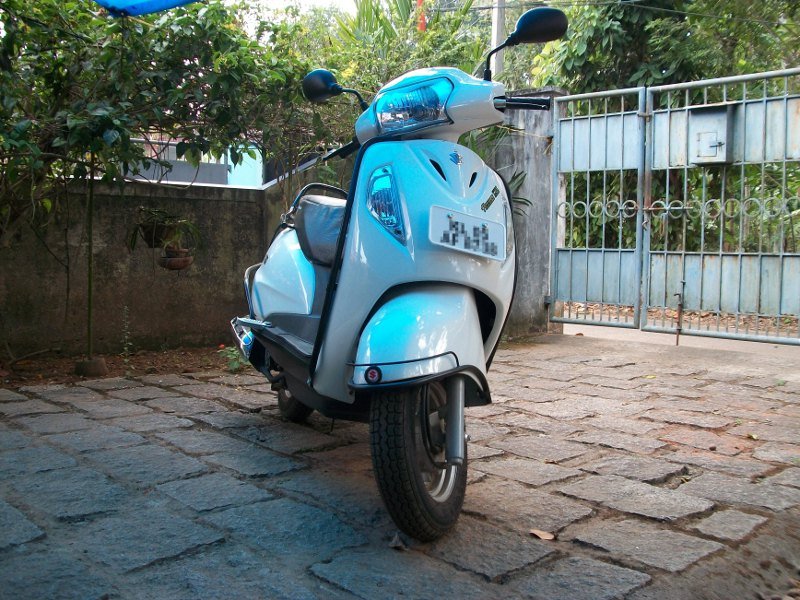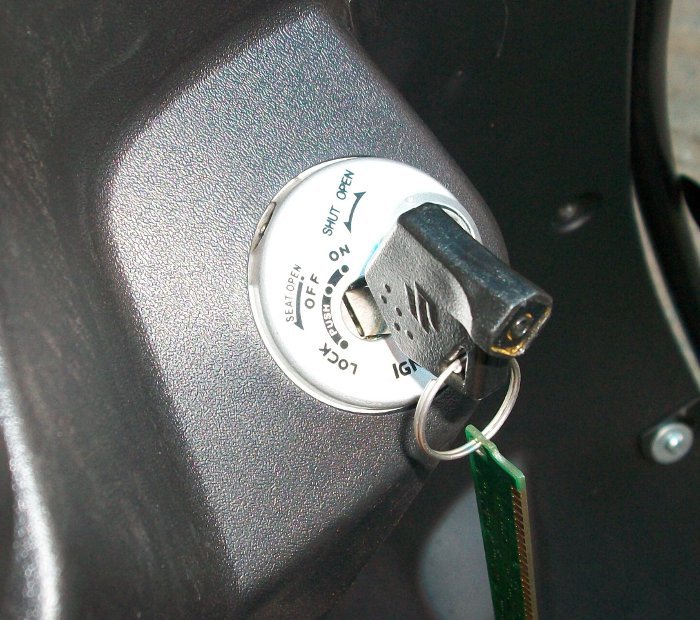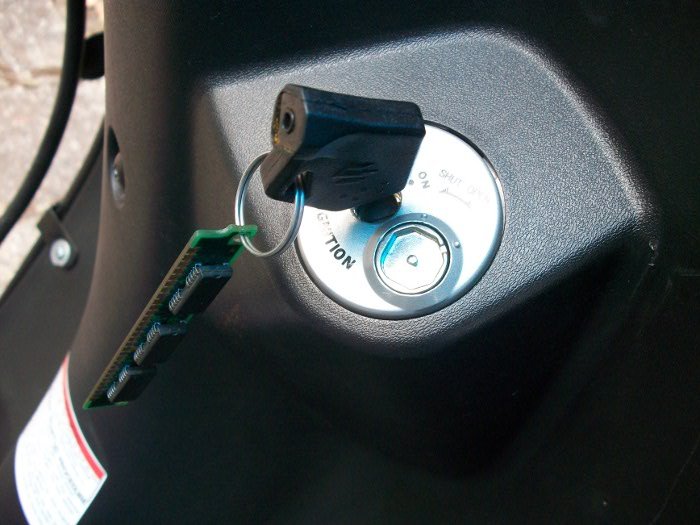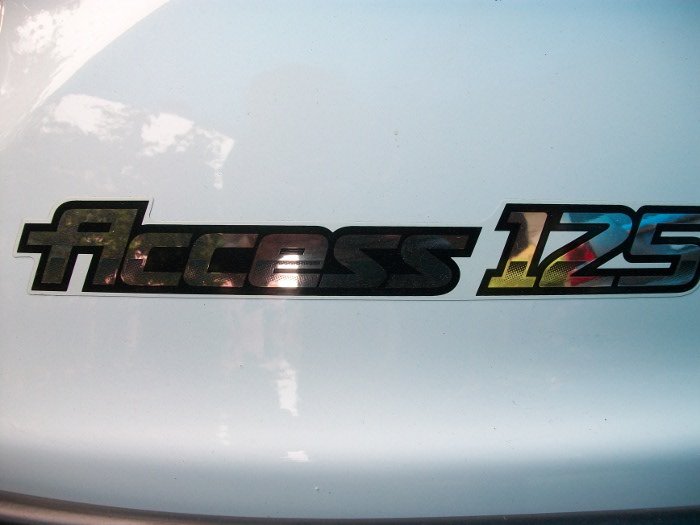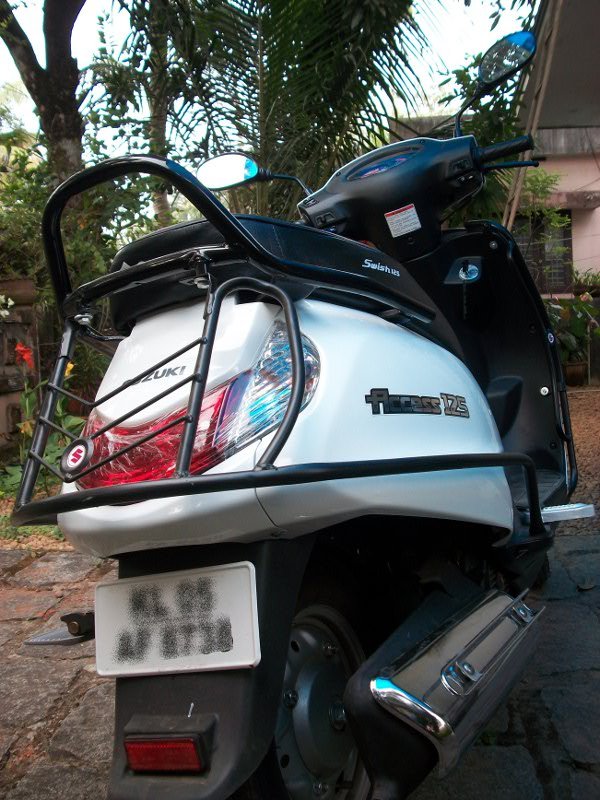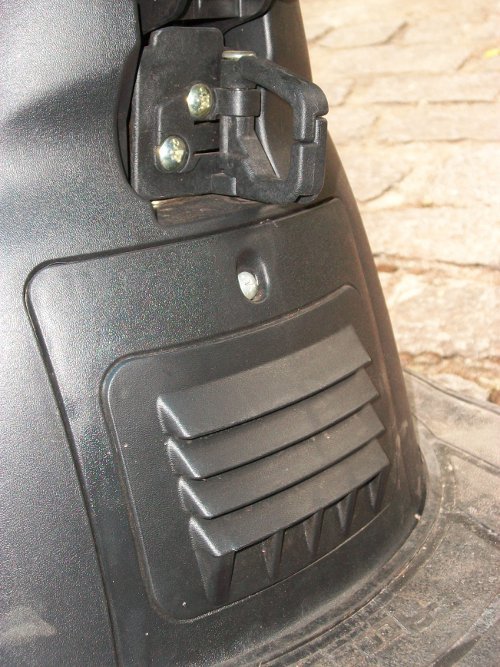 Post #9:
Adding LED lights
Post #12:
Adding LED Tail Lamp
Post #20:
Horn, Headlight, Tail lamp modification
Post #54:
Headlight, Horn Modification
Post #167:
LED Indicator installation
Last edited: