Bajaj Auto India is now offering Pulsar in an all new color shade, which is Metallic Orange! Following models will be offered in the new metallic orange colour:
Bajaj Pulsar 180
Bajaj Pulsar 220
Bajaj Pulsar 220F
New Orange color comes on the back of great sales performance
Bajaj Auto Ltd. India's premier two wheeler company has added more zing to its Pulsar range of bikes with a flamboyant new color – Metallic Orange. The new color is exclusively available on the larger Pulsar 180, 220 and 220F variants. The new two tone orange charmer of the roads is bound to cast its spell on peppy and young Pulsar lovers. The new color bike comes on the back of great sales performance of Pulsar and is a Diwali gift to all Pulsar lovers. With a dominant 50% share of the sports motorcycle segment in Q2 2010-11, Pulsar has consistently outgrowing the segment thus making it the largest brand by far. Pulsar domestic volumes in Q2 2010-11 are at 67,468, up 56% over the same period last year. This growth is impressive considering the sports segment has grown only 32% and the total industry has grown by 21% in the same period.
Mr. S Sridhar, President Motorcycle Business, Bajaj Auto Ltd. said: "Pulsar has proven its performance both on the road and on the sales charts as well as. It is by far the leading sports machine in India with a consistent 50% market share beating its Indian and Japanese competitors by a wide margin. To add more zest to the Pulsar, we have introduced a new two tone orange color that is definitely going to make heads turn. The color is specifically for the young Pulsar lovers and shows a good spectrum from a fresh yellowish orange in the sunlight to a deep, reddish orange in the shade adds a fresh new perspective to the bike."[/QUOTE]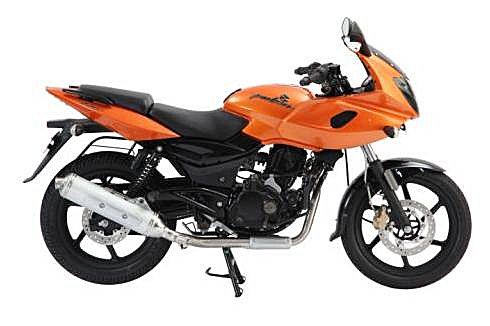 Drive Safe,
350Z