During my school days, I was a fan of
Ruud Gullit
because of his style and the image he had carried one back in time. Though I was not a strong supporter of the orange army, I was had an ambition to visit
Holland
once; though I strongly believed that it will never happen! To be honest, Holland was a different country for me during those days. Finally, one of my dreams (yes, I have more) come true! I was in
Den Haag
and
Amsterdam
on 24th and 25th of Aug 2010. I will describe my experience in the subsequent sections. Here is my declaimer: Please don't expect a perfect travelogue as I am very bad in it. This is how I planned and executed my trip for 3 of us (myself, wife and son).
Where to visit / What to see?
Just like any other traveler to
Netherlands
, I also was looking for the right attractions to see. Neither I want to rush nor want see everything in a short time span. I don't want to plan too much and carry an excel sheet with me describing the activities for each day, that will be horrible and can not be called as relaxed vacation! Primarily, we decided to allocate one day each for
Den Haag
and
Amsterdam
based on the google research on the attraction to visit.

What about food/accommodation/transport and other details?
After loosing my bachelorhood, this is of the highest priority for me. I always takes accommodation in some established group hotels, unless referred by someone based on their experience. This is just a matter of personal choice as I feel more secured this way.
Best Western
and
IBIS
are my preferred choices as they are well established, affordable with good service. However, there are plenty of other options too. This time also, I was about to go for IBIS hotel as they also offer airport pickup and drop, which is really good when you are in a new city. Then came the twist! My friend
Maxminai
suggested a new hotel
CitizenM,
just out side the
Amsterdam Airport Schiphol
which he had used for his trip couple of months ago. Based on his inputs and because of the factors mentioned below, we decided to go for
CitizenM Airport Hotel.
The hotel offers a very good restaurant at your service. Further more,
Schiphol Plaza
shopping center is just near by.
23-Aug-2010


We took the
Norwegian Air shuttle
from
Copenhagen
to
Amsterdam
in the evening around 7.30 PM. It was a Boeing 737-300 and the flight duration was 1 Hr 30 minutes including take off and landing.Here is the picture of the aircraft taken at Amsterdam airport: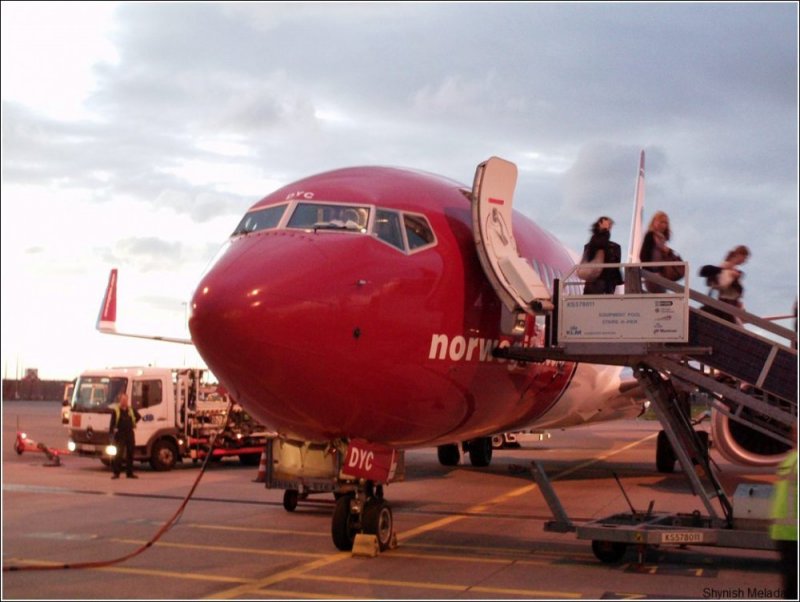 After reaching Amsterdam it was the dinner time! We decided to explored the
Schiphol Plaza
which is basically a shopping mall attached to the airport building. We found plenty of options for food, which unlike some of the typical European restaurants, will fit to the taste of an Indian like me

Following are my recommendations on the Food and drinks at Schiphol Plaza based on my experience:
Burger King: You know it!
Food Village: The excellent one with 5 stars! This is sort of super market with food products, hot snacks and ready to eat food. Seems like there is some Indian guy supplying food to them. There was roti,, egg curry, chicken curry, veg rice, rice which looked like biriyani, veg curries, noodles and much more in their cold section. You can buy it and microwave it there itself. There is a microwave kept exclusively for this purpose.
Juggle Juice Bar: Fresh juice, though you will feel it as little bit on pricey side.I would suggest to go for smoothies from Innocent brand. You will get this in any soft drink shop / vending machines / super markets.
One Chinese take away with couple of tables! Sorry I don't remember the name. But it is like you can pick your choices from a lot of options and the food was amazing.
Per Tutti!: A total disaster and waste of good money. Never try this.
Check out the
Schiphol maps here
.
(continued...)
​
Last edited: