Joined

Aug 26, 2012
Messages

18
Likes

1
Location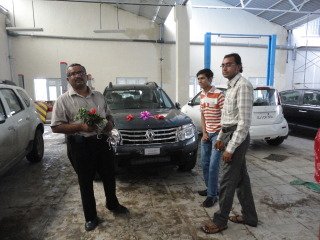 Guys took delivery of Duster 85 RXL from Rajkot and drove up to my city Bhavnagar 200 km. Great and smooth ride. Powerful engine,great suspension and chilling AC. I got initial fuel average of 19 km/L . Experience at dealer was good. I am first owner of duster in my city so spent day with caching eyes and TD to friends.
PROS:
* Smooth silent efficient renault engine
* Spacious from inside compact from outside just like my jazz Infect it is just few cms longer than jazz. will post both cars pics side by side
* Smooth clutch and gear shift. Heard a lot about hard clutch pedal on but its like MAKHHAN.
* Efficient AC very cool inside. My model variant don't have blower for rear seats but cooling was sufficient for even back seats passengers.
* 3 services 2 months/2000 km, 1 year/10,000 km, 3 years /20,000 km .Renault thinks that their vehicle doesn't need services!!
* 4 years warranty.
* Great ground clearance. Forget your speed brakers.
* Almost no turbo-lag in 85 PS engine. Smooth ride in city and good to drive on highways.
* Awesome looks. I liked the gray more than symbolic brown . Highest demand is of white (indian mentality ) and brown which has 6 months waiting. Red and gray have 2 months waiting.
* Excellent visibility. You dont find problem while parking in reverse gear
CONS:
* Wind noise when you go more than 100 km/hr
* After riding jazz for all this years engine's sound irritates. though much silent inside.
* Speaker quality average.
* Trying to pair my samsung galaxy note with car"s buletooth not successful till now.
* Jump seat installed at back is for kid. its a true 5 seater.
* Reverse light and vipers controls. Light controls on left and vipers on right. Everytime i take turn,vipers start moving. old habit you know.
thats all for now guys will post in future more details