Hi TAI'ns.
After having the Alto for his college use, My bro was fed upand decided that he wants an upgrade from it.
So , The selection process is here-
http://www.theautomotiveindia.com/forums/automotive-shopper/6570-hunt-car-begins-now.html
So, We got home a used Mahindra Scorpio VLX 15 March '09 which has just completed some 7549 kms. Out of this, I have driven 48kms today!
The Price was 8 L (Which was negotiated from 8.2 L) and We have given 5 L now and Brought the preLOVED car home.
So here is a detailed one - (Some Readers might have problem of this longish post, Actually, I had Tonnes of time!)
Quick Info-
Type of Engine : Mhawk CRDE,Common Rail Diesel Engine.
Cubic Capacity : 2179cc (2WD)
Power : 120 Bhp at 4000 RPM
Torque : 290 Nm at 1800-2800 RPM
Tyre : 255/70 R15 Radials
Color : Fiery Black with Mist Silver Cladding.
Top Speed Done : 60kmph! Feeling bit scary to drive this Elephant.
Kms Done by 1st owner : 7501 kms.
Kms Done by ME : 48 kms.
Accessories Installed-
By First Owner :
1. Bull Bar (Front and Rear)
2. ICE : Double DIN Audio/Video DVD player JVC
Front Speakers : Yellow Cone Pioneer Components.
Rear Speakers : Yellow Cone Pioneer Satellite Speakers.
Subwoofer : JBL 12 Inch
Amplifier : SONY
3. Floor Mat (Full Floor) with Individual Carpet Mats (Black)
By Me-
Simply Nothing!
Service History-
The car has gone through 2 Services-
1. 1000kms - Free.
2. 5000kms - Some 1225/- Rs. Bill.
Waiting for more!
Trips Made-
1. Car came to home from NIT 1.
2. Went to a Temple Nearby the House.
3. Went for some Testing with my Brother (Neharpar) where there are very rough roads in villages full of WATER!(Seems like a Water park!)
3. Back to Home and BEAST is Sleeping!
Exterior-
Now, What to say!
As we all know, Its killer and becomes even killer in Black. The front is a nice grinny look and has a premium chrome grill. But ,i feel here, The looks have been disturbed by the odd bull bar! The Sides are Ok with the Cladding and the Scorpio engraved in it. The Roof Top Ski RAcks enhance to looks of the car to High Levels! The Rear is dominated by those long Taillamps and the Big Windscreen makes it a bit boring and Plain! The Bull Bar at the rear is very useful. Stopped me from making a dent at the rear!
Interiors-
We cannot compare it with the city V. It is a luxury car and other is the SUV. But, The interiors are are not up to the mark. The central console comprises of the round (Actually Headlight shaped) AC vents and the Brown finish make it like the Getz! The seats are very highly placed, But after allm its an SUV. THe Handle above the Glove box looks a little awkward though. The steering should have been given Chrome emblem of MAhindra instead of the cheap Mahindra Engraved in it. The buttons on the Steering are really useful.
Ride-
The ride was a bit bumpy on bad roads, But the vehicle was not that stable as the City (I know, I know, How can I expect this from an SUV). The car has a nice Road Presence. I am getting some Respect on the Roads from the Autowallas and People dare to cross the road seeing me coming! Hehe. In Alto, I had to wait for the people to cross and felt like ruining them thereonly!
Scorpio being an SUV, the seats are very high (This is our first SUV, So, it happens), It feels like SITTING ON THE ROOF OF ALTO/CITY AND DRIVING!
Comfort-
Loads of space the car has got, Comfortable Seating position for the First and Middle row passengers, the third row is a bit cramped as compared to front ones. The cruise control feature is a very rarely used one. Atleast, in Indian roads/Highways, No one can dare touse it as any Cow/Dog can jump from the divider for attempting suicide and become a murder case!Third Row vents would have been an added comfort. AC has not been used till now by me. The door spaces around are very useful. So, It is COMFORTABLE!
Build Quality-
I have to say that it is rock solid. When I was rushing through the Water filled roads, Some Village boys who were playing cricket, hit the ball and it came straight ot the car's front right door. I came out expecting a large dent on the door. But , touch wood, There was not a single one! This shows the car's toughness.Except for the Fit and Finish of the plastics , the quality of the car is excellent!
Handling-
AS i said, The ride is BUMPY which makes it uncomfortable in Bad roads. Handling of the car has been excellent in City and Highways at speeds upto 60kmph, not tested more because of traffic ahead! I love to ride this car in the city - Road Presence makes it feel good, but obviously i have problems with parking.
Performance-
With the Mhawk engine, the car floats on the Highways and is Powerful in city. It being a Heavy one, we cant expect much performance. But the car is powerful with 120 Bhp power and 290NM torque. It nevers feels like speeding even at 60kmph and the car never cries. Though in the Third Gear, The car vibrates below 2200RPM which is Qute Irritating. Will show it to ASS if they can do something!
Steering , Voice Assist system and ABS-
The steering is wonderful and not that light one of the hyundais (No offence), ACtually, i like a tight and tough steering!Here, I have not had a strain at all. Swirls like a dream! The Voice Assist System is very helpful but irritating at some times. The Brakes are Good and are enough for stopping the Giant from Attacking others! No need to Pull the car backwards by pressing the brakes hard(As people do with their German Shepherds!). Just feel them and the car comes to a Halt. The ABS is again a very useful feature but have not tested it.
Problems-
I have only felt the Third gear vibrations a bit irritating. The car starts vibrating (Which is noticeable) below 2200RPMs.
The Clutch is a Hard one. Will show it to ASS. The first owner said that he also went to ASS and they sprayed some Oil but the problem has came out again!
Pics-
Actually, I am a bit concerned about the Privacy of the pics, as my Father, Mother and Bro have said tonot post pics in forums as they would be Public! So posting just one pic for you guys to enjoy after the boring review. Also, The DAD's FAvourite ALTIS is also shown in the pic!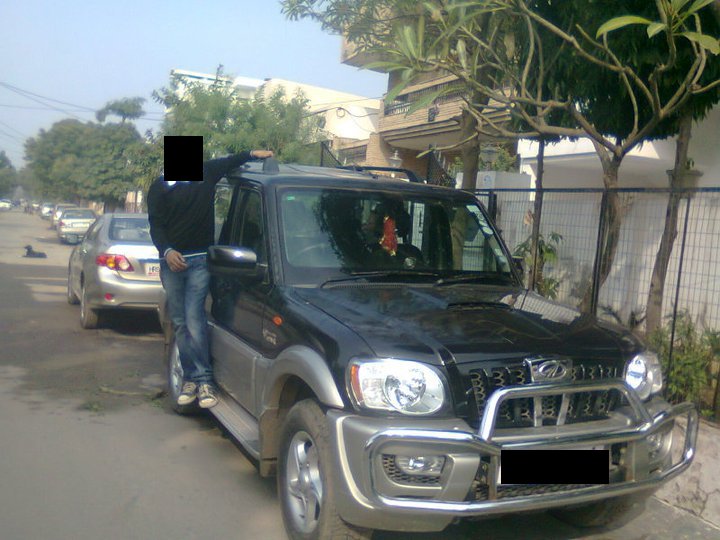 Overall Verdict :
A great machine at this price range with a smooth, refined , powerful engine with great comfort and handling, but yes, it has its own flaws which are too minor to think about. I love my machine and we have mingled with each other.
NOTE: THANKS FOR READING THIS BORING POST.
Cheers!
Lxi!