First i apologies for not having any Old pic as i lost my 160gb hard drive , also lost all of my Pics from 2009- till date :( . I never cared to take back up and paid the pries Hard Way . Even lost my pics from Leh Trip . Any way before starting this thread i clicked some pics, got few one from my friends and from my old picasa album which are of SO...SO quality . Once again am extremely sorry for not having any pic from day 1 . Also the bike was purchased in 2011 , so am a little late for writing ownership thread .
OK, here we Go !
I was/am will always be a bike lover , Before Ertiga and CBR my first love RTR-Efi used to rule in my world . Sunday or any other weekend used to be pure RTR day . For weekends either i used to Ride or Used to do DIY stuff / basic Service on my RTR. I crossed 32000kms in 1st year and soon crossed 65k mark after 2.5 years.
RTR was getting old, Even my mech told me that "Abhi tera bike ka crank ne signal de diya hai , I think you should think about buying a new bike for your touring purpose. " at first i was'nt agreed and also argued a bit and told him that she is still as good as new . So he picked up his son's RTR160 and asked me to take a small TD , I did a small Round of hardly 3-5kms and then he asked me to Ride my bike . Well after riding a younger RTR i could feel the Performance loss was almost 50% compare to bike i Test rode . Also there were small issues coming up like Fork oil leaking, Rear shocks Oil leaking . Tappet noise, Oil leaking from head cover etc . So in practice way this bike was not fit to Touring any more . That's how hunt for new Bike stated for me.
My requirements
:-
1> Good Performance with ability to cruise 120-130kmph
easily
.
2> Good handling .
3> Consistent Mileage / FE
4> Reliable Engine .
Bikes i shortlisted
:-
R15 V1 :- I'd rode this bike many times and i know R15 has its own charm. Handling is killer , Front end of the bike will give you strong inputs about road surface you are traveling and many more. Lots of power (17bhp) and light wight to (only 125kgs) . Good FE and superb performance.
Draw back i saw were that it lacks cruising ability , I mean the torque band is way higher than RTR and R15 needs to be rived above 7-8k rpm to maintain three digits speed. Also Rim's were prone to crack , bend very easily , hard shock's .
Karizma ZMR :- Karizma truly defined a Touring bike in India , nothing will come close to it when it come to Performance and comfort . But once again , availability of parts and it's costs were the let down for me . So i skipped this bike.
RTR180 :- Now i have emotional connection with the name TVS APACHE RTR . RTR180 is also a good product, best braking in its class, wonderful handling and also affordable , Comes with ABS and other goodies like Digital console .
But practically it was the same thing as RTR160 with LITTLE bit more power , that's it . and after using FI i did not want to buy a " Carb " bike.
Ninja 250 :- Bike was well over my budget so no reason to look at it.
Now again there were news in the forums that Honda is Going to launch some 250cc bike in India , and i could see that it was already launched in Indonesia and in some other Asian countries . Reviews were very impressive , It was going to be 26bhp motor , A perfect upgrade for me.
finally on 4th January my friend told me that some dealers are accepting booking and on 5th Jan i booked my bike (Red/silver ) with initial payment on 5000/-. Official booking was yet to be opened .
TD bike came by the end of March , and so one fine day i got Test Ride of Black CBR 250R . Well i wasn't expecting bike to be a good handler as it has a very upright siting position and Longish wheelbase compared to other small bikes, But surprisingly bike was doing good with the handling part and i was OK with it. I knew i had to compromise a bit on handling department from the very 1st day i saw Full specification's of this bike . [
Honda Worldwide | CBR250R
] Official link for specs.
Felt little bit heavy as it wights around 161kgs and managing traffic was tad difficult than my RTR .
Engine was Refined and smooth unlike RTR's RAW and vibrant engine , Low end torque was fantastic and you could pull from 30-110 in same gear , a little Twist of the Wrist and i was flying @ 120+ in no time , yuuhuuuu ! after good 15mins TD was over and there was Big

on my face. Finally found my self a nice upgrade.
Delivery :-
After paying remaining amount I got my bike on 5th May 2011 . Me and few friends went to Pilot honda's Yard and there she was waiting to get started. Did brief check up , cleaned my bike , And now it was time to Push the Started . I was getting nervous as this is going to be my first 250cc bike and was never used to such Full faired bikes. I pushed started but nothing was happening, WTF ....whats going on, why isn't she starting ?. I called up yard manager and told him the issue, He gave a strange look to me and said " Sir aap Chabi Ghumana Bhul gaye ho. " (Sir, You forgot to turn On the ignition Key), " Bhaaahhwawawawawawawawwawaw " my friend fell on the ground Laughing Out Loud , also few other guy's cracked joke on me.
Well, i never cared about whats going on around me and This time Turned On the Ignition Key , just gave slight push to started button and bike came to a live. At first Engine was running bit fast 2k RPM and it took good 1 minute to come down to 1500Rpm its Iding speed. Meanwhile I filled correct time in the Clock and also Checked Oddo reading (it was 0.7kms) . Took her home , Pooja was performed by my Dad and Mom , Ever other guy/girl in the society was looking at my Bike and was praising its look and road presence. As always Registration took good 6-7days and till then i had to wait as these days RTO might reject registration of the new vehicle if the Oddo readings are above 200kms < this was told to me by Pilot Honda. Till then i did only 1 round to Chembur SVS for Checkup .
Here are Few Pics of My CBR250R:
Console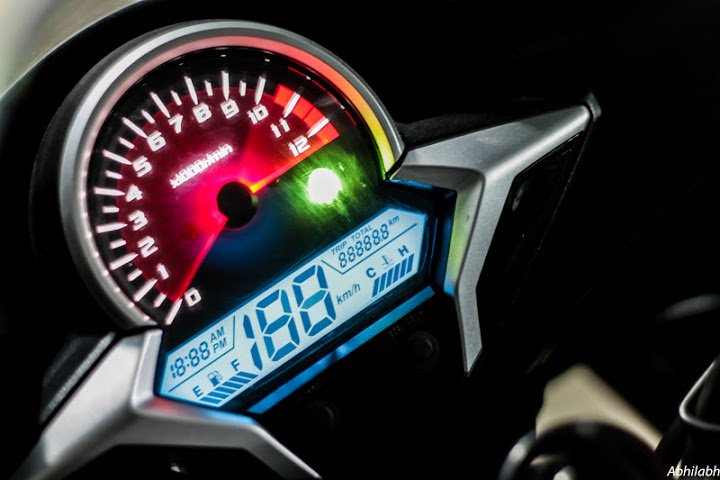 Pojing Time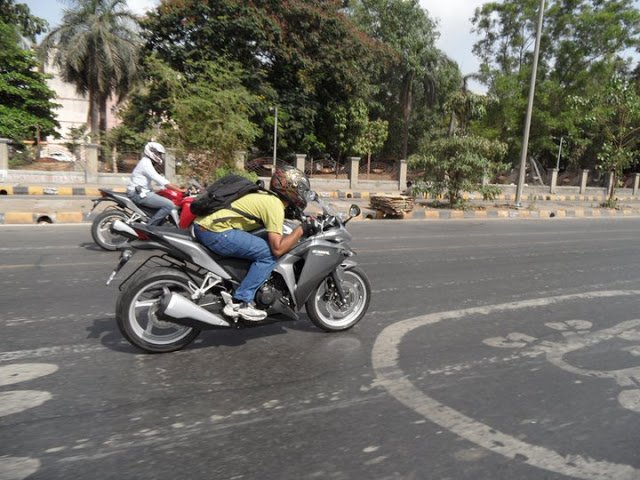 Me and CBR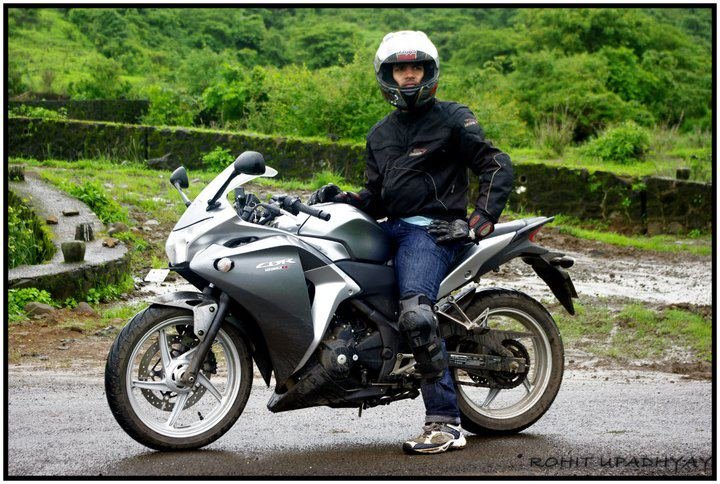 On 13th may i got receipt and No. for my CBR by 6p.m. and i was out on the National highway by 7.p.m reached Panvel (30kms from my house) and gave a call to my friend about my new purchase, he to was super exited and asked me to come down to Pune right away . I was already geared up , but just for precaution i stopped @ Panvel Mc'D and checked basic things like Coolant Level , air pressure, Checked for any leak or loose bolt . by 8.30 i started my 1st ride towards Pune . Reached there by 12.30am , met my friends had some coffee and came back home by 5.30am.
Last edited: